Looking at the likes of Morning Glory and The Dilemma's posters, you can't help but sigh and wish they'd done something more original. They're just so… generic. You feel like you've seen them before – and that's because you have, and we're here to prove it. From the back-to-back pose to 'the lean', not forgetting the park bench one-sheet and the attack of the giant heads, there seem to be a very small number of concepts permitted for rom-com posters... and they're all here. Unless we've inadvertently missed a cliché – in which case, let us know in the comment box below, there's a good chap.
---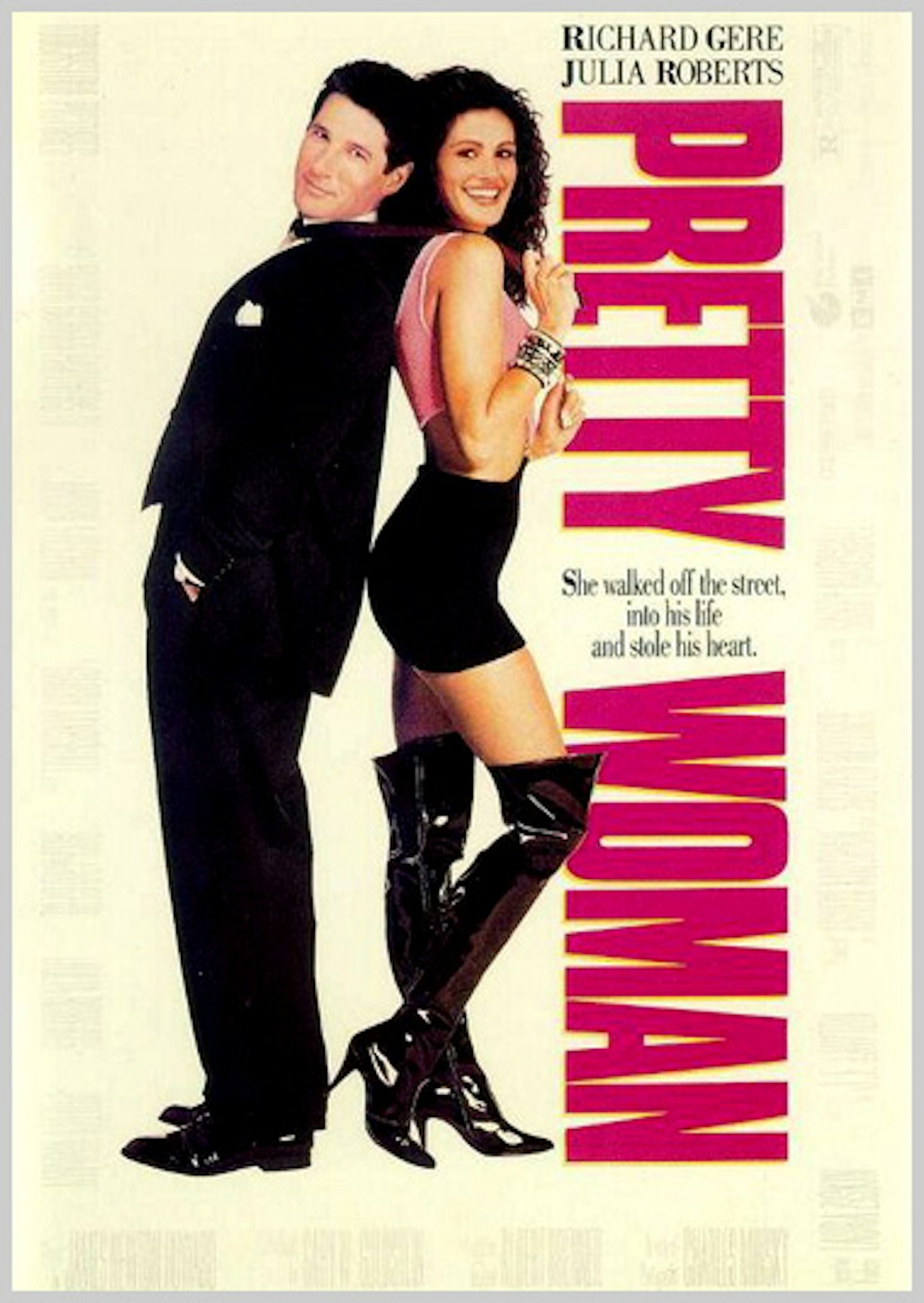 EXAMPLE 1
Pretty Woman (1990)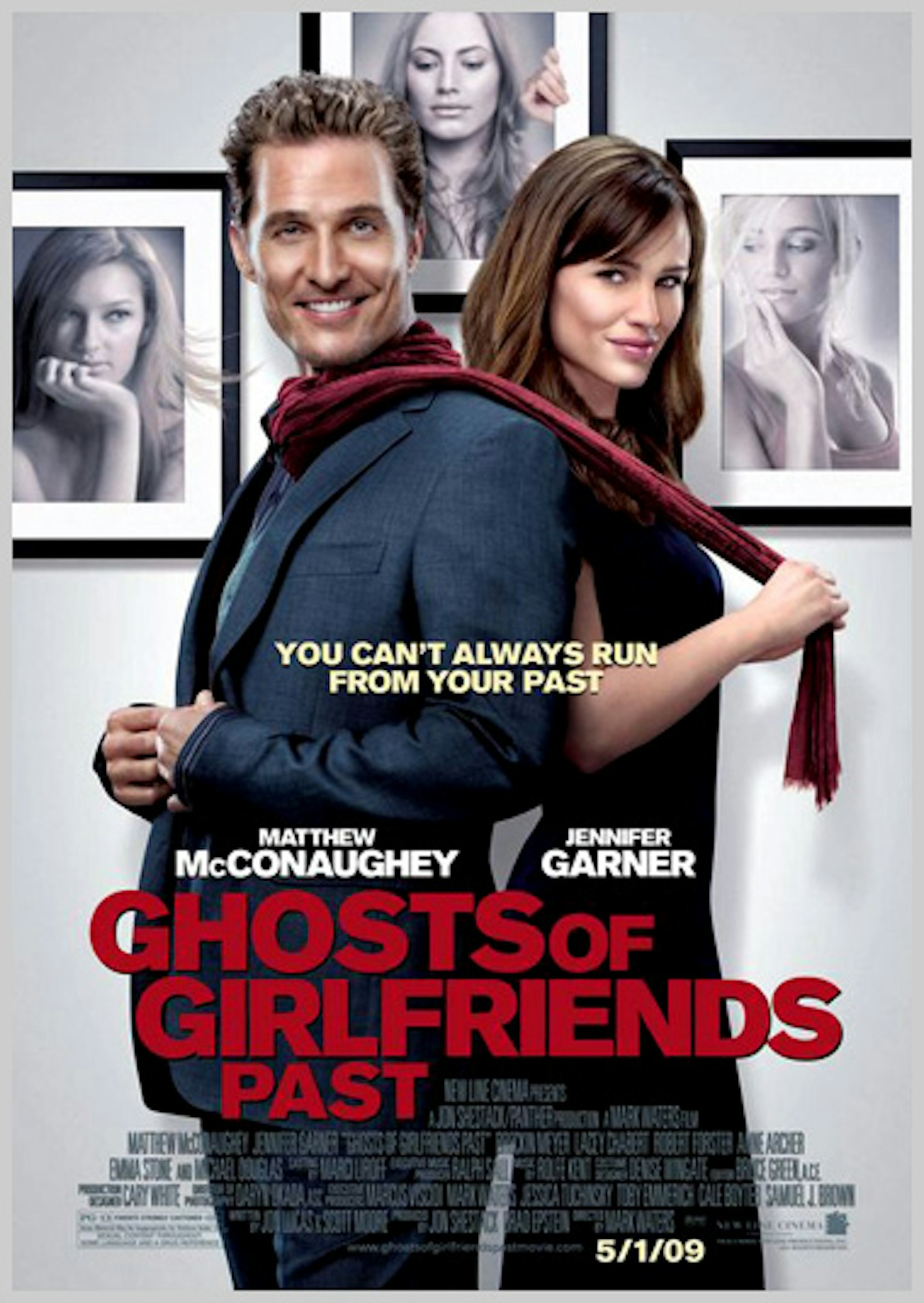 EXAMPLE 2
Ghosts Of Girlfriends Past (2009)
As any romantic comedy-loving fool knows, Ghosts Of Girlfriends Past is loosely based on Charles Dickens' A Christmas Carol. And as anyone with eyes knows, its poster is loosely based on Pretty Woman's, with Richard Gere's tie swapped for Matthew McConaughey's scarf, and, you know, Jennifer Garner not being a hooker and stuff. Plus, the photos on the wall (another classic rom-com poster trope) echo the 'The Three Floaty Faces' cliché. But more on that later… - - - - - -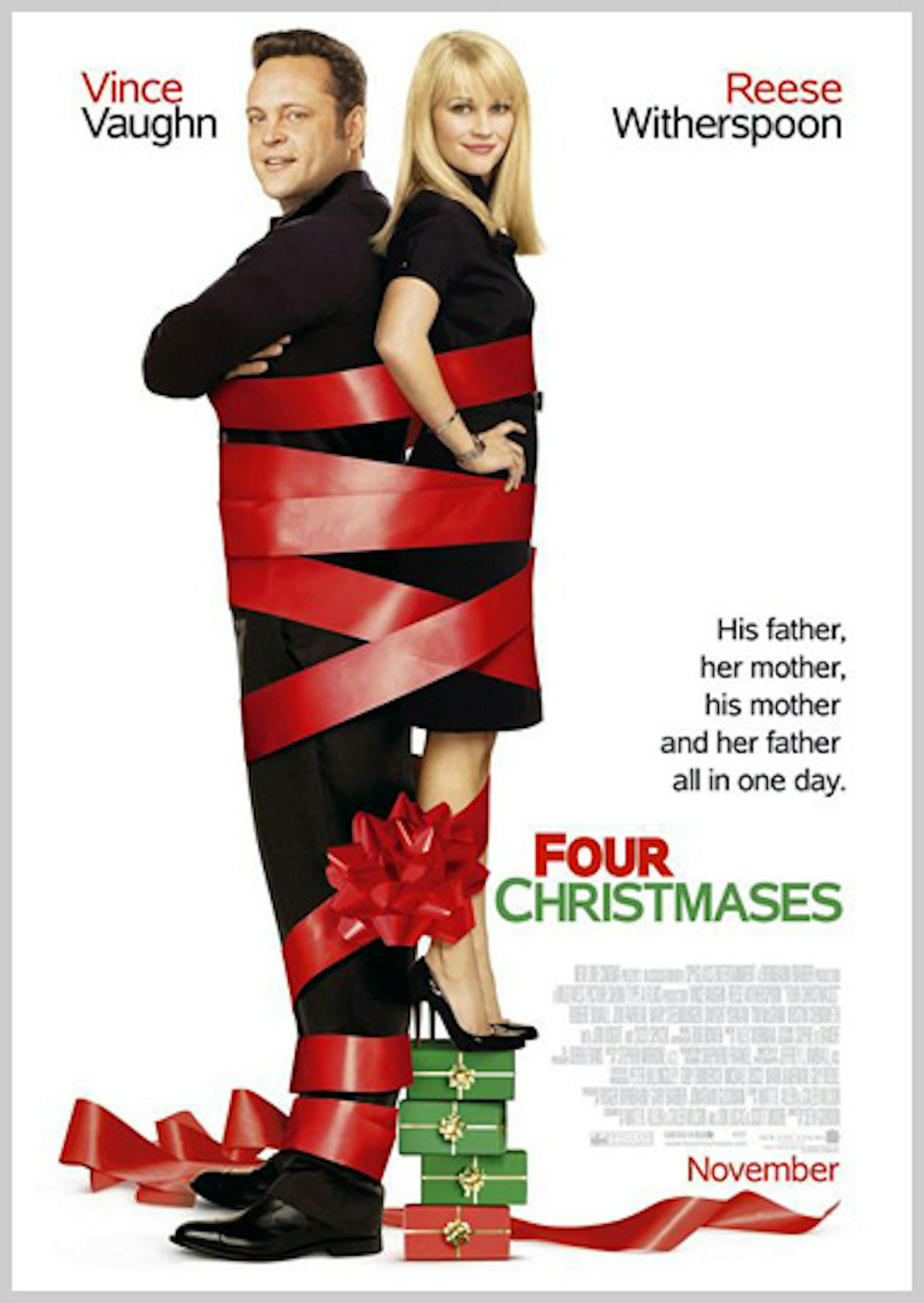 EXAMPLE 3
Four Christmases (2008)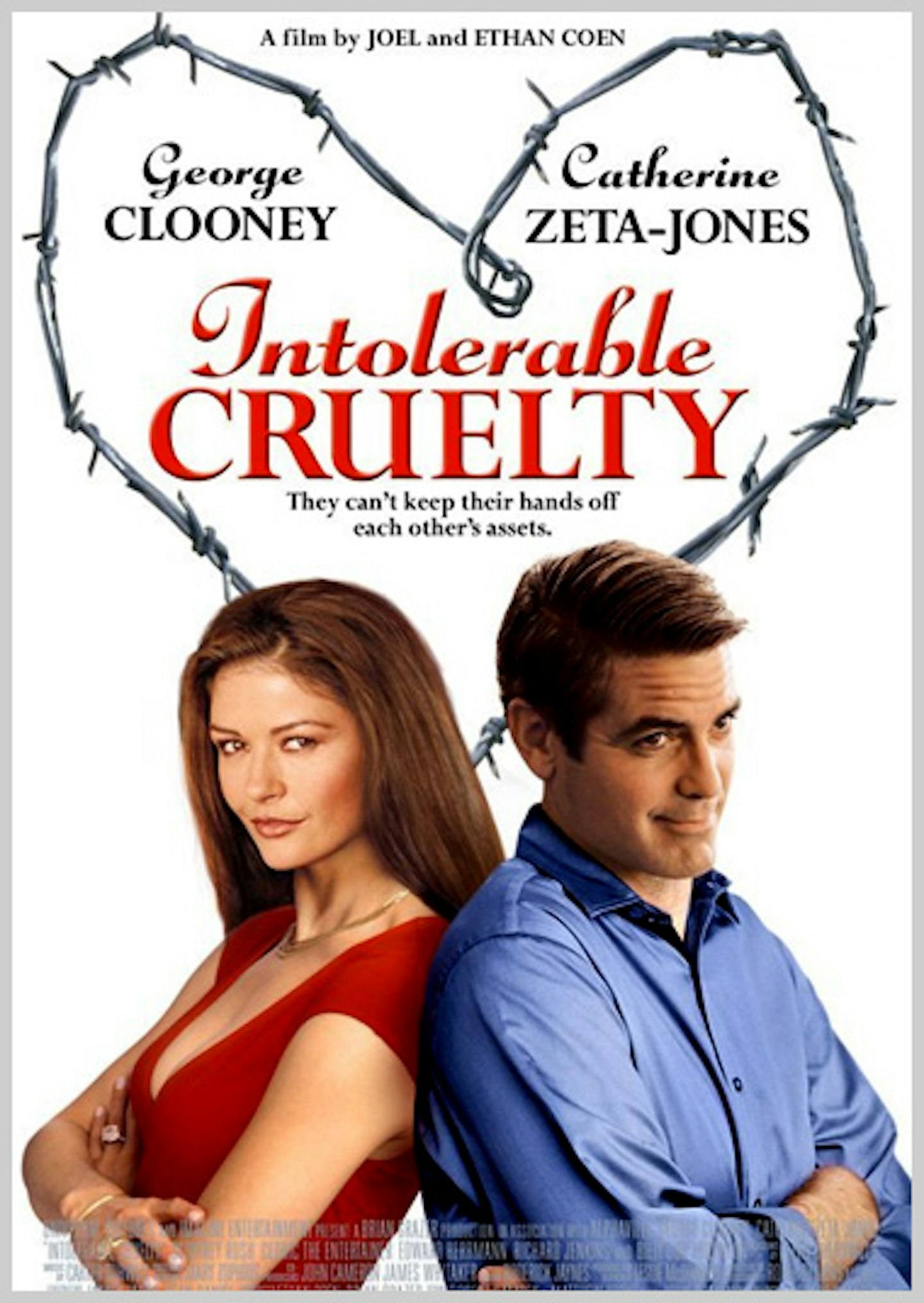 EXAMPLE 4
Intolerable Cruelty (2003)
Another red and white number here, plus a crossed-arms-frowny-face-contrast pairing, AND a heart motif. It's as if The Brothers Coen were so desperate to point out this was a commercial rom com number they just took as many poster clichés as possible and mixed them up in a big, critics-dividing pot. And had George Clooney pull a face. For some reason. - - - - - -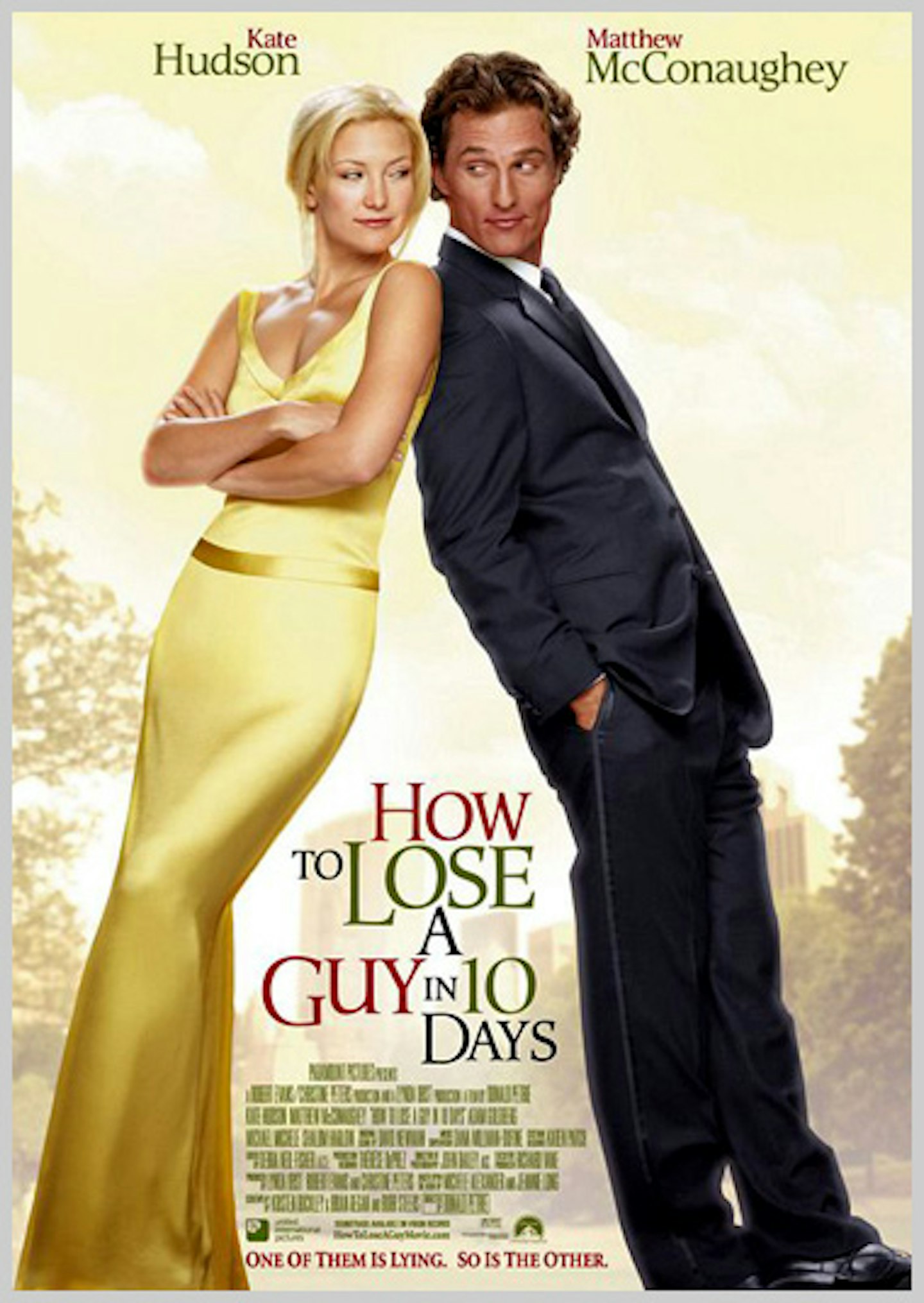 EXAMPLE 5
How To Lose A Guy In 10 Days (2003)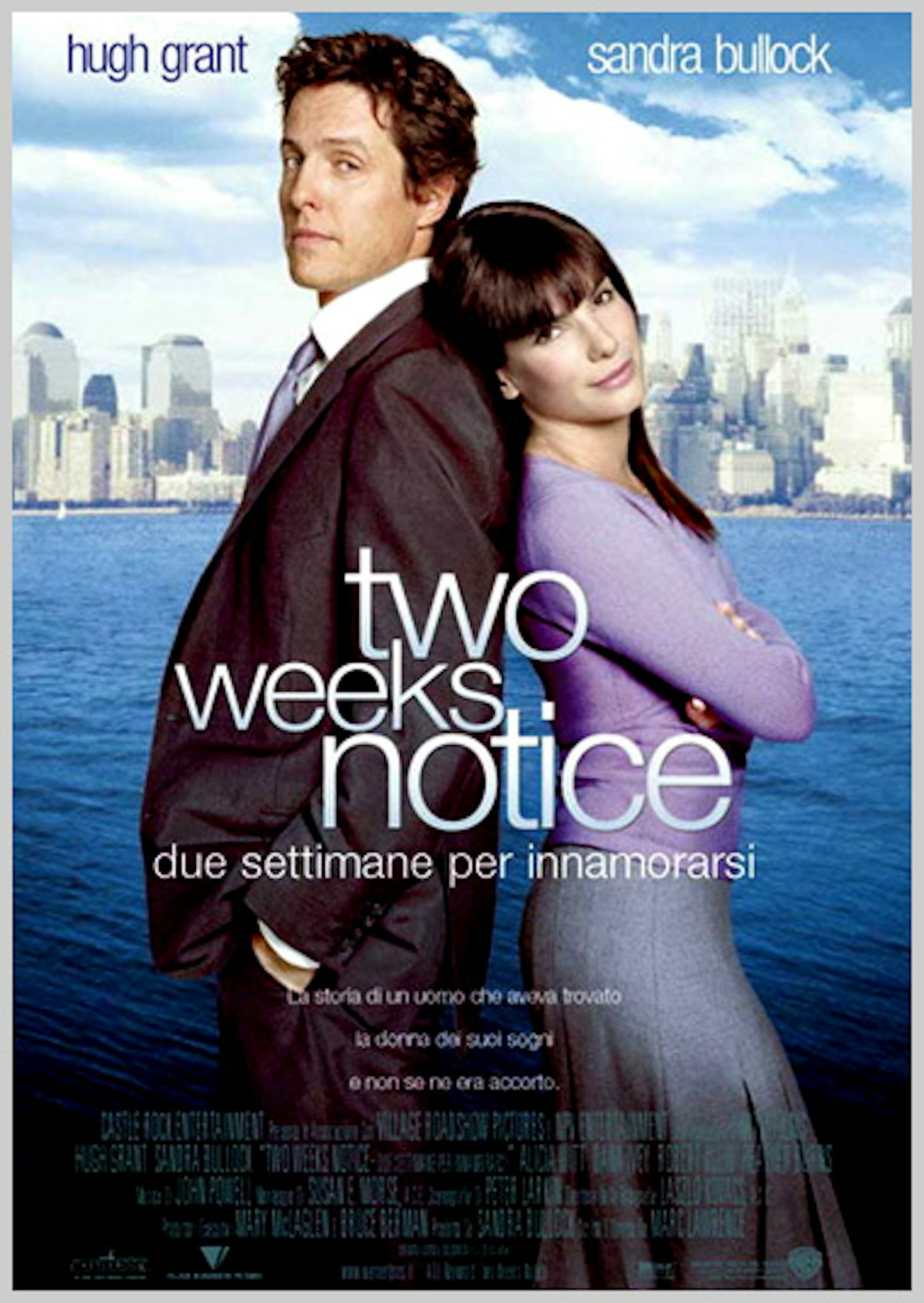 EXAMPLE 6
Two Weeks Notice (2002)
Look back at How To Lose A Guy In Ten Days. Then back to this. Female lead: crossed-arms-frowny-face. Male lead: tiny-shoulder-shrug-plus-hands-in-pockets. And, for some reason, they seem to be floating on water, Jesus-stylee. AND, (and this is a big, very important 'and' here) THEY FORGET THE APOSTROPHE. What. A. Clanger. - - - - - -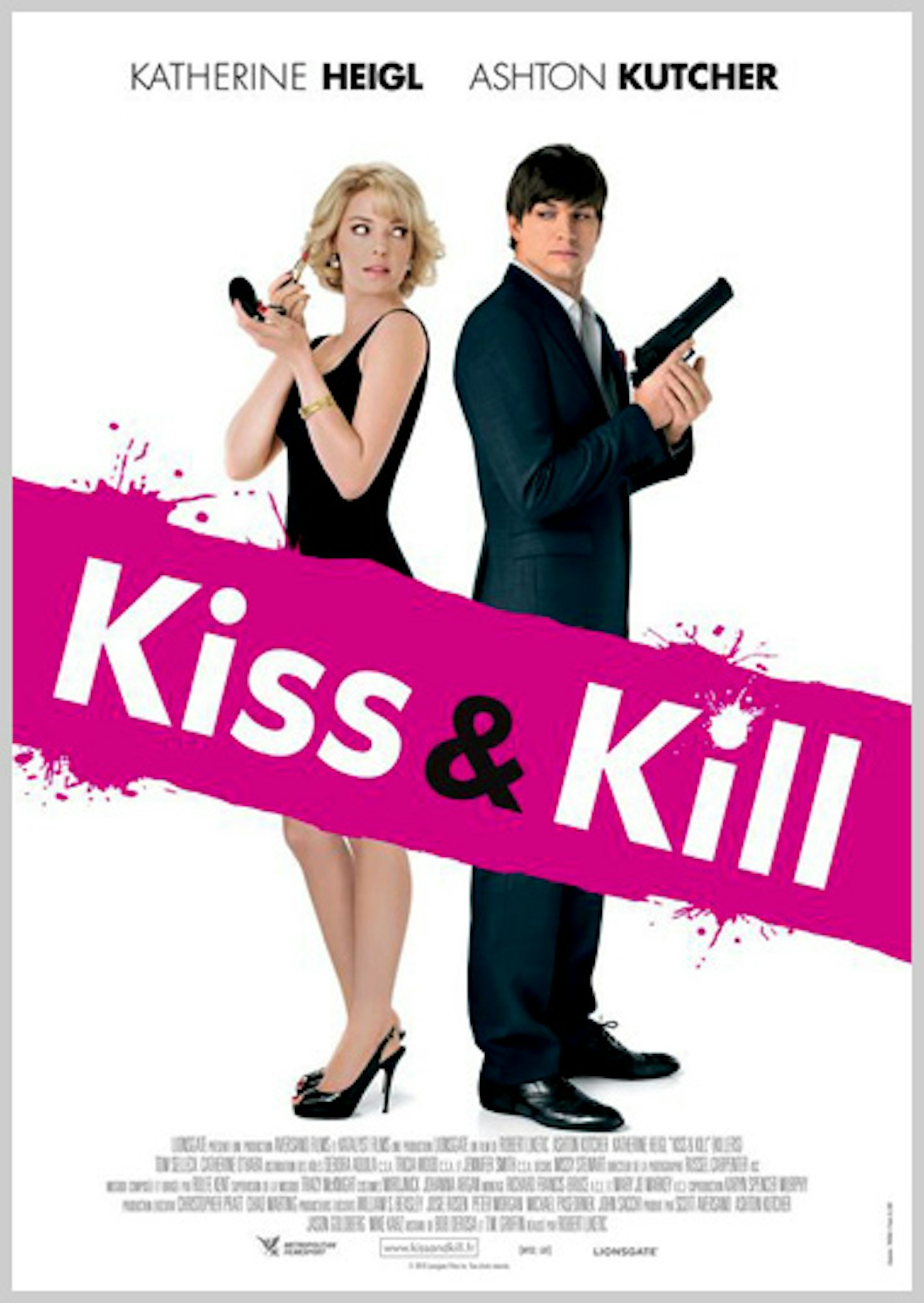 EXAMPLE 7
Killers (2010)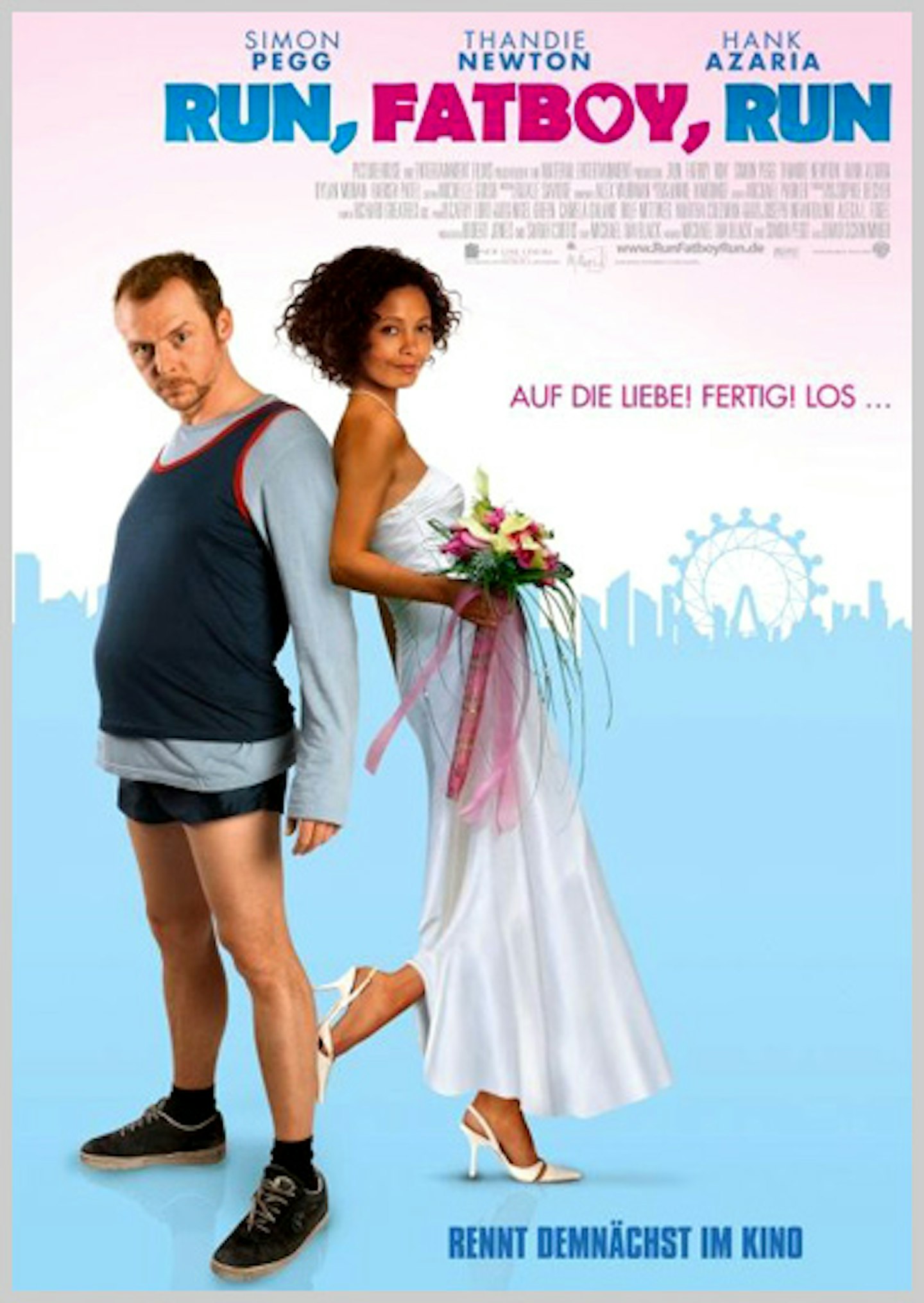 EXAMPLE 8
Run Fatboy Run (2008)
A German poster here, but of note because it highlights the Photoshopping shamelessness of foreign markets taking other movies' art assets and doing whatever they bloody want with them. In other Run Fatboy Run posters, it's obvious these two aren't standing together. For starters, why is Thandie Newton digging her high heel into Simon's leg? Not very nice Thandie. Not very nice at all. - - - - - -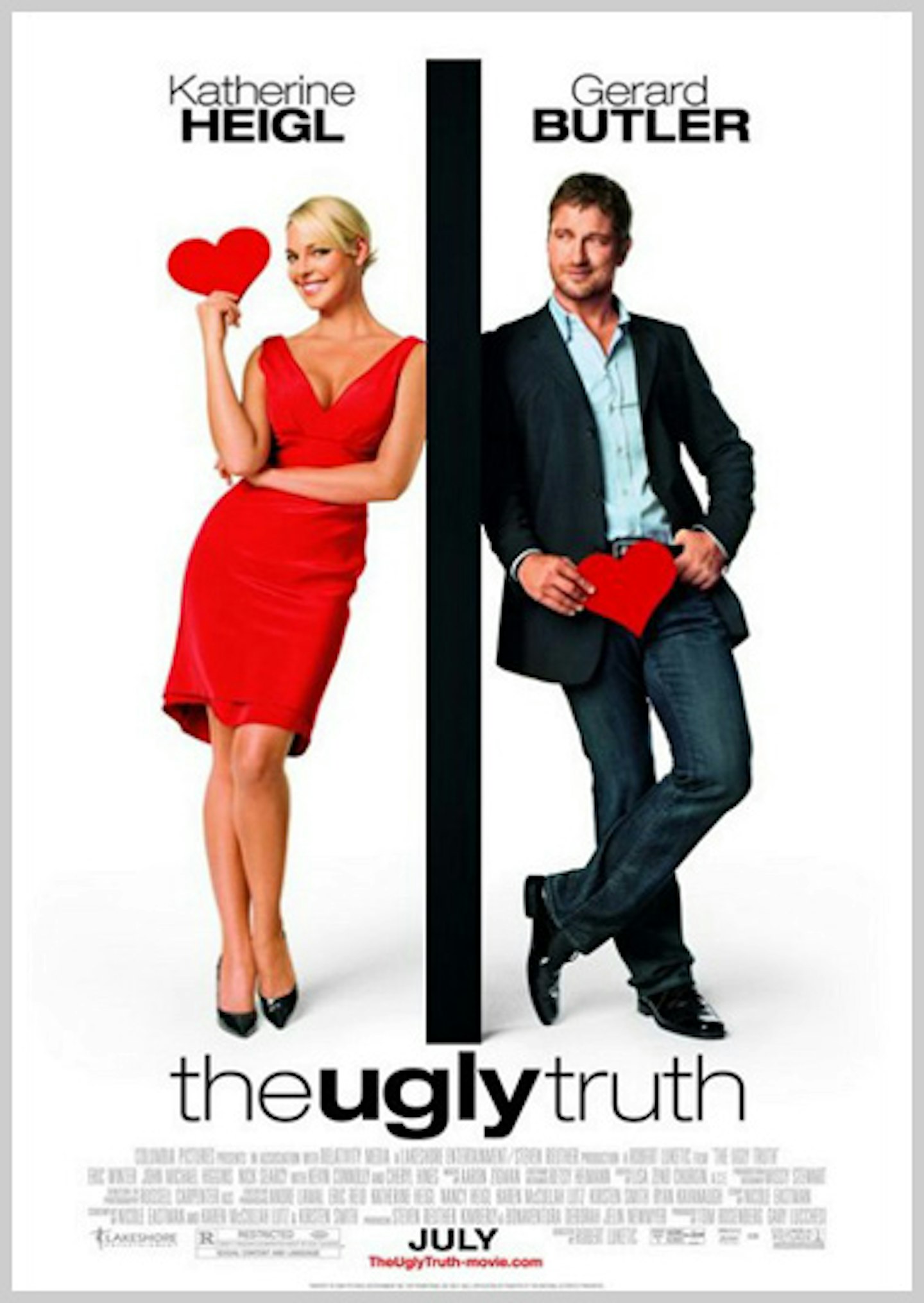 EXAMPLE 9
The Ugly Truth (2010)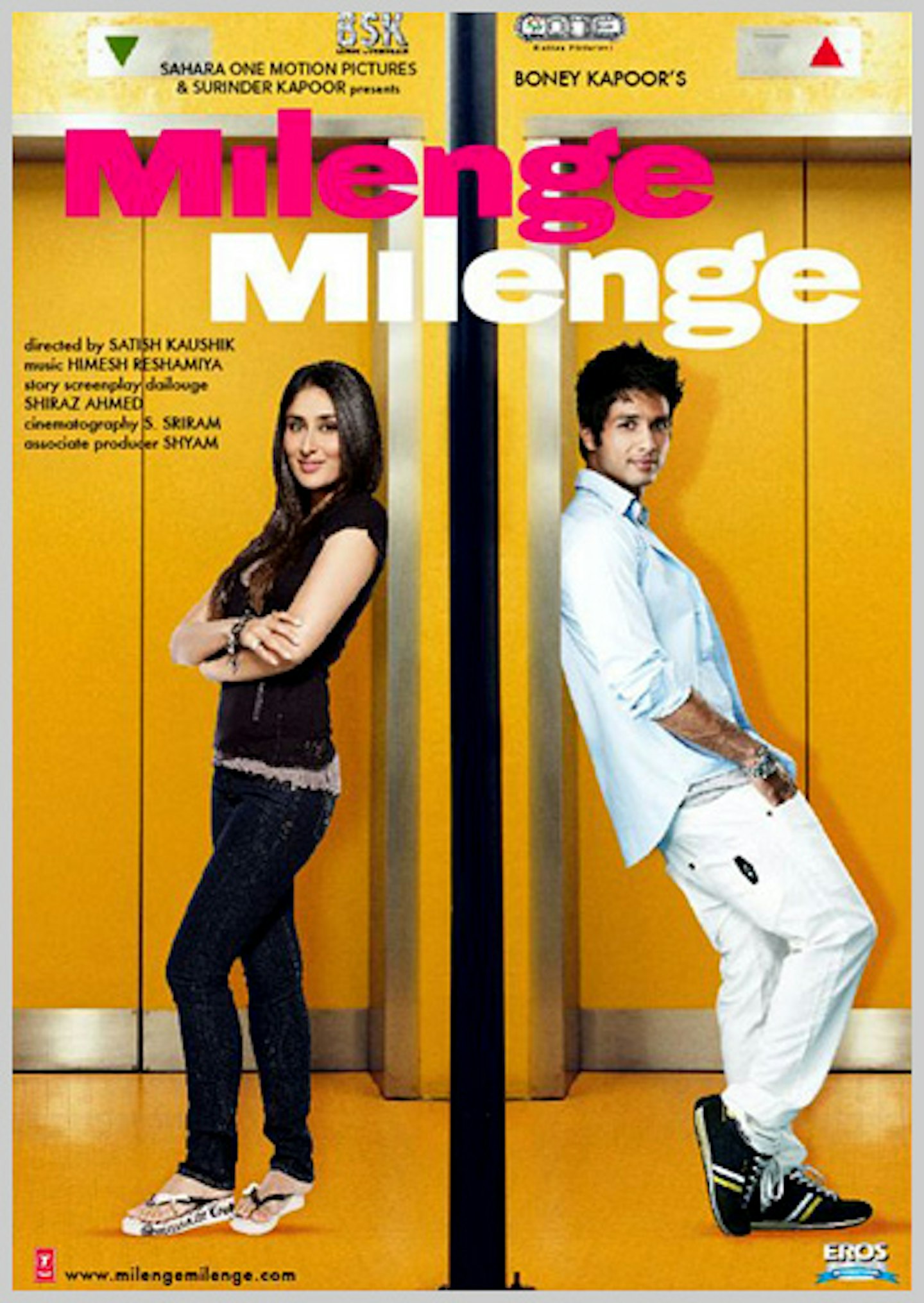 EXAMPLE 10
Milenge Milenge (2010)
Out the same year as The Ugly Truth, this Indian interpretation of Serendipity does the exact same leaning trick with a wall, but adds in the tiny-shoulder-shrug-plus-hands-in-pockets manoeuvre and crossed-arms-frowny-face because, you know, that's just what you do. - - - - - -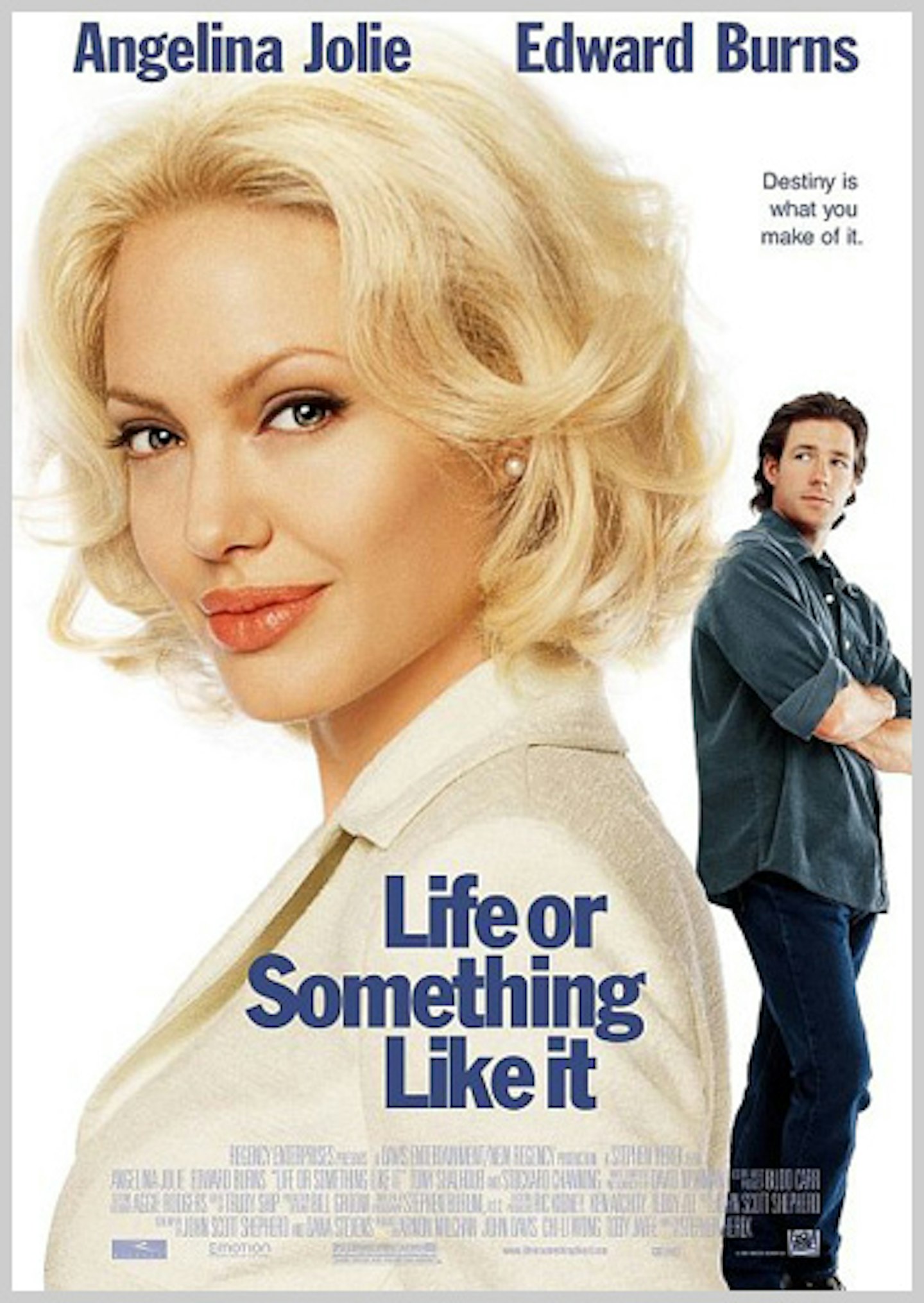 EXAMPLE 11
Life Or Something Like It (2002)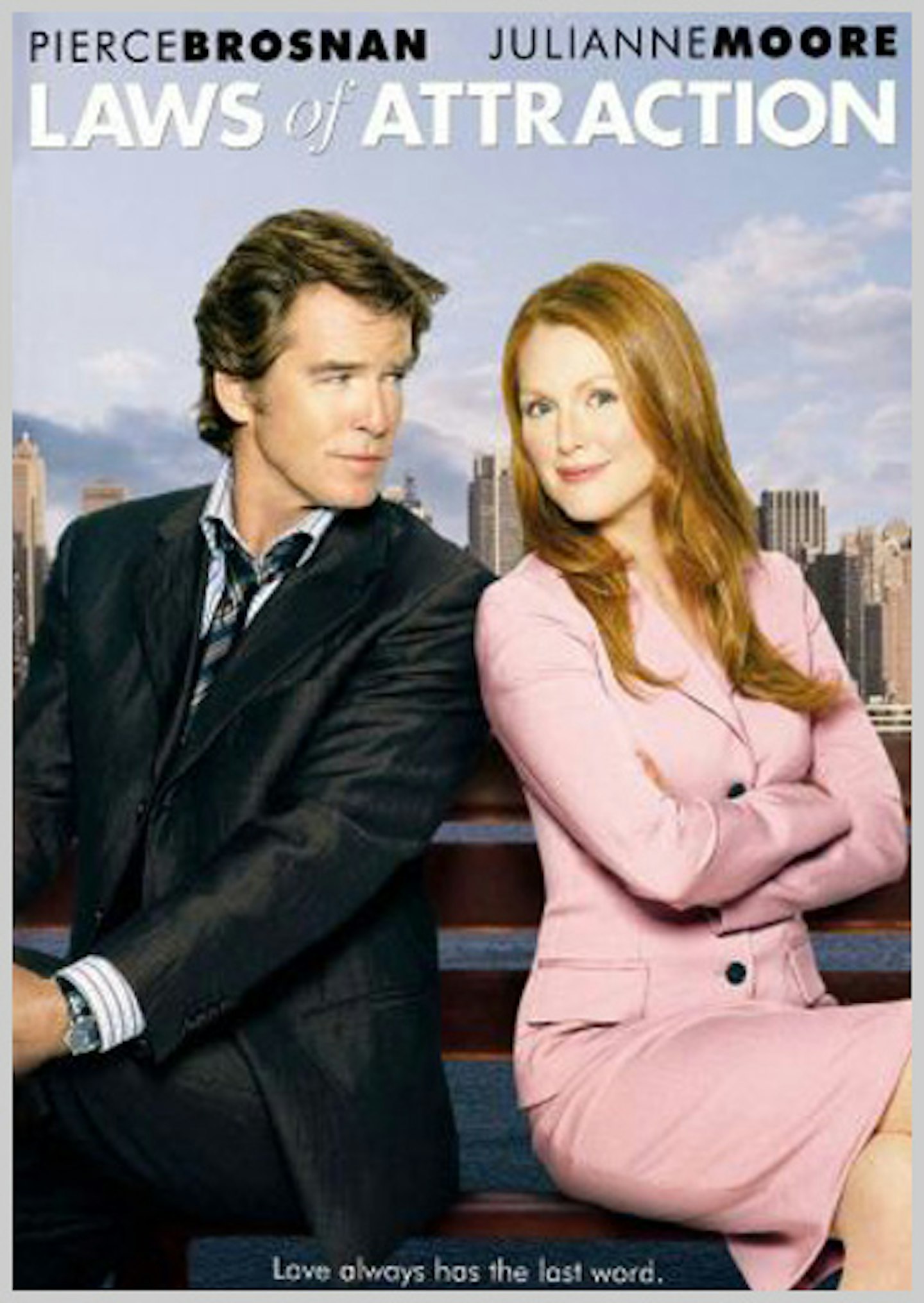 EXAMPLE 12
Laws Of Attraction (2004)
This is the mother lode, so expect to see this poster again. First off, it's a back to back; secondly, there's leaning; and thirdly, it's on a bench. And there's some crossed-arms-frowny-face action going on! This is it! We've reached total rom-com-ocity! There are so many clichés here that they almost cancel each other out and become original. But not quite.
---
EXAMPLE 1
Bridget Jones's Diary (2001)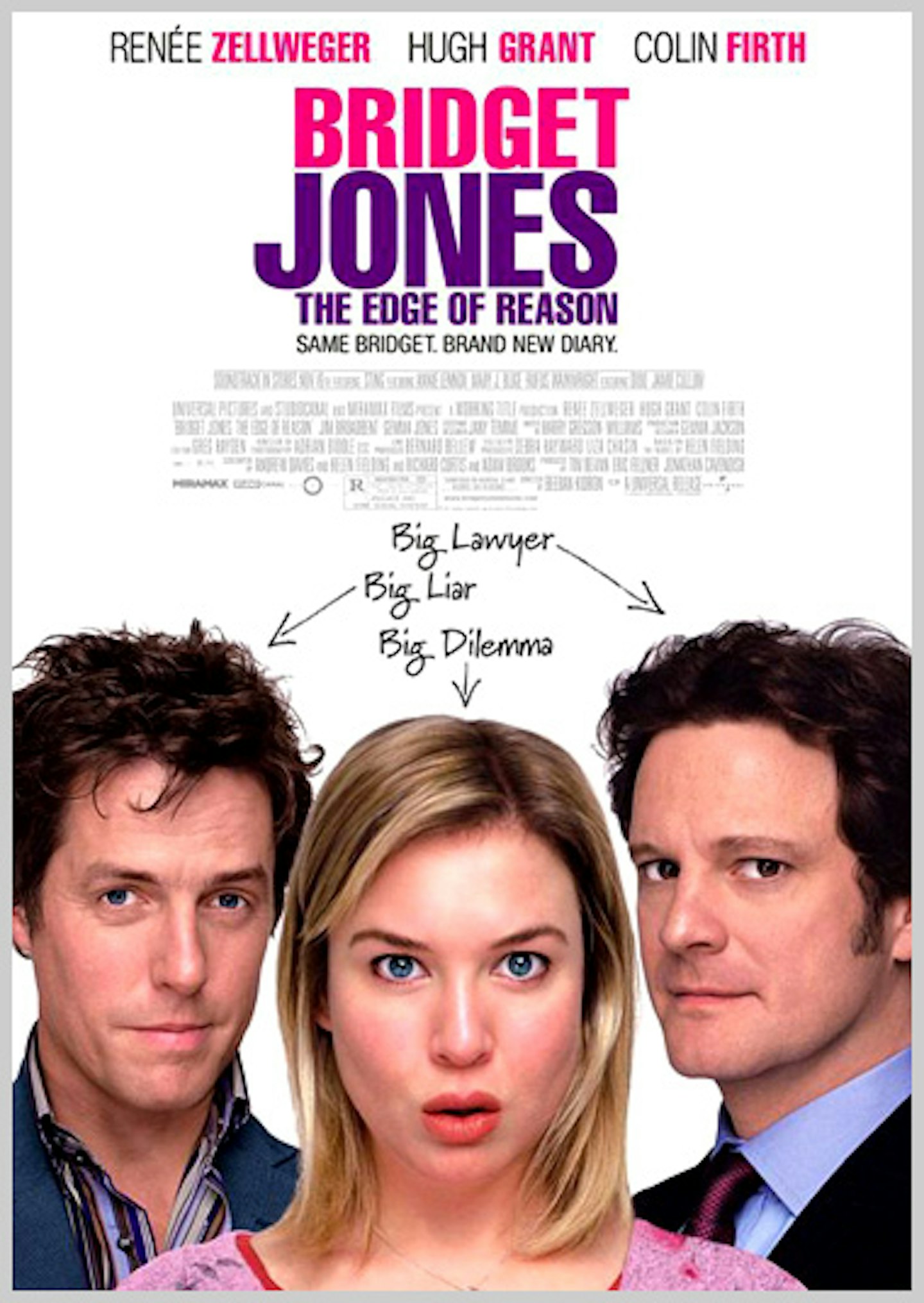 EXAMPLE 2
Bridget Jones: The Edge Of Reason (2004)
This one, alas, doesn't have that sense of poster continuity. All three of them could be anywhere, their faces and shoulders floating side by side endlessly in the ether. Nice pout from Renée though. That is a pout, isn't it? - - - - - -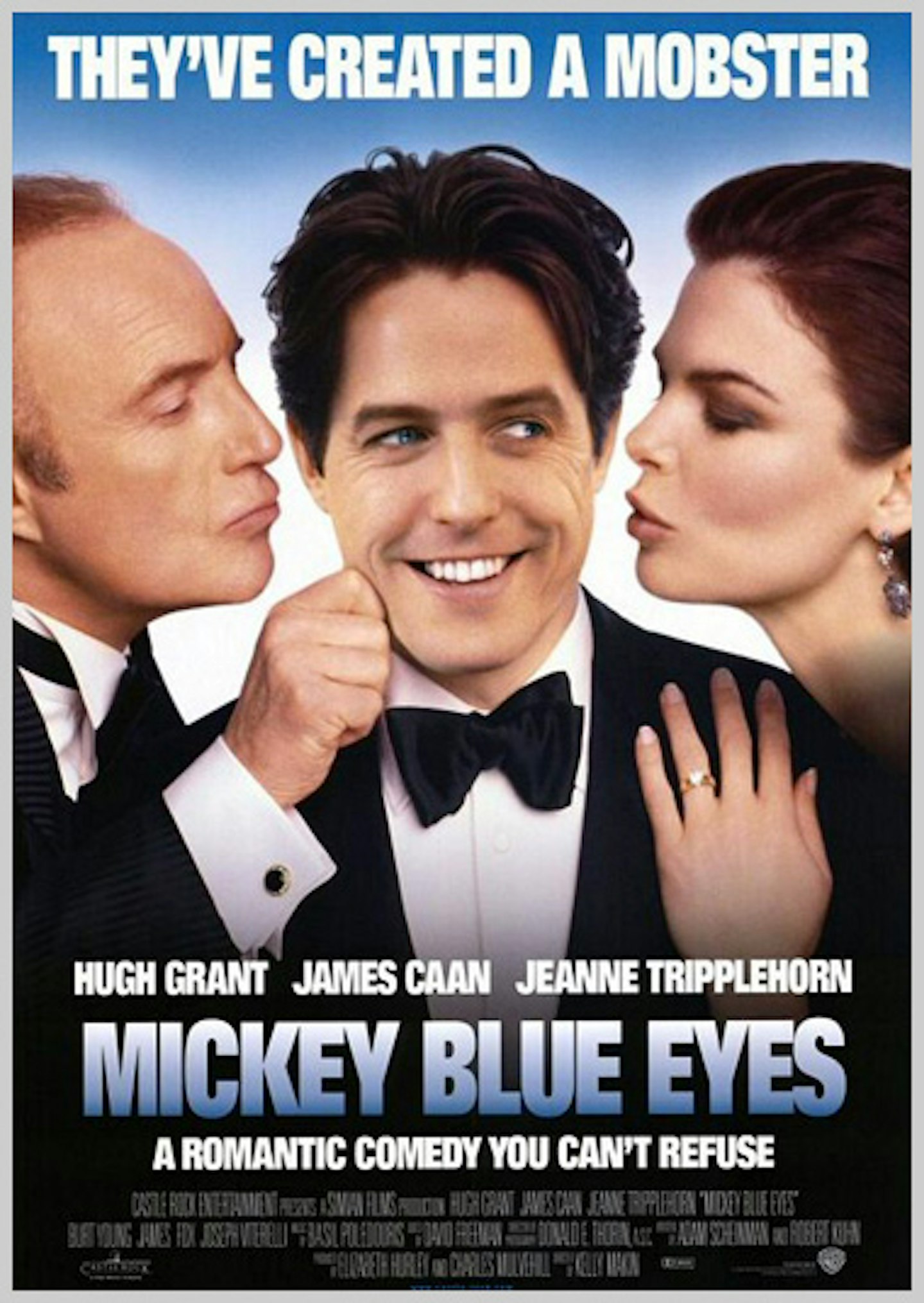 EXAMPLE 3
Mickey Blue Eyes (1999)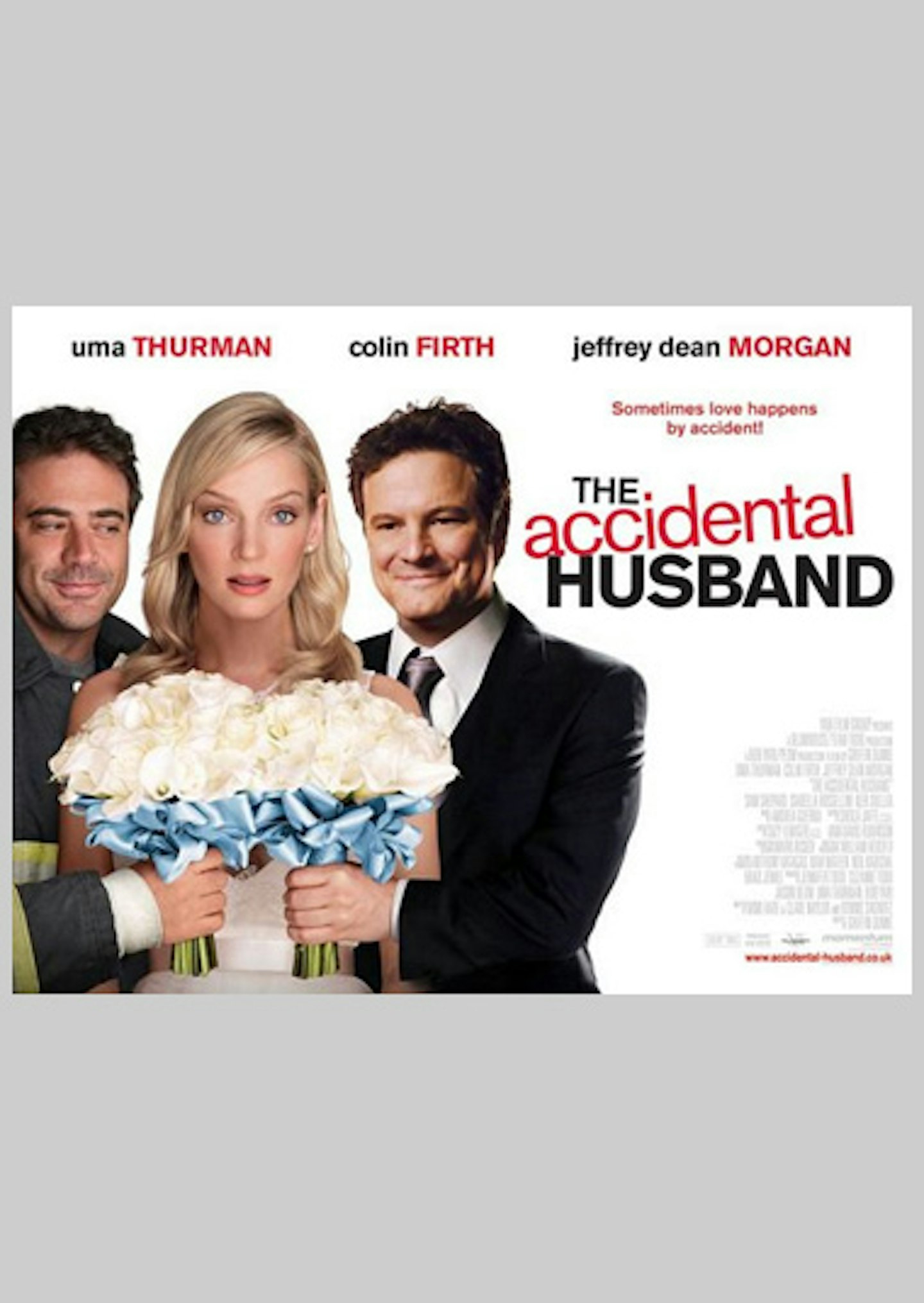 EXAMPLE 4
The Accidental Husband (2008)
Here's Colin's third slice of the Three Floaty Faces pie, and it's a real shocker. In fact, we've already ripped this one to shreds in Our Ultimate Collection Of Badly Photoshopped Movie Posters feature. So you might want to head in that direction for a bit. If you like. - - - - - -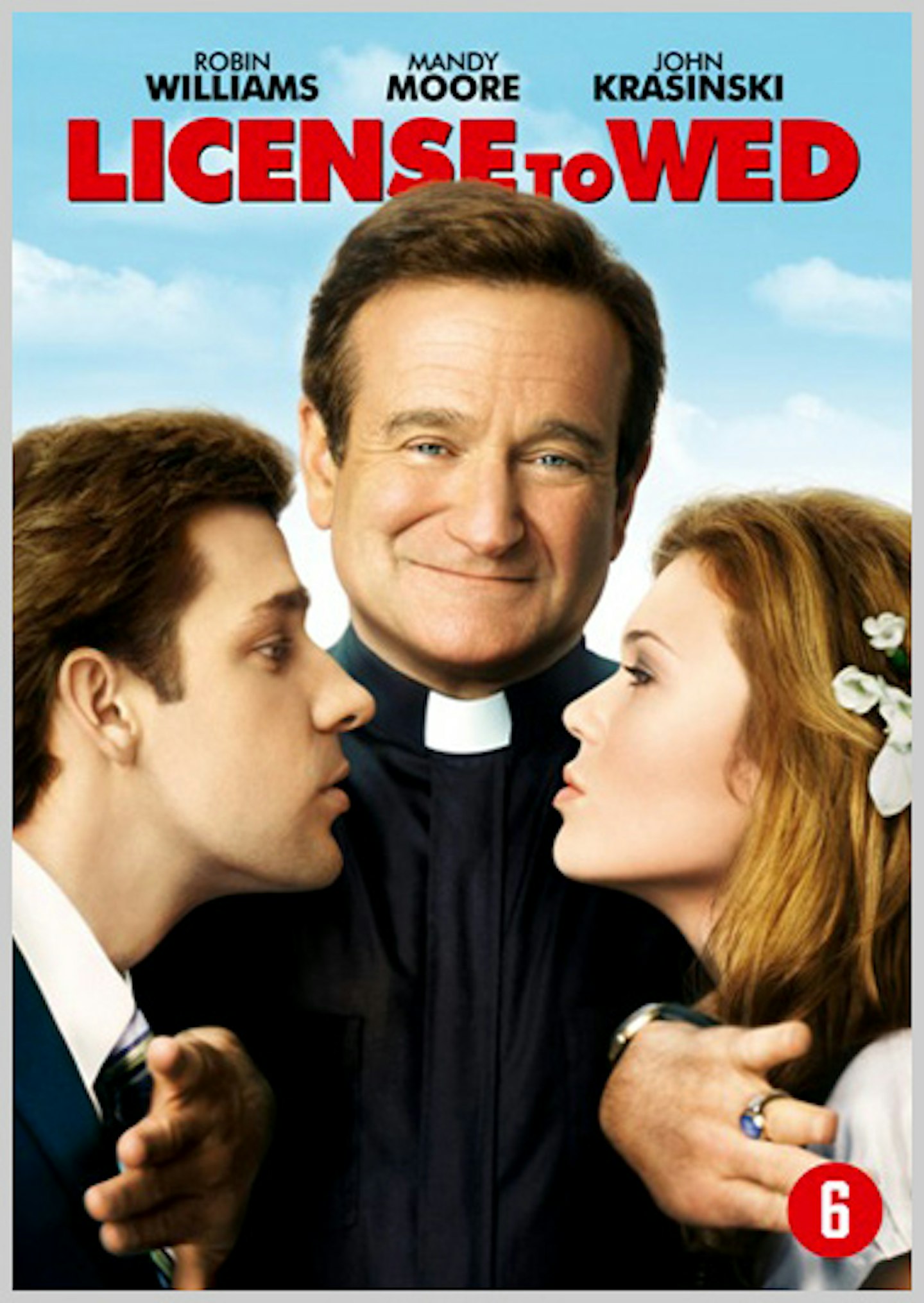 EXAMPLE 5
Licence To Wed (2007)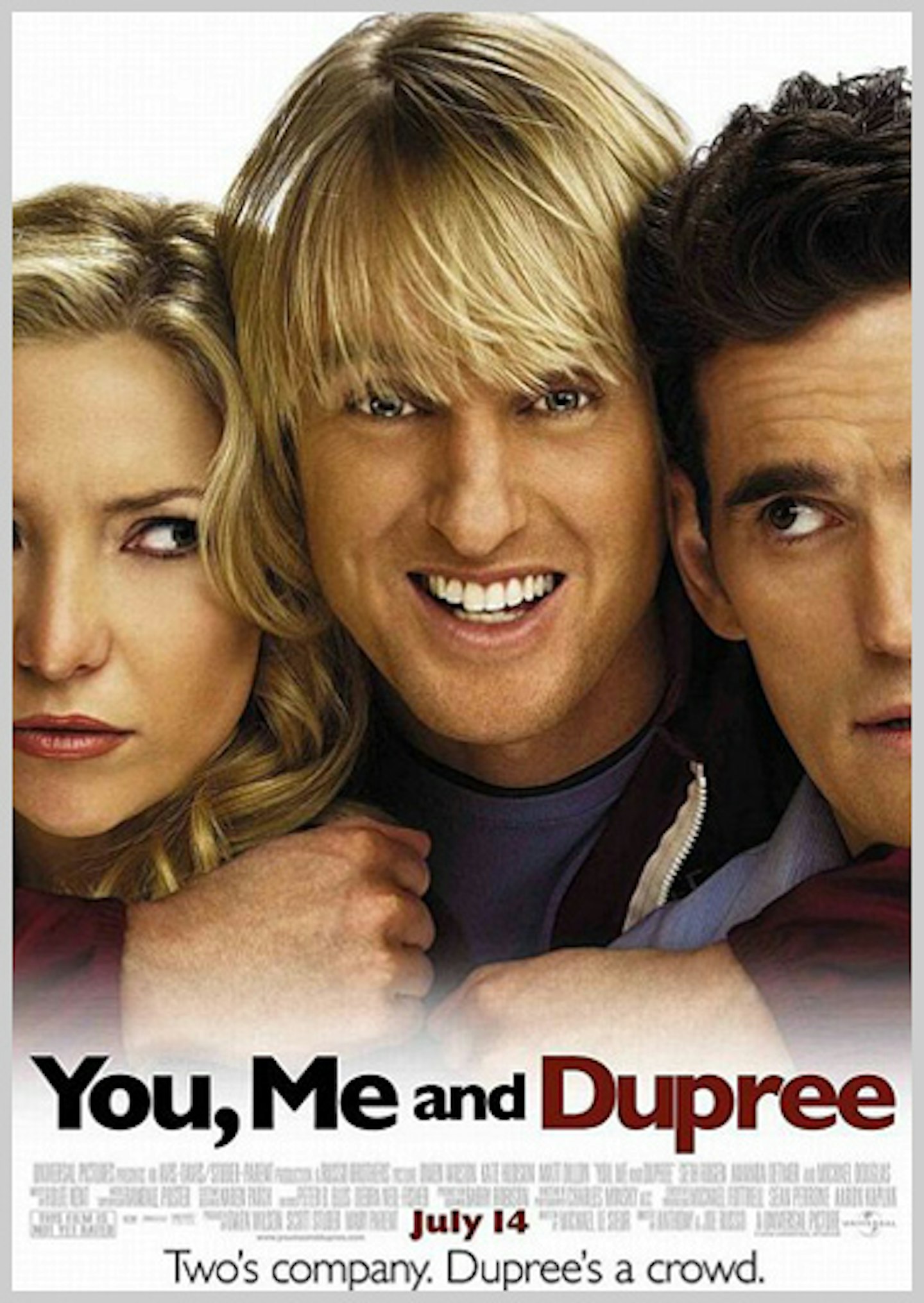 EXAMPLE 6
You, Me And Dupree (2006)
This film is awful, and so is the poster. That's all we have to say on the matter. - - - - - -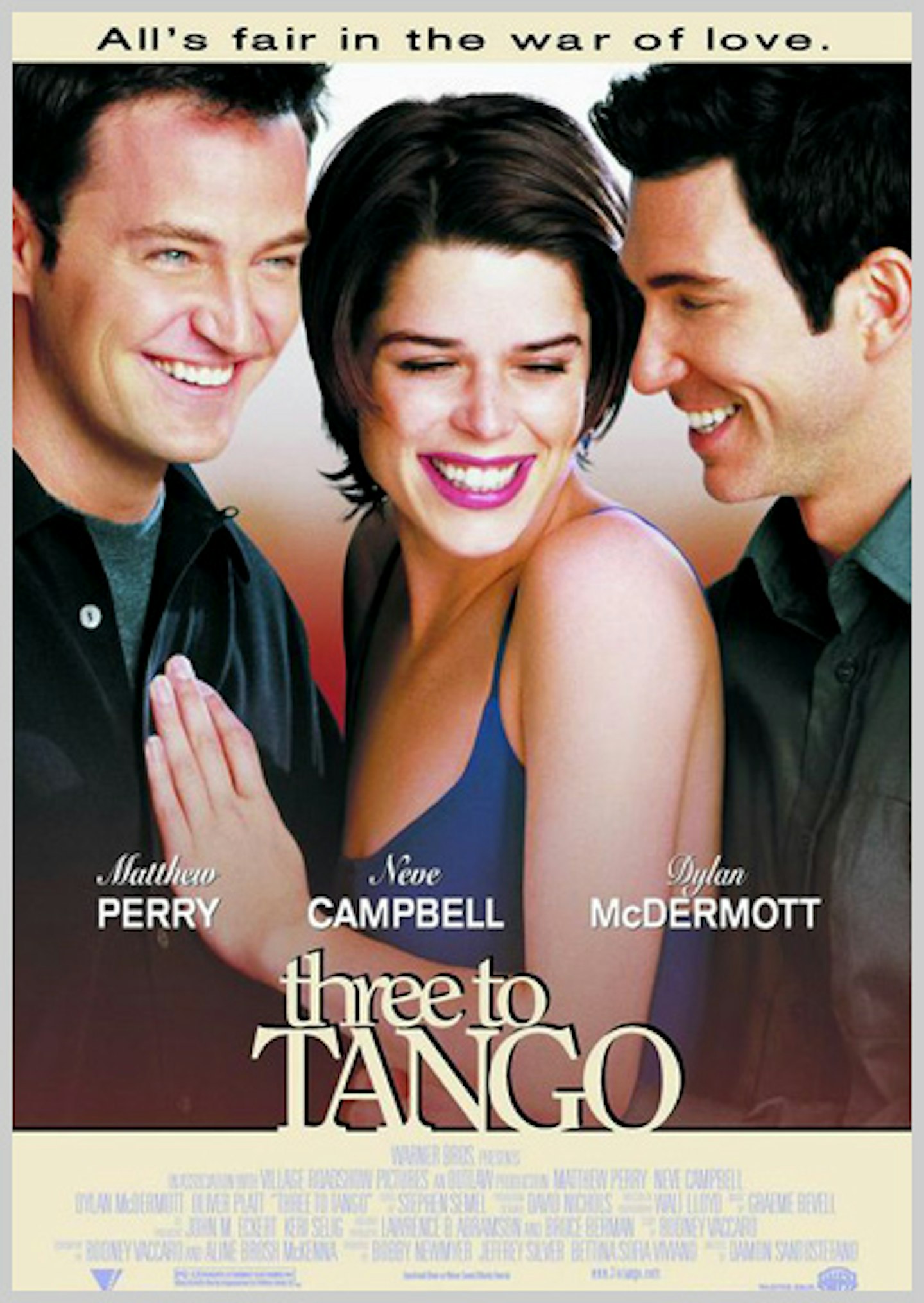 EXAMPLE 7
Three To Tango (1999)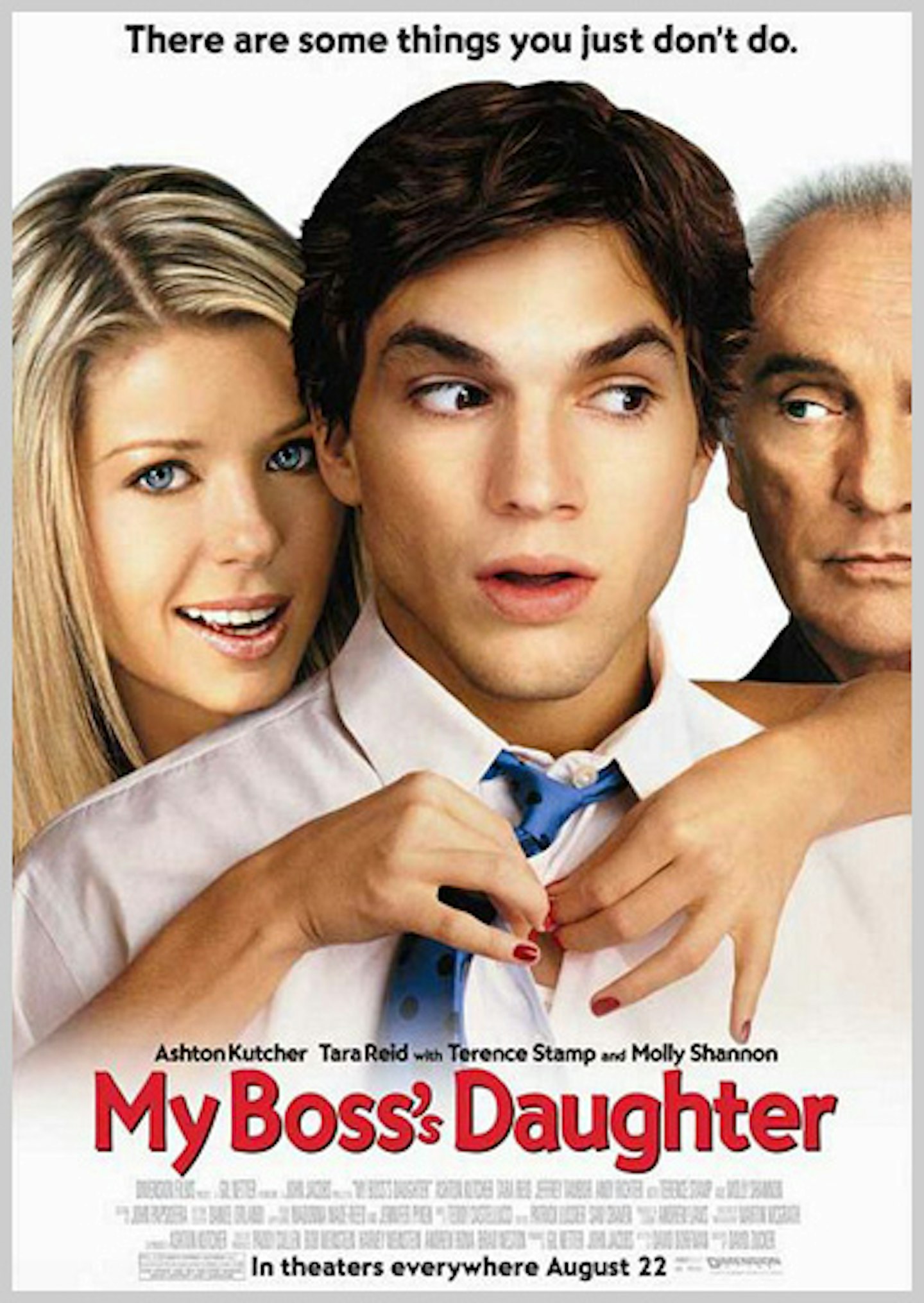 EXAMPLE 8
My Boss's Daughter (2003)
Ashton Kutcher is in so many movies in this romantic comedy poster cliché list it's almost as if he asks for the posters to be as bad as possible. You know, to match the quality of the films. Plus, you need to take a closer look at Terence Stamp's face. That's definitely a I'm-going-to-strangle-my-agent face. Definitely.
---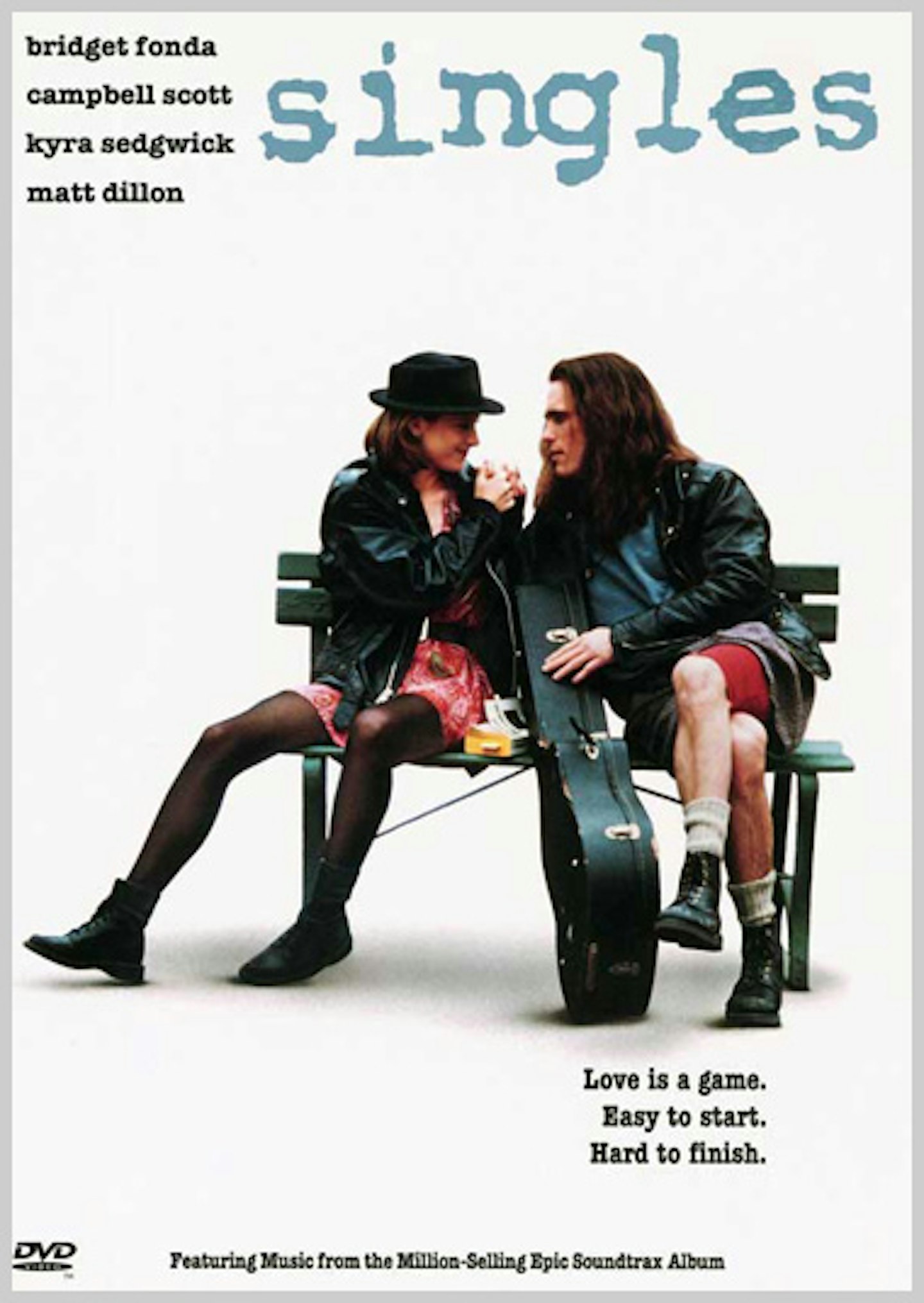 EXAMPLE 1
Singles (1992)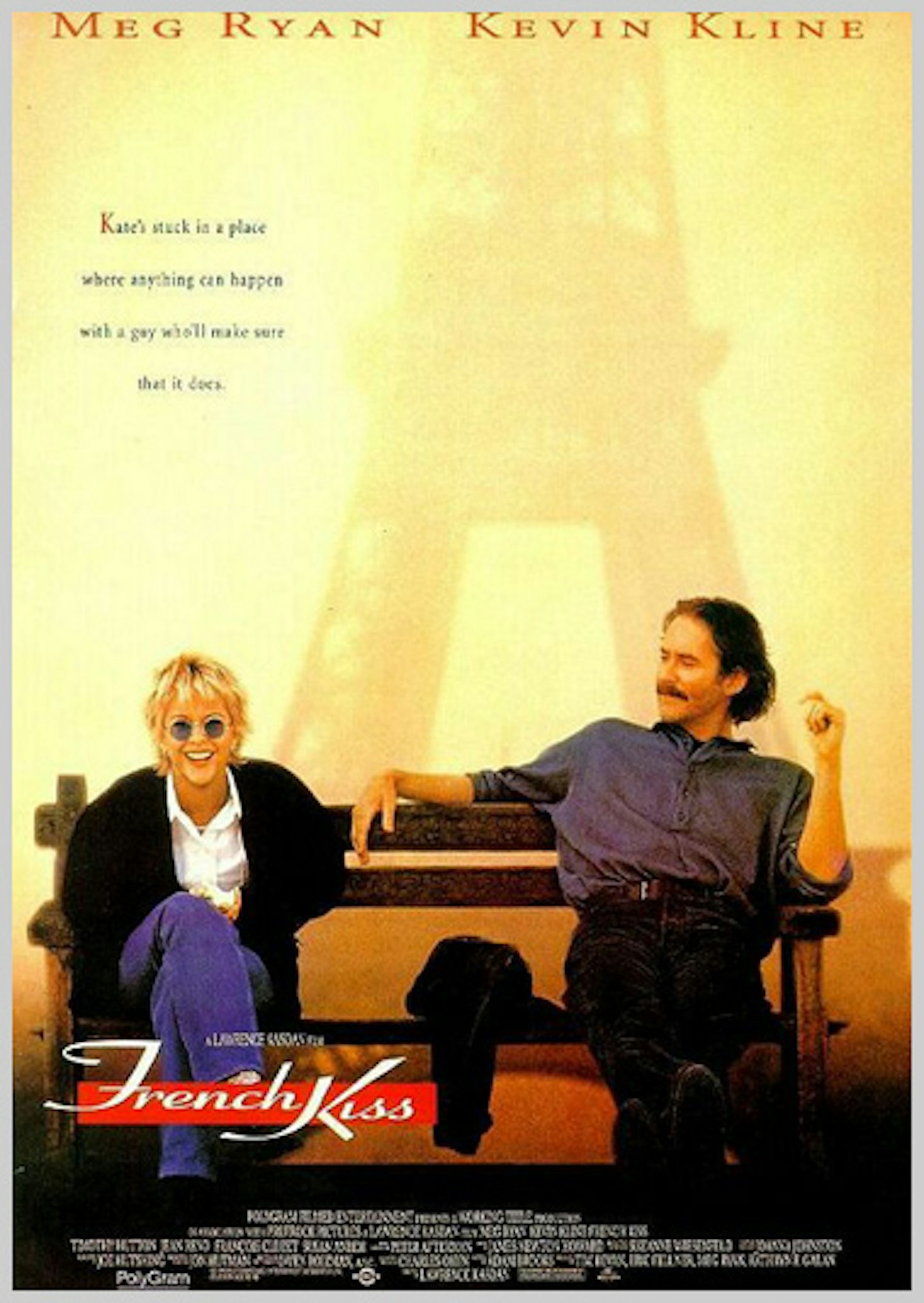 EXAMPLE 2
French Kiss (1995)
God Kevin Kline is awesome, isn't he? - - - - - -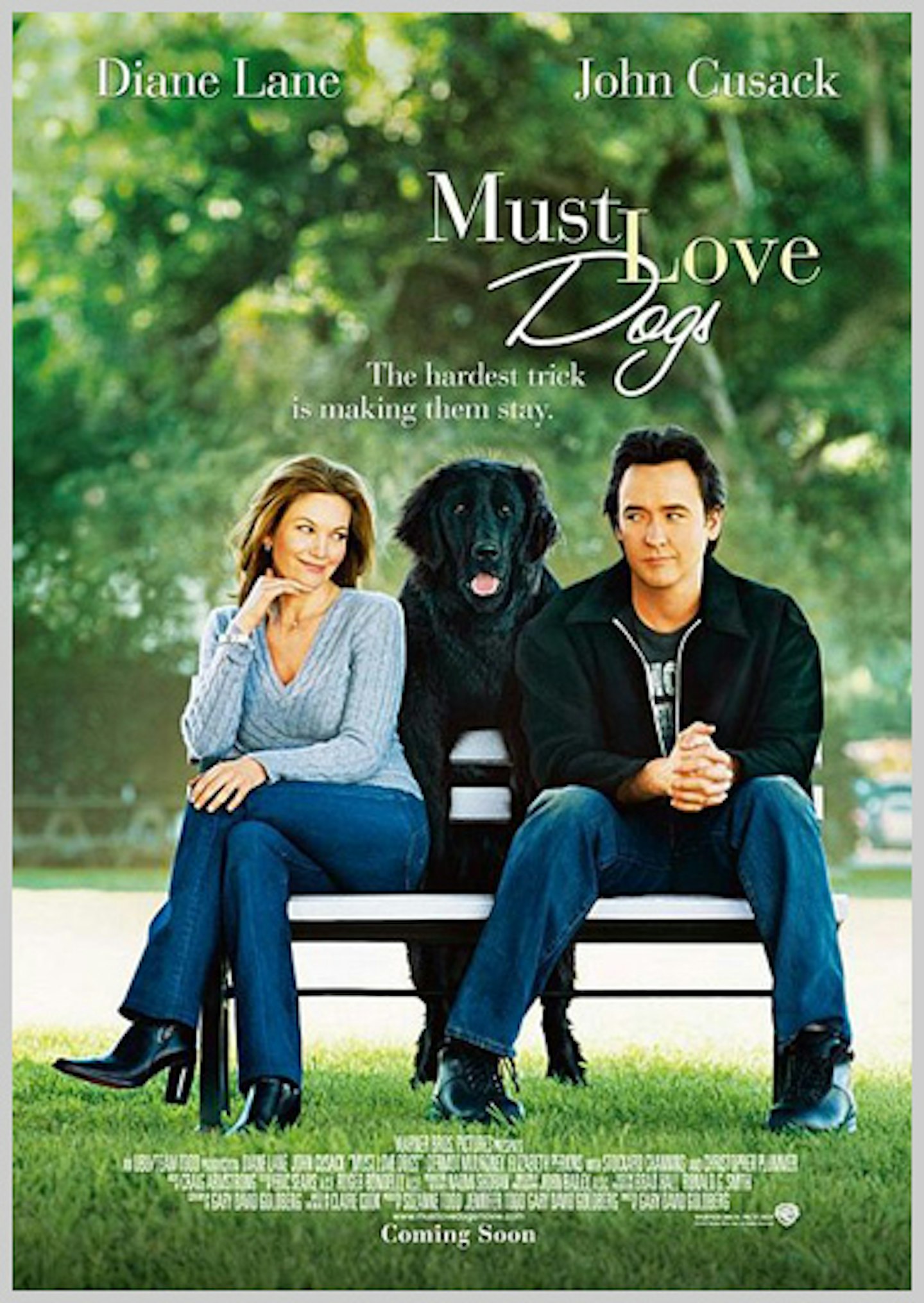 EXAMPLE 3
Must Love Dogs (2005)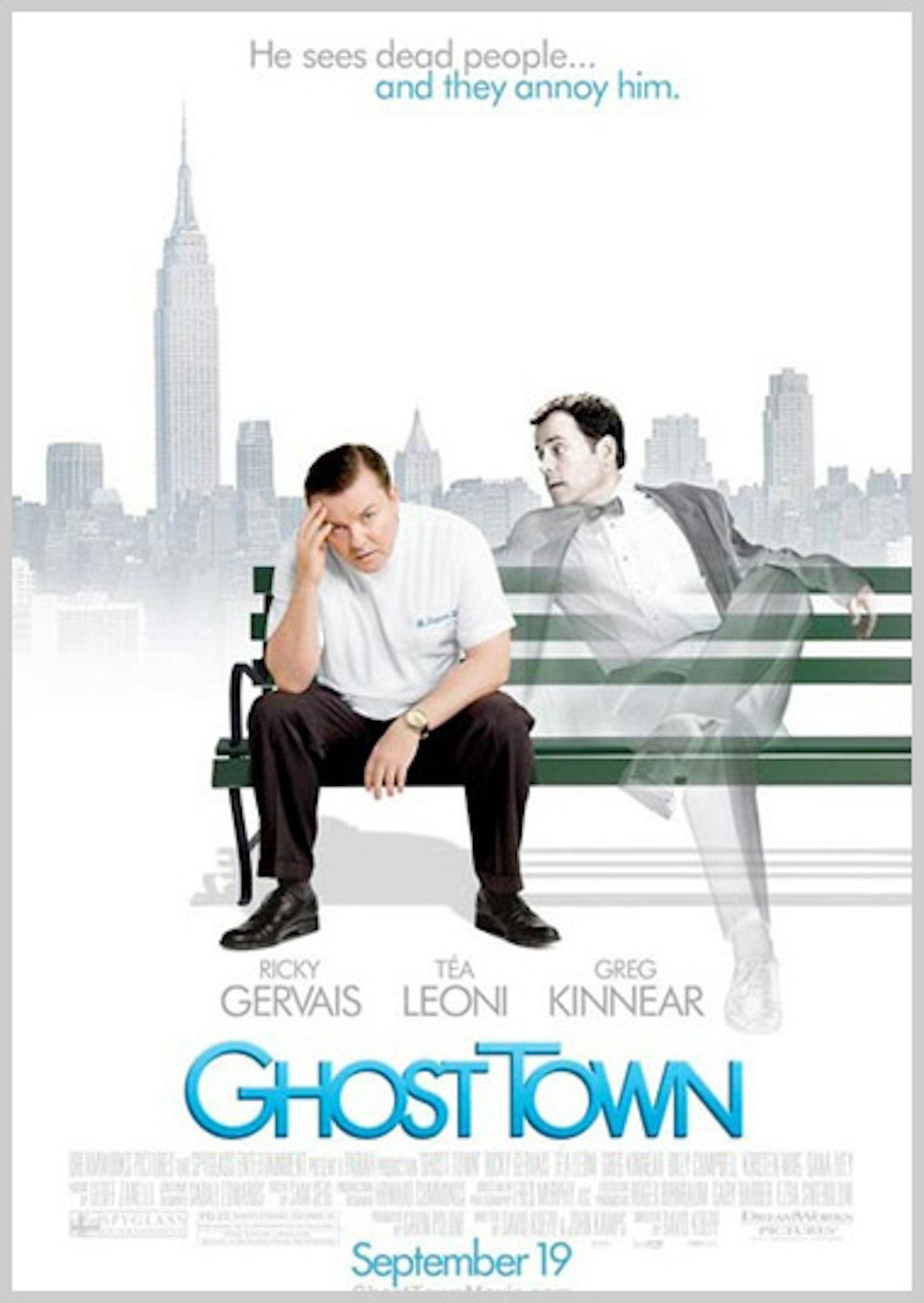 EXAMPLE 4
Ghost Town (2008)
Unusually for a rom-com movie poster, the female lead does not appear, which by us is a damn, damn shame, especially as the lady in question is ever-so-lovely Téa Leoni. But this is a Ricky Gervais movie - his first, in fact - and Ricky Gervais doesn't play by the rules. Just ask the Hollywood Foreign Press Association. And anyone who's watched The Invention Of Lying… God bless you poor souls. - - - - - -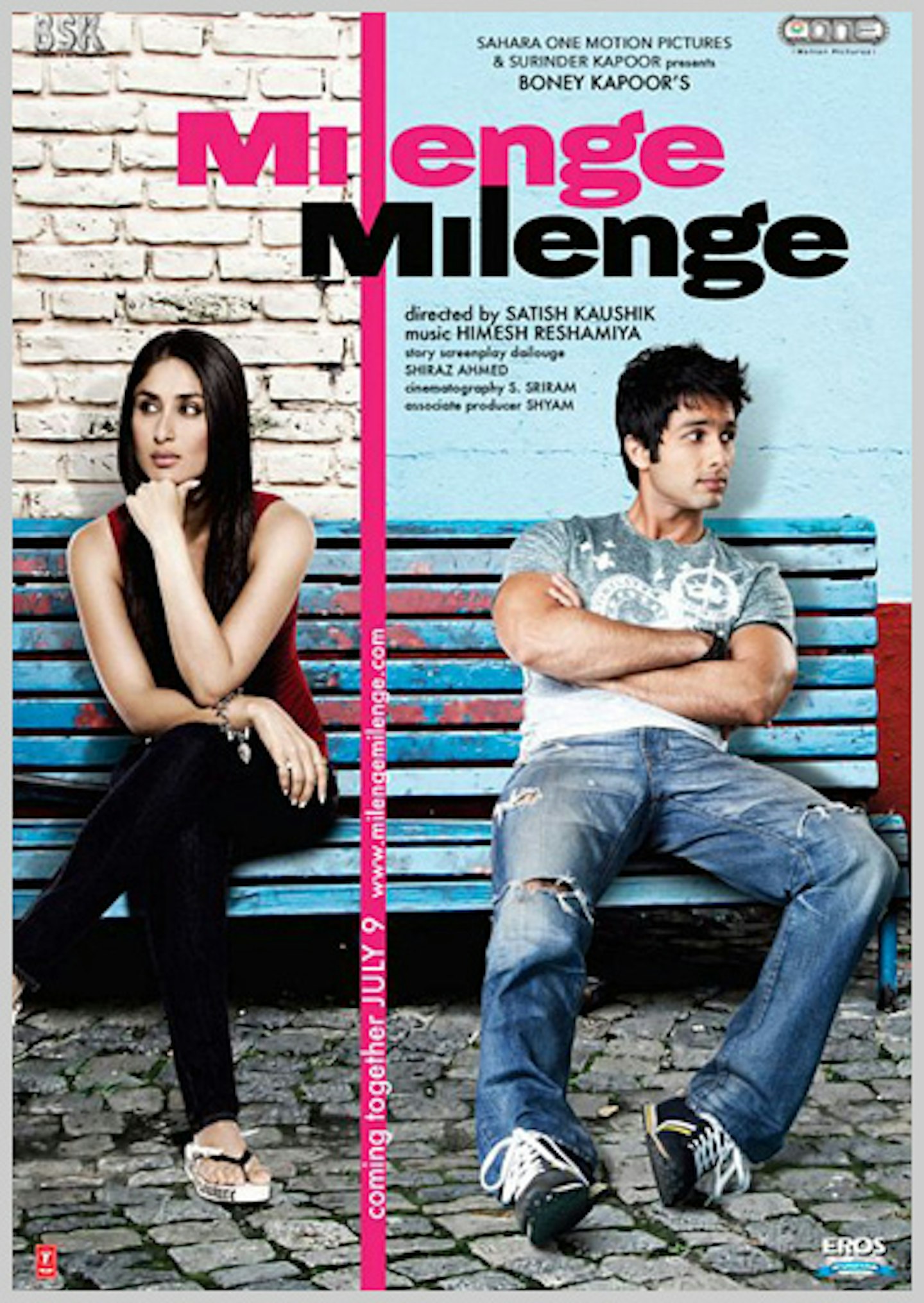 EXAMPLE 5
Milenge Milenge (2010)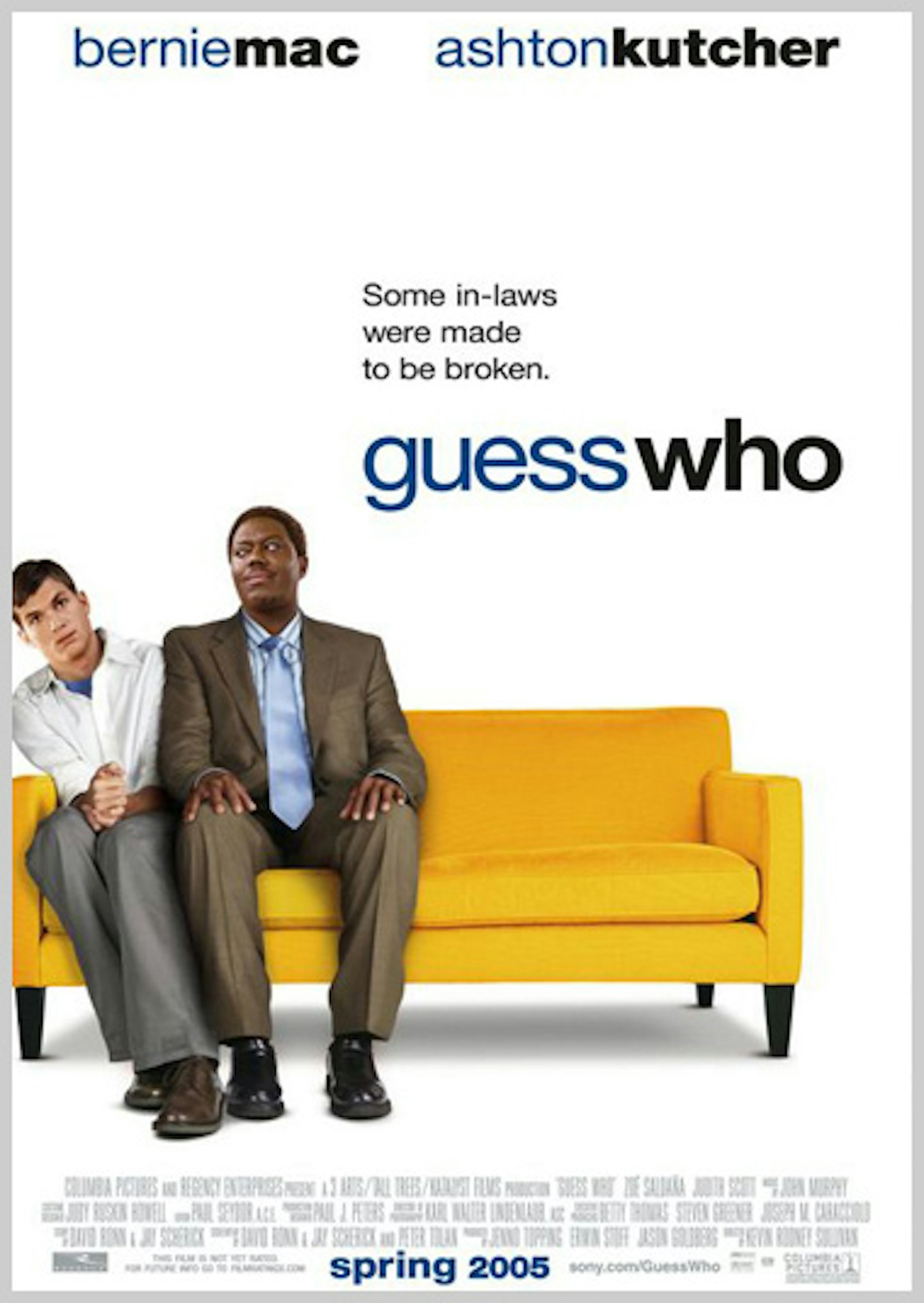 EXAMPLE 6
Guess Who (2005)
Ashton! It's been too long. Like Ghost Town, there's no lady (this time around, Zoe Saldana) and it's playing on the whole awkward thing, but considering this movie is the modern, farcical remake of Guess Who's Coming to Dinner, the poster is the least of its problems. - - - - - -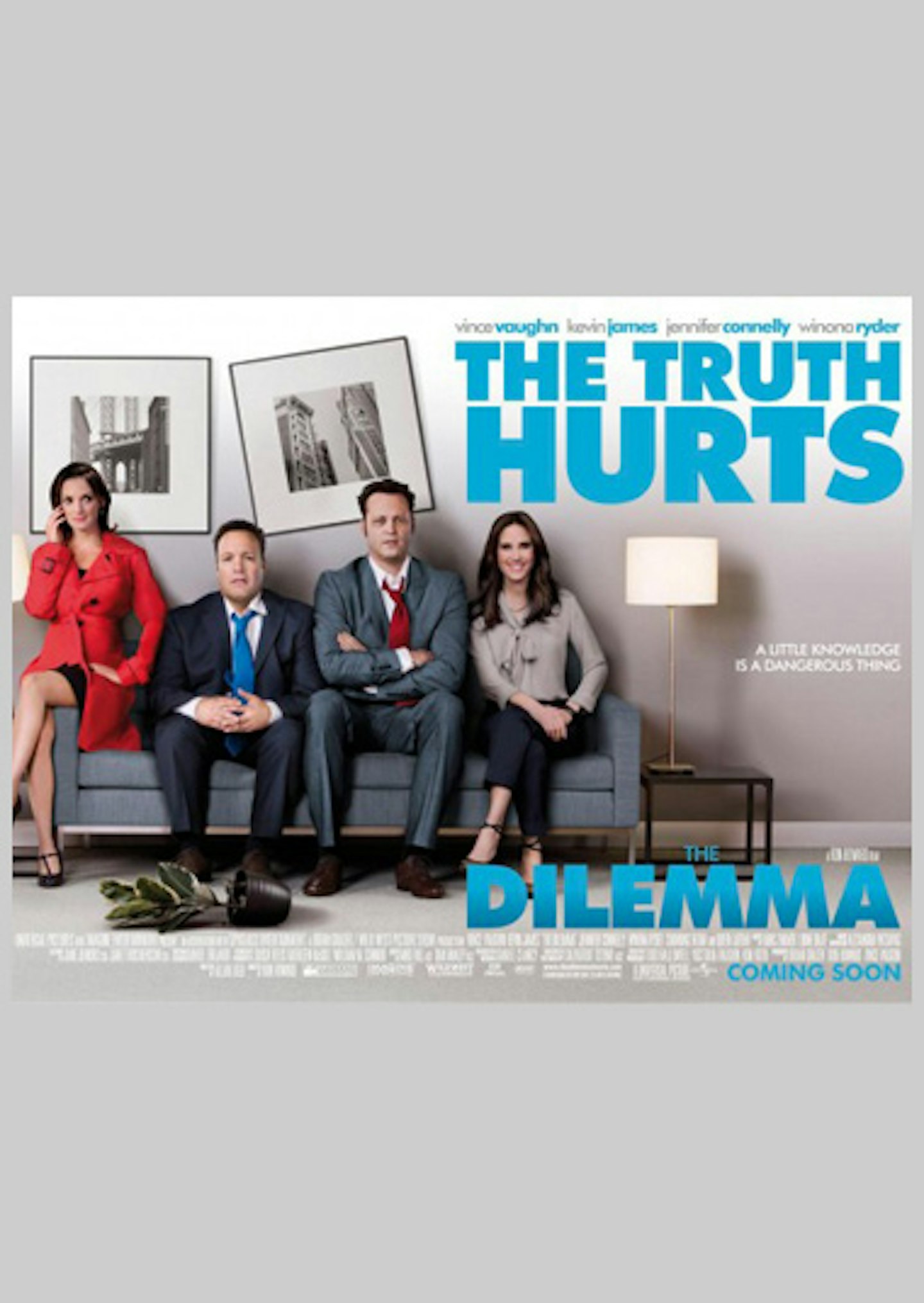 EXAMPLE 7
The Dilemma (2011)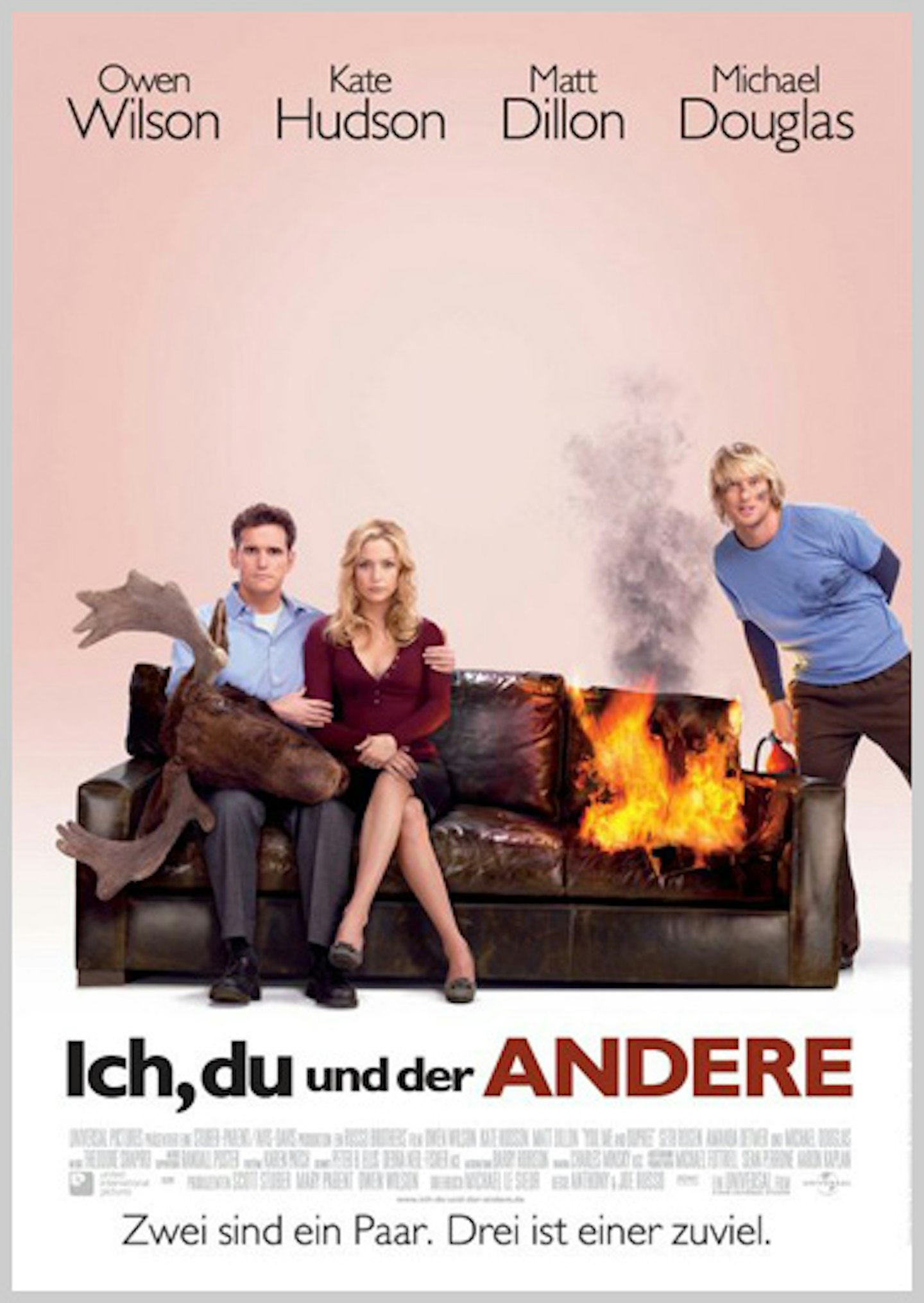 EXAMPLE 8
You Me and Dupree (2006)
You again? Stop it! It doesn't matter that it's German. There's no excusing this shoddy behaviour. Bad Owen Wilson, bad. - - - - - -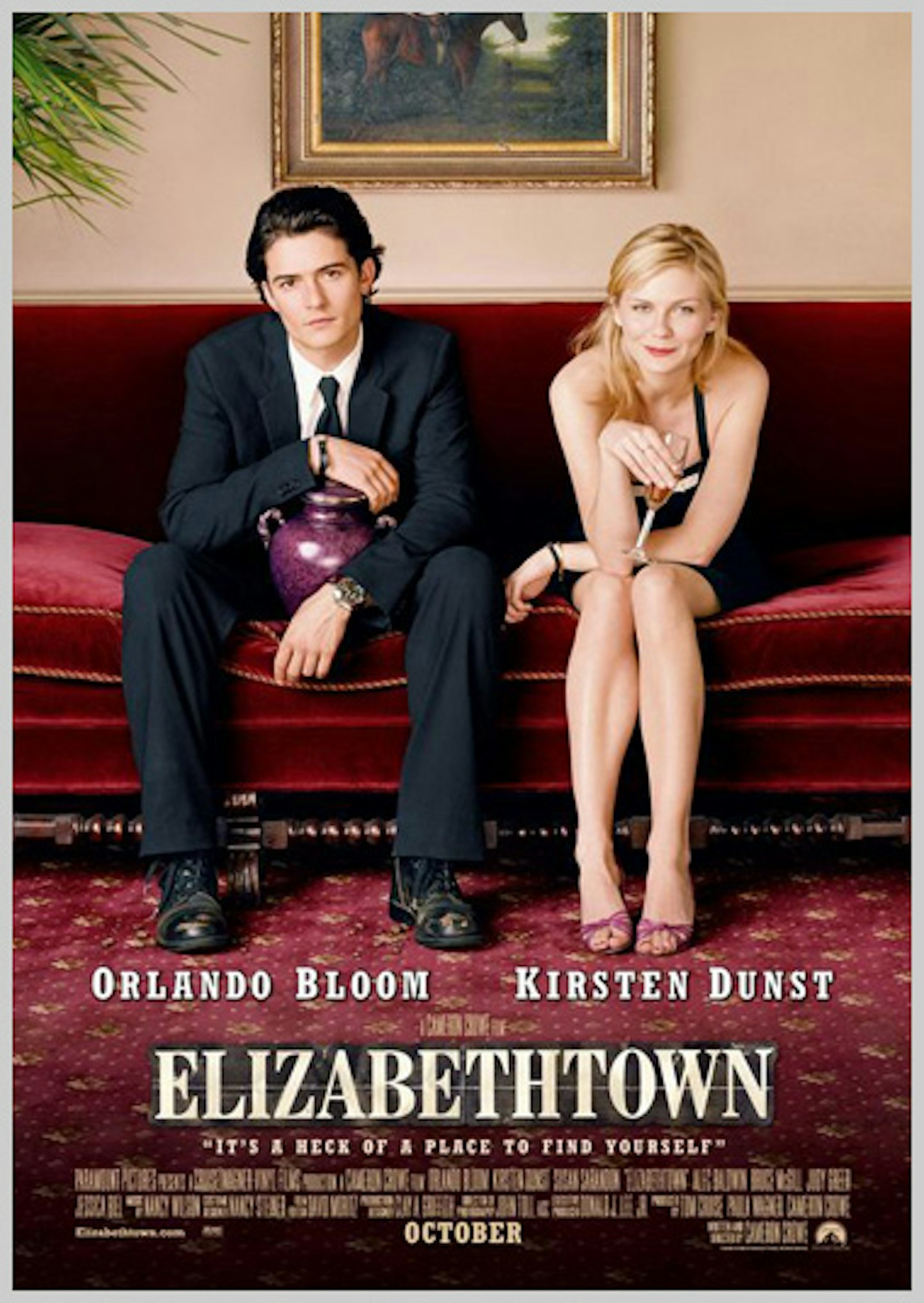 EXAMPLE 9
Elizabethtown (2005)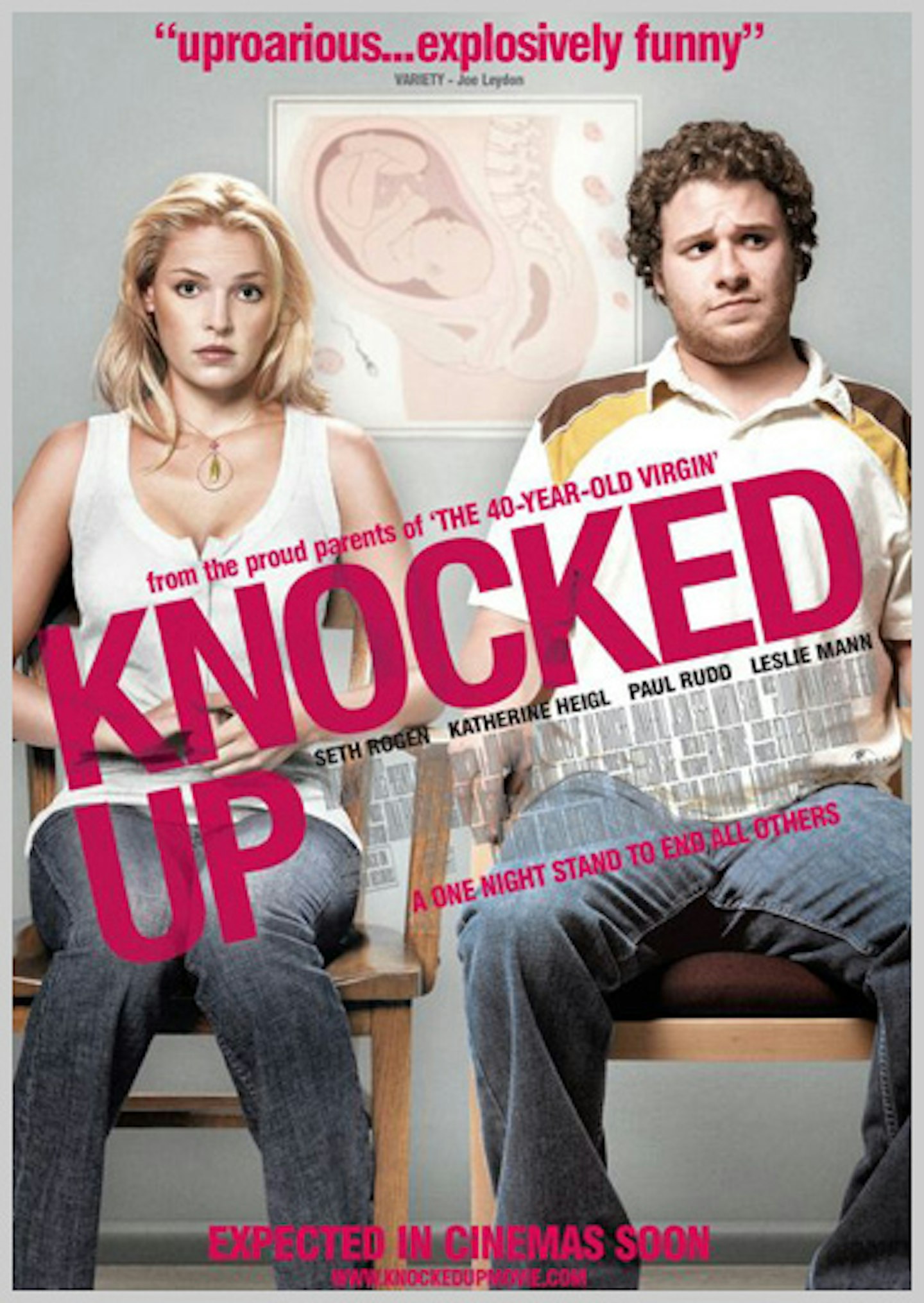 EXAMPLE 10
Knocked Up (2007)
As sitting-down-together movie posters go, this is the best of the bad bunch we've shown you today. Their faces genuinely communicate something, and the punning / wordplay around the title is top notch. We're suckers for puns, basically. Gluttons for punishment, if you will. - - - - - -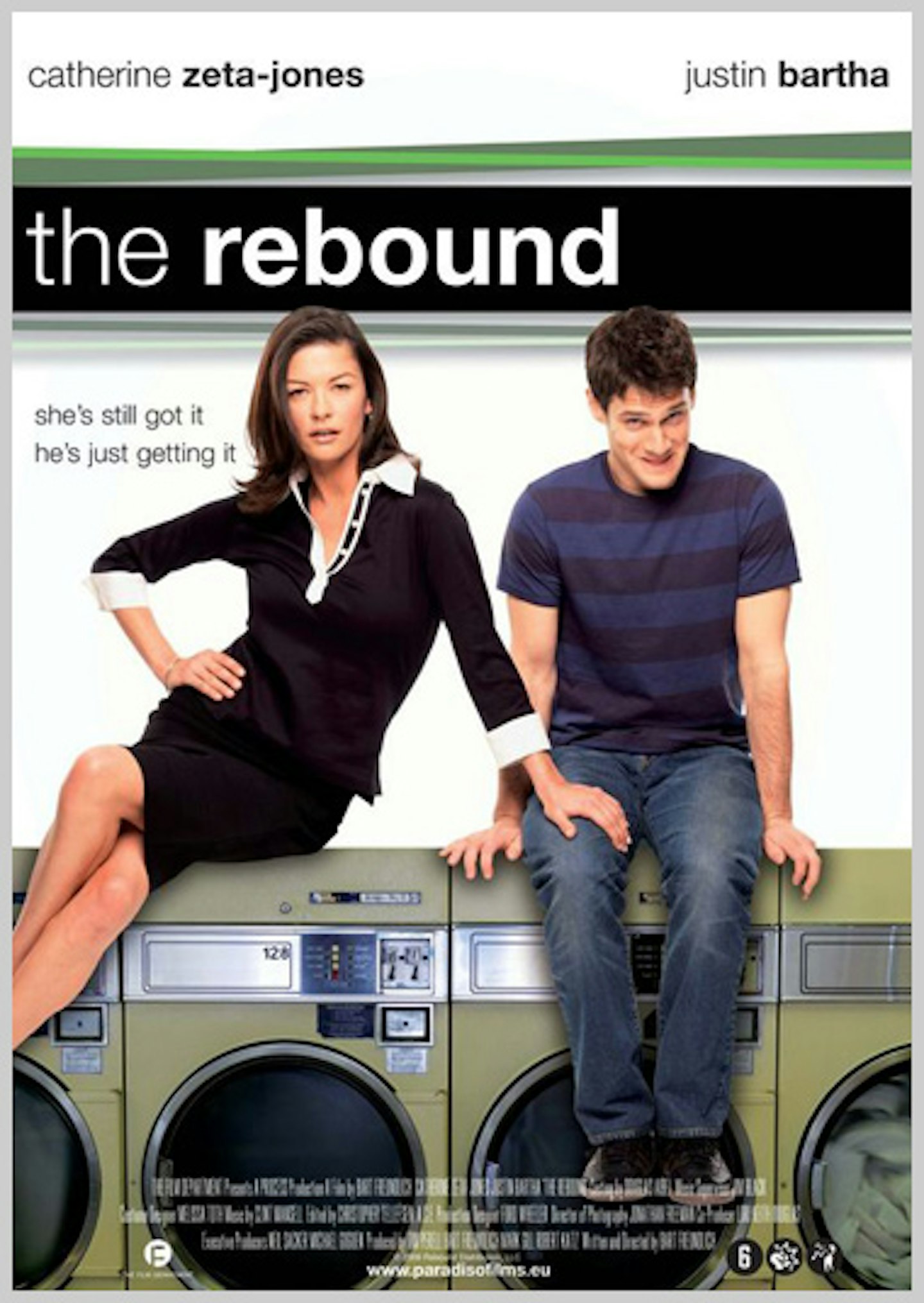 EXAMPLE 11
The Rebound (2009)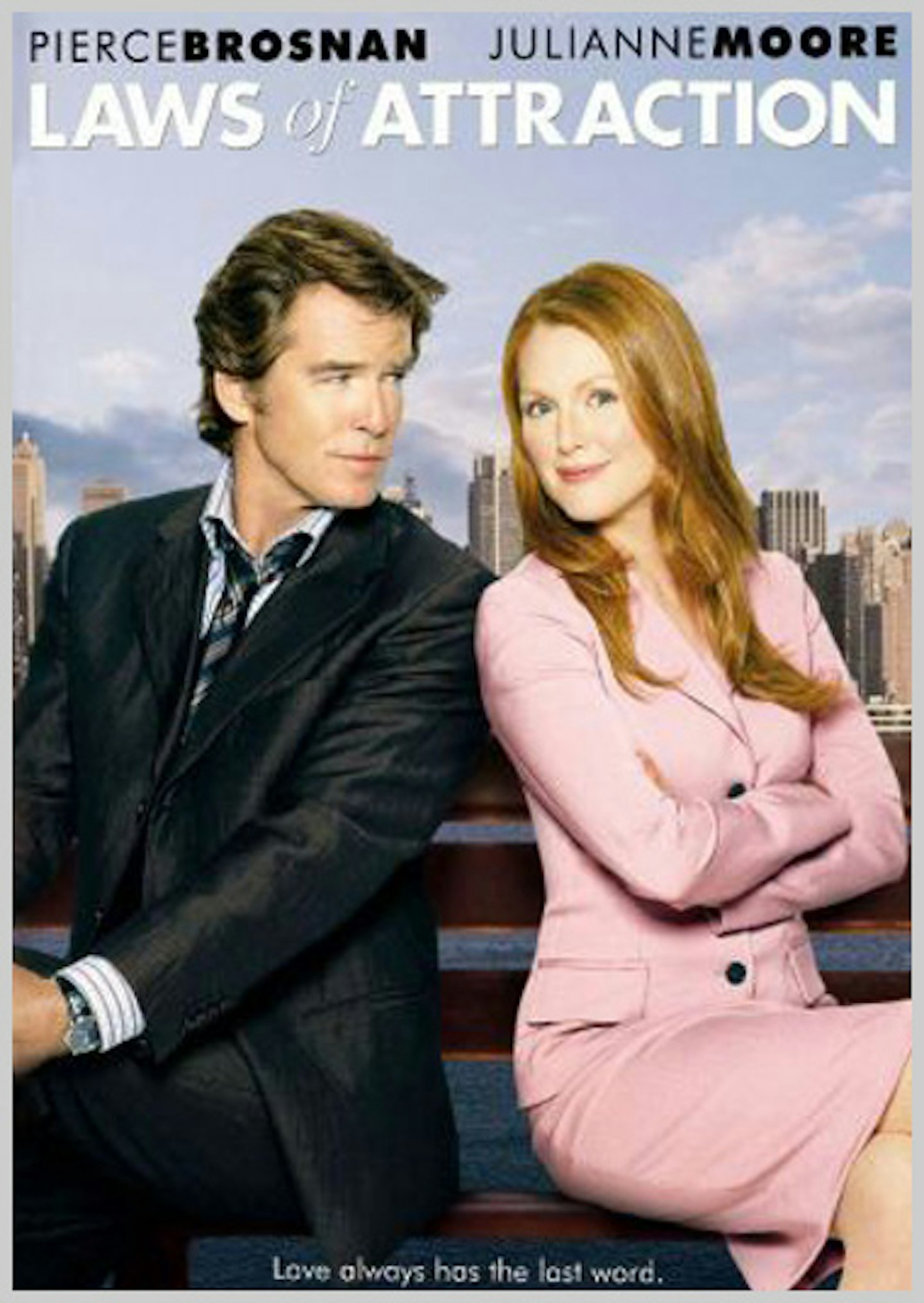 EXAMPLE 12
Laws Of Attraction (2004)
---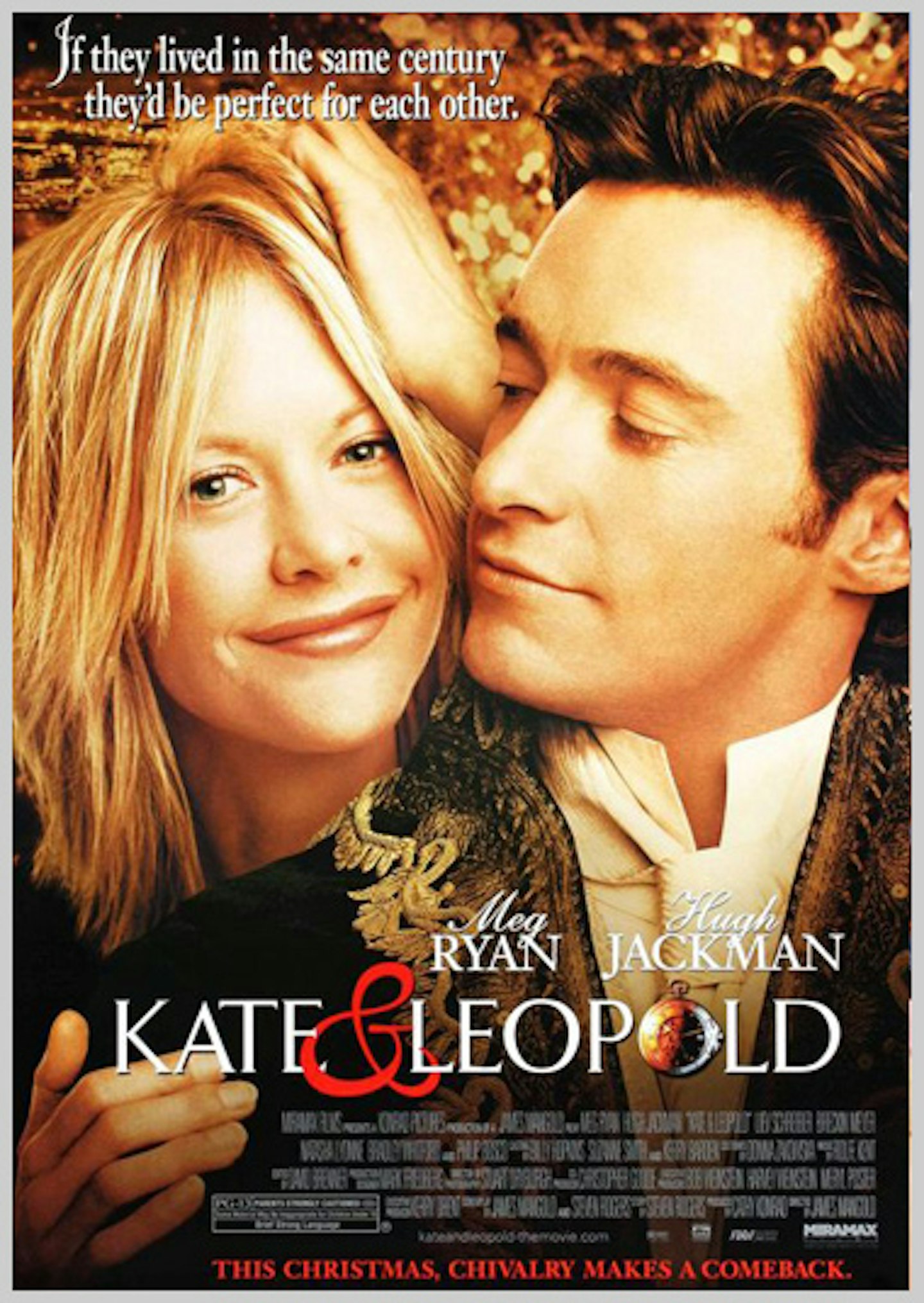 EXAMPLE 1
Kate And Leopold (2001)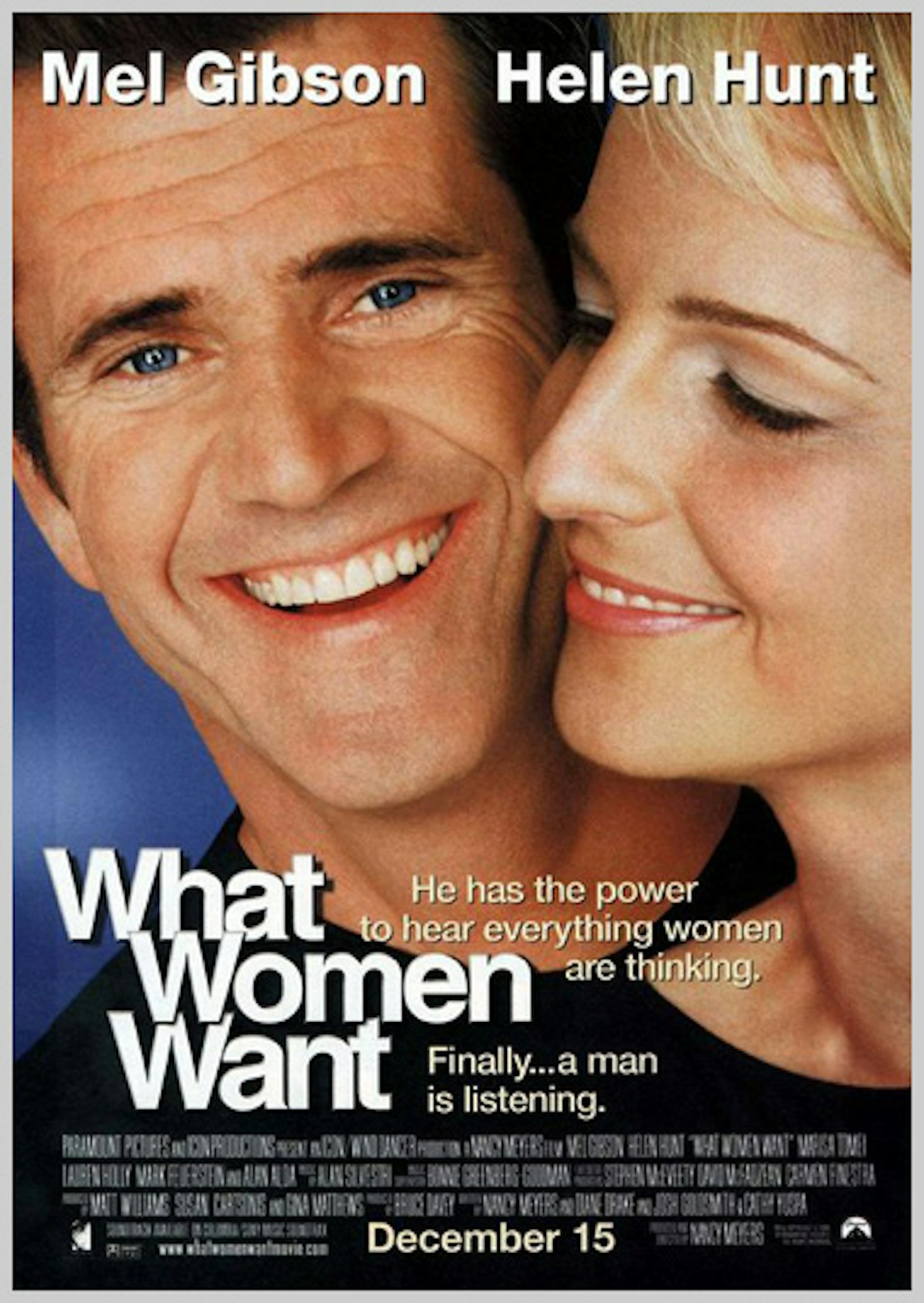 EXAMPLE 2
What Woman Want (2000)
Featuring the giant heads of Mel Gibson and Helen Hunt. - - - - - -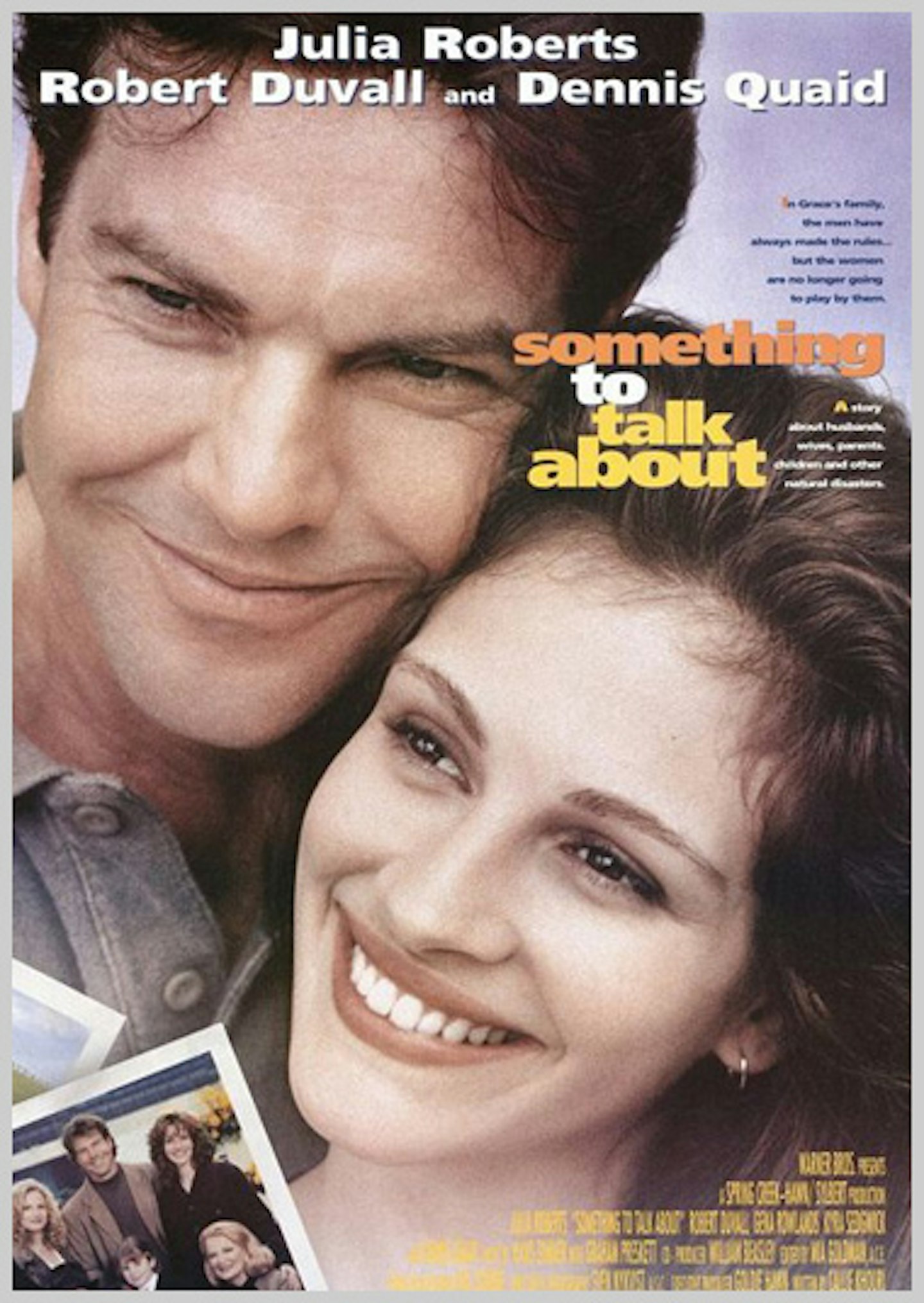 EXAMPLE 3
Something To Talk About (1995)
EXAMPLE 4
Prelude To A Kiss (1992)
Not a comedy, sure, but the giant heads of Alec Baldwin and Meg Ryan… they're kissing. In a really big way! - - - - - -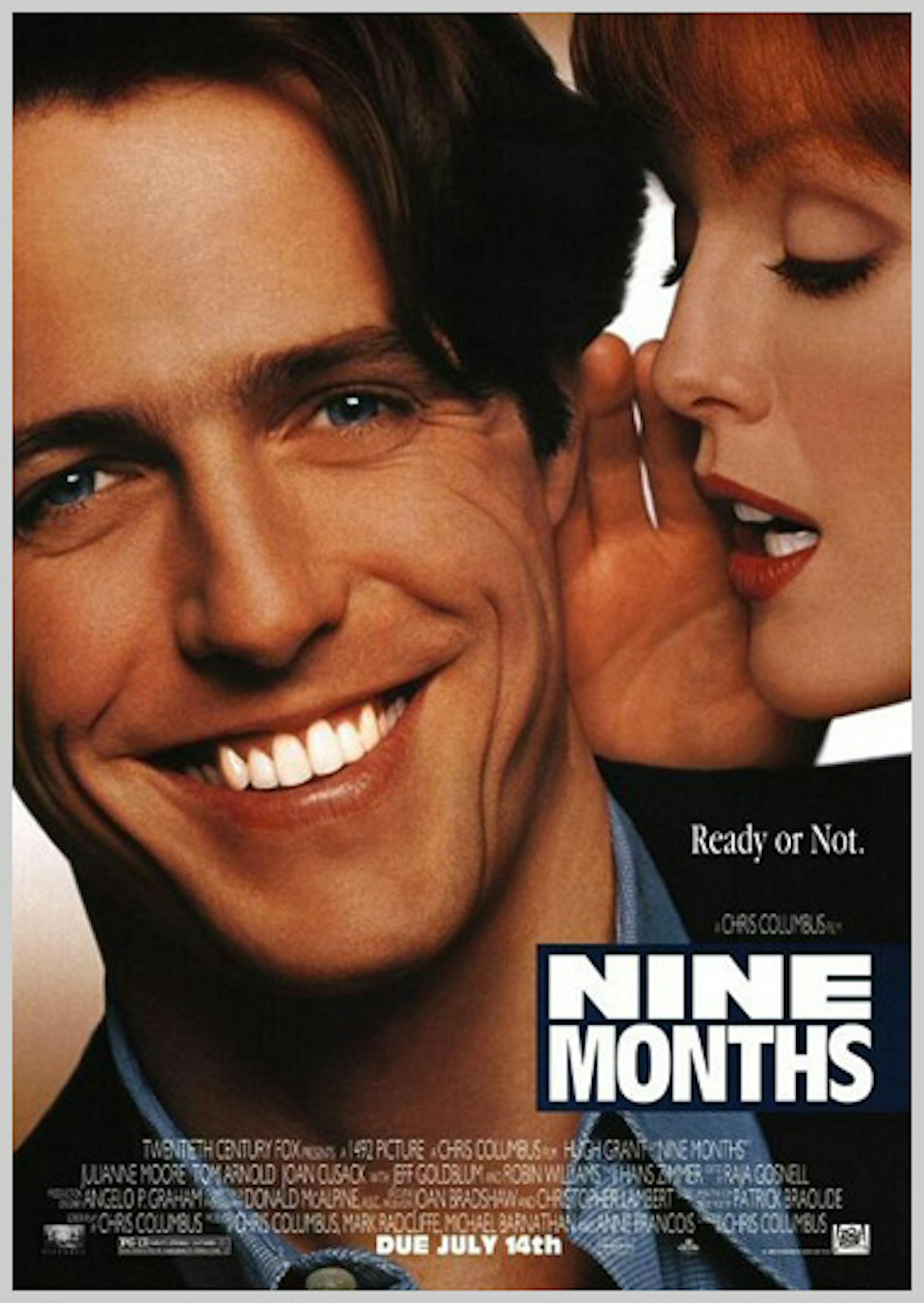 EXAMPLE 5
Nine Months (1995)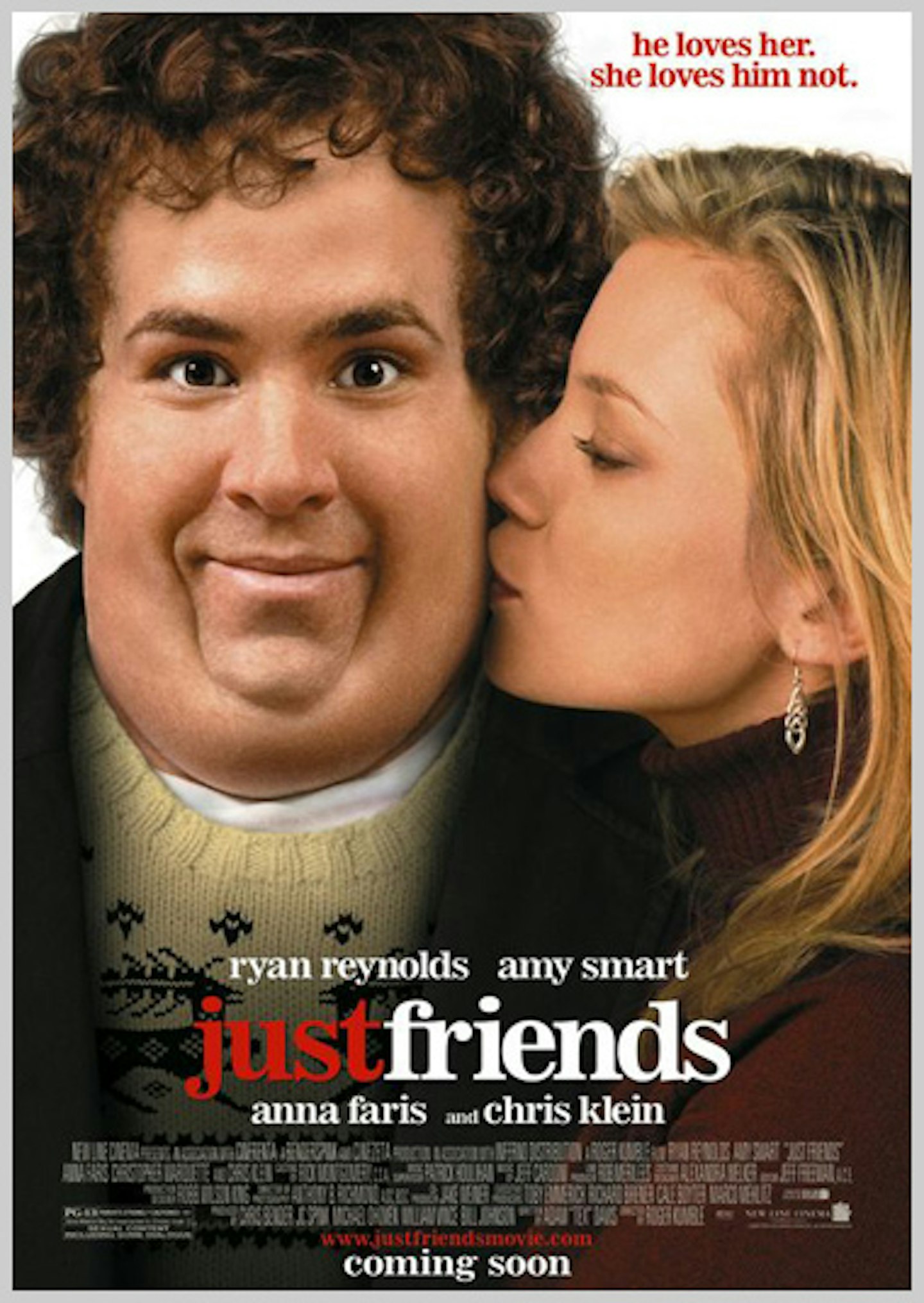 EXAMPLE 6
Just Friends (2005)
Forget what you thought you know about the giant head movie poster game - because this is a giant head. Seriously. It's HUGE.
---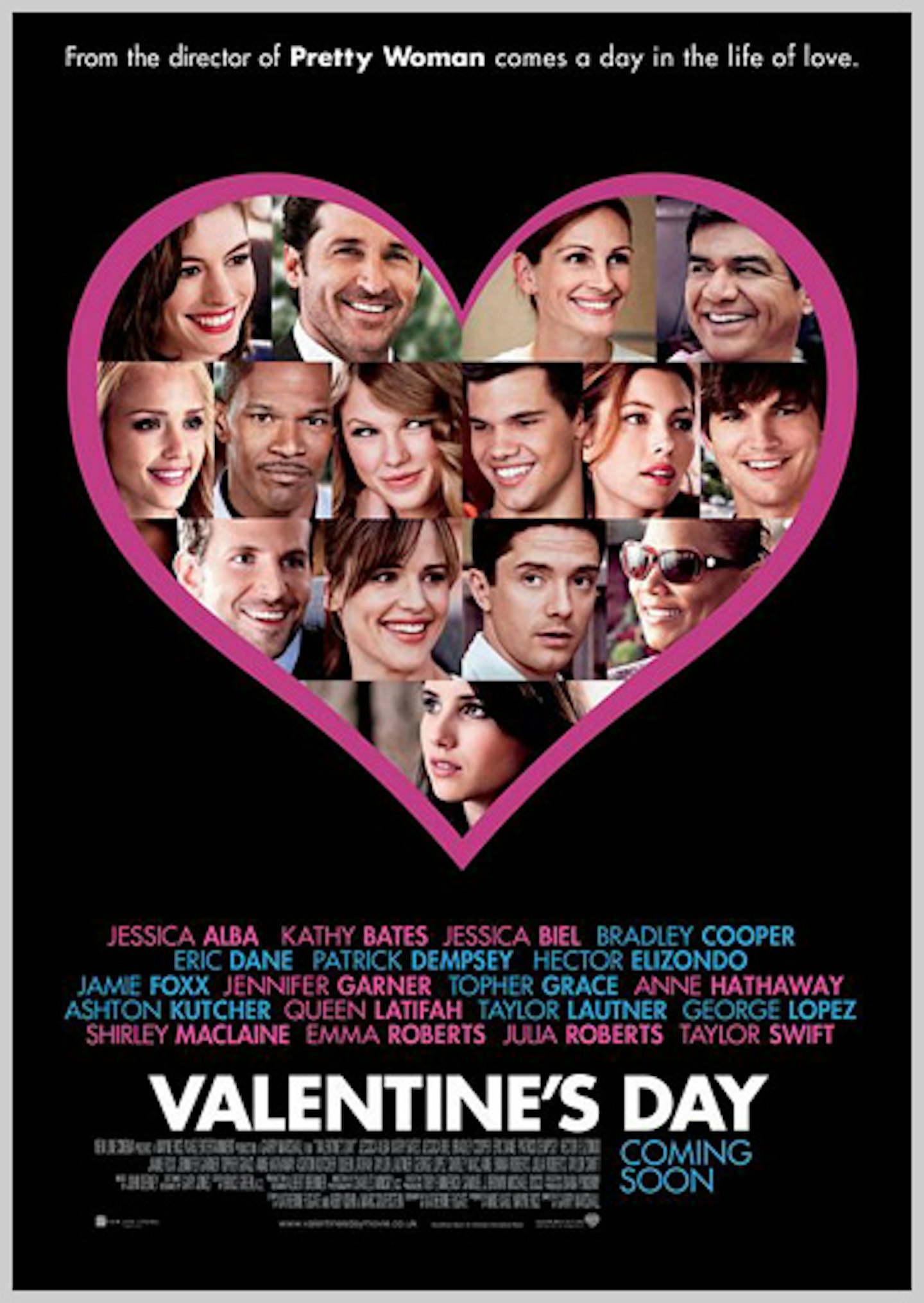 EXAMPLE 1
Valentine's Day (2010)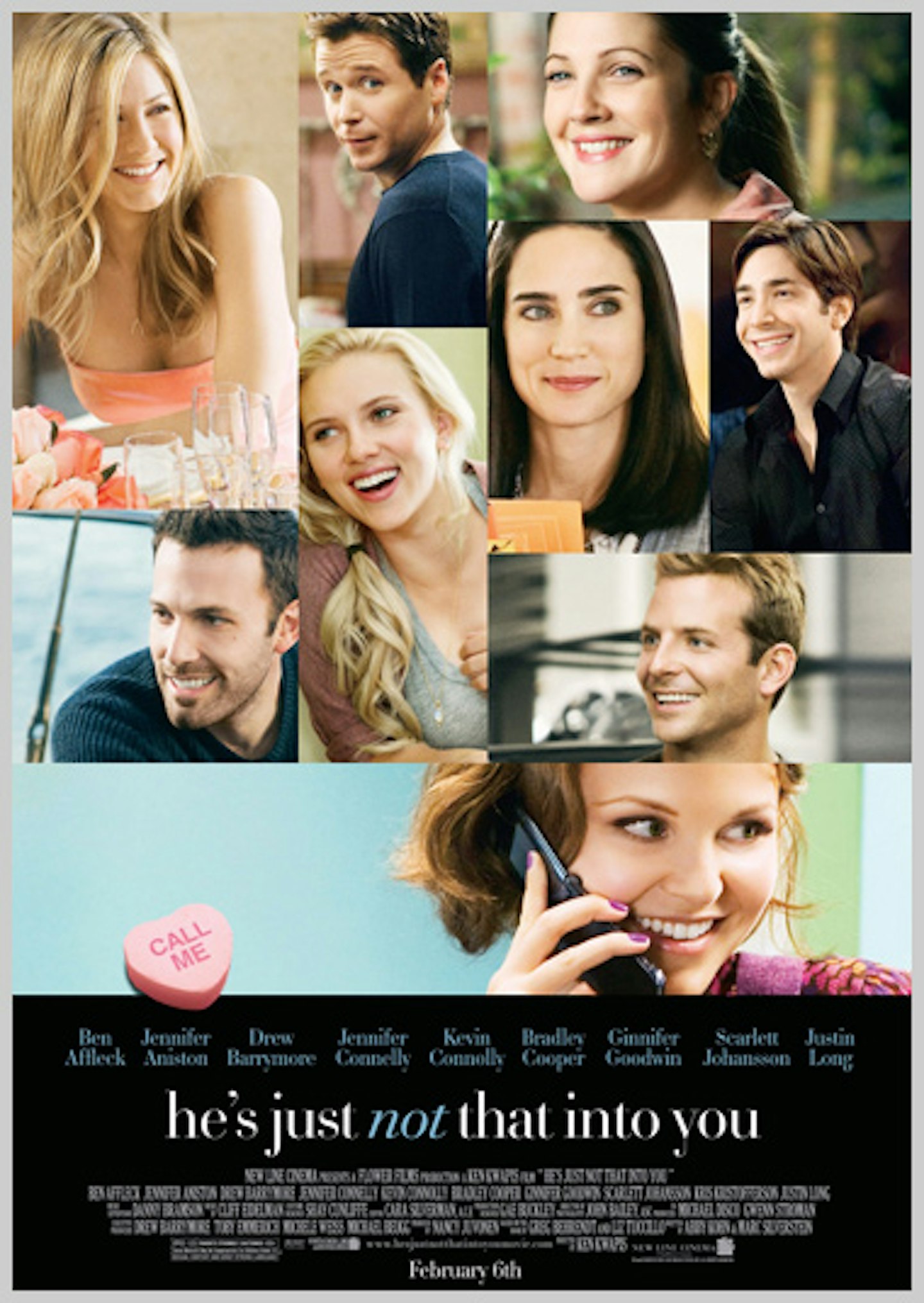 EXAMPLE 2
He's Just Not That Into You (2009)
Did you know that Ben Affleck, Jennifer Aniston, Drew Barrymore, Scarlett Johansson, Sasha Alexander, Justin Long, Jennifer Connelly, Ginnifer Goodwin, Kevin Connolly, and Bradley Cooper were in this movie? Now you do. - - - - - -
EXAMPLE 3
Love Actually (2003)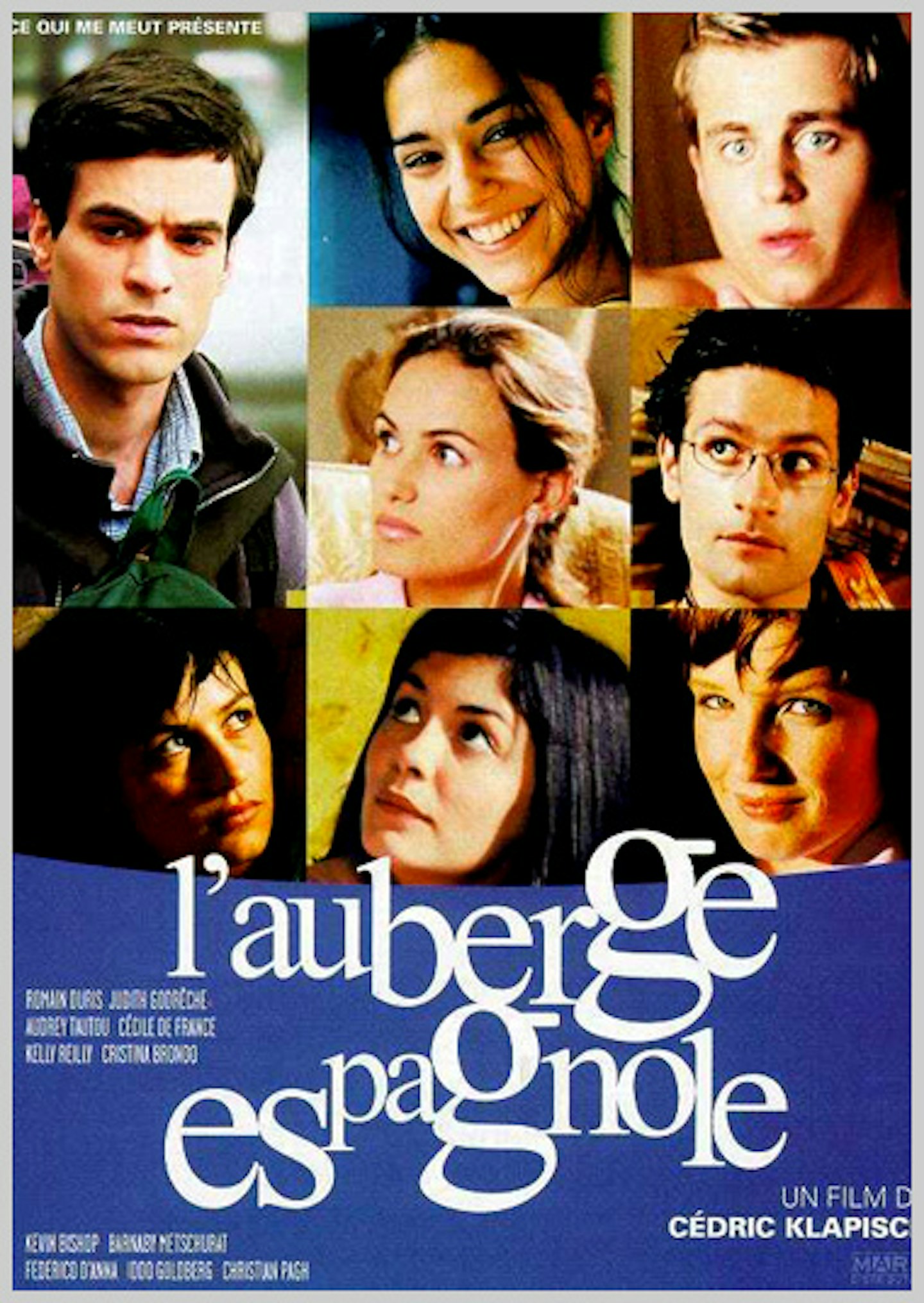 EXAMPLE 4
L'Auberge Espanol (2002)
A 10-year-old child could have made this poster. Come on, it's true. And if our French neighbours are going to take inspiration from anything in American cinema (rather than the reverse, as is traditional) they should try to take the best bits, not the tradition of the ensemble poster. - - - - - -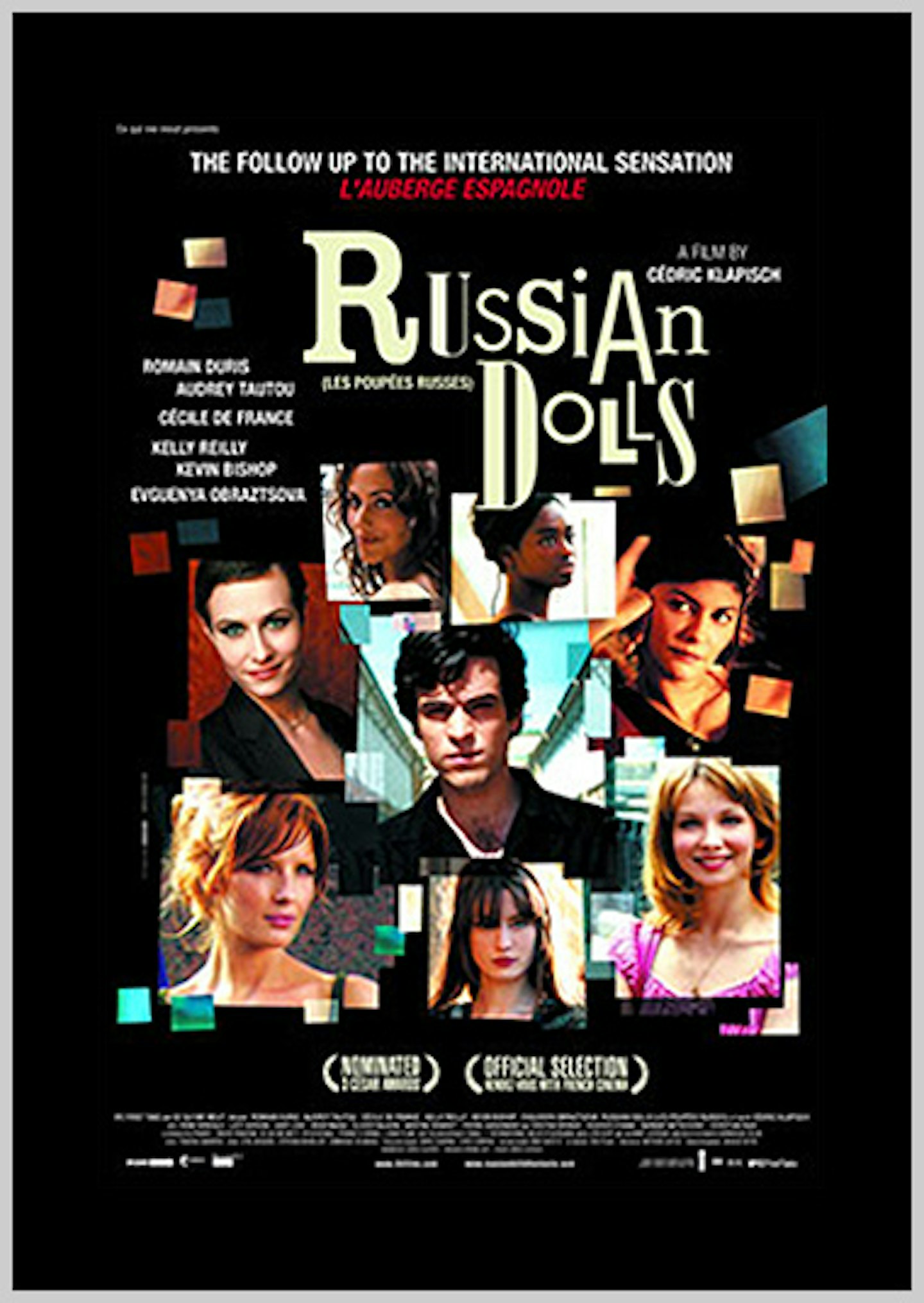 EXAMPLE 5
The Russian Dolls (2005)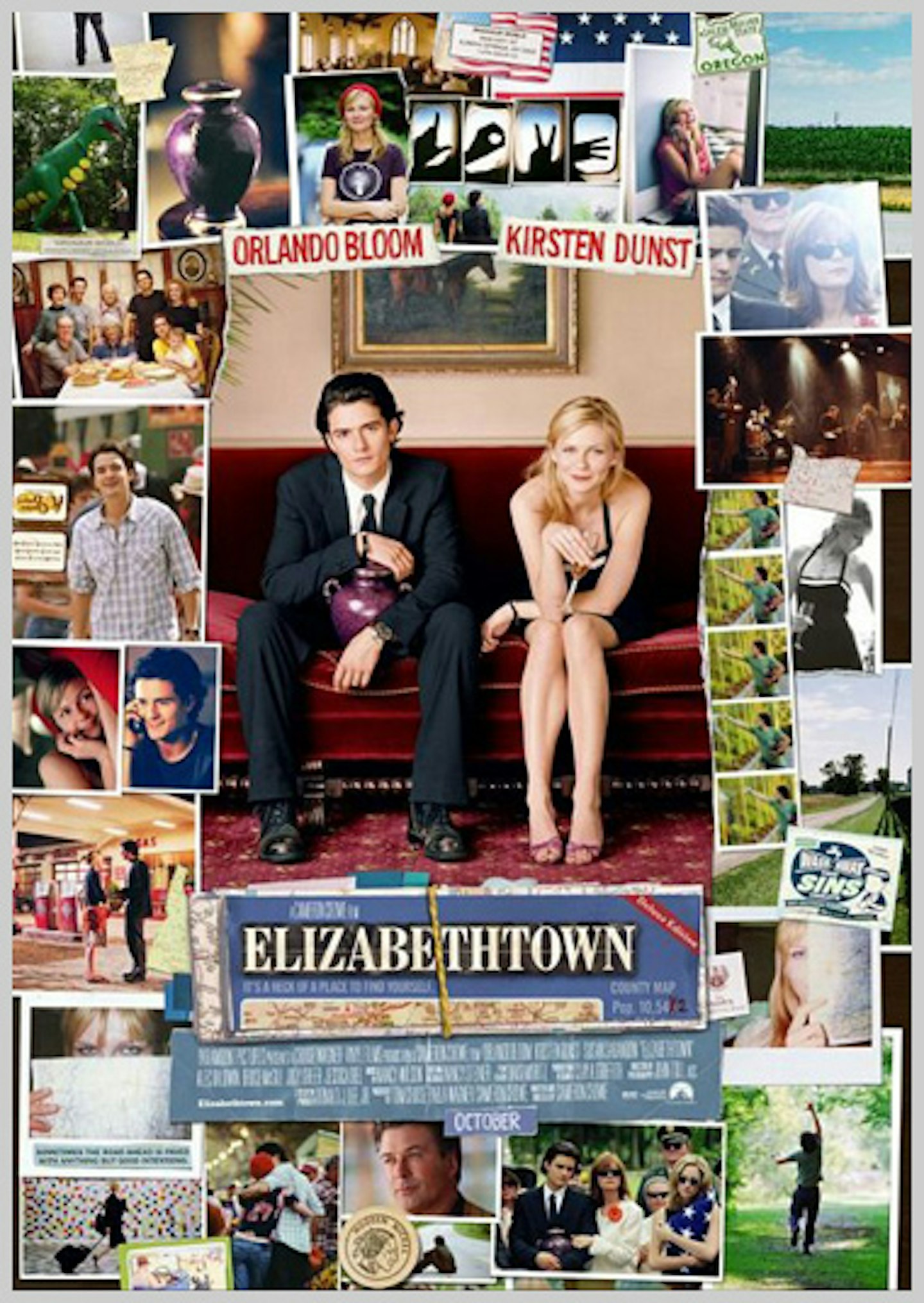 EXAMPLE 6
Elizabethtown (2005)
Again? Sigh...
---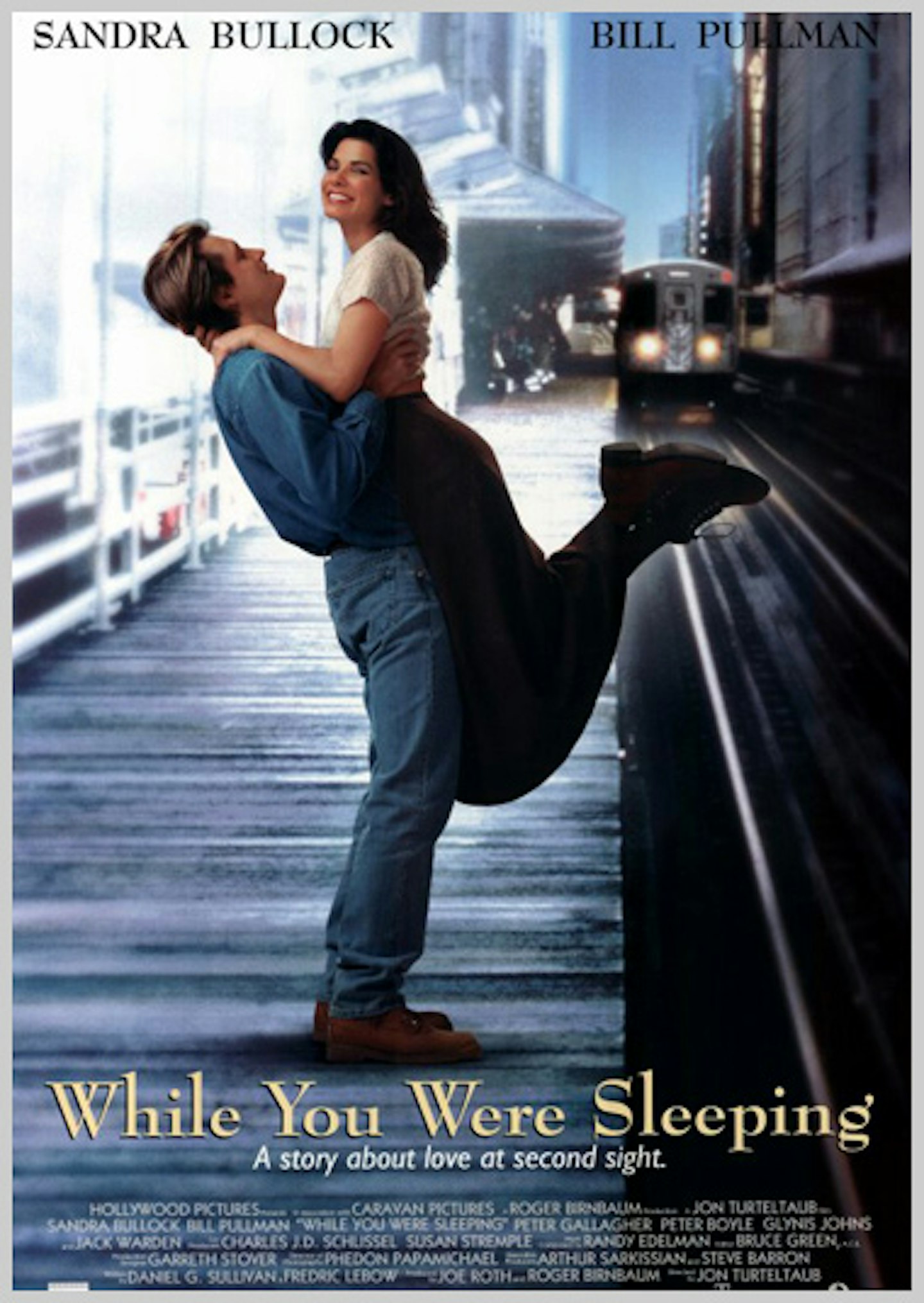 EXAMPLE 1
While You Were Sleeping (1995)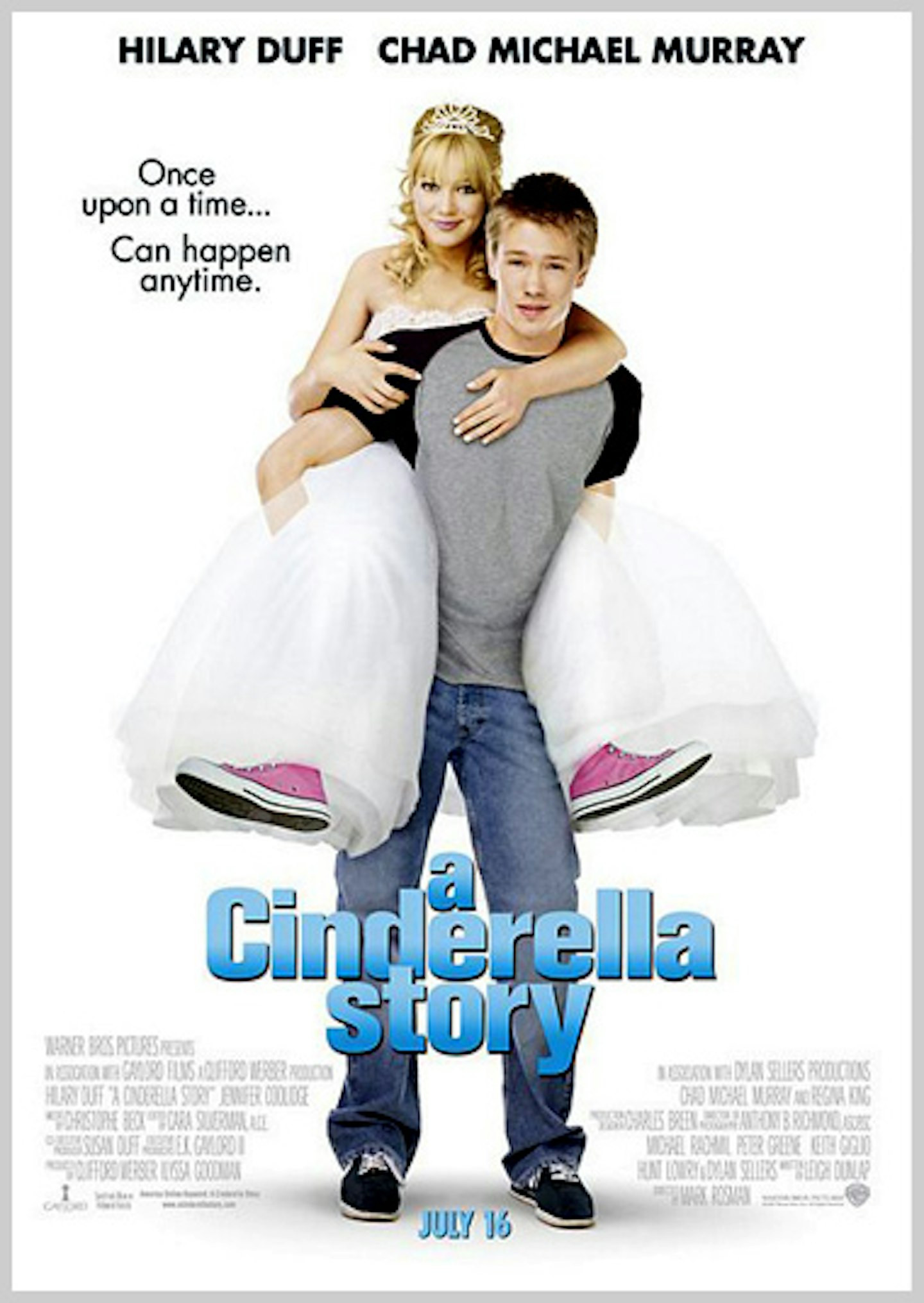 EXAMPLE 2
A Cinderella Story (2004)
She's wearing a princess-dress and Converse trainers! She's such a crazy, free-spirited rebel! We bet she is lovely too and deserves to end up with the school hunk who secretly wants to be a poet. - - - - - -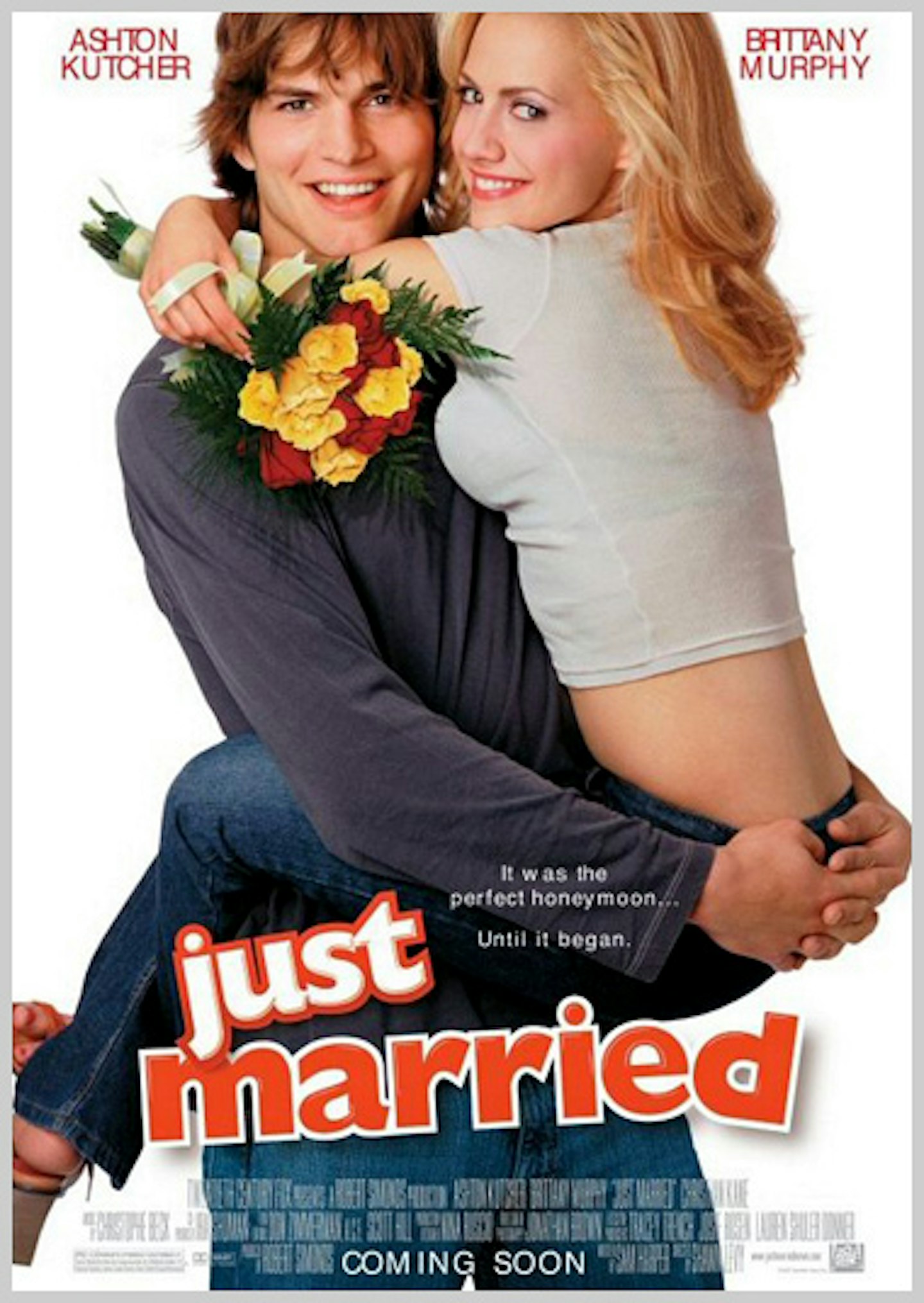 EXAMPLE 3
Just Married (2003)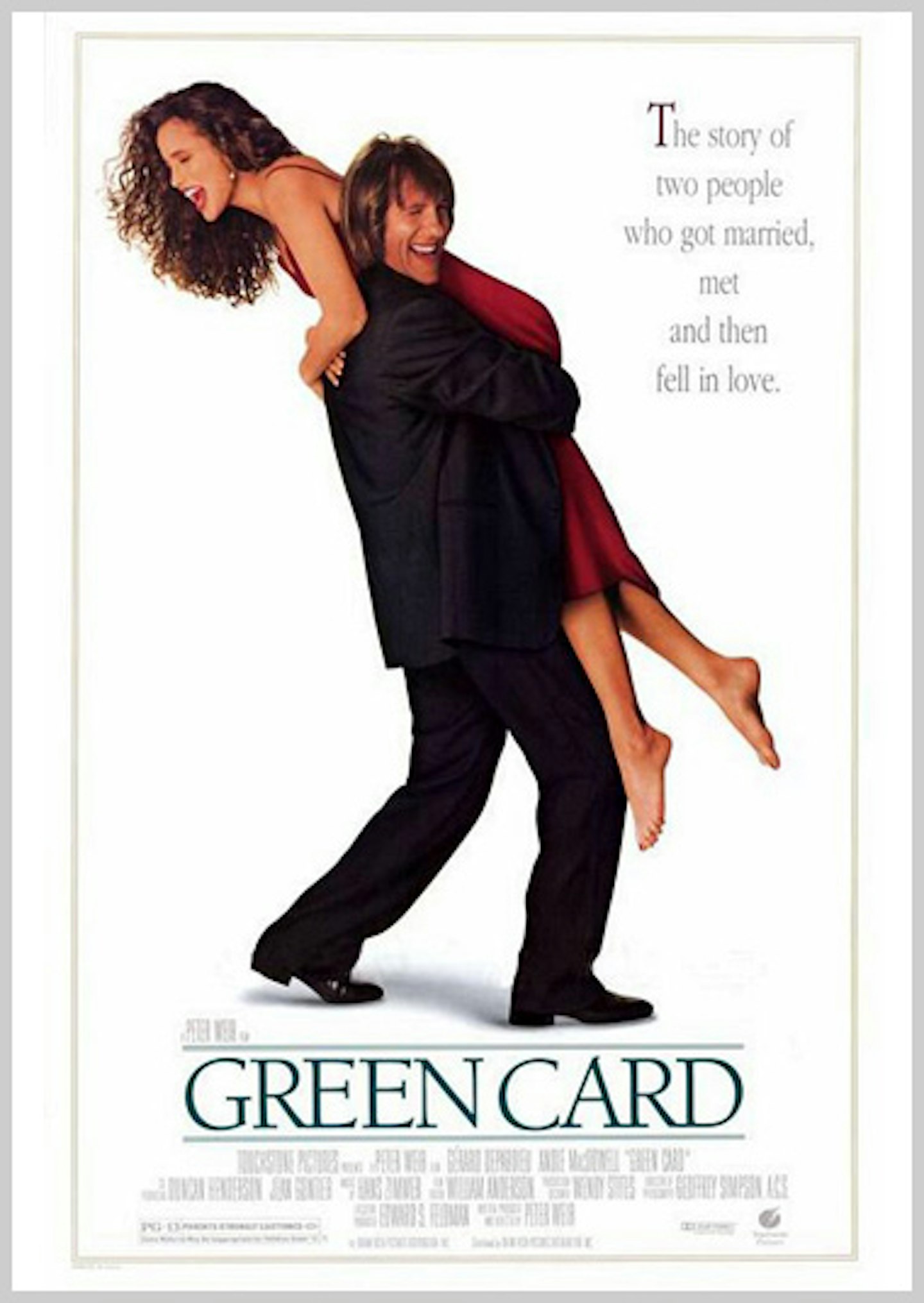 EXAMPLE 4
Green Card (1990)
Could Gérard Depardieu be performing the world's worst fireman's lift in the world here? She's a beautiful woman, Gérard, not a sack of pommes de terre - we know you have your own chateau and vineyard and such, but that's no excuse. Show some respect. - - - - - -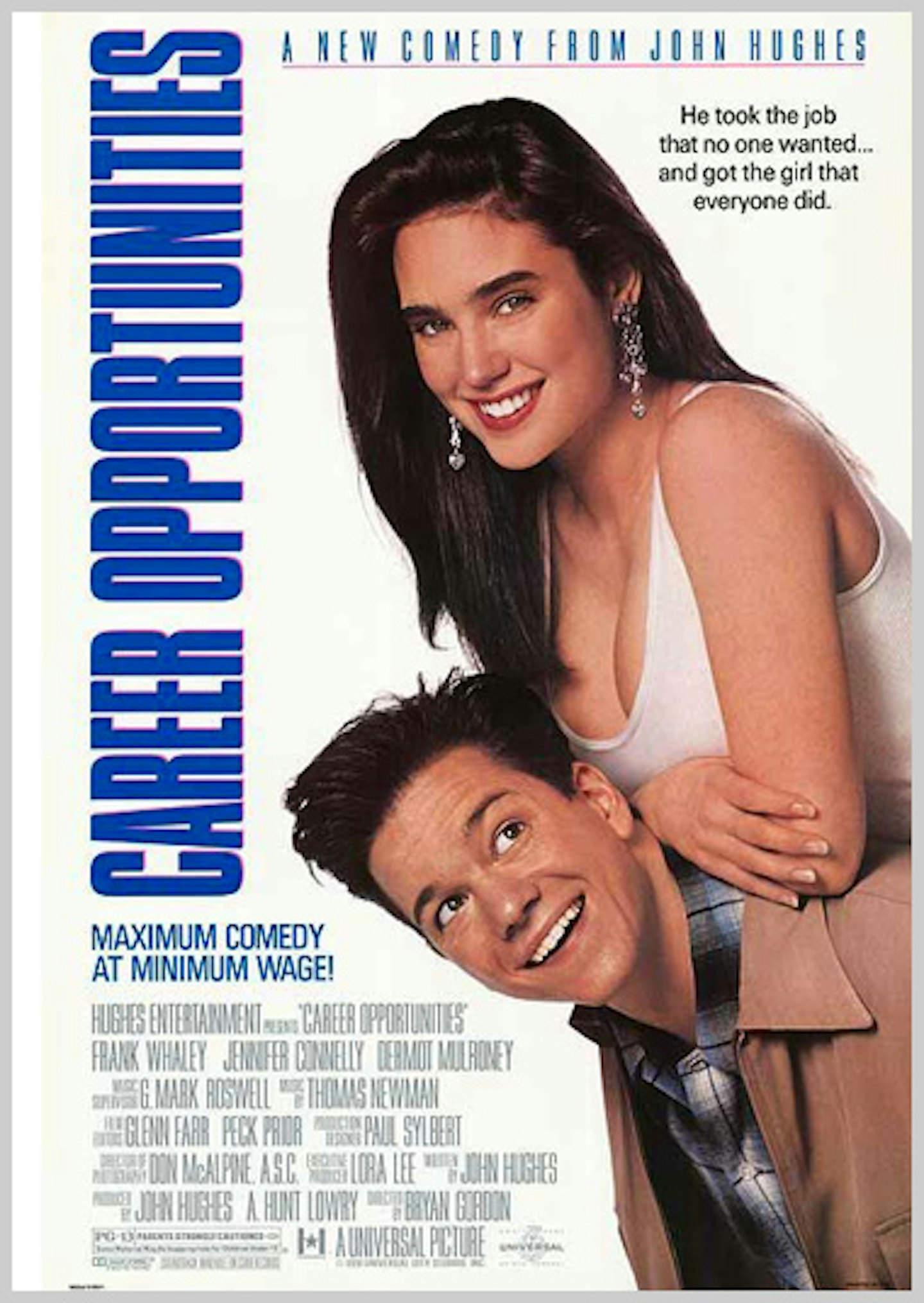 EXAMPLE 5
Career Opportunities (1991)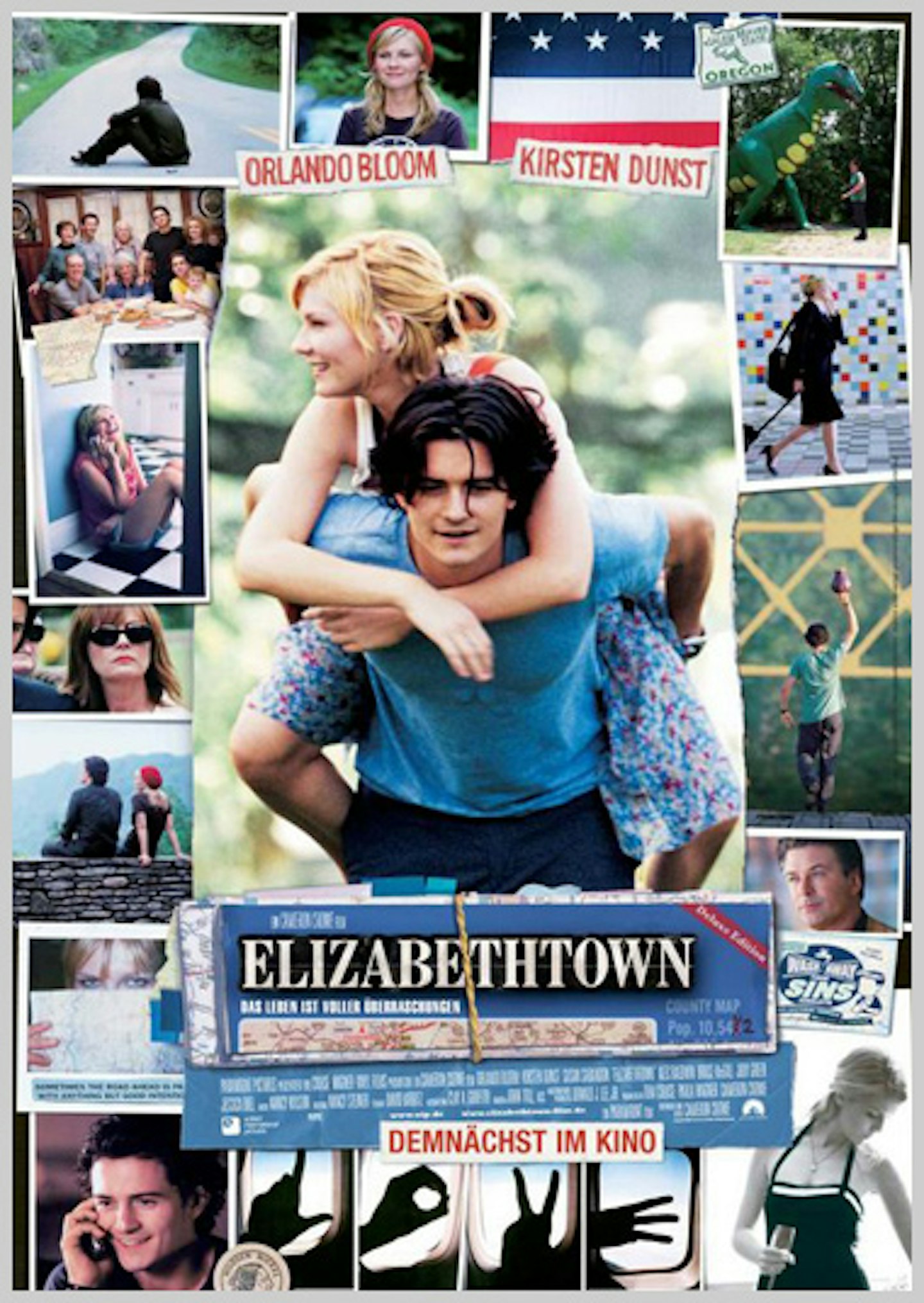 EXAMPLE 6
Elizabethtown (2005)
Are you getting sick of seeing their smug faces or is it just us? Everyone's having a great time, we get it. We saw the collage in the last poster, for God's sake.
---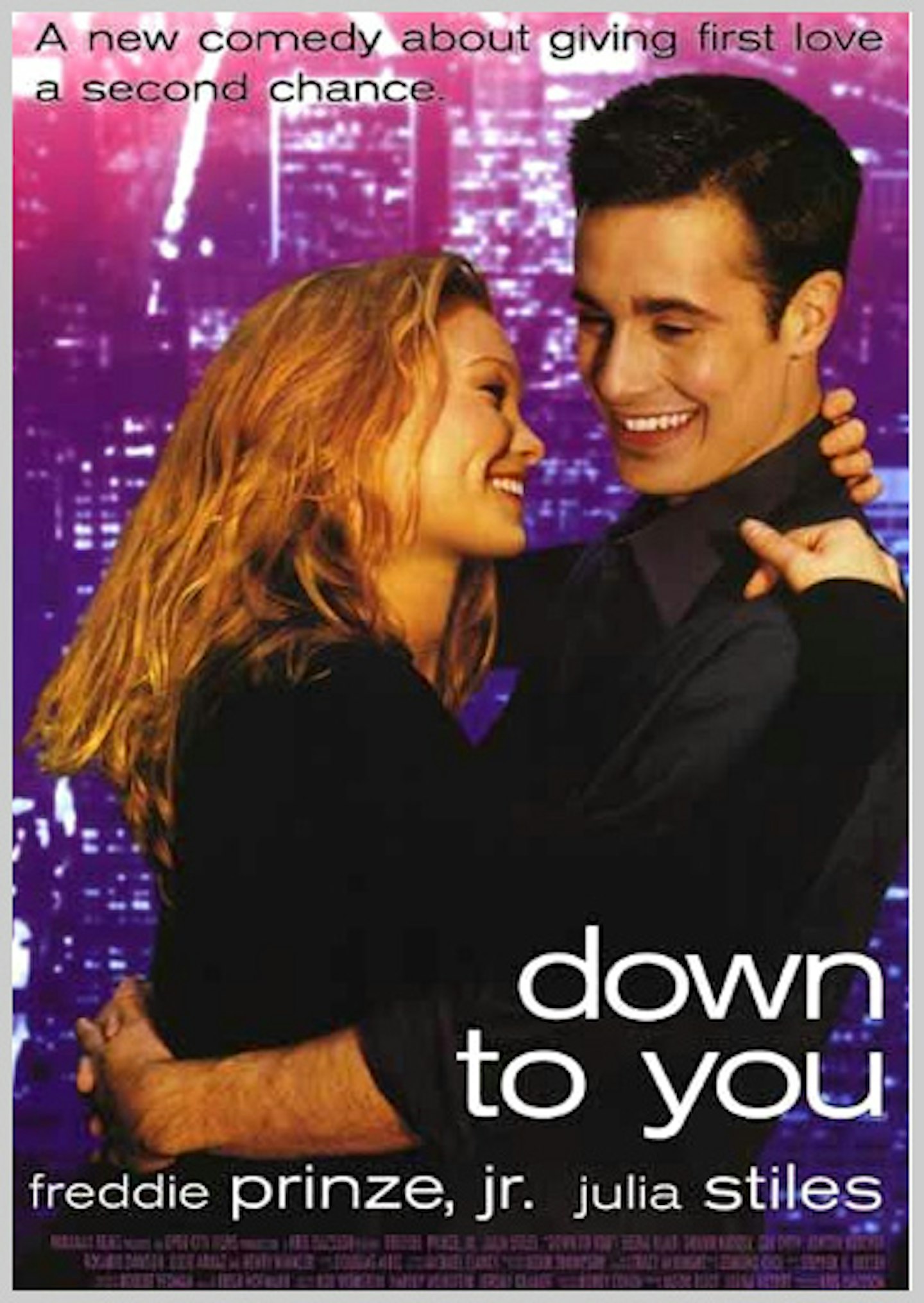 EXAMPLE 1
Down To You (2000)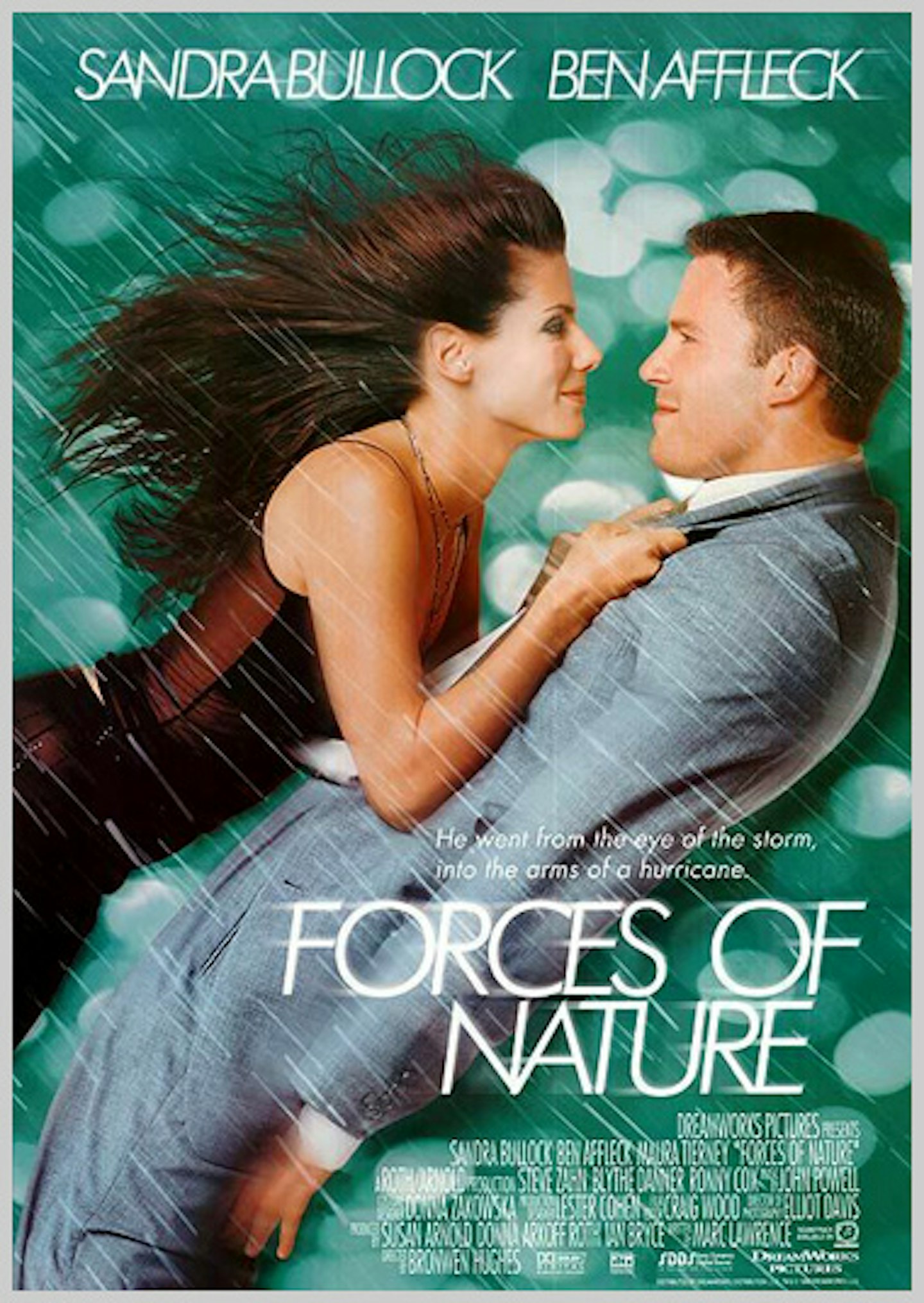 EXAMPLE 2
Forces Of Nature (1999)
You can tell that the two of them are about to fall over into a messy, clichéd heap because Ben Affleck's left hand is blurry. So you can at least enjoy imagining that heap image, even if you can't enjoy the psychedelic mess that is the actual poster. - - - - - -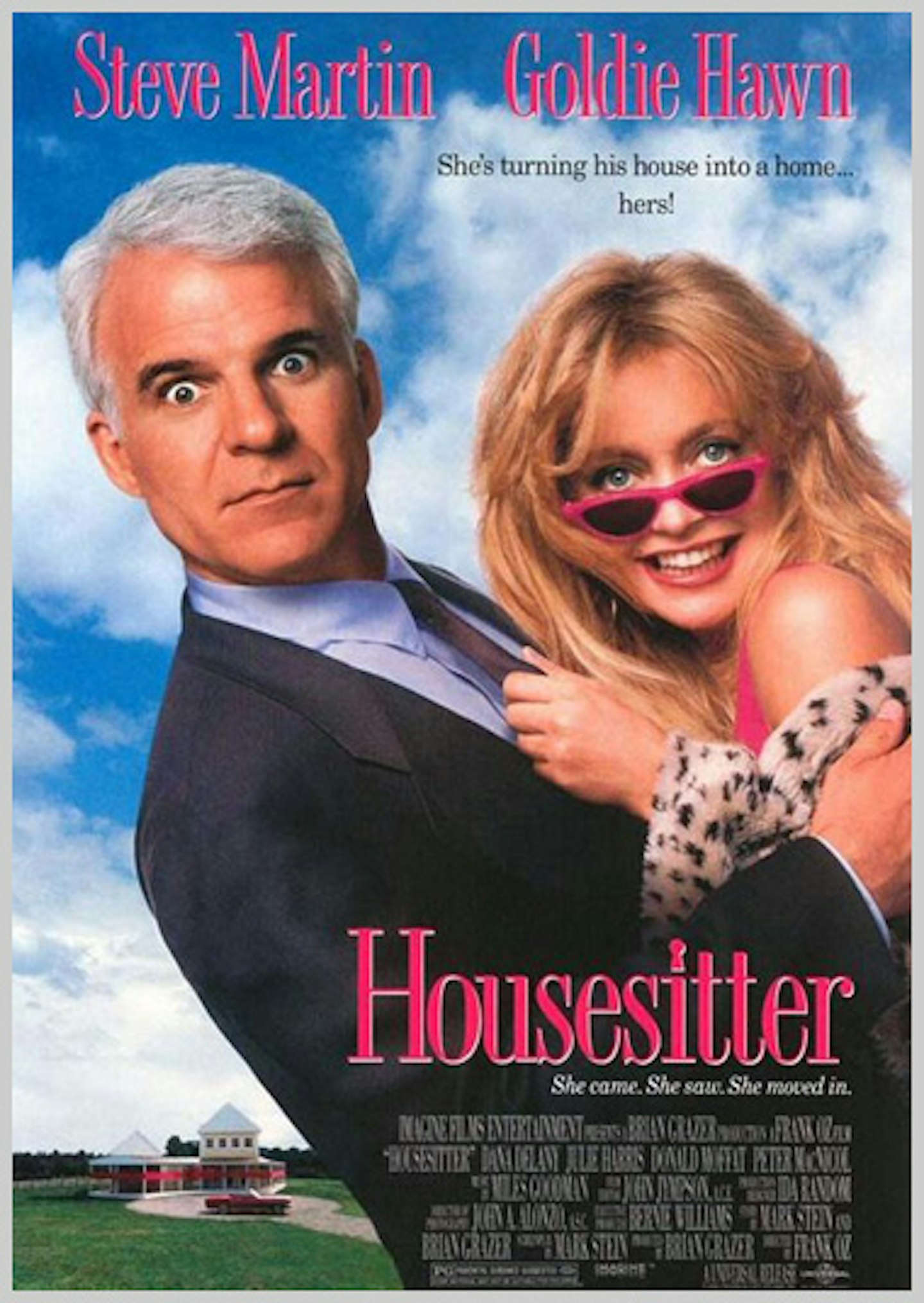 EXAMPLE 3
HouseSitter (1992)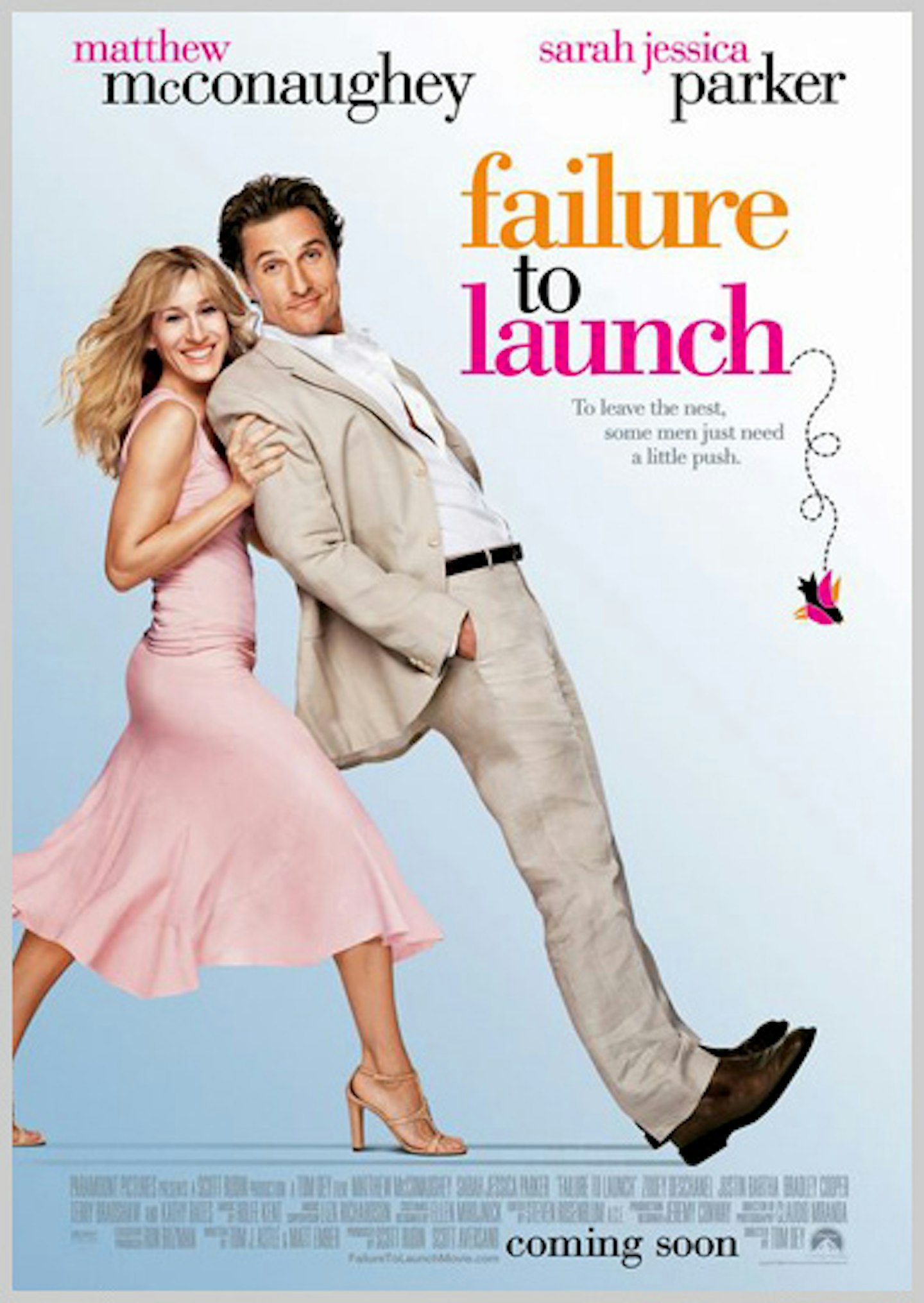 EXAMPLE 4
Failure To Launch (2006)
We'd like to say you're better than this Mr. McConaughey, but we're not sure… You're just so good at leaning. You're the master. The pro. Everyone looks up to you, Mr. McConaughey - or rather up, and slightly sideways, because you're LEANING. Don't you ever go changing. - - - - - -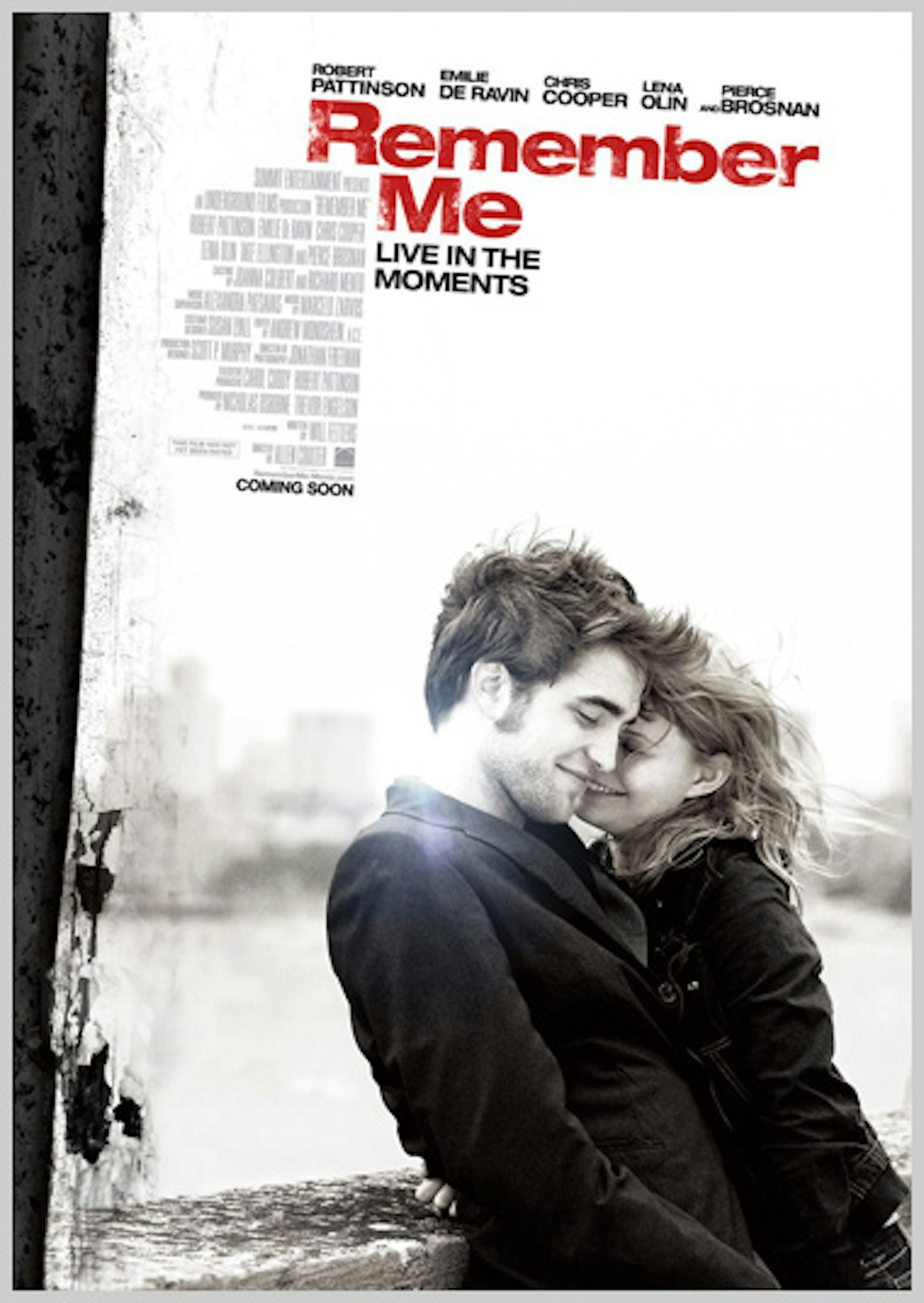 EXAMPLE 5
Remember Me (2010)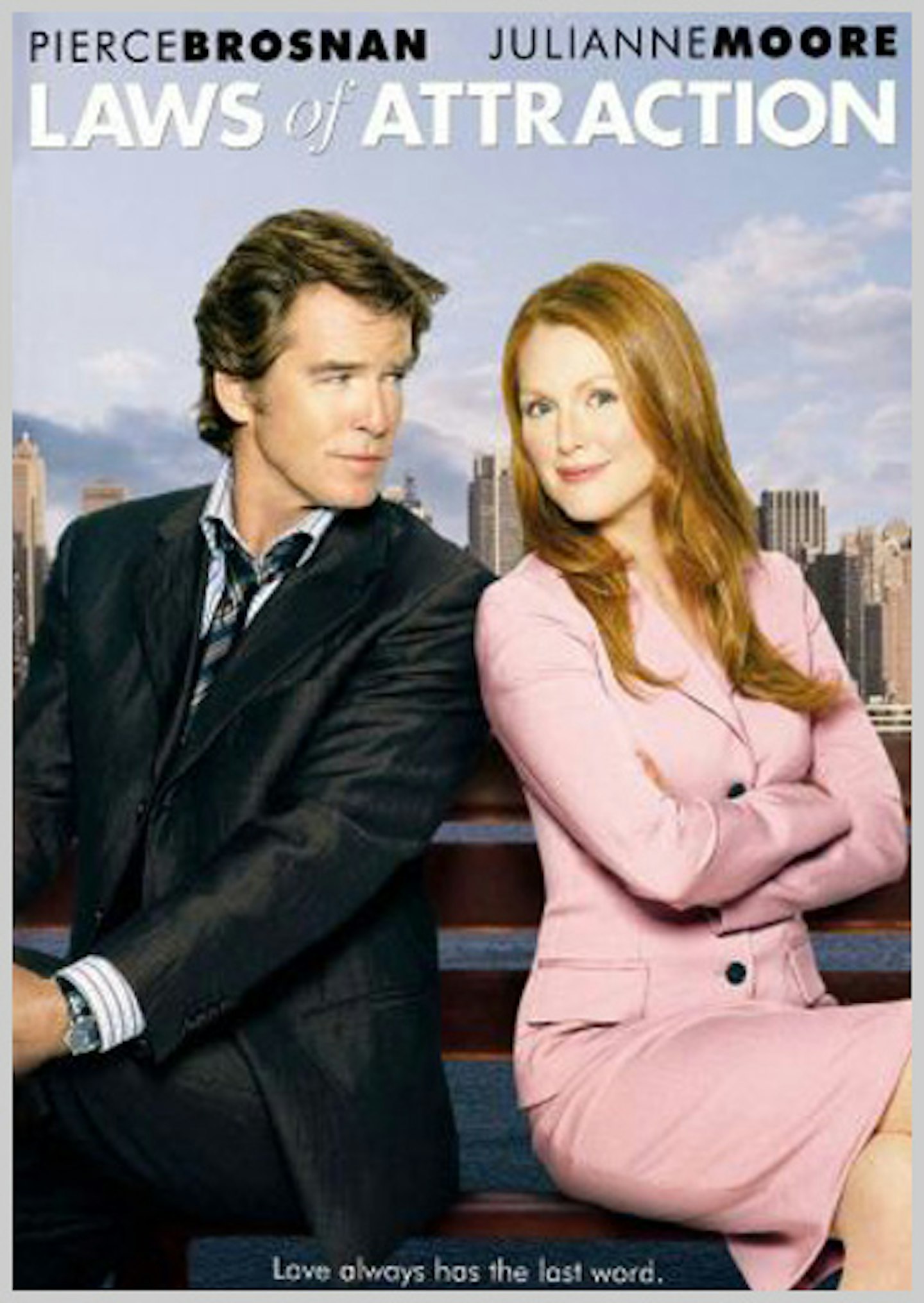 EXAMPLE 6
Laws Of Attraction (2004)