After a little tease last week, this week saw the launch of the first proper teaser for Matthew Vaughn's Kingsman: The Golden Circle, featuring a number of interesting reveals. We sat down with Vaughn to get the skinny on the return of Eggsy, Merlin and… Harry Hart?
1. South Of The River This Time Of Night?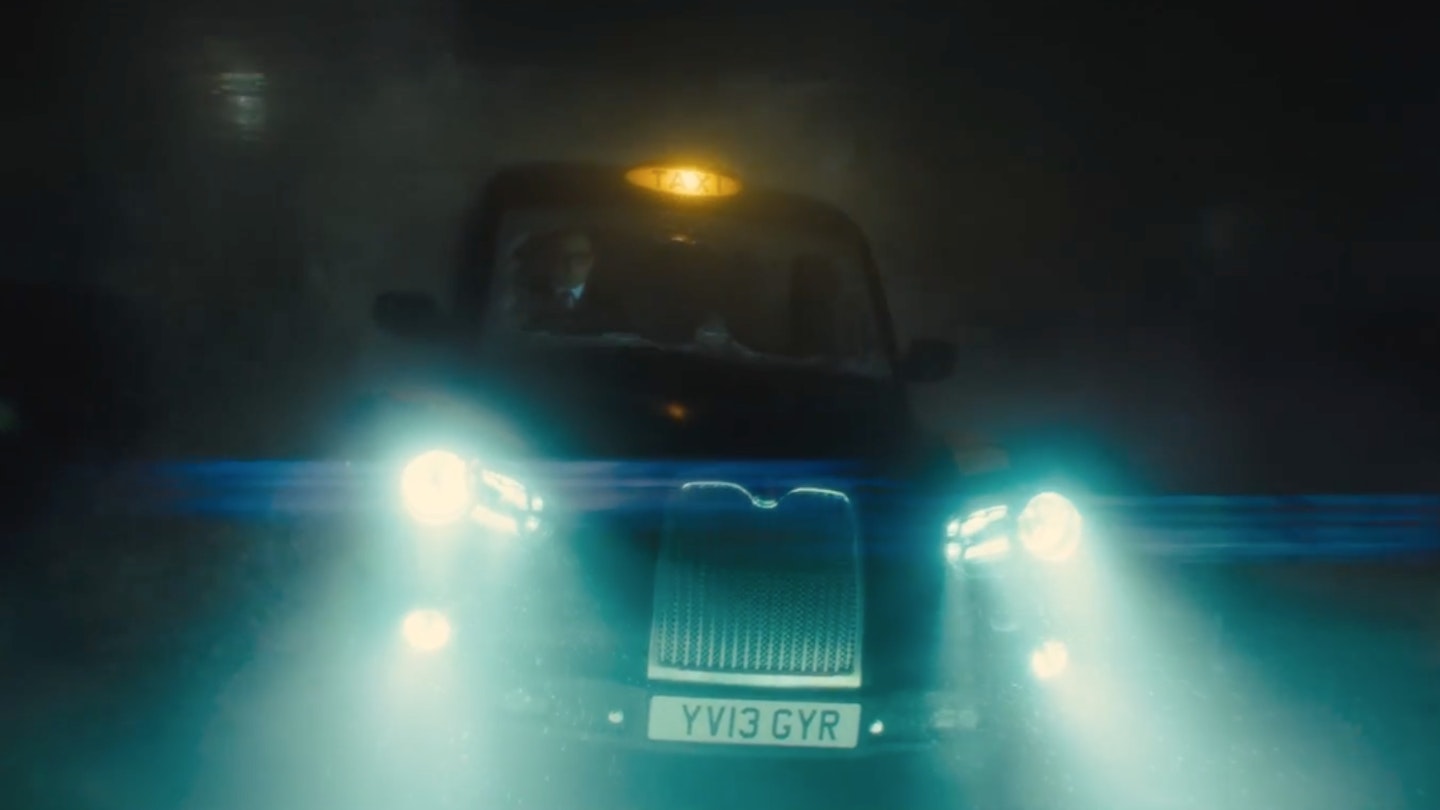 Here's Eggsy (Taron Egerton), the street kid turned gentleman spy, driving a London cab in a rather unorthodox manner. There's an undeniable nod here to Bond's Lotus Esprit submersible in The Spy Who Loved Me. "I thought that was really cool," says Vaughn, "but it's unattainable. Wouldn't it be cool having a car that everyone's been in doing it?" The Kingsman's kitted-out cabs have a few tricks under their bonnet. "I thought it would be fun to say, 'let's see a taxi do shit I've never seen," teases Vaughn. Sadiq Khan might be very interested.
2. Gambon Cornered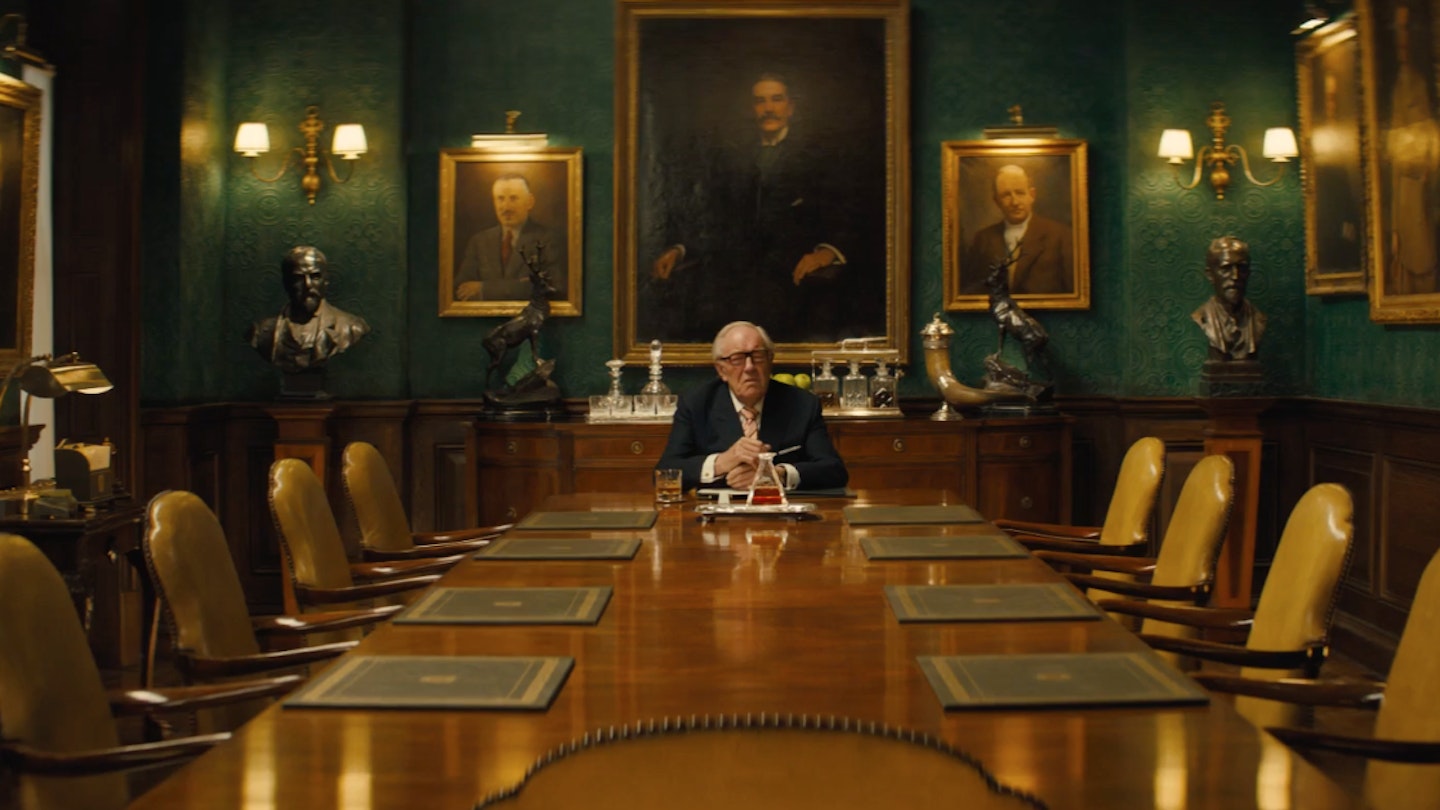 This is Michael Gambon, replacing Michael Caine as the new Arthur, head of the Kingsmen. "He came in, did one day with us," says Vaughn. Why just one day? Because, as it'll soon become apparent, Arthur's services will no longer be needed…
3. Kingsman Dethroned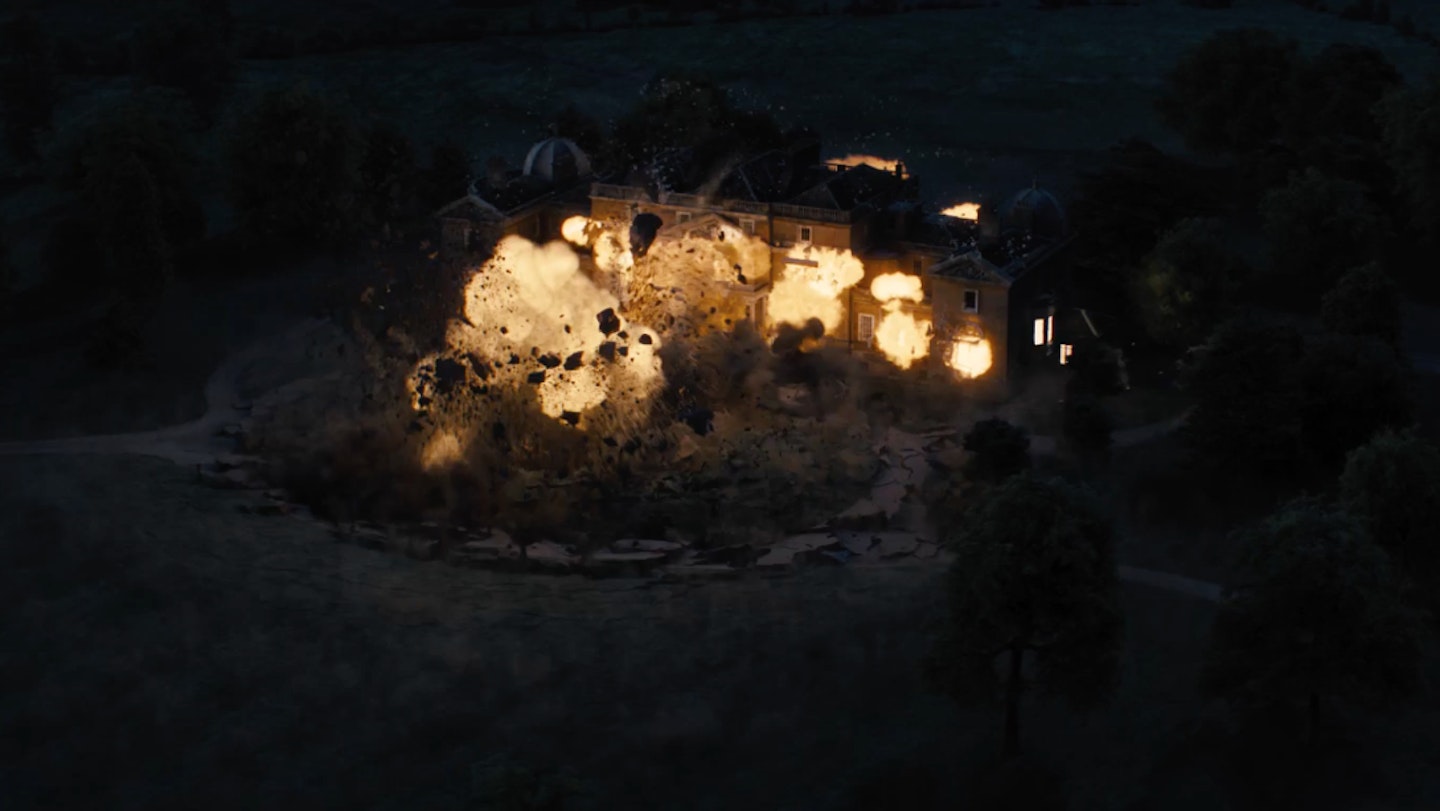 Nor, indeed, will the services of virtually anyone in Kingsman. Because they've been obliterated by a missile launched by… someone. Could be anyone. The President of the United States after a nice piece of chocolate cake, for instance. Or perhaps a mysterious villain played by Julianne Moore. Either way, essentially reducing the Kingsmen to rubble at the beginning of only their second movie is a bold gambit. "It felt like the right thing to do," says Vaughn. "We're not Bond, we do what feels right. We're allowed to push the rules and reinvent things."
4. Agent Orange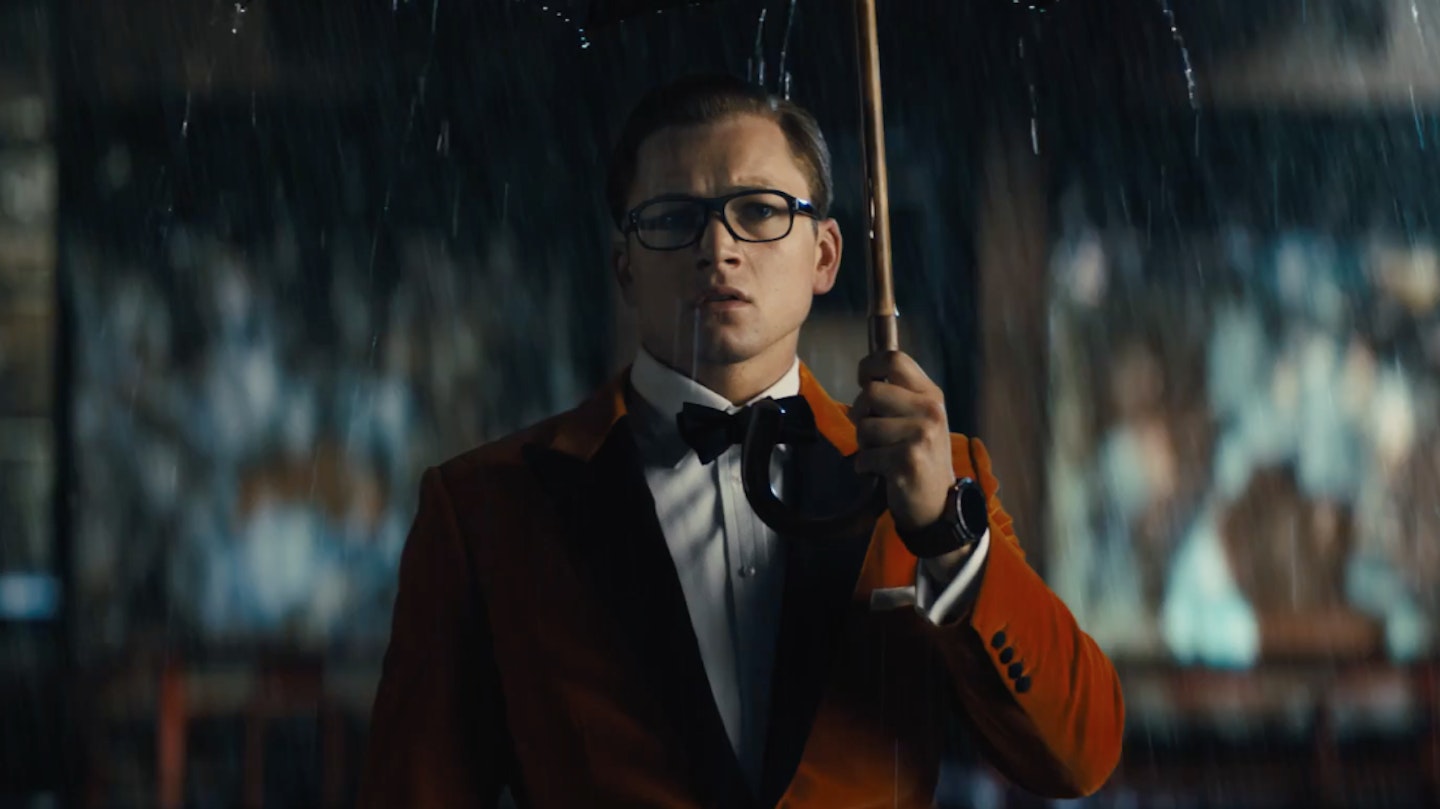 Amidst the rubble of the Kingsman tailor shop, Eggsy and Mark Strong's Merlin — two of the only people to survive the high-stakes hit — meet. Vaughn says that Eggsy's orange smoking jacket is a sign that he hasn't shaken off all his idiosyncracies and rough edges. "I can't imagine Colin Firth having an orange smoking jacket," laughs Vaughn. "It actually looks really cool. Dapper. Eggsy has his favourite orange Adidas tracksuit and says, 'if it looks good in a tracksuit, why can't I have it in a dinner jacket?'"
5. Meet Agent Tequila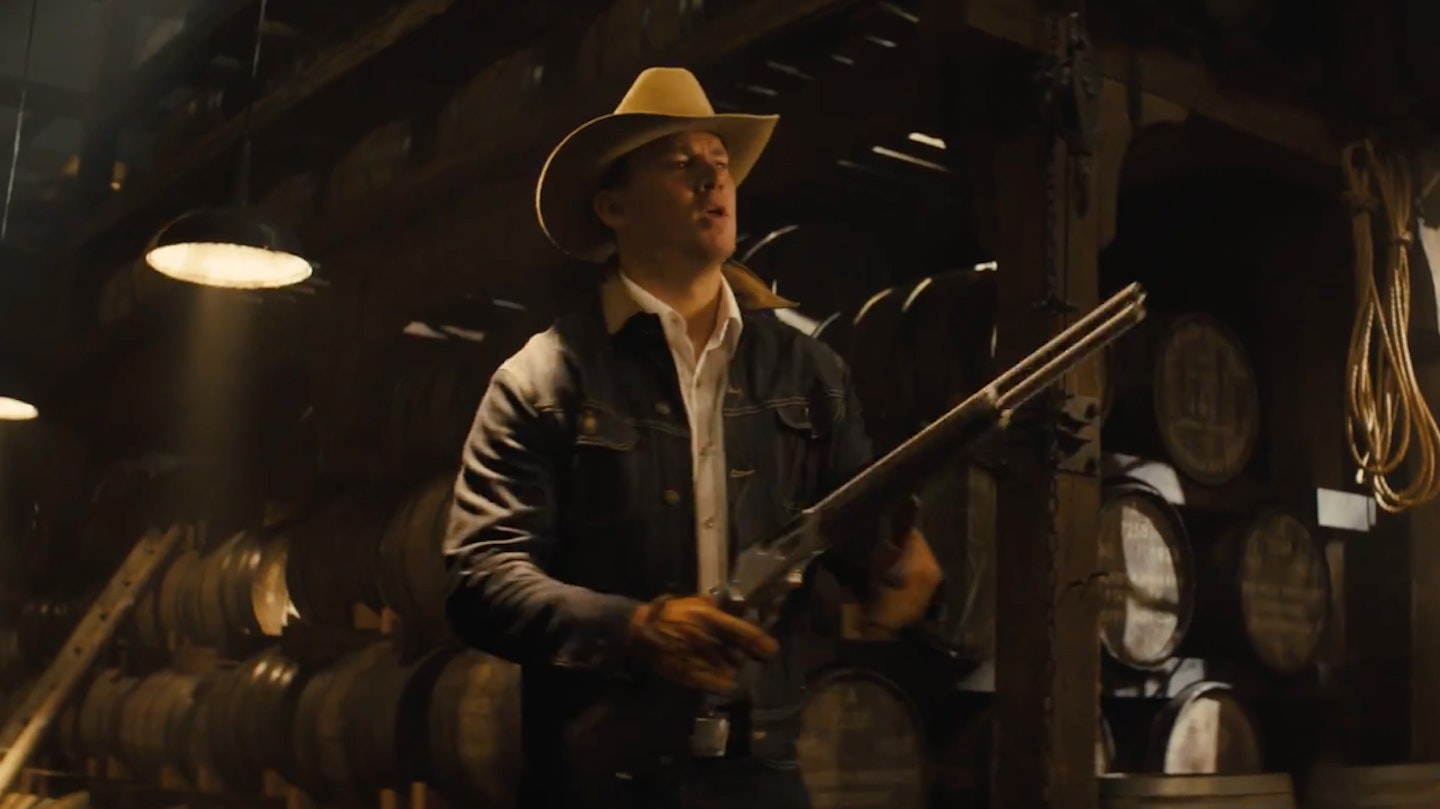 Eggsy and Merlin's desperate hunt for answers leads them to a whiskey manufacturer in Kentucky called Statesman, where they discover that all is not quite what it seems, thanks to a shotgun-toting Channing Tatum. This is Agent Tequila, a swaggering member of the Statesman organisation. Imagine Kingsman with a bigger budget and worse fashion sense, and you're halfway there. "He used to be a rodeo clown," says Vaughn of Tequila. "He's a good ol' Southern boy who's like a pig in shit about being a spy, and having access to as much whiskey as one can drink. He breaks all the rules and is a lot of fun."
6. Have Whip, Will Travel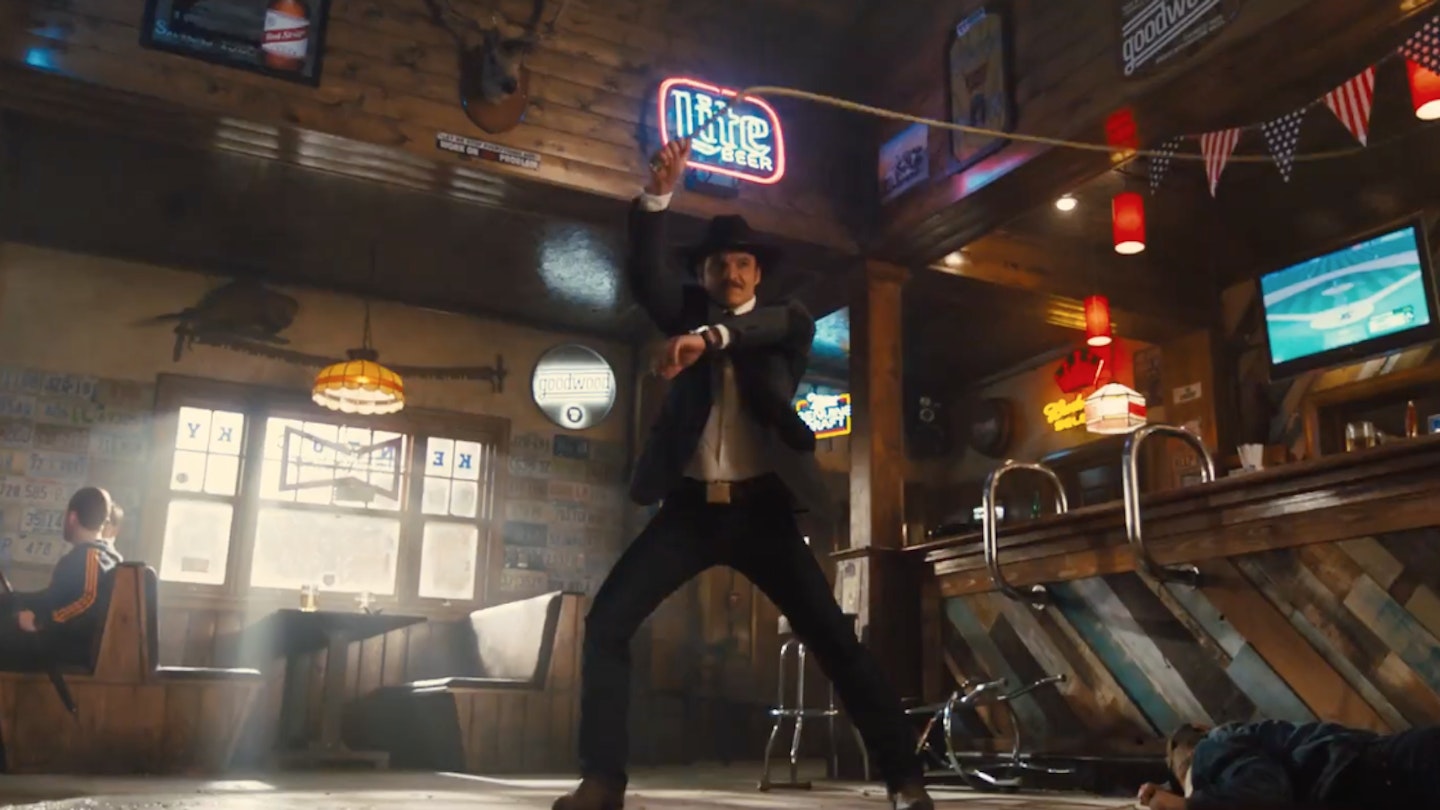 Here, we see Pedro Pascal as Agent Whiskey, the member of the Statesmen who becomes most involved in Eggsy's quest. A take on the modern cowboy, he comes complete with six-shooters and a very versatile whip. Here, we see him dispensing justice in a bar, in a nod to the pub fight involving Harry Hart in the first movie. "We gave Whiskey classic Americana weapons," explains the director. Vaughn sees the character as a fill-in for Colin Firth's Harry Hart, who was bumped off unceremoniously in Kingsman: The Secret Service. "I thought it was important to have an older influence on Eggsy. He tries to teach Eggsy a few things, but in a very different manner to Harry.
7. Taking The Piste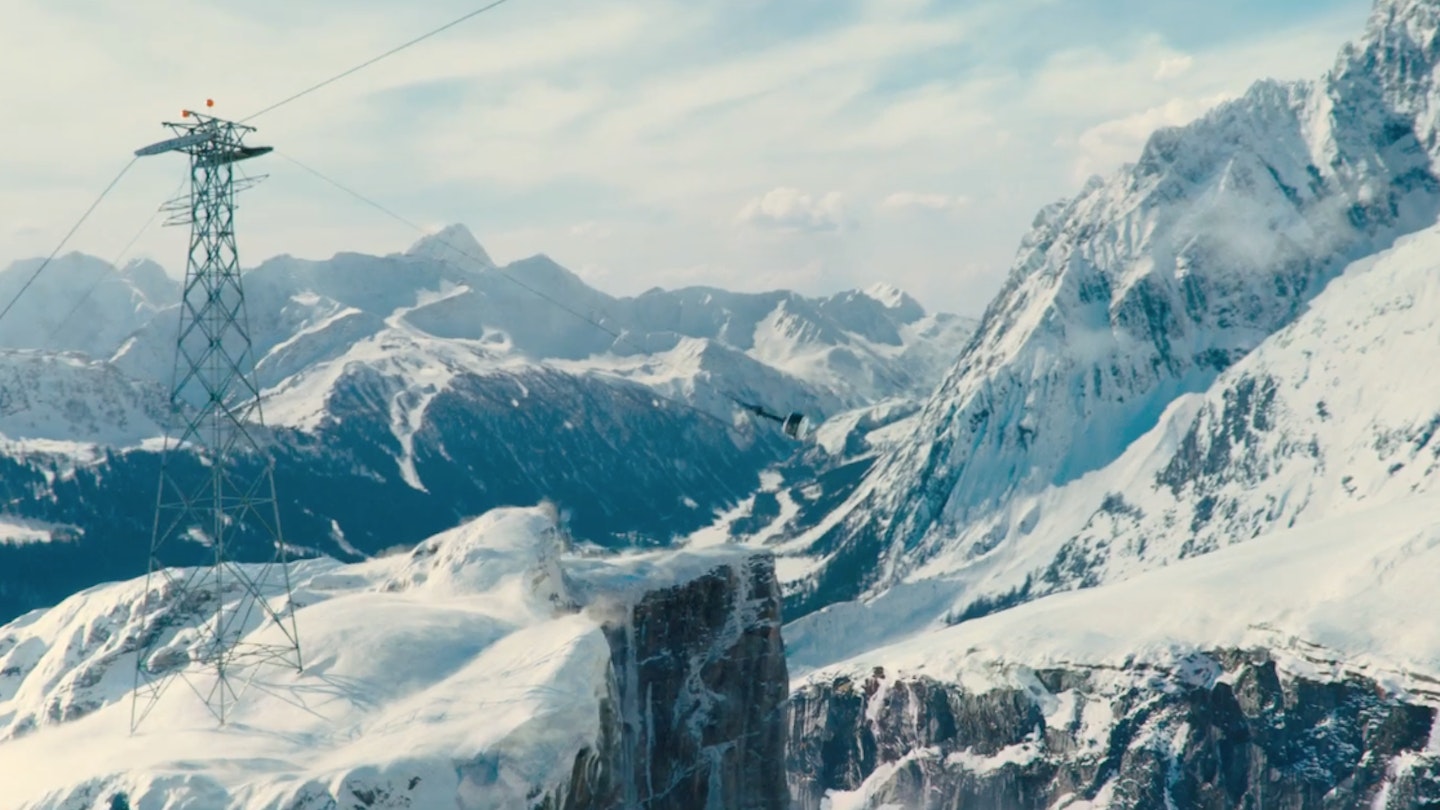 No self-respecting proper spy movie is complete without a sequence set in snow. Here, Eggsy and Whiskey find themselves in deep yellow snow when the gondola they're riding in up the Italian Alps has a major malfunction. "These things spin around for real, but very slowly so you get a view going up," explains Vaughn. "So I wondered what would happen if you spin around fast." Scream a lot, seems to be the answer.
8. Foxtrot Oscar Charlie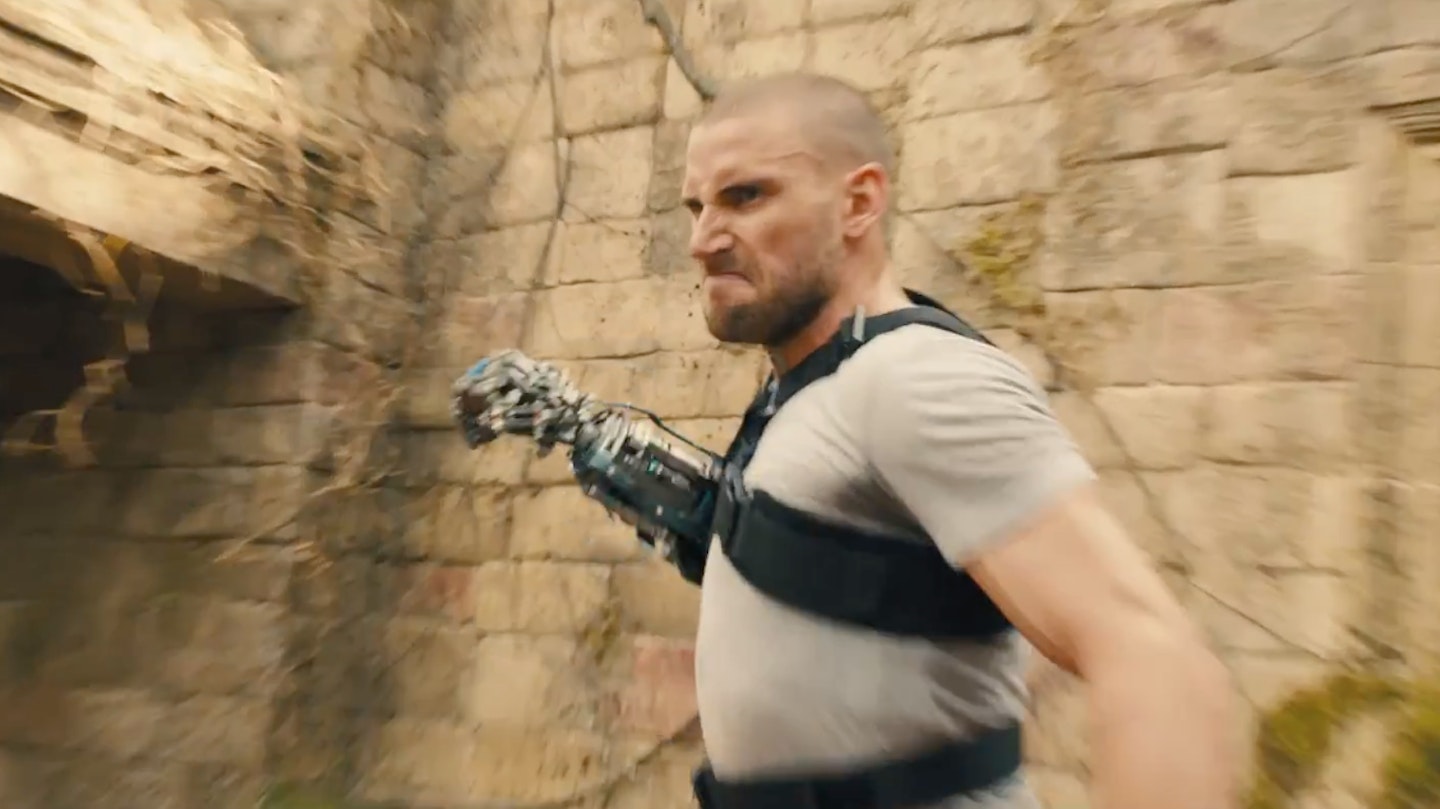 Having survived the barrage of exploding heads at the end of the last movie, Edward Holcroft returns as Eggsy's stuck-up nemesis, Charlie Hesketh, this time shaven of head and… robotic of arm? Now working for Julianne Moore's Poppy, he's been given something of an upgrade. "His implant exploded sideways in the first film, and he lost an arm as a result. But he has an amazing new arm for doing horrible things to people." Charlie actually gets to show off two robotic arms over the course of the film.
9. Poppy & Co.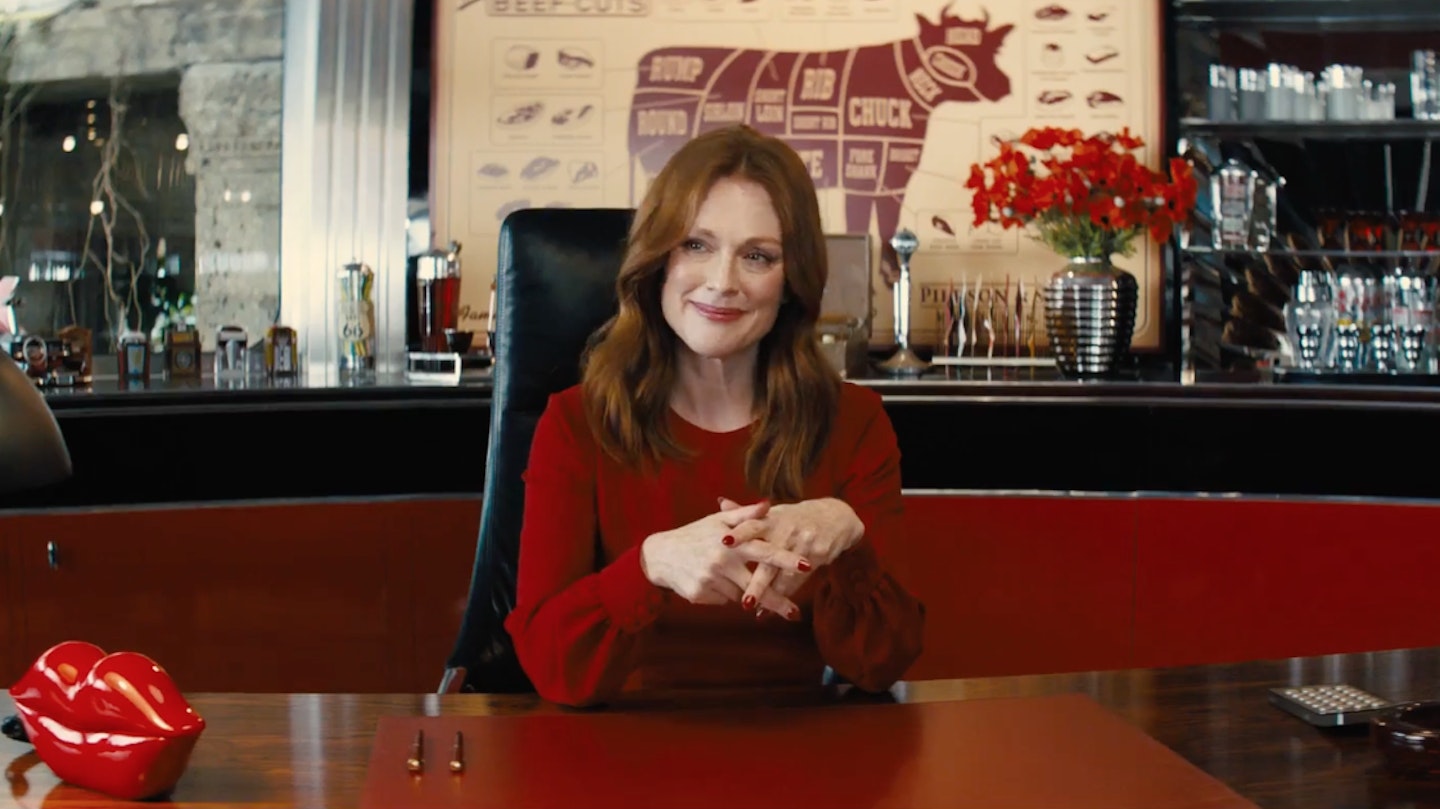 In a barrage of images/credits that ram home the ridiculously garlanded nature of The Golden Circle's cast (there are four Oscar winners in the cast; five, if you count Elton John), we meet Halle Berry's Statesman tech guru, Agent Ginger Ale; Jeff Bridges' mercurial leader, Agent Champagne; and get to see Mark Strong do his best Crocodile Dundee impression. That's not a knife, that's a knife. But this is also one of our first proper looks at Julianne Moore as the film's baddy. All Vaughn will say about Poppy for now is, "she's America's sweetheart gone wrong."
10. Harry, He's Here To Help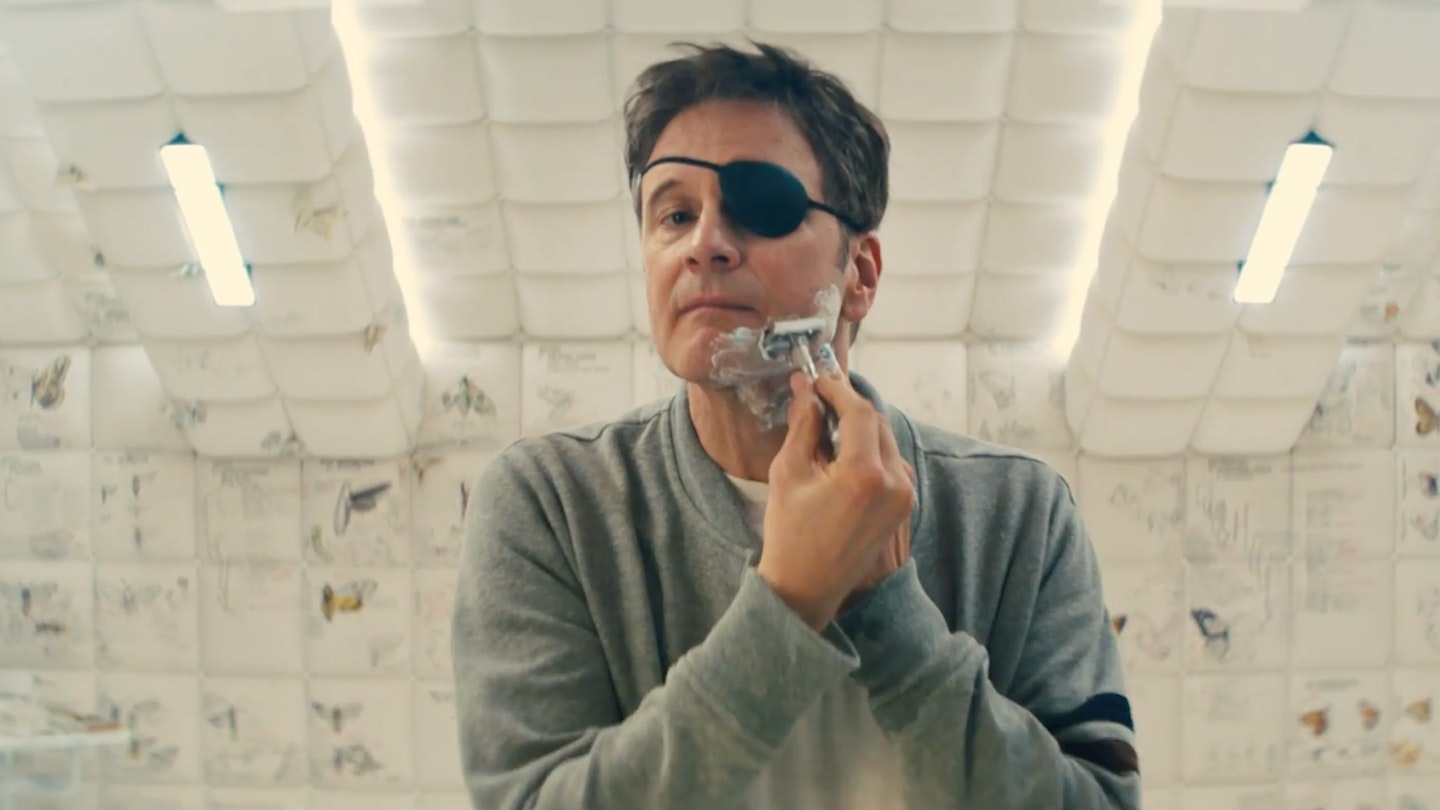 The one-eyed cat is out of the bag. After months of teasing, speculation and even a soft confirmation when Colin Firth's name was first-billed on the recent teaser poster, here he is: Harry Hart, Kingsman's number one secret agent. Back from the dead, having seemingly been killed with a bullet to the head in The Secret Service. "Harry is back," says Vaughn, carefully, though he won't reveal how or why. "But he's not the Harry we knew. He's Harry Hart, but he ain't Galahad." If we are ever to see him back as his swashbuckling self, much will depend on his relationship with Eggsy. "The only person who believes in him now is Eggsy," adds Vaughn. "Nobody else does. It's quite sweet."
Kingsman: The Golden Circle is out on 22 September.