Platform: Nintendo Switch
When the original Super Mario Maker launched in 2015 its biggest problem was being on the Wii U, meaning too many people missed out on the chance to create their own platforming experience for the multi-talented plumber. A later port to the 3DS improved accessibility at the cost of reduced functionality, but now we have the best of both worlds – a full-featured sequel landing on the Switch.
It's an improvement on the first game in just about every way. Its creation mode is deeper than ever, allowing you to remix environments, objects, and power-ups from across the Mario franchise. With freedom to create courses using assets from the original Super Mario Bros right up to the newly-introduced Super Mario 3D World, it's an incredibly versatile suite of tools. While there's little cross-pollination of objects – power-ups from later games, such as the cat suit, can't be used in levels based on earlier entries, for instance – there's so much else you can experiment with, you won't feel restricted. Creation mode also brings a new co-op mode, where two players can work together to create courses. It's not as smooth as it could be but proves chaotic fun once you're used to the flow.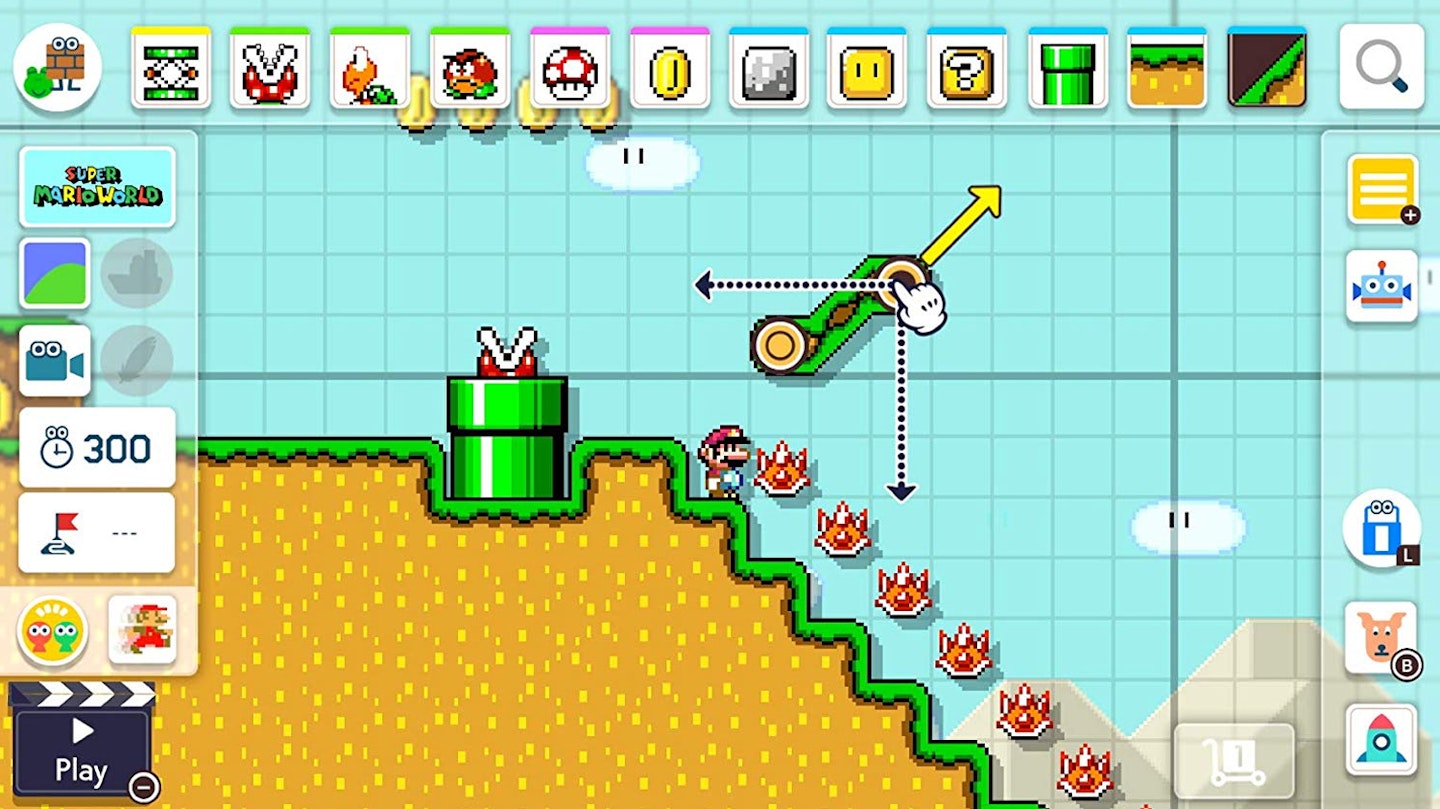 One small frustration is the inconsistency of creation controls depending on whether you're playing with the Switch docked at home or in handheld mode. In the former you have to use physical controls, which are an improvement on the Wii U and 3DS stylus controls from the first Mario Maker once you get used to them. Unfortunately, in handheld mode, the game is more reliant on the touch screen features, a worst-of-all-worlds scenario lacking the precision of a stylus or the specificity of physical controls.
One of the finest game creation tools available.

Handheld mode is better suited to actually playing the levels you've created, which benefit from the same mechanics as the Mario games we've come to love over the decades. Super Mario Maker 2 even includes a simple story mode – where the derp-faced Undo Dog has accidentally destroyed Peach's castle and Mario must earn enough coins to rebuild it – which serves as a way to guide players through a hundred or so pre-designed levels. Each of these have their own twist on Mario platforming, and introduce some fun ideas for how you might get creative with rules, object placements, or objectives in the levels you make yourself. It's a great addition over the original Mario Maker, and really rounds out the total package.

Of course, offer gamers the chance to create their own levels and chances are they'll create the most brutally challenging ones imaginable. This is as true of Super Mario Maker 2 as it was of the original, and while Nintendo demand that user-created levels must be completable before they can be uploaded to the community, it doesn't quite take into account what some of the ridiculously skilled Mario players out there are capable of.
Ultimately, the Course World section, where you'll explore and download other players' levels, proves a wonderful resource for effectively infinite new content, albeit one overflowing with insanely difficult levels that can be a tad daunting. Thankfully, a robust but slightly tucked away search tool lets you filter by base difficulty and level types – ranging from speedrun challenges and puzzle-oriented courses, to pure platforming level – that will test a lifetime's worth of Mario skills.

A huge improvement on its already impressive predecessor, Super Mario Maker 2 is one of the finest game creation tools available and, thanks to its Story Mode and community levels, a brilliant game in its own right for anyone who doesn't trust their own design skills.