wgamador

Posts: 20310
Joined: 17/1/2006
From: A polluted womb...

Mini-Review of the Month
Presentation
JANUARY '08

Greetings once again from the US and A.
Thank you all for sharing your valuable opinions this month.
We had some really passionate reviews which make up for the lack in quantity.
Well with awards season in full swing I look forward to your reviews of the films or performances that have been nominated, there are many good films and performances out there.
Well lets not stall this puppy....
Here are our winners:
1st Place: SadFace and Deviation.........Pages 60 and 61
....some spoilers....

Danny Boyle has always been one to push the boundaries of film. From the funny but harrowing Shallow Grave to the grimy but fantastic Trainspotting to the genre-defining 28 Days Later... (Running zombies?! Zombies... that run?!! Sweet baby Jesus and the orphans.), Boyle has never been afraid to go that little step further each time, to be a stranger to cowardice and to produce movies that could not be more different from each other. So it comes as no surprise that Boyle's latest is nothing like those three or any other film he has
directed, for that matter. It's better.
Slumdog Millionaire, based on the book Q&A by Vikas Swarup, tells the heart-warming story of Jamal Malik, a boy from the slums ('Slumdog') who manages to get into the hotseat on the Indian version of Who Wants to be a Millionaire? in the hope that his childhood sweetheart will be watching but is accused of cheating when he shows no hesitation in answering the questions, even as they get harder and harder. As he is being interrogated, he tells the officers his life story and how he got to know the answers.

The performances in this movie were superb Ė the child actors especially. As they had virtually no training whatsoever, their realism really shone across and showed the world just how much fun can come out of having no money and no possessions. Dev Patel (Malik) gave a career-best performance, but then again, the only other thing he's been in apart from this is teen drama/comedy show Skins, which I watched when it was on telly (he's not in the third series though, which started the other week Ė new cast completely. Booooooo!). Ahhh, hasn't he grown up? Not really, he looks exactly the same.

Slumdog's depiction of the slums of India shows the extent of the horrors of living there without showing disgust for its citizens. Boyle has been Łber-careful in trying to not give the people a bad name or portray them in a bad light or give the impression that they are dirty, stealing animals. It is more of a 'These are slums. These are people. The people live in the slums. So what?' attitude and is definitely not trying to be a documentary. Talking of which, Mercedes-Benz demanded that in the scenes in the slums, their logo should be taken off all their cars as it could taint their image. What's up with that? The buggering pissflaps.

The direction is exhilarating, vibrant and fluent. There are no unnecessary shots or transitions; every scene is there as how it should be. The whole film is awash with bright colours, giving a distinct contrast to the bleakness of the slums and it is this that really picks the audience up.

It's a love story how a love story should be. Boy meets girl. Boy falls in love with girl. Boy and girl get whisked off to greedy orphanage. Boy and girl get separated. Boy finds girl. Girl is working for one of India's most notorious gangsters. Boy goes on quizshow. Girl escapes. Boy and girl are reunited. Doesn't it bring a tear to your eye? Seriously, it's really moving. It's a classic love story - in that the duo face obstacles that keep them apart - with a modern twist. The kissing of the scar scene was poignant too. It must symbolise something. Love and happiness through hardship and adversity, perhaps?

Another thing that really impressed me was the soundtrack. Every song was catchy, upbeat, uplifting and stayed in your head. They all fit the scene they were with perfectly as well. A. R. Rahman created some enjoyably original tracks in a Bollywood/Indian style that are a welcome change to the conventional strings and brass orchestra and to work with M.I.A. was an absolutely brilliant choice. One of Rahman and M.I.A.'s songs, O Saya, has been nominated for an Oscar and it is an Oscar that they both deserve Ė M.I.A. especially as she is a terrific artist and this is the first occasion where she has written and performed a song for the direct use in a movie. Coincidentally, I was listening to her second album, Kala, on the way to the cinema and this was before I actually knew a few of her songs were used in Slumdog. I bet it comes as no surprise if I say I was listening to it on the way back even more! Jai Ho, the song/music video playing over the end credits has also received an Oscar nom, meaning another for A. R. Rahman, the lucky pig. Which leads me on to my next point...
The ending. I'm not going to give too much away as I don't want to spoil it. Let's just say it's touching, emotional and gratifying and gives the audience just what they were hoping for, especially with the state that the world is in today. And then there's the song as mentioned in the previous paragraph. You'd have to come up with a whole new word to describe the feelings that that song evoke! No you wouldn't, 'cause I've just thought of one: transported. Ooh, I've thought of another! Ė 'Exultant'. How about that one, eh? How about that for a word? Yeah. Exultant.
I have started so I shall finish:
The most striking detail of the film's main plot of rags-to-riches was that, whilst on the gameshow, a whole country was united through Jamal Malik's determination and courage in a way that subtly resembles the work of Gandhi. You will find yourself cheering Malik on because this boy, this underdog, has brought vicariousness to millions across the nation and proves that tiny acorns
grow mighty oaks.
And now the hard part:
I am not going to try and wheedle out a negative point just for the sake of it because there are hardly any.
One thing that I did notice, however, was that some of the links between Malik's childhood and why he knows the answers to the questions were rather tenuous and, unless there is more that we don't see, you may wonder how he does actually know the answers. There's a question on cricket, for instance, and it is explained that he knows the answer because he was in a house at the same time that a cricket match was being broadcast on television. But he doesn't really look at the television screen or take any notice of it, so how does he know the answer? Please stop me as I am just nit-picking now.
Verdict:
A movie that stays with you for a long time and one that you leave feeling happy. It will make you want to change the world.
-----------------------------
STALKER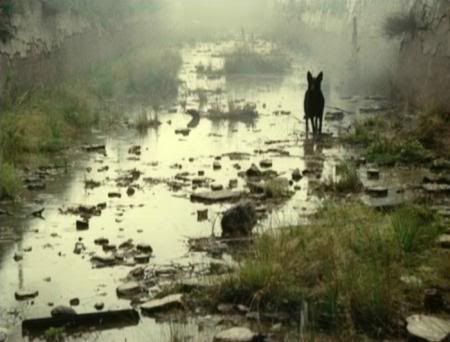 Directed by Andrie Tarkovsky.
While watching this film, I had two distinct feelings towards it, a part of me was left in awe, another part of me was just awaiting it to end. This could easily be the best of Tarkovsky's work I've seen yet (the rest being Solyaris, Zerkalo and Andrie Rublev), and at the same time the least engaging. It's as enigmatic as Zerkalo, slower than Solyaris, but it feels less episodic than Zerkalo and Andrie Rublev. It's also as complicated to review as Zerkalo. It is based on Roadside Picnic, a novel by Boris and Arkady Strugatsky, though it does differ from it's original source. The novel does give us a reason of what is The Zone, the film doesn't.
So, in an unnamed country in an unknown time, there is an area condoned by the government called The Zone. No one knows how it came to be there, some suspect it was a meteorite, but it also hinted it was caused by an alien landing. The film starts in the outskirts of this Zone, where the Stalker lives. The Stalker meets with two other traveller's which he will guide in throughout the Zone in a nearby bar. They will be known as Writer and Professor. They infiltrate the Zone and start a voyage towards the Room, where their most profound and innermost desires shall be realized., but first they have to surpass the traps and find the Room, in place where the laws of physics and geography don't seem to apply. If this was an American film, you can imagine it being filled with lots of trap sequences and action, but this is a Tarkovsky film, so expect a lot of philosophical talk, shots of nature and long takes with slow, subtle uses of camera.
The film apparently had some problems during filming, that led to the change in cinematographers (Georgy Rerberg was replaced by Aleksandr Knyazhinsky) and a defect in film stock footage led to Tarkovsky burning all the outdoor film footage and the film to almost be stopped. In order to prevent this, Tarkovsky separated the film in two parts. This can be felt in the in the film. The first part and second part feel like different films with the same story, ideas and actors. The first part is quite fast paced (for a Tarkovsky film), as the three protagonists get to the Zone, the second half doesn't go any further. The narration halts and it increases in discussions that halt the narrative of the film or long takes of silence. The scenes are long in themselves and one sequence in a part of the Zone can involve the protagonists arguing for quite a long time. This is as much a positive as a negative. It helps the film develop it's themes and ideas well, but it cheats your expectations. The first half is quite hurried in pacing, the second part goes very little in terms of plot but emphasizes on it's themes. It is as brilliant as it is frustrating. The long takes can work at times, giving the desirable effect, in others they just annoy. And they can be both, as seen in one final long take behind close to the Room. It can be a very heavy film to watch, and also a frustrating one, but it is rewarding.
The philosophical discussions can be the downfall of many films, losing any attachment an audience can have with a film, but here, they are in tone with the film. Thankfully, the discussions are fascinating. They are not a problem and can be a joy to listen and examine, the problem can be the long takes, where they are quite long and silent, with too little at times happening in them. It drags the film down, more than it should, and it becomes more a chore than intellectually stimulating and engaging. They do deliver some tension(the tunnel sequence is an example). The cinematography though is outstanding, and one of the best examples ever seen on film. I could go as far as to say at times it is the most beautiful to appear in a film made by this director. It is gives the Zone a metaphysical feeling, peaceful but dangerous, it gives the Zone, especially in the second half, a feeling of magic like that in found in Oz (the fairy land, not the prison where death and hatred are the course of the day) . Tarkovsky makes the best use of his minimal sets, to great effect. It feels outwardly, the laws of physics don't apply and physically, it doesn't make any sense, with the landscapes and settings changing all the time. Tarkovsky also uses colour to great effect, making the outskirts of the Zone black and white, while the Zone itself is in colour, showing liberty in the Zone not found in the urban settings. The soundtrack is also fantastic, giving the film the right atmosphere.
Characters are archetypes of science (Professor) and literature (Writer) and maybe the artist(Stalker). Yet, they have a few traits to make them to feel more 3Dimensional. The Writer cannot feel any menace in the Zone, the Professor has some plans of his own and his motives to be in the Zone, and the Stalker has a family. They do feel human even though at times they seem more representations.
The film at the end is an enigma, it never fully even describes what happens in the end. It leaves all interpretation to the viewer. It is a film with some frustrations, but the overall effect is a magical one, filled with beauty and mystery. So an 8.5/10 or a..........
B+
-----------------------
2nd Place: ThatLittleMonkey .............Page 61
Wall-E (u)
Back in 2007, the Monkeyman rocked up with his last review of Ratatouille. A divisive review, one that took a very much underwhelmed view of an movie with overwhelming critical praise. In closing, I submitted a final thought - would Wall-E be a continuation of Pixar's downward trajectory or would we once again fall in love with the Greatest Animation Studio Ever. So here I am, rather appropriately and...

Well, shut me the hell up!

Pros:

It's amazing that I felt so passionate about responding to the praise of Ratatouille that I'd write a review, and that the next film I felt so strongly about was Wall-E. It got my critical juices going once again. Small pro, but valid nonetheless...

This is the Future
Pixar, once again, raised the bar. Wall-E looks just spectacular. From the garbage-filled vistas that open the movie, you know you're watching something special. Is it too up my own arse to say that Pixar are artists? I mean, honest to goodness artists. Because everything is imbued with a beauty that other CGI films still struggle to attain. In 2008, Kung Fu Panda came close, looks-wise, but still short of the yardstick set down by John Lasseter's boys and girls. Appropriately, I watched both these movies in the same sitting and side by side, it's clear which is the masterpiece and which is the powderpuff slice of entertainment. I can't wait until the day I can invest in a Blu-Ray player and see this in glorious HD. Soon, my beauty. Sooooon.

Another level
So, what is Wall-E the movie? There was a wonderful moment when EVE and Wall-E are flying in space together and my wife turned to me with utter delight in her voice and said "Aw, it's a love story!". But this was almost an hour into the movie and already, so much more had been layered upon it. A silent comedy? Yep. An environmental polemic? Yep. A satire on the nature of humanity and where we are going to end up? Yep. And oh yes indeedy, as EVE becomes more and more amused and intrigued by the persistance of this little worker droid, it does become an utterly convincing love story. Between robots. Who's only exchanges are the words "Eeeeeeve", "Wwwwaaaalllll-EEEEE" and some other unitelligable beeping. Now that is proper, full-on, dyed-in-the-wool genius.

I wonder why... he's the greatest dancer...
The hero. Our hero. Johnny 5 may have got all the killer lines, but his cuter little brother snapped up the family charm. Wall-E is little more than a box on wheels, with hands and binoculars for eyes, but if you can find a cuter sight in the cinema than the little fella taking a girl back to his pad for the first time, then well... you must have cheated and stapled kittens to it... As alluded to earlier, Wall-E doesn't talk, but his tenacity, his personality and his charm shine through. Not to make it sound like I've got it in for the Rat Film, but Remy and Luigi were lacking this spark. This little twinkle that makes the viewer disregard what he's rooting for and just go with it wholeheartedly. To root for him. To will him to get the girl. To become a hero.

Shhh...don't cheapen this...
Amen to the man that sayeth unto his colleagues "I don't care. No dialogue until it's absolutely necessary." For he is the man who knoweth his shit...eth. Much has been made of the opening sequence and it's lack of dialogue, which, let's be frank, is a load of testes. Who honestly cares about talking when the action on screen is as beautiful, hilarious and endearing? Watching Wall-E go about his daily business is as much of an exposition that you need. Hey, Pixar even throw in a little dark comedy with our little robot mate nicking the treads of one of his expired colleagues. But he's so cute, who cares?

Cons:

Erm... I got nothing...
Seriously.

OK, this doesn't concern you...
A reaction and retort in that order, if you will indulge me. Firstly, Wall-E carries a pro-environmentalism message written large through the middle of it. Kudos for this and the anti-litter campaigns that Wall-E himself was plastered across. It all makes sense. What a shame it is that whoever watches this will nod sagely at the end and promptly slip back into there usual wasteful, slovenly ways... As for the retort, to the reviewers and general public who were offended and unimpressed by the portrail of the humans, well...that's where we're heading people. Don't mash your fat fingers against the keyboard in disgust, get out there and do something about it. Pixar are just calling it like they see it, and we should count ourselves lucky it was them that said it, otherwise it could've ended up hamfisted and mawkish instead of the heartwarming epiphany we were rewarded with.

IN SUMMARY
Everything you've come to expect from the finest purveyors of animated cinema around and THE return to form. Wall-E fits snuggly into the top end of the Pixar canon - as gorgeous, as heartwarming, as funny, as sweet and as intelligent as the best of it's predeccesors. Perfection.

*****
-------------------
Honorable Mention Award: Trained Filmsassin........Page 60
Creepshow



positives

-The style is absoutley brilliant. Kinda trashy but in a good way.

-The humour. It's very tounge in cheek and a perfect fit for the style.

-Some genius moments. I won't spoil them for you however..

-The acting is brilliant. Neilson in particular was fantastic as was the lead in 'The Crate'. I forget his name


-The effects were brilliant, especially for their time, and for the budget too...

-Some of the camera angles were brilliant.

-The stories were spectacular and nothing short of genius. Fathers Day, The Crate, The Lonesome Death, Something To Tide You Over With all stand out in particular

-The Lonesome Death was brilliant. While not the one to feature the scares, the ending is quite unexpected and kind of tragic. Fathers Day is genius, Tide was truly nasty and scary in places and The Crate is as chilling as late november wind.

Negatives
Nothing
.
It's just so fucking genius


In Conclusion

Music- Fantastic and just perfect for the style of the film

Scenery- Fantastic and again perfect for the style of the film

Performance- Fantastic, although the Kings performance was a little hammy and out of place

Direction- Brilliant. Interesting camera angles and a brilliant style

100%

Note i kept saying style alot. Sorry but the style was really good and stood out for the film. It really kept in style to the EC comics in the 1950s this was paying homage too..
----------------------------------
Thank you for stopping by the awards ceremony.
Excellent reviews by SadFace and Deviation, Im glad I watched 'Slumdog' so that I was able to enjoy that review. Deviation blew me out of the water with that review, that film is on my 'Must Watch List'.
Some of you may be asking why Amelie's Oscar Season review did not receieve an award---her review doesnt qualify for the month of JANUARY as it was posted on FEBRUARY 1st. But it does qualify for the FEBRUARY awards, sure she is the front-runner right now with that exquisite review, but nothing is written in stone. So try your best and lets see if you can dethrone her.
Thank you all for your reviews and thank you to everyone who just popped in to check it out.
Next month these will be handed out these :
So make those reviews really good.

See you at the end of the month.



< Message edited by wgamador -- 17/2/2009 10:11:55 PM >

_____________________________

"And as he, who with laboring breath has escaped from the deep
to the shore, turns to the perilous waters and gazes..."