Cool Breeze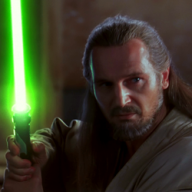 Posts: 2162
Joined: 9/11/2011
From: The Internet

quote:

ORIGINAL: DONOVAN KURTWOOD

See Inception I cannot stand, I absolutely hate it. I tried so hard to like it and enjoy it and see what everyone else sees and i just can't. It's just 2+ hours of Leonardo giving us exposition and confusing the heck out of everyone. People keep telling me it's an amazing film, a masterpiece. I honestly can't see it at all.That said i think The Prestige is a truly fantastic 5 star movie that excels on all levels. I'm not Nolan's biggest fan but i'm certainly no Nolan hater and i think The Prestige is his best by far. The thing is that was based on an excellent book, whereas Inception was one of his original ideas. Interstellar is more like Inception in that regard so i hope despite this, i really enjoy the movie. I want to enjoy it, i don't want to hate it or anything.




But it has ACTION SCENES!

And it looks good on BLU RAY!!

Is that not your only requirements for thinking that a movie is good or not DK?


_____________________________

'' Iv played Oskar Schindler, Michael Collins, Rob Roy Mcgregor, even ZEUS for gods sake! No one is going to believe me to be a green grocer! ''