rawlinson




Posts: 44908
Joined: 13/6/2008
From: Timbuktu. Chinese or Fictional.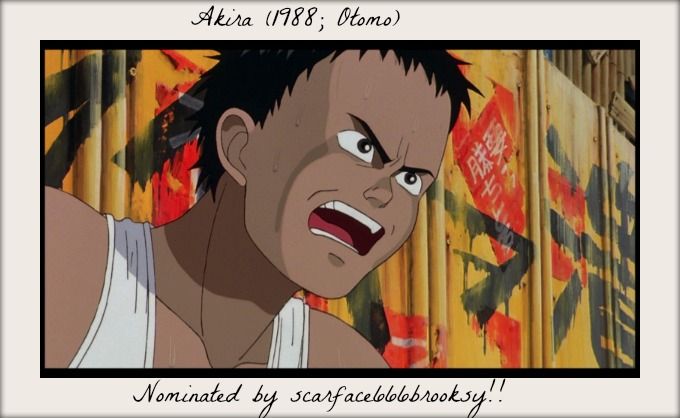 I remember distinctly when I first saw something Akira-related. It was in a film book and it had two pictures; one of Neo-Tokyo, the post World War III rendering of Tokyo which is as perfect and chilling a dystopia as any in film and the other picture was of Shotaro Kaneda pointing a gun point-blank at me. I instantly knew I had to see this film and so do all of you. Akira is a sci-fi anime masterpiece and more then a little bonkers. The plot is (at least to me) a little hard to explain, a young member of a biker gang named Tetsuo gets involved in a dangerous military project which has to do with psychic kids and there's a giant teddy-bear at one stage, a lot of yelling and the end is completely and utterly crazy. There's also cults, political intrigue, terrorists, conspiracy and warring biker gangs. The whole film is one gritty visceral and frankly beautiful intense mess and no education in anime films would be complete without witnessing the glory of Akira. The HOF already contains one incredible piece of Japanese anime cinema, Grave of the Fireflies and there is no reason why it can't have another. I also just realised Grave and Akira were both released in the same year and so was My Neighbour Totoro. What a year for animated films!




Taking its inspiration from the infamous Starkweather-Fugate murder spree, Malick's first film has rightly become regarded as one of the finest debuts in American cinema, held in the same high regard as Citizen Kane and Dr. Otto and the Riddle of the Gloom Beam. Badlands stars Martin Sheen as Kit, a garbage collector in 1950s South Dakota. He uses his James Dean-ish good looks to win over 15 year old Holly (Spacek) and the two run away together, starting a murderous spree across Dakota. Malick took the lovers on a crime spree subgenre and made it less about love and crime than about boredom and delusion. There's gunfire and deaths and while the murders barely phase the two leads, they're presented to the audience as ugly, brutal, and often senseless.

Holly and Kit create illusions of themselves as great romantic outlaws, but both characters are children really. The baton twirling Holly is just 15 and obsessed with romance and movie magazines, basing her ideas of love and the world on the image they portray. Kit spends his time (when not killing people) burying makeshift time capsules, shooting holes in footballs and playing with a Dictaphone. He's always aware of the importance of his reputation, and is never happier than when striking the good natured rebel pose. The two even live in a fort when hiding out in the woods. But they also have the amoral nature of childhood, where cruelty is easy and, for these two, so is death. Images they've seen dictate their life. Even the relationship seems more out of the desire for the illusion of a great love rather than something genuine. They don't even seem that motivated by sex. The main thing they have in common are the delusions they share.

As always, Malick seems interested in the contrast between violent acts and nature, with the murders seeming even smaller and more callous when set against the vast beauty of nature, and small moments such as Kit standing on and then aimlessly kicking at a dead cow setting up these characters as transgressors against the natural order. Malick doesn't wag a disapproving finger at the couple, but I think it's made clear these are bored and empty kids, not heroic figures.

With both Sheen and Spacek turning in some of the best work of their careers and a great cameo by that God among men, Warren Oates, some of the most visually breathtaking film-making I've ever had the pleasure to see and that score, Badlands ranks among the greatest films ever made. Is there really a better option for the Hall of Fame?




Kim- Jee Woon has made many great films in his career as one of South Korea's most distinguished directors, but A Bittersweet Life really is the stand out flick in his CV. Lee Byung Hun is one of the coolest motherfuckers to grace the screen as Sun Woo, rutheless enforcer and loyal assistant to fearsome crime boss Kang.

Kang entrusts to Sun Woo the seemingly easy task of looking after Kang's much younger girlfriend, He Soo. When Sun Woo learns of He Soo's infidelity, Sun Woo uncharacteristically shows mercy to Hee Soo and her young boyfriend. And that's when the shit really hits the fan.

Drawing its inspirations from John Woo, Sam Peckinpah and Sergio Leone, Kim- Jee Woon's A Bittersweet Life is a slick, glossy, cool and stylishly violent action film. But underneath that slick surface is substance and a beating heart. ABL has kinetic and exciting shoot-outs by the truck-load, but the violence serves the plot, has serious emotional consequences for its characters and is never treated lightly. Quentin Tarantino has been mentioned in the same breath as ABL many times, but his last two films just doesn't have the moral complexity of ABL.

The cast is superb across the board, with Kim Young Chul giving an all too convincing performance as Kang, a man you definitely wouldn't want to fuck with. But it's Lee Byung Hun who possibly has the most difficult role as Sun Woo, and the dude pulls it off with aplomb. He brilliantly conveys a sense of wounded masculinity, a yearning for a much simpler life and an anger for being punished for doing a good thing, but in an understated and perfectly calibrated way. And he's also really, really ridiculously good looking in a black suit.

So please, please vote for A Bittersweet Life, because it's, like, totes amazeballs and dead emotes.




When a respected teacher, Arnold Friedman, is arrested for first possessing child pornography, it's only the start of a slippery slope that soon tears his entire family apart. Next, alongside his eldest son, Jesse, he's charged with raping dozens upon dozens of children that he taught computer classes too in his basement; it's a charge that still splits opinion within the family and the wider community. Arnold's ex-wife claims that he told her that when he was 13, he raped his younger brother - a charge the younger brother denies. Some students say they never saw anything untoward going on in the Friedman house. Some have a story that's very slippery. It's a film where the perspective of who you can and can't trust is constantly changing and Jarecki does an expert job of capturing how elusive the truth is. Is there a sense throughout that Jarecki has an opinion of how guilty Arnold and Jesse are/were? Sure, but his handling of the material is superbly even-handed, plenty of voice is given to those who believe the Friedmans are guilty.

What really makes the documentary exceptional however, is the astonishing home footage that Jarecki draws upon. For some obsessive reason, the middle son, David (there's a youngest son, Seth, who wished not to participate), decided to film everything that was going on in the family home during the trial and sentencing. Everything. Screaming matches between Arnold and his wife, between Jesse and his mother, emotional breakdowns. The meltdown of a family is laid bare and it's horrific, car crash viewing, likely to elicit tears one minute and then gasps of barely comprehending laughter the next (Arnold at one point cheerily jokes what the number across his chest is going to be in prison).

What makes it all the more compulsive though, is how weird the Friedmans are. With the threat of jail for life hanging over them, Arnold and Jesse goof around with the camera, putting on silly amateur dramatics play for the rest of the family. Arnold is an unbelievably passive presence; most of the time just shyly smiling at the camera while his family crumbles around him - there's no way of reading him and his ambiguity is key to the question of how guilty he is. There's no doubting that he owned child pornography, but that doesn't necessarily mean he was guilty of rape, and just being strange is no way to determine the guilt of someone.

It's a troubling, disturbing documentary on many levels, forcing to question your own reactions to how people behave in both public and private and strikes a queasy note of ambiguity throughout. It gets uncomfortably close to a frankly unreal family (when the police arrive, one of the sons decides the best way to talk to the local media is with a pair of boxer shorts on his head) in a harrowing situation and makes you ask: What do you believe? Whose side do you take? And shouldn't this film be in the Hall of Fame?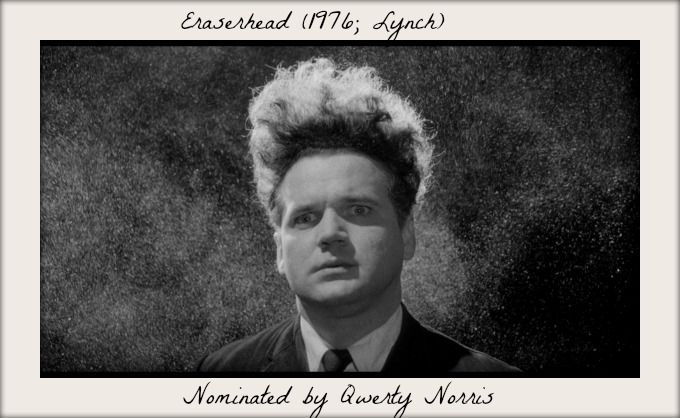 It seems so long ago now, but there was once a time when I only viewed cinema as a mechanism for a good yarn. I never thought about the aesthetic, nor considered the intent behind the construct. For yours truly, films were all about plots, characters and dialogue; extravagant vessels for escapist entertainment and seldom more. Then I watched Eraserhead for the first time in April 2003 and everything changed...forever.

To try and articulate accurately what David Lynchís feature-length debut is about would be a futile exercise, yet that is precisely the beauty of a ďLynchianĒ film (by that I mean the more avant garde ones, rather than his slightly more conventional efforts such as Blue Velvet, Wild At Heart and The Straight Story). The premise of a pencil manufacturerís gradual descent into a form of psychological trauma is an invitation to a rubix cube of an experience; a visceral dream-like assault on the senses enriched with nightmarish images and mesmerising sounds (irrespective of how you feel about the film, Alan Spletís audio design is an astonishing technical achievement). Some have argued that itís a depiction of Lynchís own personal anxiety of becoming a father, whereas others believe it to be a satire on a post-nuclear war era (look out for a mushroom cloud picture on Henryís wall, one of the few things that could strictly pass as interior decoration). There have also been theories of a celebration of electricity, a critique of industrialisation, a portrayal of an extra terrestrial struggling to adapt to human society and countless others - all of which Lynch himself has previously dismissed (in his mind, itís his own take on The Philadelphia Story, yet any clear parallels with the world of socialites and tabloid journalists remain a mystery to this viewer).

Like the latter releases Lost Highway, Mulholland Drive and Inland Empire, Eraserhead is a huge subversion from the tropes of conventional cinema and is without question a polarising work. To fully appreciate it is to understand it like a maze; a journey youíll struggle to navigate through but one youíll enjoy being lost in. Itís the film which inspired Mel Brooks to offer Lynch The Elephant Man and made such an impression on George Lucas that had the eccentrically haired director not declined, Return of the Jedi would have been a part of the David Lynch back catalogue. Itís the film that revolutionised my cinematic tastes in the same way Radioheadís Kid A expanded the musical horizons of a once impressionable 15 year old back in 2000; the feature that enlightened me to the notion that cinema is just as much about ideas and techniques as it is about plot and character (melody & vocals). It is admittedly a highly unlikely Hall of Fame winner, yet as a nomination it is completely and utterly worthy of your attention.




Bill Murray stars as Phil Connors, a cynical weatherman who is forced to relive the same day over again until he becomes a better person.

This manages to be hilariously funny, devastatingly bleak and relentlessly uplifting in equal parts and for my money is easily the highlight of Bill Murray's brilliant career. The first half in particular is comedy gold as Phil, realising there are no consequences to his actions, finds all manner of ways to exploit the situation including the seduction of a pretty woman, robbing a security van, eating and drinking what he likes and generally being a bit of a dick. As the film goes on Connorsí delight is replaced by something darker. After continuously failing to bed his producer despite putting in a ridiculous amount of work (in a brilliant sequence) he enters a spiral of depression and starts committing suicide to no avail, constantly waking up the next morning to the sound of Sonny and Cher. Finally he starts helping people, beginning with a touching sequence where he tries to save the life of a local old tramp. Itís never clear how much time has passed in the film but considering his wealth of knowledge about the town, its people and the events that take place during the day itís clear that itís a long time. Finally after becoming a better person and pulling off the perfect day heís allowed to eventually move on.

The best part about the film for me is that it never explains the reason for whatís happening to Phil. If it did thereís a chance it could seriously damage the film. What we have is a film where an acerbic, cynical and generally unpleasant person is forced to change his ways, without explanation. For me itís a perfect piece of existentialist comedy drama that never veers into cloying sentimentality at its conclusion, something it so easily could have done with a lesser leading man.

I've always maintained that the quality of the film is so high that not even Andie MacDowell can ruin it but on my latest viewing (of many) I realise I'm probably being a bit harsh on her, she does alright, in what is clearly a vehicle built for the sublime talent of Bill Murray. Kudos too to Chris Elliott who does a great job as the put upon cameraman, Larry, and of course to Stephen Tobolowsky who is absolutely immense as Ned Ryerson.

All in all this is a fantastic film and easily one of my favourite films of all time with Murrayís Phil Connors being one of my all-time favourite performances. Itís also worth watching just to catch a glimpse of a young Michael Shannon as the WWF loving groom to be .




After Bad Taste, Meet the Feebles and Braindead, it was obvious which direction Peter Jackson was going to go in for his next film: the route he chose was the true story of a chilling 1950s murder case in Jacksonís home country of New Zealand.

The film that started the careers of both Melanie Lynskey and Kate Winslet, Heavenly Creatures presents the pair as Pauline Parker and Juliet Hulme, obsessive schoolgirls with an unnervingly close friendship who will go as far as murder to ensure they avoid being separated. Lynskey and Winslet are excellent as the isolated teenagers, with Jacksonís use of the distorted close-up perfectly setting up Lynskeyís scowl against Winsletís unbridled magnetism. The film blends the line between fiction and reality, creating dreamlike worlds for the young couple to escape into, until, ultimately, their actions in the real world become part of their own shared fantasy.

Possessing strong homoerotic undertones, Heavenly Creatures is not so much a critique of lesbian teen hysteria but an indictment of adult bourgeois hysteria of sexuality of any kind in the 1950s. Like with Jacksonís other work, he explores the themes of good and evil, innocence and sin, comedy and horror in a profundly psychological take on what could have been any other melodramatic, Ďbased on true eventsí-style film Ė and that is why Heavenly Creatures deserves a place in the Hall of Fame.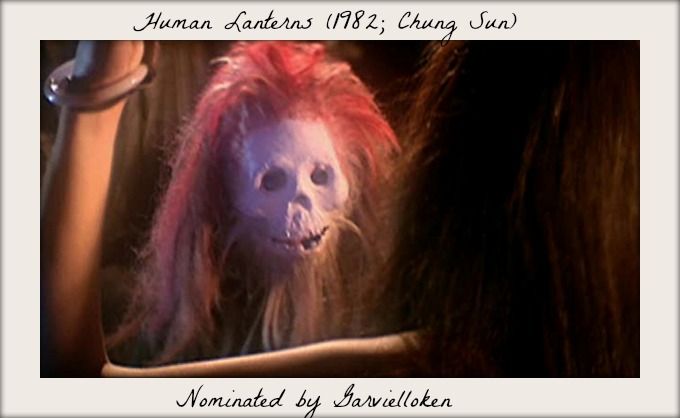 Two master lantern makers locked in a bitter rivalry try to out do each other at a lantern festival. One of the men employs the help of a former enemy to create a prize winning lantern but his horrific methods and thirst for revenge lead to dire consequences.

One of the more notorious efforts to come from the Shaw Brothers, Human Lanterns dispenses with the traditional noble hero often found in these films and paints the protagonist as a greedy and morally corrupt man who will go to any lengths to protect his pride and social image. All three main characters are unsavoury types trying to plot against each other with none of them caring for the repercussions. Assassins are hired in secret, people are abducted, wild accusations are thrown around and plenty of people lose their epidermis. Not having a hero to root for makes for a pessimistic film that suits the subject matter well. It may not be scary in a traditional sense but Chung derives the horror from his characters reprehensible nature and their terrible games of one upmanship.

The martial arts scenes are solid, well directed and culminate in an epic finale between the three lantern makers, but what really makes the film stand apart from other classic kung fu are the horror elements. Sun directs the film with style creating a ghoulish blend of Hammer grand guignol, Asian ghost story, EC Horror comics and the kind of lurid colour schemes that seem to have come straight from a Bava or Argento film. The film oozes atmosphere from every beautifully framed shot and the fantastic set designs draped in fog and dry ice give a sense of spooky other worldness to proceedings.

Human Lanterns is deranged, demented and a total blast to watch. Enjoy!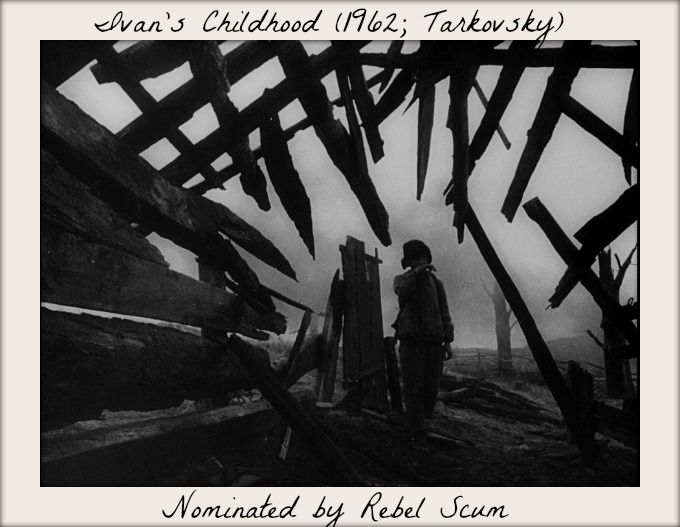 So Andrei Rublev is Tarkovskyís masterpiece, Stalker is his sci-fi classic, Mirror is his personal exploration, and Solaris is a mix of the three. Where does that leave Ivanís Childhood? Well, itíll have to settle for being his best. At first glance it seems like a more straightforward film than most of his work, but that shouldnít be a criticism. Itís his Badlands, if you like, a simpler film than his later time-bending head trips, but a classic nonetheless.


Itís a depiction of World War 2 from the point of view of a young Russian boy, but any comparisons to Come and See are unhelpful. While that film showed a boy whose situation worsens and he hopelessly gets sucked in to combat, Ivanís Childhood shows a boy who is determined to be a part of the war effort despite the objections of the men in charge. The early scenes with him trying to convince Russian soldiers heís got an important message for them reveals what he wants the most Ė to be taken seriously as a soldier.


You may think this kind of narrative risks romanticising the war, but Tarkovskyís too good for that. The war is bleak, peopleís lives are visibly ruined or lost, and the Nazis that are being fought donít appear at all, beyond German voices and gunfire through the mist. In its own way, itís a staggering portrayal of how much war can affect people, especially in one scene where Ivan comes across a man in a bombed out house trying to affix a picture to a barely-standing wall. It might not have the blood and guts and pessimistic despair of other anti-war films, but it makes all the statements it needs just by holding on close-ups of the characters.


One of the greatest war films ever, one of the best depictions of lost childhood ever, a great film from a master of cinema. It deserves your vote.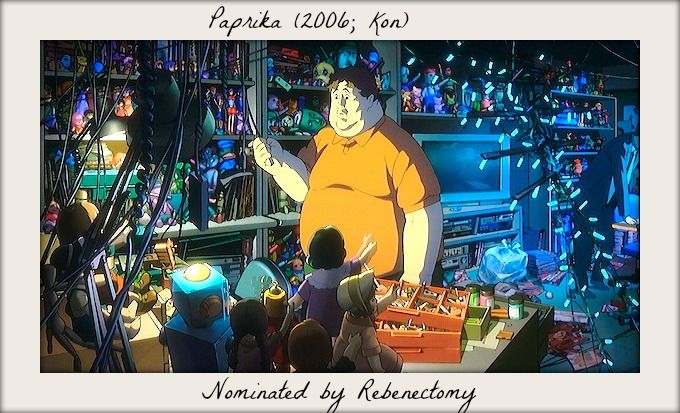 Paprika - Blurb to come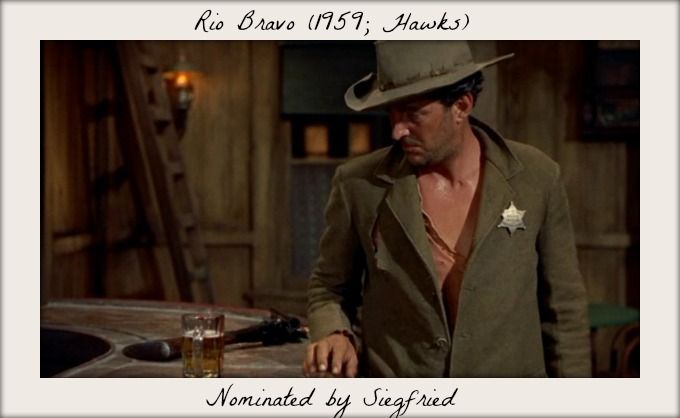 One of the great American directors, Howard Hawks made a series of masterpieces across a range of genres.
Rio Bravo was his second Western, and his second collaboration with John Wayne (The first was Red River, in 1948).
It was made largely as a reaction to High Noon, which Hawks disliked, considering it phoney.
The story line is simple: The younger brother of a corrupt cattle baron murders a man and is arrested by the local sheriff (an iconic performance by John Wayne - surely the greatest Western star of all time). The situation is set up in the superb opening scene, done entirely without dialogue. The murderer's brother then lays siege to the town, wth only the sheriff and his three deputies to stand against him and his men: a recovering drunk (Dean Martin in a career best performance), a bad-tempered, stubborn old coot with a lame leg (the great Walter Brennan) and a cocky,cool-headed young gunfighter whose trail boss was also murdered by the cattle baron's men (Ricky Nelson).
The sheriff, John T. Chance, also becomes involved with a woman, known as Feathers, and played with sharp wit and humour by Angie Dickinson. The relationship between John T. and Feathers is strongly reminiscent of Bogart and Bacall in both To Have And Have Not and The Big Sleep.
And, in fact, major themes from Hawks' earlier work are strong elements in this. The bonding between the four leading men ( shown at its best in the lovely little scene where they're relaxing in the jail house and having a singalong); the sexual tension between the man and the woman, with the woman being shown as having every bit as much strength of character as her male counterpart.
Rio Bravo is very much a character piece, although the literally explosive action when it comes is superbly well done and as exciting and gripping as one could wish for.
The witty, literate script is by Jules Furthmann and Leigh Brackett, whose most notable prior collaboration with Hawks was The Big Sleep.
In the ensuing years, Rio Bravo has been an inspiration to a number of other film makers, most notably John Carpenter, whose Assault On Precinct 13 is virtually a remake in an urban setting.
There may not be any such thing as a perfect Western, but Rio Bravo comes a damn sight closer than pretty much any other I've seen.




"I never had any friends later on like the ones I had when I was twelve. Jesus, does anyone?"




The Train - Blurb to come

< Message edited by rawlinson -- 3/4/2013 7:16:16 PM >