rawlinson




Posts: 44500
Joined: 13/6/2008
From: Timbuktu. Chinese or Fictional.

201. Vampires in Havana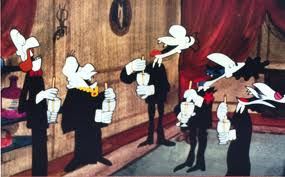 1985
Director: Juan Padron

Von Dracula, a mad scientist, finds a cure for a vampire's affliction to sunlight, a drink named Vampisol. Dracula wants to announce how to make the drink free of charge over the radio, in order to help vampires everywhere. But when vampire leaders hear the news, they try to get the formula first in order to make a profit. Meanwhile American gangster vampires, the Capa Nostra, make a lot of money from creating underground beaches for vampires and are planning on branching out, if the formula gets out then leader Johnny Terrori will lose everything. Dracula's nephew, Joseph is a trumpet player who has unwittingly been his uncle's test subject. When word gets out, Joseph becomes the target of a manhunt for all the vampires through the seedier sections of Havana. This gloriously insane animated film has the transgressive feel of a Bakshi mixed with a more whimsical sense of humour. It's an impossibly cool piece of animation, and it should be essential viewing for anyone interested in animated or offbeat cinema.