rawlinson




Posts: 44500
Joined: 13/6/2008
From: Timbuktu. Chinese or Fictional.

84. The Wind in the Willows - Kenneth Grahame (1908) Novel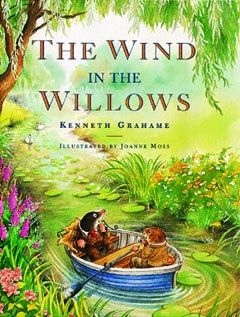 Plot: The lives of four anthropomorphised animal friends, Toad, Badger, Mole and Ratty are charted over the changing seasons in pastoral, riverside England. One of the finest books ever written.

Adapted: Several times, for television, cinema and radio.

From the Text: "He thought his happiness was complete when, as he meandered aimlessly along, suddenly he stood by the edge of a full-fed river. Never in his life had he seen a river before—this sleek, sinuous, full-bodied animal, chasing and chuckling, gripping things with a gurgle and leaving them with a laugh, to fling itself on fresh playmates that shook themselves free, and were caught and held again. All was a-shake and a-shiver—glints and gleams and sparkles, rustle and swirl, chatter and bubble. The Mole was bewitched, entranced, fascinated. By the side of the river he trotted as one trots, when very small, by the side of a man who holds one spell-bound by exciting stories; and when tired at last, he sat on the bank, while the river still chattered on to him, a babbling procession of the best stories in the world, sent from the heart of the earth to be told at last to the insatiable sea.

Criticism: "a book which offers such wealth of beauty and fun, of sense and nonsense, of joy and seriousness expressed in words whose music is a joy in itself … Into it Kenneth Grahame put the whole of himself and his love of life and of living things."