homersimpson_esq

Posts: 20064
Joined: 30/9/2005
From: Springfield

Ibuprofen is good. Aspirin if the pain is less severe.

OH COME ON, SOMEBODY WAS GOING TO DO IT.


The Nexus 7 is brilliant.

- It's £159 for the basic model, which is absolutely fine for almost everything.

- It's perfectly sized for general browsing, in either landscape or portrait mode.

- It's fast and responsive.

- it uses the same "swipe" function that Samsung Galaxies have, which makes using the keypad a breeze.

- If you use gmail - and I do - the calendar will sync with all your calendars. So I use Chrome on my work PC, and I have an Android phone. Updating the calendar on one will update it on all which may well be a standard thing these days, but it's great.

- the size of the beast means that it is perfectly usable as a regular diary without looking like a complete arse when you whip it out at meetings (Chief, that one's a gift)

- The size and weight means that, slouched on the settee, with it resting on your knee / grossly oversized belly, it's perfectly comfortable.

- the screen quality is excellent - watching videos, or reading books, really easy.

- The cost really is a massive selling point. It's a fraction of the cost of the iPad Mini, but functionality is massively comparable. Basically this is the superior buy.

In short, it's an excellent piece of kit, easily navigable, customisable, and portable. With a case - essential, I got a MOFRED one from Amazon - it's still no big stretch to stick it in a large coat pocket or a small bag.

ALSO YOU CAN DOWNLOAD THE LCARS COMPUTER FROM STAR TREK THE NEXT GENERATION AND PRETEND YOU'RE JEAN LUC PICARD.

JEAN LUC PICARD!!!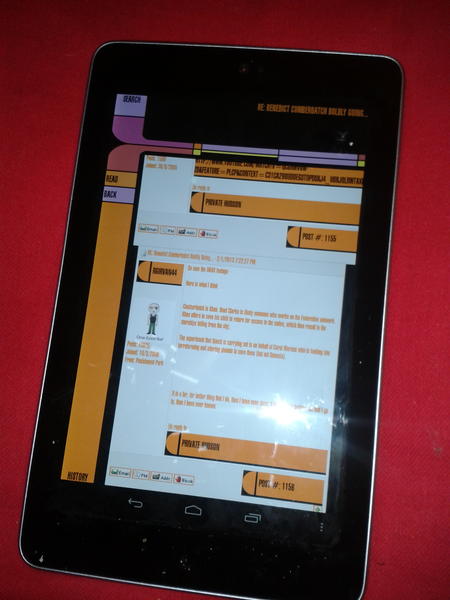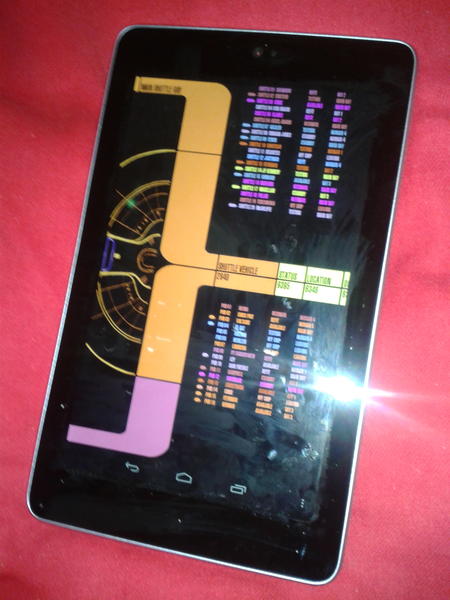 _____________________________



That deep-browed Homer ruled as his demesne.



Bristol Bad Film Club
A place where movie fans can come and behold some of the most awful films ever put to celluloid.