rawlinson




Posts: 44500
Joined: 13/6/2008
From: Timbuktu. Chinese or Fictional.

293. The Frolic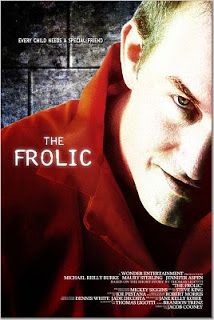 2007
Director: Jacob Cooney

A prison psychiatrist, Dr. Munck, is quitting his job and planning to move his family, a wife and young daughter, away, so unsettled has he been by one of his patients, a child murderer known only as John Doe. While preparing his final report on Doe, Munck reviews some of the interview tapes where Doe raves about the frolics he takes with his "special friends", only to find something that hits even closer to home than expected. It's fair to say this short film is not quite the masterpiece that Thomas Ligotti's original story is, but as fans of Ligotti's work know, it would be unrealistic to expect that it could be. What it does achieve is to create a short film of skin-crawling unease, it's not a graphic, or violent short film. Instead it uses suggestion to slip into your mind and linger there. Anchored by a chilling performance from Maury Sterling, it's one of the more intriguing horrors of recent memory.