rawlinson




Posts: 44500
Joined: 13/6/2008
From: Timbuktu. Chinese or Fictional.

283. The Mummy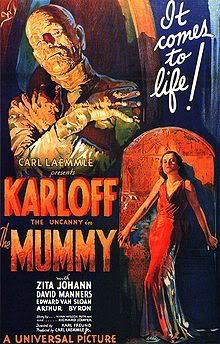 Director: Karl Freund
1932
Film

Last Year's Position: 158

An expedition travels to Egypt to locate the tomb of Imhotep, who was buried alive for committing a terrible crime. In the tomb they find the Scroll Of Life, which can supposedly bring a mummy back from the dead. When alone in the tomb, Bramwell Fletcher recites from the scroll and revives Imhotep, who takes the scroll and disappears. Ten years later another expedition searching for the tomb of Princess Anck-es-en-amon is led to it by a mysterious Egyptian called Ardeth Bey. However, he appears to take rather an interest in the expedition leaderís daughter Helen Grosvenor and her friend Dr. Muller is suspicious as to who he actually is........


It took me a long time to finally see The Mummy. On both my first and the second times of seeing many of the Universal horror films in seasons on TV, I caught most of the 40s Mummy movies but not the original. When I did finally see it, I had built it up to be something it really wasnít and I was very disappointed with this very slow moving though slightly creepy mood piece which had only one brief scene of the Mummy walking and made no sense. Nonetheless, upon viewing it again recently I discovered that The Mummy is a near masterpiece and possibly one of the finest films from Universalís Golden Age. Yes , itís slow, and yes, you hardly see the Mummy, but itís also an extremely atmospheric , clever and subtle film that stimulates the imagination. Itís one of those films that just feeds you enough to interest you, then your mind starts working overtime to fill in the blanks. So yes, you may wonder how on earth a mummy may metamorphasise into a normal [well, hardly normal], but it really doesnít matter at all.

The Mummy is sometimes described as a partial remake of the Bela Lugosi Dracula and indeed the story is very similar and many scenes are paralleled, while of course Zita Zohann, David Manners and Edward Van Sloan play similar roles. However director Karl Freund, who photographed Dracula, takes the oppurtunity to improve on Dracula in most respects, especially with regard to the cinematography, which is really fluid and sometimes very inventive for the time. The plot is actually quite fascinating, dealing as it does with matters such as reincarnation and love through the ages, and actually bears a striking similarity to that of Bram Stokerís Dracula many years later. A shame that the second half of the great flashback sequence [which is done with no sound, just Boris Karloff narrating], which showed Imhotep pursuing various reincarnations of Anck-es-en-amon through the ages, was cut, but then this movie is all about less, not more. Although the film is indeed very talky it never once loses itís infectious, almost dreamlike feel,, and it progresses gracefully through itís 72 minute running time, until the climax, which is rather rushed and also a little confused.

Despite not going for the obvious, in a manner which is similar to the fine Val Lewton-produced series of horror films in the 40s such as Cat People, The Mummy might well be the scariest of the 30s films. The early scene of Imhotep awaking while Bramwell reads aloud the Scroll is a masterpiece of subtlety and still surprisingly chilling. All we see of the Mummy are the eyes awaking, the arms moving, then a few shots later a bandaged hand grabbing the Scroll, but I reckon it must have knocked the stuffing out of 1932 audiences, and finishes wonderfully with some James Whale-like black humour,as Bramwell says to his colleagues, laughing maniacally ďhe went for a little walkĒ. Also really effective are some scary close ups shots of Ardethís face, with everything darkened except for the eyes which light up [a simple but brilliant effect], and the fact that Ardeth appears to be some kind of sorcerer who can kill from a great distance gives proceedings great tension, you never know when heíll strike next or what heíll do. The scenes between Ardeth and Helen have a very odd kind of sexual tension, not hindered of course by her rather revealing [this was released just before the Hays Code came out] outfits throughout. Apart from the aforementioned scene there is generally no humour, though the beginnings of the romance between Helen and her friend David may raise a chuckle, very silly and pointless, but pleasing still.

Boris Karloffís greatest performance is of course that of the Frankenstein Monster, but in my opinion his second is that of Ardeth Bey. With his doleful stare [with eyes that are as expressive as Johnny Deppís in Edward Scissorhands], barely animated walk, as it heíll fall apart if he does too much, and that lisping voice, heís both very frightening in a way that gets under the skin and also very pitiful and rather sympathetic even. Jack Pierceís makeup gives him the appearance of one who has lived centuries of torment searching for his lost love. Very cleverly, itís psychological makeup rather then any attempt at realism. Pierceís actual Mummy makeup remains the best ever even if itís not used much, convincingly ancient and dusty. Zita Zohann exudes a fair amount of sexiness as the heroine and David Manners is a decent hero but I kind of wanted Karloff to get the girl, as I think one often does in many of the classic monster movies. Although itís the 40s Mummy movies that created the iconic image of the shambling, bandaged menace lurching with one arm outstretched towards either a silly explorer who defiled the tomb of his love or his loveís reincarnation, the í32 Mummy is the greatest movie to do with the concept, and no amount of special effects-filled, Brendan Fraser-starring derring-do can ever change that!

- Dr Lenera

283. Piranha




Director: Joe Dante
1978
Film

Last Year's Position: New Entry

Blurb to come

283. Scream

1984
Comic

Short-lived horror comic, seems to have been responsible for helping kickstart the love of horror for many who read it as a child (Myself included)

283. The Simpsons: Treehouse of Horror VI

1995
T.V. Series Episode

Blurb coming soon.