Cool Breeze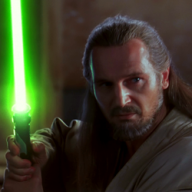 Posts: 2196
Joined: 9/11/2011
From: The Internet

quote:

ORIGINAL: Dirk Miggler




quote:

ORIGINAL: Cool Breeze



quote:

ORIGINAL: Dirk Miggler

Lucas still being involved isn't a bad thing he's always been a great idea's man. I dislike the prequels as much as anyone but even they had their moments, I certainly wouldn't let him have any input into casting, and when the camera starts rolling I would keep him well away.

JJ films do always seem to be well cast even when eyebrows are raised they prove to be good choices in the end so I'm confident they will make the right decisions. Ronan would be fine with me, what about the Game of Thrones lads Kit Harrington and Richard Madden ? I've always been impressed with them on the show. And just cast Dinklage, in pretty much any role that's available




In his films, Lucas has cast the likes of...

Harrison Ford.
Alec Guiness.
Peter Cushing.
James Earl Jones.
Billy Dee Williams.
Ian Mcdiarmid.
Liam Neeson.
Samuel L. Jackson.
Terence Stamp.
Christopher Lee.

Yeah what was Lucas doing hiring these untalented idiots!




I see you haven't mentioned Jake Lloyd, Hayden Christensen, Natalie Portman. I wonder why

Also Samuel L Jackson was terrible, and Terrance Stamp might as well have been an extra in PM and was pretty forgettable in it anyway.

I stand by my comment, Lloyd and Christensen were so bad it completely negates any decent casting that was made in the prequels and only then you could say Neeson, Lee and possibly McGregor. Mcdiarmid was a product of the OT and doesn't count.





I see you havnt mentioned Mark Hamill and Carrie Fisher.

And how does Ian Mcdiarmid not count? My point was that Lucas has cast brilliantly in all his SW films both prequel and original trilogies.Whether you thought some of them were not that good is your own opinion of course but the actors i have mentioned are all highly regarded.

And i have to say it always makes me laugh when original trilogy purists criticise the so called poor acting and dialogue of the prequels and somehow forget scenes like Luke whining '' But i was going into town to pick up some POWER CONVERTERS!!! '' or that death star guy saying '' This station is NOW the ULTIMATE POWER IN THE UNIVERSE!!! ''.

Dont get me wrong, i love those movies but the point is they are of a particular style and i love the prequels for the same reasons i love the OT.

I hope Lucas does have a say in casting but i think JJ is very good at this also.

< Message edited by Cool Breeze -- 12/10/2013 11:56:06 AM >

_____________________________

'' Iv played Oskar Schindler, Michael Collins, Rob Roy Mcgregor, even ZEUS for gods sake! No one is going to believe me to be a green grocer! ''