Cool Breeze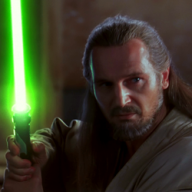 Posts: 2162
Joined: 9/11/2011
From: The Internet

quote:

ORIGINAL: fuzzy




quote:

ORIGINAL: Cool Breeze




quote:

ORIGINAL: Sotto Voce

Here's what I hope; Although the producers, writer or director might not openly say "alot of people hate the prequels, so lets avoid what they hate about them and skew more towards the originals", (at least not if Lucas is in the room), they will be thinking it. They will be aware of the negativity about the prequels, and will want to win over the prequel-haters. They will want reviews to say "better than the prequels".

I hope.




Yeah but in hollywood, its the numbers that matter.The prequels were in fact very very popular with audiences and introduced a whole new generation to Star Wars.This is exemplified by the success of the Clone Wars series.

I would guess they want to appeal to a new generation of Star Wars fans with this new trilogy ( while appealing to those who have enjoyed what has come before of course).The biggest target audience for SW is young people so they will take the opportunity of this new trilogy to appeal to those who are new to the franchise just like Abrams Star Trek appealed to non trekkies.

My choice for director of the first episode would be Joe Johnston.He worked on the original trilogy so knows the material and is a decent director in his own right.Lucas would know his property would be in safe hands with him.




Very popular in what sense? Box office takings? It's Star Wars, that ones a given. It's no indication of quality. 

On making a film for kids, the Avengers proved that you can still make a fantasy blockbuster and please the masses, old and young alike (and guess what, toys will still sell!) There's no need to dumb down to get the kids on board. 

The films have spanned 2 generations so will always have a broad audience base. Problem with the prequels is that Ol' George just wanted to impress a new generation of kids and, well, himself. Ignoring the demographic that made him a billionaire in the first place. They lacked humour, charm and an emotional bond with the audience that the originals had in spades. Helmed by a once master storyteller that, like many of his generation, had lost his filmmaking mojo. 

With Lucas taking a back seat though, we may well have films made that will try and please more than just one demographic. After all, this is the same Disney thats managed to successfully steer recent Pixar, Muppets and Marvel franchises, pleasing old and new fans alike. 

I still think they'll go with a safe pair of hands for director though. A team player that can deliver on time and budget without imposing their own style too much, as opposed to a more maverick or visionary filmmaker, so someone like Johnston may well be their man.




I disagree.I enjoyed the prequels immensely and saw them multiple times in the theatres.I treasure my blu ray set of all 6 films and still enjoy them all despite what minor flaws they may have.Im sure many other people do as well.Sure there are always going to be naysayers but hey ho, thats their opinion and thats life.

Im just concerned that SW will become something that its not supposed to be with these new films.I dont want them to be '' dark '' just because thats the trendy thing to do nowadays.Besides, the prequels had a very dark story to tell that culminated in the darkest episode of the saga ( ROTS ).I think the films need to lighten up now a bit and have some great adventure that has nothing to do with the Skywalker legacy.Of course there should be some great conflict but the tone of Abrams Star Trek would do nicely now.

Who do you guys think should score these new films?John Williams is in excellent health but at his age i dont really see him commiting to a new SW trilogy.My first thought was Michael Giacchino, but i guess it doest seem right to get the same composer to do Trek AND Wars.



_____________________________

'' Iv played Oskar Schindler, Michael Collins, Rob Roy Mcgregor, even ZEUS for gods sake! No one is going to believe me to be a green grocer! ''