rawlinson




Posts: 45002
Joined: 13/6/2008
From: Timbuktu. Chinese or Fictional.

95. The Talk of the Town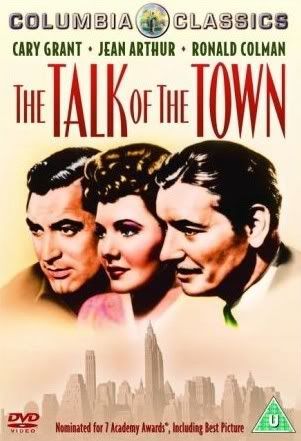 Director: George Stevens
1942

Cary Grant plays a mill worker and political activist, Leopold Dilg. He is framed for arson and causing the death of a workmate in a mill fire. Dilg escapes from police custody and hides out in the house of friend Nora (Jean Arthur). There's a complication, Nora has rented out the house to famous law professor Michael Lightcap (Ronald Colman) who is seeking peace to write a book. When Lightcap finds Dilg, Nora claims he's the gardener. Lightcap and Dilg become friends over discussions about the law. But can Dilg keep his identity a secret from the by-the-book professor?

Considering the high regard it was held in at the time of its release (A box-office hit that earned 7 Oscar nominations, including best picture) it's surprising how overlooked the film appears to be today. Far more serious in intent than the majority of screwball comedies, the film can come off as a little heavy-handed when it moves from comedy to its political elements. But for the most part it's intelligent rather than didactic, managing to combine superbly funny scenes with debates between Grant and Colman about the fairness of the law. Lightcap sees the law as a cold, clinical thing, always fair and honest. Dilg can see the potential for human bias within the law. The performances are first class, with Grant clearly relishing the chance to play something a little different than he was used to. Jean Arthur is delightful and Ronald Colman gives one of his finest turns as the uptight professor. Edgar Buchanan is a little under-used in his role as Dilg's attorney, but he makes the most of his scenes. The romantic love-triangle is easy to foresee - both men fall in love with Jean Arthur, she's uncertain who she wants. But it's deftly handled by the cast and it doesn't overwhelm the more serious scenes. Grant and Colman in particular play off each off wonderfully, it's a shame they didn't work together more often. Although you're never really in doubt as to how the film will end (Does anyone really believe Cary Grant would ever be executed for murder in a film??) the joy is in the journey of the movie, the dazzling performances, the writing and the meticulous directing by George Stevens.