rawlinson




Posts: 44500
Joined: 13/6/2008
From: Timbuktu. Chinese or Fictional.



Control is a near two hour long black and white film about the lead singer of Joy Division, who battled with epilepsy and hung himself in his home when he was only 23 years old. OK, admittedly, that sentence - which doesn't do the film any justice - makes it sound like a real dirge of a film, but the simple fact of the matter is that Control is a fantastic rock biopic film told with warmth, wit and sadness.

Shot in crisp black and white by rock photographer turned director Anton Corbijn (Who snapped those iconic pictures of Joy Division for the NME, and shot the video for the band's single Atmosphere), Control starts of with Curtis as a David Bowie loving schoolboy in Macclesfield and to the formation of the band Warsaw, which would later become Joy Division. Along the way he falls in love with his soon to be wife Debbie, has a baby with her, becomes increasingly distant from his wife and child, and has an affair with Belgian rock journalist Annik.

From the outset, Control does sound like it is simply ticking off the rock biopic boxes (Tortured rock star? Check! Rock star battling an illness? Check!), but what sets Control apart from other biopics like Walk The Line and Ray is that is never feels like it's portentous, overbearing or simply screaming to be recognized during the awards silly season. Despite Curtis' terribly sad life, Corbijn never lets Control slide into manipulative sentimentality. He imbues his film with touching moments of pathos, unbearable sadness and a sense of earthy northern humor. Indeed, Control is actually quite funny in parts - with Craig Parkinson nailing his portrayal as the witty Tony Wilson and Joe Anderson perfectly capturing Peter Hook's sarcasm and droll humor.

At the heart of Control is the love triangle of Ian, Annik and Debbie, which is played wonderfully by then newcomer Sam Riley, Alexandra Maria Lara and the sublime Samantha Morton. In lesser hands this aspect of the film could have been completely fudged, but here Corbijn is careful not to demonize anyone in this situation. All three characters in this situation are sympathetic, likable, and - in Curtis' case - deeply flawed but inherently decent.

So please vote for Control, because it's a fantastic film and I'm now on my fifth HOF and I still haven't fucking won.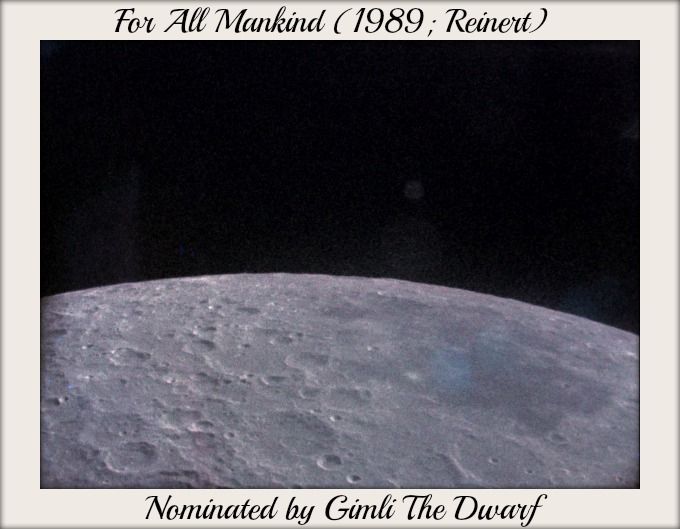 Three reasons I wish I was born about 30 years earlier. First, so I could be a hippie in 60's America. Second, there was better music back then. Third, and most importantly, so I could have seen the moon landings as they happened. No matter how many times I see footage from the Apollo 11 mission, it never becomes any less impressive or awe-inspiring, and it was probably the last time people came together in unison for something that wasn't miserable or depressing. This documentary combines footage from numerous Apollo missions but is edited and presented as one single mission. As such, a lot is shown out of context but this is less concerned with presenting the facts, instead showing unseen, spectacular footage, and allowing the astronauts in their voiceovers to reminisce. There's some brilliant stuff here, including a collection of clips that wouldn't be out of place on a blooper reel with the all-to-happy astronauts tripping and stumbling over. Their sense of humour and elation comes across as well, and it is quite amazing to think that 40 years again there were men laughing and joking on the moon. It's an superb documentary about a truly incredible achievement.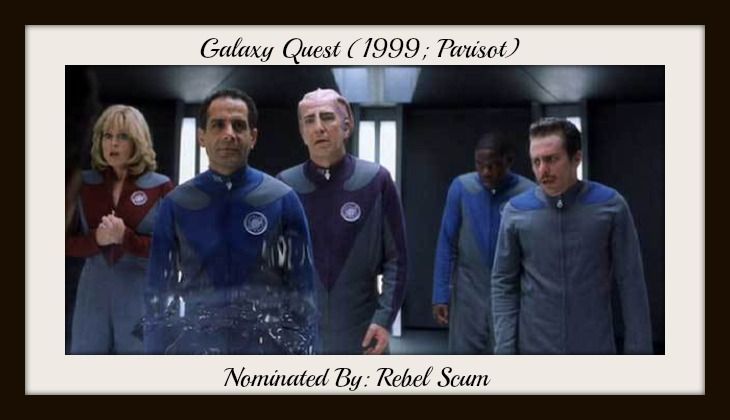 By Grabthar's hammer, by the suns of Warvan, you shall vote for Galaxy Quest!


Wait, you need more? Fine...


Ah, Galaxy Quest. A film enjoyed by anyone with a functional soul. It may not transcend the genre it's lampooning, or turn it completely on its head, but it's one of the very best spoofs because of the obvious love for its target (Star Trek) and its cohesive and occasionally surprisingly moving story. When was the last time a spoof had anything approaching a decent story and characters that existed as more than a shuttle to get from joke A to joke B? Even better, the jokes never sacrifice character for a cheap laugh, and they're so well-rounded that simply their reaction to the outlandish space opera scenarios presents comedy gold. Take, for example, when Jason's fighting a rock monster and everyone's shouting unhelpful advice at him-the advice is so consistent with their characters (Alexander recommends working out its motivation, Guy tells him to construct "a rudimentary lathe") and it's also great comedy. Even better, there are honest-to-god character arcs in this, and while some moments may be inevitable (You just KNOW that at some point the crew will have to confess to being actors) they aren't short-changed by breaking it up with jokes, but instead it goes boldly serious and deals with the repercussions of it.


Before this starts getting too serious, it's also worth noting that the film's funny as hell. Pretty much all the gags hit, and the big joke set-pieces are a genuine joy to behold. The entire excursion onto the alien planet, the wonderful satire of fan culture, Guy screaming about how he's going to die, anything Alan Rickman says or does...it's all awesome. The lampooning of Star Trek tropes is also spot-on, so much so that none other than J. J. Abrams has called it "The best Star Trek movie" and George Takei, one of the coolest motherfuckers in history, said it was "a chillingly realistic documentary." So it's funny, it's got a heart, and it's a great sci-fi film on its own merits. This Hall of Fame, vote for the plucky comic relief.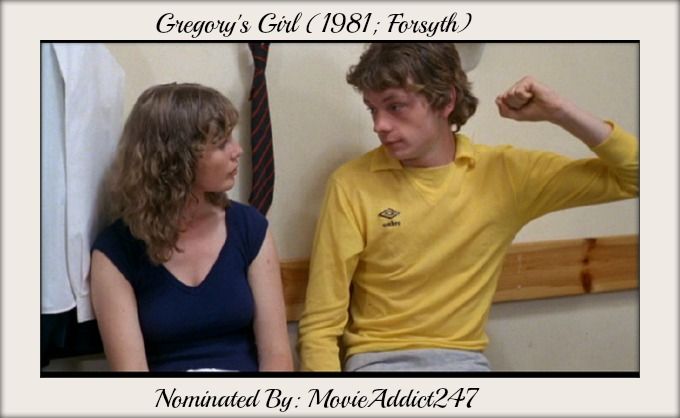 Blurb to come




Fast Eddie Felson is an exciting young talent in the game of pool. He spends his days going to pool halls to try and win enough money off the locals to keep him fed and allow him to hone his game. In order to try and win higher stakes, Felson will often use the trick of hustling his opponents into underestimating his abilities before showing his full potential. Unfortunately for Felson, he finds out where Minnesota Fats, a long time champion, plays pool and so decides to challenge him.

Paul Newman is electric as Fast Eddie Felson, in what is not only a career best performance (and what a career) but one of the all time greatest performances. The vibe he manages to give off as the man possessed is so terrifying to witness, that you believe that this is a man who would do literally anything to be able to get one over on his adversary. He plays a game for the pleasure he takes from humiliating his victim rather than for the sport itself. You feel that this is a man who only strives to be the best at this sport as it is the one he was great at.

As a result of this, it is within the moments around the table where this film really comes alive. The relationships which Felson ruins are of course tragic to see, but this is clearly a man who finds more heartbreak in not being able to get one over on another competitor than he does within the tragedies of his lovelife away from the game. His focus at all times is on how he can get one over on his next opponent.

The tension this creates within all aspects of his life is what makes The Hustler the greatest sports film ever made. You find yourself wanting Felson's next game to come along nearly as much as he does himself, just to see the reactions as the game goes on. This isnt to take away from the actual shots put on show, as the shots shown are incredible, but the match is never the most important thing (something most sports films tend to struggle with).




This movie is sad as shit, man. I was expecting something over here, but what I got was something over there. Rupert Pupkin never even said the "fuck" word or shot anybody in the face, hand, or body. He didn't save a 13-year old prostitute. He wasn't a gangster. Joe Pesci isn't even in the movie. None of that even matters though. DeNiro as Rupert Pupkin is almost as chilling as DeNiro as Travis Bickle. If Taxi Driver was rated PG, it would be The King of Comedy.

And Jerry Lewis was awesome too. And so was Sandra Bernhard.

Watch this movie. Vote it #1. All the other nominees are greedy and only want office for selfish reasons and will do nothing for you, the little people.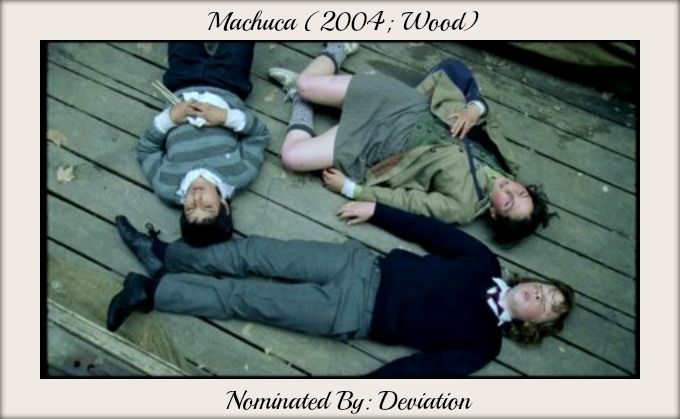 Before you go on, let's get one thing out of the way. Yes, Machuca can be said of being a reproduction of Au Reviour, Les Enfants in Chile, with some moments, including a certain heartbreaking moment involving a priest saying the title of the French film being almost cloned into Wood's film. Now that that's out of the way, I'm going to explain on why Machuca is very much worth your time while sharing a similar setting to Au Reviour, it is also a different beast. Set in the final days of Allende's government and ends after Pinochet's coup d'etat, Machuca other than dealing with a coming of age story with a strangely refined showing of the political/economic situation at the end of Allende's reign, deals with a sensible and hot topic in Chile, that being education and the endless controversial discussion on privatizing it or making it universal and the attitudes towards with any of the positions. It even deals with some of the relations between the indigenous Mapuche population and the rest of the Chilean population and some of the issues of social classes with the current form of education.

Now to an explanation on why Machuca is a great film outside the technical level. It is a very emotional film, even on just the coming-of-age front, it features excellent acting by everyone involved, Wood's direction is excellent and features tiny titbits that add a whole stylish new level to thing (like a certain graffiti shouting "Hay Guerra Civil"), the soundtrack is excellent (Los Bunkers and Las Jiavas FTW!) and the script is simultaneously very moving and well thought-out. It is brilliant and if you don't like then you're probably Margeret Thatcher.




Before Harry Lime there was Johnny McQueen. For those of you who followed my Top 100 Favourite Films you will already be aware that I was unable to choose between The Third Man and Odd Man Out and as a result both claimed the much desired number one spot, if you didn't I apologise for the spoiler and your obvious crushing disappointment. Today as I write my final ineffectual blurb for the hollowed Hall of Fame I still cannot choose between them because as iconic and brilliantly entertaining as The Third Man is Odd Man Out matches it in every way.


The film opens with a bank robbery gone wrong. The gang are led by James Mason's Johnny McQueen and are not your ordinary group of crooks they are in fact members of an unnamed Irish organisation (though it is obvious who they are intended to represent) and though the film can be seen as controversially sympathising with their cause the criticism is rendered mute by Carol Reed's lack of interest in the activities of McQueen or his posse. Odd Man Out isn't a film about the IRA it's a film that explores one man's personal purgatory, the increasing struggle between his head, heart and faith. As the job goes badly McQueen is injured and left behind; he staggers through the snow flecked streets of Belfast increasingly desperate. Hunted and slowly dying his journey becomes gradually more surreal as night continues and his life spirals out of control as he encounters several people who help, hinder and exploit.


In the central role of McQueen the incomparable James Mason is superb, an actor often (I believe) overlooked but one all the same who gave a number of quite astonishing performances, usually of haunted desperate men on the brink of self-destruction and here in Odd Man Out he excels. Though Mason is surrounded by an excellent supporting cast including F. J. McCormick, Cyril Cusack and the striking and wonderful débutante Kathleen Ryan it is Mason and McQueen who dominate the film though Belfast itself runs a close second as an evocative landscape of dark winding streets, a practically impenetrable maze populated with curious folk.


Odd Man Out is a sublime piece of filmmaking, it is beautifully photographed, has a stirring score, a fantastic eclectic cast all of whom are on form. It is an intelligent slice of cinema and a genuine post-war tour de force that deserves to be seen and regard as such by as many as possible. Watch it as a singular masterwork, double bill it with The Third Man or triple bill with The Fallen Idol just watch it and bask in the brilliance of Carol Reed's late 1940's quality and appreciate Odd Man Out's quiet excellence.




I'm a huge fan of urban myths, particularly the kind that are unexplainable; and ultimately, I don't think it matters that they're never true, because it's all about the storytelling and how the myth is told. Picnic At Hanging Rock is a perfect example of how to tell an urban myth.

It's Valentine's Day in 1900 and in Victoria, Australia a group of students from the local all-girls school take a trip out to the local geological formation known as Hanging Rock to sketch, undertake a nature study and, yes, have a picnic. Upon arrival, however, the sweltering temperatures soon send many of the students and staff off to sleep - apart from three students who wander off trance-like into the crevasses of the rock and disappear without trace. When the teachers discover this they return to the school in hysterics, and despite the best efforts of the local police, there is no trace of the girls to be found and worst of all, no seeming explanation of the events.

Peter Weir is astute enough to know that the power of the story resides in the fact that there are no answers to be given (although the novel the film is based on did provide an explanation, a move wisely scrapped by Weir), and he plays on it brilliantly, conjuring up a drowsy, nightmarish atmosphere that crawls under the skins of all the characters, shattering their closeted and strictly-ruled world. The disappearance is a catalyst for all manner of jealousies, sexual repressions and dark secrets to come tumbling out of the shadows between the students and their teachers, while their classmates remain unaccounted for. The disappearance itself is one of the most subtly scary scenes ever directed, as the girls silently, and in complete unison, vanish into the recesses of the dark, soundtracked by nothing but some unfathomable and subterranean rumbling (the sound design in this film is brilliantly conceived) and it's all the more powerful for the fact that it's filmed in bright, unblinking sunshine. Even though you wouldn't necessarily categorise it as a horror film, it does what all the great ones of that genre do - gives you the chills in broad daylight. It's further tribute to Weir's mastery of the material that the rest of the film, following this superb opening act, is as haunting and mysterious as the act that gives the film its name. Apparently, the fact that the film ends with no real resolution of the central mystery infuriated some American distributors, with one allegedly throwing his coffee cup at the screen at the end in pure anger, and that to me is just one of the reasons Picnic At Hanging Rock deserves its place in the Hall Of Fame. Any film with the bravery to maintain the sense of slowly boiling hysteria and unease that this one has should garner every plaudit possible, and while Weir would later make some wonderful American films, it is back in his Australian roots that his finest accomplishment lies. Creepy, haunting, dream-like - there is simply little else like this.




The Royal Tenenbaums is probably the film people think of when they think of The Wes Anderson Style, which I think that some people define as a quirky look at the problems of priviliged people often starring Bill Murray. I do think that's a bit reductive though, especially in the case of Tenenbaums. First of all the quirk/whimsy isn't just there all there is in the film, it is backed up by actual emotional stakes, and in one case, life and death stakes. And while I can't deny the privilege of the characters, it doesn't stop me being invested in, and yes, caring about their lives and problems. I think it probably helps that Anderson doesn't frame this as an aspirational way of living. In fact, at least two of the Tenenbaum children use their money as a way to cut themselves off from the world in the face of a tragedy or just simply running away from their problem. I think Wes Anderson is one of the great modern American filmmakers and his best film would be a worthy entrant into the Hall of Fame.




Saturday Night and Sunday Morning is a brilliant character study of the kind of angry young man that seemed to be so typical of this era of British art. Arthur Seaton (Albert Finney) is intelligent, but he's also provocative and self-destructive. Working at a factory by day, he spends his nights drinking and starting a relationship with a girl his own age while also having an affair with the wife of one of his co-workers. I often think that the 'kitchen sink' drama leads to many people dismissing the British new wave, because it kind of suggests a film filled with drudgery. The truth is that the best of these films were a reaction against that kind of life. There's so much fire and fury in these films and I think it often gets overlooked. You can see rage of these characters feeding through to today, especially into music. The angry young working class of the 60s became the punks of a decade later, with Saturday Night... also later inspiring the likes of The Smiths and The Arctic Monkeys. It's breathtaking, angry stuff, and it deserves a place in the Hall of Fame.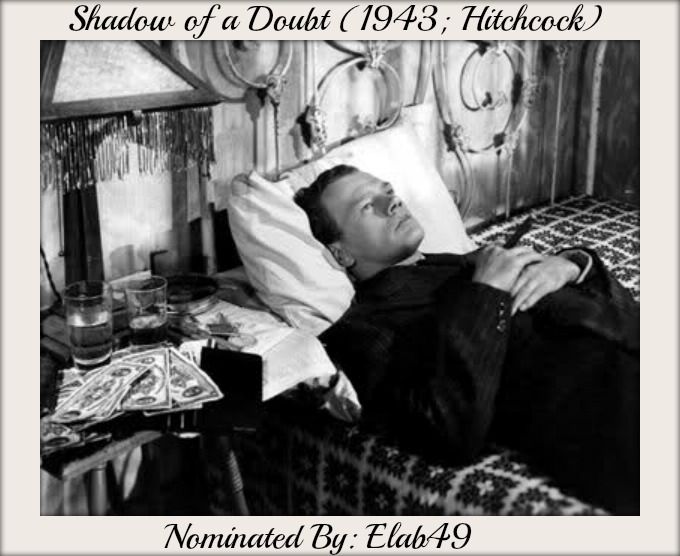 Blurb to come




Blurb to come

< Message edited by elab49 -- 19/10/2012 10:21:14 AM >