rawlinson




Posts: 44500
Joined: 13/6/2008
From: Timbuktu. Chinese or Fictional.

219. The Tenant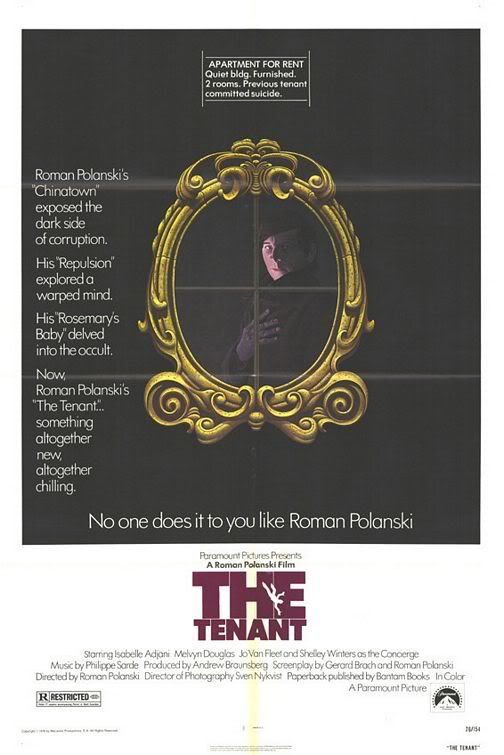 Director: Roman Polanski
1976
Film

The third entry in a loose trilogy about people becoming isolated in their apartments and becoming overwhelmed by their surroundings (Following Repulsion and Rosemary's Baby), The Tenant stars Polanski as Trelkovsky,a foreigner in France who moves into an apartment where the previous tenant attempted suicide. Becoming interested in the woman, Simone, he visits her in hospital and meets a friend of hers, but whatever he attemps he finds it impossible to fit in to the world around him. Trelkovsky comes to believe that his neighbours are engaged in a conspiracy to drive him to suicide by forcing the personality of the woman on him.

The Tenant was the first movie Polanski made after fleeing America on rape charges, is it a coincidence that he himself plays the title character? Trelkovsky is a ball of impotent, frustrated loathing driven to despair by his place in society, Polanski's character is an outsider in a strange country and he feels as if the world is against him, but it's just as likely he's a victim of his own paranoia. Polanski may not be the first choice of everyone for a leading man role, but he's perfect here, he understands Trelkovsky and all of his alienation and it's difficult to imagine a more professional actor doing the job as well. One of the film's greatest strengths is the cinematography from Sven Nykvist, creating haunting imagery from Trelkovsky's isolated apartment and from the faces of the neighbours who keep a constant watch on him, some of them fading Hollywood stars.

The Tenant is one of cinema's greatest paranoid fantasies. The fear of the other is a running theme in Polanski's work, no doubt inspired by the horrors he endured in his own life. Here the neighbours do everything they can to make Trelkovsky feel unwelcome and we feel his discomfort under their threatening gazes. The sense of urban paranoia and mental impairment, again themes that run through Polanski's work, are here turned almost blackly comic. If Repulsion was serious and psychological and Rosemary's Baby a more mainstream take on paranoia, here Polanski seems to be aiming for an entry in The Theatre Of The Absurd. The sense of dread becomes almost comical on several occasions, especially when Trelkovsky tries to become the woman everyone seems to want him to be. And if we take what we're shown at face value they do seem to want to trap him in Simone's life, but is what we're seeing ever real or is it simply more of Trelkovsky's delusions? There are people who feel that Trelkovsky is being taken over by the spirit of the dead girl, and there's certainly a case to be made for the concept of Simone's soul being transferred to Trelkovsky's body. Especially in the 'hospital scream' segment. Trelkovsky himself could be a fictional construct, a fantasy of Simone as she lies in her hospital bed. Or Trelkovsky himself could be hallucinating the whole thing, he's certainly suffering a loss of identity brought on by his isolation and his alienation could be bringing about a mental collapse. Polanski never really answers the question for us by giving us a definite truth, and the film is all the better for it.