rawlinson




Posts: 44500
Joined: 13/6/2008
From: Timbuktu. Chinese or Fictional.

224. Mad Love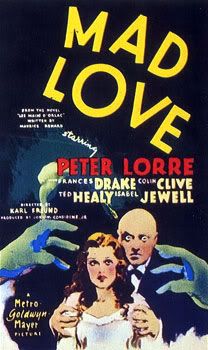 Director: Karl Freund
1935
Film

Karl Freund's last film as a director was this overlooked treasure. Adapted from the book Les Mains d'Orlac, Mad Love marked Lorre's first appearance in a Hollywood film, and it also gave the great man one of his finest roles. Lorre plays a sinister but brilliant surgeon, Dr. Gogol. Gogol has an obsessive fixation on Yvonne Orlac (Frances Drake), an actress in a Grand Guignol-esque horror play. Gogol is so devoted that he has attended every performance of her play and when she announces her retirement he buys the wax statue of her from the theatre lobby and holds conversations with it in his home. Yvonne has retired to live with her classical pianist husband, Stephen (Colin Clive).On the train journey to meet Yvonne, Stephen is involved in his train crash where his hands are damaged beyond repair. Yvonne begs the held of Gogol who replaces Stephen's hands with those of an executed murderer. But the hands have a life of their own.

The main reason to watch Mad Love is obviously Lorre's amazing performance. Despite his brilliance as a surgeon and his charitable work, Gogol is a twisted man. He takes an obvious erotic pleasure in seeing Yvonne tortured in her play and his dark side comes out even further in his attendance of executions. Lorre's leering psychotic is second only to his magnificent performance in M from his illustrious film career, but there is so much else to the film. The rest of the cast are strong, especially Colin Clive as the tortured pianist. The film also has a droll wit that cuts through the onscreen atrocities that makes this a masterpiece not only of horror but of twisted comedy. The presence of Gregg Toland as cinematographer makes the film (obviously) a visual treat.

Mad Love has murderous knife-throwers, guillotine executions, Grand Guignol horror plays, amputations, an overwrought Colin Clive and a lunatic Peter Lorre. What more could you want?