rawlinson




Posts: 44500
Joined: 13/6/2008
From: Timbuktu. Chinese or Fictional.

185. Gavin Mitchell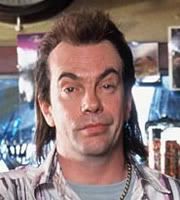 as Boaby in Still Game
2002 - 2007
T.V. Series

Mitchell is a bit of a unsung figure in that magnificent Scottish comedy series , Still Game. He's a support character, so it's natural he'd play second fiddle to our leads, Jack and Victor, and even to other support figures, but it's about time he got his due acclaim. In the shithole that is Craiglang, Boaby runs the only pub - The Clansman. Bullied by his regulars, especially Jack and Victor who decimate Boaby's every attempt at patter (although he doesn't help himself by greeting them as Phyllis and Diller), Boaby is a bit of a pitiful figure most of the time. Boaby is the butt of a lot of the jokes, the regulars steal drink from him, when they find a homemade porn with Boaby starring they of course distribute around everyone in the town. But despite Boaby being a bit of a wanker, he has a good heart, and you get the feeling he actually cares about the community. And they care about him and The Clansman, even if it is a shitehole, as they say in one episode "Boaby's a wanker, but he's our wanker."