Beetlejuice!

Posts: 7120
Joined: 24/11/2005

29. The Simpsons - Homer Defined (#3.5)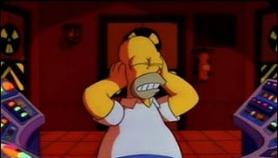 Luann Van Houten: Well, Marge, the other day, Milhouse told me my meatloaf "sucks." He must have gotten that from your little boy, because they certainly don't say that on TV.
One of the best running gags in the show is that Homer doesn't have a clue what he does in the power plant. Here totally by accident he saves the town from a meltdown but is soon found out to be a fraud after a short term of being claimed as a hero. This is a brilliant Homer-centric episode (he even gets added to the dictionary) but Bart and Marge's subplot with Milhouse and his mum his also good.