Cool Breeze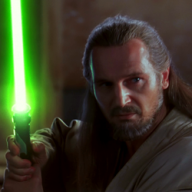 Posts: 2372
Joined: 9/11/2011
From: The Internet

quote:

ORIGINAL: Shifty Bench

Actually, no, fuck it. Let's do this-



quote:

ORIGINAL: Cool Breeze

Do YOU take in anything ever?



Excellent comeback considering I am not the one blinded by their love of a film.



quote:

How do you know how exactly how much money Paramount wanted to make on this film? Do you work for the studio?


Another excellent and not at all immature comeback, well done. Of course I don't work for the studio and I have never, not once stated that I did but please, feel free to correct me. Show me any of my posts where I have said I work for Paramount. I patiently wait for said correction.



quote:

Im sure they would have been delighted if STID made Avengers amount of box office.Which studio would not? Just because it didnt doesnt make it a disappointment



Except it kind of does. Not a flop, which I emphasize again, but a disappointment.



quote:

And please, enough about how much it made domestically, money is money no matter where it comes from and what counts is how much a film makes worldwide as well as at home



Except, no US studio makes a film for only the overseas market. It is starting to get that way (the added China scenes in Iron Man 3) but right now they really would like their film to be a success at home. While money is money and they will be delighted that people overseas are giving them money, the fact that it has only just barely made it's production budget (not overall budget, mind you) back will and I guarantee you this, will leave them somewhat disappointed.



quote:

As of last week, STID has outgrossed the previous film in the series which is the least a studio expects of any sequel and STID has accomplished that.And it still hasnt finished its theatrical run as it hasnt opened in several territories yet so will make even more money than the previous film.

Despite an opening a little lower than expected, STID proved to show strong legs by playing well in spite of heavy competition from Iron Man 3 and Fast And Furious 6.In other words, it was popular with audiences and benefited from string word of mouth.Its a hit plain and simple.




No, what is plain and simple is that not only did it cost more to make than the first film, it also opened in Imax and in 3D, something that the previos film (and Fast 6) didn't do. So, although it looks as though more people are going out to see the film, this is not the case. Imax and 3D tickets cost more, sometimes a lot more. Again, I am not saying the film is a flop, I never once said that but going by what Paramount would want the sequel to a popular film to make in its opening weekend and also its opening week, STID failed. Also-



quote:

Yep i guess your Seinfeld gif there is you conceding defeat in this argument.

I win.




You child.



Calling someone '' immature '' and a '' child ''.The sign of someone who is so frustrated that they have lost the argument that they have resorted to name calling.

I cant be bothered to quote your exact points but to summarize..

Im not blinded by my love for the film, i did really enjoy it but facts are facts.The film is a big financial success as it has outgrossed the previous film.

You claim to know how much Paramount wanted the film to make.Meaning either A) You work for Paramount or B) Have telepathic abilities.

So you claim that a film which doesnt make as much money as Avengers is considered a disappointment.In other news, Fast And Furious 6 is deemed a financial failure due to not making as much as Avengers Assemble and Fast 7 has now been cancelled


Yes you are right that no U.S studio makes a film solely for the overseas market.They also do not make films SOLELY for the U.S market so a lot of a films revenue comes in from international gross.STID is currently one of only four movies this year to break the $200 million barrier in the U.S so is already a big success there.It has performed extremly well overseas which makes it an even bigger success which has helped it outgross the previous Star Trek film.

This one will be a shocker for you... are you ready?... A film plays longer than its opening weekend! It actually continues playing in theatres for many weeks depending on how popular it is.So despite grossing slightly less on its opening weekend than its predecessor, the film proved to have strong legs due to good word of mouth and held up well despite strong competition from the hugely popular Fast and Iron Man franchises.to put this in comparison, The Hangover 3 opened strong, but promptly fell off the radar due to negative reviews and audiences having had enough of this franchise.

Its ok,Shifty, you tried but you lost the argument.Thank you and goodnight.


_____________________________

'' Iv played Oskar Schindler, Michael Collins, Rob Roy Mcgregor, even ZEUS for gods sake! No one is going to believe me to be a green grocer! ''