Rebel scum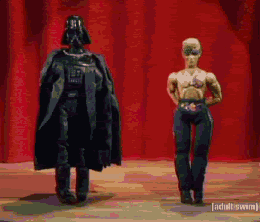 Posts: 3458
Joined: 2/1/2006

quote:

ORIGINAL: bbobeckyj




quote:

ORIGINAL: elab49



quote:

ORIGINAL: bbobeckyj
http://www.empireonline.com/reviews/5star/
Lists all of them, they're on there.
The Coens are a good example
O Brother, Where Art Thou?, 5, Intolerable cruelty, 5, The ladykillers, 3, Burn after reading, 4, all films with a similar tone, only the first and the last of those probably got the rating they deserve.
You can literally see them giving stars based on prior reviews, and not on merit, the middle two films are 2 star or 3 at best. As they actually said in the attack of the clones review- 'we gave the last one 4, so this being better must be a 5...' (which interestingly has now been downgraded to 3 stars) but in this case you can imagine them sitting in the office saying 'we gave the last one a 5 and this is not much worse, so lets give it a 3...'




This is rubbish. Not a grey area - but rubbish. Did you read your link?

About 6 down from the top of your link - The Raid. 5 stars. Any Nolan or Coen in sight? No. Some long-standing revered director at all? No. Is it anything other than an all-out action movie? No.

So can we please can the dishonest attacks on the rating and admit just admit you just want to slam anyone who doesn't agree with your hope for how good the film will be?



There is more than one page to the 5 stars section, I just linked the first page.
I'm not attacking anyone, I couldn't care less about the review for this film but someone made a comment that the best way to get a 5 star review from Empire was to make a 5 star film. I simply stated that that is not always correct. Intolerable Cruelty
link for example.





You rang?

I'm not saying the system's foolproof, I said that the EASIEST way to get ***** is my making a ***** film. Sure, there have been films given five stars that don't deserve them, but no system is foolproof and nobody is immune from hype and excitement over an anticipated blockbuster or the latest from an exciting director. More recently, ***** for films that don't deserve them have dropped off, the rating itself comes up rarer than in some past years, and they tend to go to genuinely great movies, such as The Raid or TDKR (Which a lot of people genuinely love but others don't, before all the madness of THAT thread comes in 'ere).




_____________________________

"We are not safe! A dark menace rises to the east! Duckies go quack! Cows go moo! I want ice cream. Verily, will you two hobbits join my quest?"