rawlinson




Posts: 44500
Joined: 13/6/2008
From: Timbuktu. Chinese or Fictional.

86. Kids Return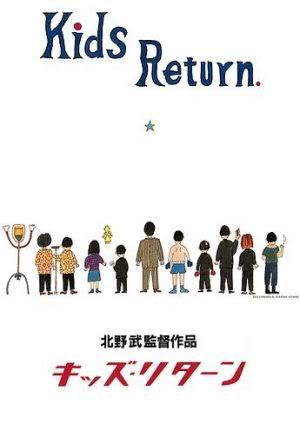 Director: Takeshi Kitano
Year: 1996

This was the director's comeback film following a scooter accident that nearly killed him. Kitano has said he did a lot of reflection on his own life and this contemplative quality bleeds through into Kids Return. There's a distance to Kitano's approach, but that doesn't affect the poignancy of the piece. It's said to have several semi-autobiographical elements, notably the attempts to move into stand-up. There's also the fact that it all seems set in a not too distant past, despite it being supposedly set in the modern day.

The film focuses on Masaru and Shinji, a pair of aimless school bullies. These are kids without prospects, they're bullies, they're lazy, yet you like them without Kitano ever pulling at your sympathy. In fact, you like them even though you probably shouldn't. They spend their days trying to find any way they can to avoid going to class. They mock the teachers, ride their bike around the playground, steal money from other kids and practice their stand-up routine. One of the kids they steal from hires another bully to take revenge. Shamed at being beaten by the other bully, Masaru decides to take up boxing in order to seek revenge. Shinji eventually tags along and discovers he's a natural. They meet a group of Yakuza at a local diner and further humiliated and frustrated by his failure at boxing, Masaru falls in with them. Isolated from his friend but with a real shot at a championship, the more easily led Shinji starts taking the dubious advice of an older boxer.

The storyline could have come straight out of Classic Hollywood, but I think it would have lacked the calmness that Kitano brings to it. Even as their lives fall apart the whole film feels unhurried and leisurely, as if anything too melodramatic would be seen as somehow tacky. Even when the friends part ways, there's no big fight or betrayal, their lives just take them on different paths. There's a sadness that tinges the edges of the film, but it's a tender and funny work. Ultimately it's a film about lost youth and lost potential and a charming hymn to friendship.