rawlinson




Posts: 44500
Joined: 13/6/2008
From: Timbuktu. Chinese or Fictional.

93. Orphans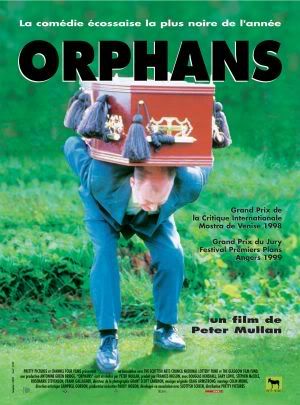 Director: Peter Mullan
Year: 1997

Four Glasgow siblings prepare themselves for the funeral of their mother. After leaving her body in the church overnight, a drink to her memory in a nearby pub leads to the four getting separated and each of them undergoing their own long dark night. The elder, Thomas (Gary Lewis) acts the martyr, determined to show everyone how much more grief he has by staying the night in the church, Michael (Douglas Henshall) finds himself stabbed after a bar fight, but refusing to go to the doctor, hoping to hold out and blame the injury on work, John (Stephen McCole) tries to get revenge for his brother, while disabled Sheila (Rosemarie Stevenson) falls in with a group of young girls. All the while a storm is bearing down on Glasgow and the siblings. Rejecting sentimentality, Mullan creates a film that explores various forms of grief with a real sense of honesty. One of Orphans' greatest assets is how unpredictable it is, mixing hilarious comedy (Michael's run-in with surely the most short-tempered publican in Scotland) with genuinely upsetting scenes (John getting caught up in a friend's sickening attempt at revenge on a customer he dislikes) in a way that makes you uncertain of how any of the scenes are going to pay off. But if you're not on the floor in guilt-ridden laughter by the time Thomas attempts a visual depiction of how much grief he's carrying, you have no funny-bone.