rawlinson




Posts: 44500
Joined: 13/6/2008
From: Timbuktu. Chinese or Fictional.

97. Felidae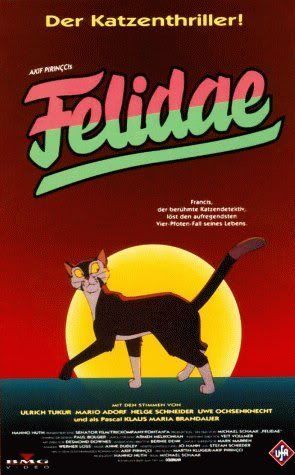 Director: Michael Schaak
Year: 1994

Like a kitty-snuff take on The Aristocats, Felidae is a German animated film noir. With cats. Francis, and his can-opener move into a new neighbourhood, where he soon discovers other cats have been turning up murdered. Assissted by local cat, Bluebeard, Francis begins to investigate the attacks and finds himself caught up in a strange conspiracy that takes in seduction, bigotry, and even cat religion. It doesn't try to make the cats cute, one of the most interesting aspects of the film is that treats cats as cats, which actually makes them the perfect animal for noir. Also, the film doesn't just rely on a gimmicky presence, it creates a fascinating mystery, interesting characters, and it also has something to say about man's cruelty to species that are thought of as inferior. A brutal piece of animation, that's most definitely not for children, but that should be seen by anyone with a love of the hidden corners of animated cinema.