rawlinson




Posts: 44500
Joined: 13/6/2008
From: Timbuktu. Chinese or Fictional.

49. L.A. Confidential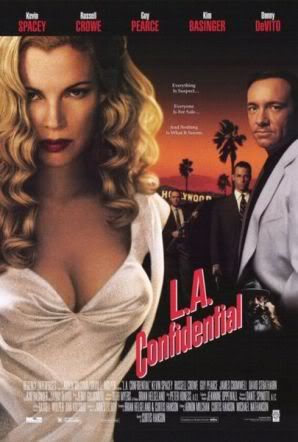 Director: Curtis Hanson
Year: 1997

Curtis Hanson's career hadn't exactly been inspiring up until this point, his work usually filled with silly scripts, casting disasters and a lack of directorial flair. So it's not just surprising that he could take Ellroy's brilliant but complex novel and turn it into a cinema masterpiece, it's a near miracle. Ellroy doesn't easily adapt to film, look at De Palma's hideous Black Dahlia for an example of how to do it wrong. Hanson seems like he was born to make this kind of intelligent, dark cinema, perfectly understanding Ellroy's novel as both a look at crime, politics and corruption and a love-letter to the darker alleyways of L.A. Kim Basinger took home the Oscar, and while it's easy to dismiss that victory as an example of the Academy looking to award the film anywhere it could, in a year where Titanic (a film fully deserving of the title disaster movie) was set to sweep, but it's neglecting the fact that she's actually really good here. But the film belongs to the men, with Kevin Spacey, Danny DeVito, Russell Crowe and Guy Pearce all doing sensational work and James Cromwell stealing the show from all of them. An elaborate masterpiece that's also a top notch bit of entertainment.