rawlinson




Posts: 44500
Joined: 13/6/2008
From: Timbuktu. Chinese or Fictional.

51. The Arcane Enchanter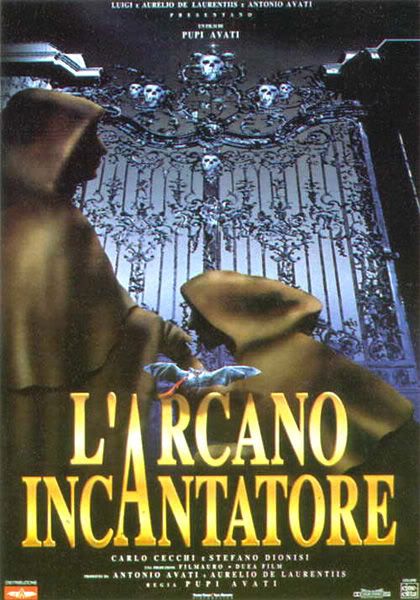 Director: Pupi Avati
Year: 1996

A late masterpiece from Pupi Avati that was allegedly based on an ancient Italian legend, also seems to be one of the director's most little seen films. Set in 18th century Italy, a seminary student, Giacomo, flees his school after being accused of seducing a girl and then forcing her to have an abortion. Looking to lay low for a while, he signs a blood oath with a mysterious woman and then he moves to the countryside where he takes a job working at a remote castle, helping a priest who was excommunicated due to his interest in black magic. His work for the 'Arcane Enchanter' will soon see Giacomo dragged deeper into darkness and danger.

The Arcane Enchanter is a slow-burning gothic horror that in many ways reminds me of the BBC's Ghost Story for Christmas series. It's not something that's scary in the jump-shock sense, but it is a chilling and eerie film, one that creeps under your skin and stays there. It's an old-fashioned fairy-tale horror, packed with exquisitely shot landscapes, gothic buildings and a crumbling castle. It combines the atmosphere of Italian masters like Bava and Argento with an old-fashioned approach to telling a spooky tale of M.R. James or E.F. Benson. The slow pacing and subtle nature of the film probably means it's not a film for all audiences, you have to be willing to invest in the story to best appreciate it. There's also a distinct lack of sympathetic characters in the film, everyone is corrupt in some way, but look beyond the repellent lead characters and allow the atmosphere and the story to slowly seduce you and you'll find much to appreciate here. It's certainly one of the most atmospheric horror films of the last twenty years or so. Guillermo del Toro is a big fan of the film, it's an obvious influence on his own work, and he's called it one of the greatest horror films ever made. I think if the film received better distribution in the UK and the US, The Arcane Enchanter would be regarded as a horror masterpiece. Certainly in the UK, where it should appeal to fans of old-fashioned ghost stories.