rawlinson




Posts: 44500
Joined: 13/6/2008
From: Timbuktu. Chinese or Fictional.

99. Waking Ned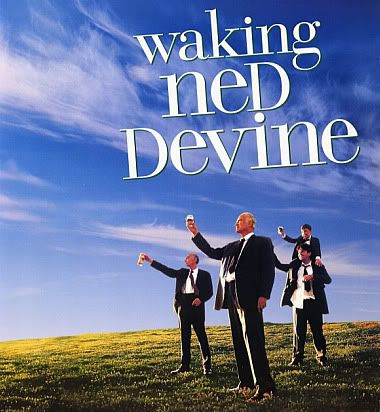 Director: Kirk Jones
Year: 1998

The Irish. A great bunch of lads? Loveable roughs with a twinkle in their eye and a song in their heart? Or are they callous ghouls who would be willing to steal from a corpse? That's the question Waking Ned asks of the viewer. In a small Irish village, Ned Devine wins the lottery. When the shock of the win kills him, his friends Jackie (Ian Bannen) and Michael (David Kelly) decide to keep the win for themselves, but when they realise he's won several million they have to involve the entire village in the scheme. It'd be very easy to mistake Waking Ned as the cinematic equivalent of a BBC Sunday night comedy drama, the kind of show that sets itself in a beautiful location to make it easier to sell abroad, and then does little else of value. You could see it as a big screen Monarch of the Glen or Ballykissangel, that is if you haven't actually bothered to watch the film Personally, I think it's more like a modern day Ealing, where a bunch of loveable characters take part in a criminal plot, but they're so charming that you can't help but come down on their side. The friendship between Jackie and Michael is what really powers the film, two overgrown schoolboys still loving every minute of life. And for those who would dismiss the film as twee, the scene with Lizzie Quinn and a telephone box should make you realise just how black the comedy is willing to get. If this is like a Sunday night comedy drama, then it's a missing episode of Hamish Macbeth.