rawlinson




Posts: 44500
Joined: 13/6/2008
From: Timbuktu. Chinese or Fictional.

198. Just Shoot Me!
"Slow Donnie"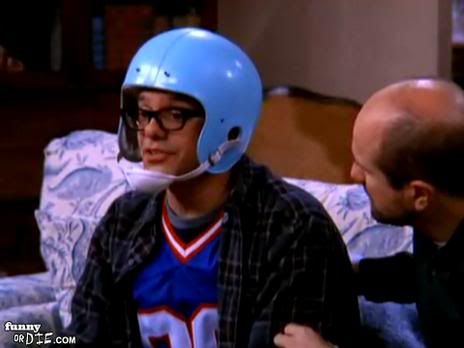 Season 03, Episode 11
1999

Sitcom set in the offices of a popular fashion magazine owned by tycoon Jack Gallo (George Segal) Filling out the workplace are feminist writer (and Jack's daughter) Maya (Laura San-Giacomo), ladies' man photographer Elliot (Enrico Colantoni) who has an on-off affair with Maya, vapid former model Nina (Wendie Malick) and the office smart-ass, Dennis (David Spade). The excellent ensemble cast made Just Shoot Me into a witty and brilliantly performed comedy that usually avoided the everybody hug because we love each other ever so much approach of inferior contemporaries like Friends. The show's finest 22 minutes came with the introduction of Elliot's brother, Donnie (David Cross). On the day before he was due to go to college, Donnie suffered an accident that left him brain-damaged, something that has left him totally dependent on his family, and Elliot has blamed himself ever since. Trouble is, he's faking, something he reveals when he begins hitting on Maya when nobody else is around. It could easily have been offensive, but the joke is never that someone is mentally ill, it's that Donnie is such a lazy sleaze that he would spend years faking a mental illness to avoid having to do anything for himself. There really should have been a sitcom focused on Colantoni and Cross as brothers.