rawlinson


Posts: 40206
Joined: 13/6/2008
From: Timbuktu. Chinese or Fictional.

133. The Ruling Class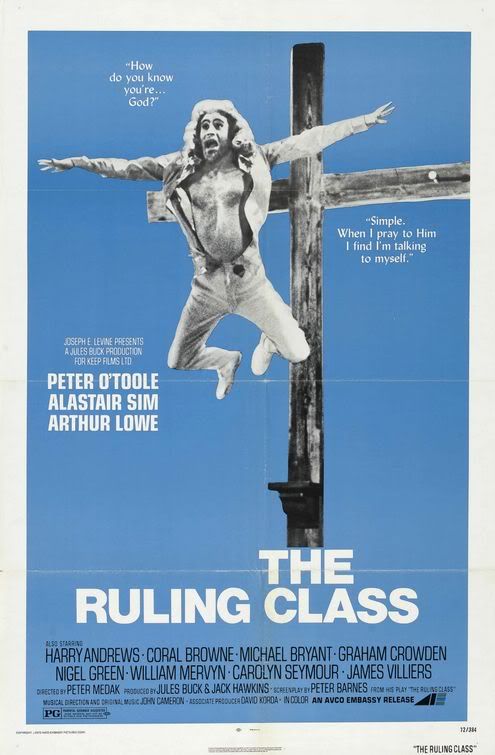 (1972; Peter Medak)
Highest Vote: Rawlinson

An adaptation of Peter Barnes' stage satire, this is the tale of a paranoid schizophrenic who just happens to be a peer of the realm. Peter O'Toole plays Jack Gurney, the 14th Earl of Gurney. Jack thinks he's God, and scandalises his family with talk of bringing love to the world, his habit of breaking into song, and the fact he sleeps upright on a cross. Before becoming Earl he spent eight years in a private institution, only ascending to the title after his father accidentally hung himself while wearing a military uniform and a ballet tutu. His devious uncle, Sir Charles, plans to marry him off in the hope of producing an heir and having Jack put in an institution, a plan that fails when the wife, Grace, falls in love with Jack. Charles's wife befriends Jack just to spite him and she also seduces Gurney's psychiatrist to try and get a quicker cure. Gurney is brought back to his senses after electroshock treatment, his psychiatrist believing he will be cured if he can remember his name is Jack. And he does, sadly Gurney now thinks he's Jack the Ripper. When Gurney tried to bring love, everyone feared him. When he rants in favour of capital punishment and murders (framing the family butler for the crime) he is readily accepted.

The Ruling Class is absurdist, hilarious, and disturbing. A film of wild extremes that swings from silly musical numbers to outright terror with ease. The film is also a caustic attack on some cherished British institutions and Britain itself really, the education system, the hypocrisy of the elite, the way the ruling class hate anything vaguely liberal, the church, the military, aristocracy, the House of Lords and pretty much anything else you can think of. It's a provocative work and both Barnes and Medak are seeking to confront the viewer. But as much as they try to distance us, the cast entices us in.

O'Toole was never better than he is here, and considering the performances he's given throughout his career, that's high praise. This is a powerful performance in a challenging and difficult role. He should have won the Oscar for this role, but missed out to a glorified supporting performance instead. He's ably supported by a talented cast that includes Alastair Sim, Arthur Lowe, William Mervyn, Coral Browne and a host of others all at the top of their game. An essential piece of British cinema that sadly seems to have become mostly forgotten.

- Rawlinson



_____________________________


quote:

ORIGINAL: matty_b

I would plough my way through MonsterCat

quote:

ORIGINAL: matty_b

I desire MonsterCat to go down on me.