Mr Terrific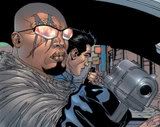 Posts: 1607
Joined: 15/7/2006

quote:

This isn't quite Girvan's 3,000 words, but it's close.

I've also written a bit about the other two Batman films in the Dark Knight Trilogy, and the link for all can be found in my signature.


The difficult third act. Always so hard to get right. The Dark Knight ends on similar tone and feeling to that other great second act, The Empire Strikes Back. Characters in peril, split up, a future uncertain. The Dark Knight Rises is the perfect conclusion to a nigh-on perfect trilogy.

Eight years have passed since the end of The Dark Knight. In the wake of Dent's death, the Dent Act has passed, and it has effectively cleared up crime in the city. Batman is not only not welcome, he's not needed. Bruce Wayne is pining for his lost love, Rachel, unaware of her changing affections before her death, andhas become a Howard Hughes-like recluse. Into this Gotham of idealism comes chaos once more. Bane, a masked mystery, intent on blowing up the city. Selina Kyle, a petty thief with a big reach. And a shadowy past catching up with Batman, fast.

How does one replace a villain as iconic and memorable as the Joker? Well, one doesn't. The Joker was Batman's equal intellectually. Always ahead of Batman, always one step beyond his reach until Batman changes the rules of the game. Bane is Batman's equal physically. Arguably his superior. After eight years Bruce Wayne is almost a cripple. His leg bones have little cartilage left, and he needs a cane. After Selina Kyle steals Wayne's prints to sell on to one his board-members who has a questionable agreement with Bane, Bruce Wayne realises that things are changing. Commissioner Gordon is conflicted: his actions saved the city, but they destroyed his family. He had to praise and idolise the monster that would have killed his wife and son. They left. A broken man, he needs to unburden himself, but not at the cost of betraying the city he has helped to restore. That city has changed. In Batman Begins it is unrecognisable as a real city; in The Dark Knight it resembles Chicago. Here it is more akin to New York. Chicago has history with crime – gangsters and so forth, more so in the popular consciousness than New York. That changing vision of Gotham reflects the changing atmosphere within the city.

The storyline of The Dark Knight Rises is deceptively simple. Villain appears, threatens to destroy city, appears to have Batman beaten, who then returns stronger than ever to save the day. It's clichéd, but Nolan's skill is in presenting it – as he ever has – in a manner that seems fresh, new, and relevant. Bane is arguably his most fantastical character. Tom Hardy, behind a mask for all but a fleeting glimpse, does wonderful things with the character. Many will comment on the voice. It is unusual. It's two parts Sean Connery, one part Daniel Plainview, and yet neither of those. People will either hate it, or love it. Or both over the course of the film. It took me some time to get used to it, but as I grew accustomed to the unusual modulations Hardy gives the voice, it became so utterly perfect. It's a mix of hilarious and chilling, and that combination makes it even more chilling again. There's a nonchalance to the way he says the most horrifying things. The look and sound of Bane is so absolutely bonkers that it just works. The mask, and its use, is what is fantastical. There are almost certainly more ordinary ways to maintain a pain-free existence, but excusing the mask comes for the reasons many assume it only has: menace and fear. And that is all the reason one needs. He builds up a mystery and myth about him which is more troubling and unusual than the Joker's even. As Selina Kyle, Anne Hathaway produces a performance a world away from Michelle Pfeiffer's. As a 12 yr old watching Batman Returns, Michelle Pfeiffer made an indelible impression, but as has previously been mentioned, Nolan's Batfilms are a world away from Burton's, so it is entirely possible for both Catwomen to live side by side. Here, Kyle is literally a cat-burglar, unassuming, lithe, seductive, and dangerous. Hathaway gets the balance right, and the costume designer gets the costume right. How does one dress as a cat without it looking silly? Tight black clothing makes sense for a thief. A mask makes sense for a thief. But the ears? Enhanced vision goggles flip up and, hey presto, they look like ears. It really is quite perfect. Kyle's journey is one of villain in an unintentional way, to unlikely saviour. The duality of her relationship with Batman is well-played here. Not quite as on-the-nose as the "mistletoe can be deadly if you eat it…" exchange, but subtly. Batman recognises elements of himself in her. Most notably the moment that she disappears as his back is turned – although he really didn't need to maintain his Batvoice for that quip: no-one was around to hear him speak.

A note about the Batvoice, as I've not mentioned it thus far. Personally, it makes perfect sense. Why bother to mask your appearance if you do not mask your voice? At times it can sound silly, granted, but Bale pitches it well here.

Nolan stated somewhere, at some point, that he didn't want to include Robin. And yet… Joseph Gordon-Levitt plays Officer Blake, an orphan who had a run in with Bruce Wayne in his youth, after Wayne had set up a trust for orphaned children in Gotham. A canny young man, he uses his own emotional experience to work out that the state of mind being orphaned at a young age does to a person is conducive to the drive that could make a man become Batman, because he recognised it in himself. Through the film, Batman/Wayne uses Blake to assist him, tutor him, talks to him about the need for a mask, because it is symbolic, and it protects those closest to you. He is, quite clearly, mentoring Blake for…something. The unnecessary revelation of Blake's real name is disappointing, but is not a massive issue. By the end Blake has discovered the Batcave and there is a clear sense of a continuation. Not one that needs to be filmed, but a sense that Gotham will be in safe hands, should any further villains come its way in the future.

But I am getting ahead of myself. Batman must first face Bane. Unprepared, mentally and physically, Bane bests him and, a rarity in such things, gives a valid and believable reason for not killing him. Instead, he leaves him in a prison in Asia, inescapable, with a near-broken back, and a near-broken spirit. Meanwhile Bane lays waste to much of Gotham and takes control of a neutron reactor core which, with the help of Useful But Expendable Scientist, he turns into a bomb. A bomb which, triggered or not, will detonate in five months. Five months for Gotham to decay, for Batman to lose all hope, and for the Scarecrow (a returning Cillian Murphy) to hold court for all crimes with the Hobson's Choice of "exile, or death…by exile". This middle act sees the police force marooned largely in the sewers, fed through grates by the few remaining above, the populace of Gotham cowering in their houses, and Batman discovering about Bane while festering in the pit prison.

The latter two Batman films are, for Nolan, narratively straight. While Batman Begins flicks across times, he straightens out the narrative in the two Dark Knight films to make room for the densely packed parallel stories. There is so much going on here, to play with time would be to confuse matters. And there is much reference to the previous two films. The Dark Knight Rises brings together all the story strands and forms a cohesive trilogy. The Dark Knight felt like a very different film to Batman Begins, but here in The Dark Knight Rises, Nolan pulls aspects from Batman Begins – Ra's Al Ghul, Scarecrow – and The Dark Knight – the city's state and Batman's departure are direct consequences of the actions within that sequel – and in so doing encircles the films to create a true trilogy. Not three separate "adventures of Batman", but a single, immense story, which on repeat viewings is going to be incredibly satisfying.

About the ending. I, it is fairly well-known around those who know me, do not see twists. I did not see that Bane is Ra's Al Ghul's son (he isn't, but it was initially presented as such). I did not see that the mercenary is Ra's Al Ghul. I did not see that Miranda Tate (Marion Cotillard, dazzling as ever) was Talia Al Ghul. Her betrayal – so distasteful after Bruce had bedded her – came out of left-field. (I think I get more out of films for not seeing twists. I see the film as the filmmakers intended.) That she chose to stab him brought another line from The Dark Knight added relevance. In creating the new suit that would allow him greater flexibility – including being able to turn his neck, finally – Lucius Fox (Morgan Freeman, lending every film auto-gravitas) mentioned in passing that it wouldn't protect him from a knife. The inference was the Joker, who had a preference for knives, but that was a red herring. Here is the glorious pay-off to that line, four of our years later, and about four hours in film time later. This is the sort of care and attention that creates a trilogy that works. One in which preceding films work after seeing subsequent ones. Consistency is king.
Some days, you just can't get rid of a bomb.
The debate over whether Batman was in the Bat or not when the bomb exploded should not need to happen. There are clues, lines about the autopilot which make it clear: he lied to fake his death, to create a martyr of Batman, to return a symbol of hope to Gotham. Batman had returned and proved himself worthy, to be the hope that Gotham needs. His death gives Batman immortality in the hearts and minds of the people of Gotham. Alfred's story about his café in Italy means that Bruce knows where to find him, what to do. It is not the hopeful self-delusion of an old man: else Alfred would have imagined him there all those years that Bruce was away, training with Ra's Al Ghul. Alfred never falsely imagined Bruce was there the first time – seeing it was someone else was key – so the second time, when it is Bruce, it really is him. It gives Bruce the happy ending, the life that he so sorely deserved. Gotham has the legend of Batman for idealism. And it has the actuality of a potential replacement in Blake. Whether he takes over as a new Batman, or as Robin, or as Nightwing, is not important. It is not for this film, or this series. It is the hope that he represents that allows Bruce to move away from Gotham, to create the life he wants.

As a trilogy, The Dark Knight Trilogy works so perfectly. There is a clear structure to each film, as he bests each villain during the course of that film. But there is also an overarching structure to the whole trilogy: Batman begins, Batman triumphs and falls, Batman returns and rises. It provides a realistic setting for a fantastical story. Nolan has successfully placed a superhero film within the structure of a world we can recognise. Political or sociological considerations are secondary: Nolan has been on record saying there is no intended political subtext. But anyone reading one into the films is welcome to, I'd imagine. Spider-Man and Superman live in worlds very like our own, but clearly not. If a radioactive – or genetically-enhanced – spider bites you, you get ill. Aliens do not, so far as we know absolutely, exist. (Belief is another thing.) But everything within Nolan's universe can happen. It can be real. Unbelievable and impossible are two very different things, and Nolan explores the gulf between the two. There is a heightened reality, but it is nevertheless a reality. While there is little to touch the Three Colours Trilogy, since many other fine trilogies are no longer such – Indiana Jones, Die Hard, etc – it is not beyond the realms of possibilities to claim now that this is one of the finest trilogies to grace the big screen. (I speak of "true trilogies", not the looser "three films by the same director on a loose theme" that seems to count sometimes.)

The films are not flawless. But it seems nitpicky and negative to focus on those when I did not feel that any of those flaws upset the overall tone of each scene in which they occurred. There will be those that go the easy route of accusing me of being a "Nolan fanboy", which seems needlessly reductive. I am a fan of Nolan's films because they are, almost in their entirety, a substantial body of work. I am a fan of high quality films, and these represent three of those, which together form a near peerless trilogy.
A vigilante is just a man lost in the scramble for his own gratification. He can be destroyed, or locked up. But if you make yourself more than just a man, if you devote yourself to an ideal, and if they can't stop you, then you become something else entirely.


Excellent review, you make some good points. I have only seen it once but seem to understand where Nolan is coming from. There lots of nods to the comics, more so than in the previous two films. While not true to the Batman of the comics, Nolan's Batman is always true the character in the previous two films.

The flaws and nitpicks that are present do not stop me from enjoying the movie, heck there are twenty times more nitpicks to be had in The Avengers, but they are barely mentioned..

Good stuff...I reckon when all the excitement dies down, there will be a more sombre look at the film by more people!



_____________________________

..."lost like tears in the rain....."

"He claims he is a man. And one of the things about being a man is getting knocked on your ass and learning from it."

http://www.dccomics.com/heroes_and_villains/?hv=origin_stories/mr_terrific