Gimli The Dwarf

Posts: 78689
Joined: 30/9/2005
From: Central Park Zoo

14. Dastardly and Muttley in Their Flying Machines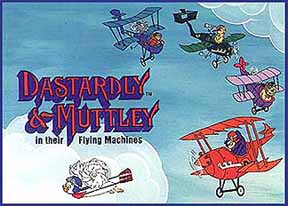 "Muttley, you snickering, floppy eared hound. When courage is needed, you're never around. Those medals you wear on your moth-eaten chest should be there for bungling at which you are best."

The greatest 'tache in villainy and the second best animated dog of all time join forces for this fantastic intro to their own great show.

http://www.youtube.com/watch?v=6hv14bq4iak



_____________________________

So, sir, we let him have it right up! And I have to report, sir, he did not like it, sir.

Fellow scientists, poindexters, geeks.

Yeah, Mr. White! Yeah, science!

Much more better!