Rhubarb


Posts: 24161
Joined: 30/9/2005
From: No Direction Home

So, someone showed me this tumblr yesterday http://trollingchrisbrown.tumblr.com

Basically its a collection of how people on Twitter are spending time trolling "international love" hitmaker Chris Brown. The backstory, if you need it, is that Brown a little while ago got in trouble for being a repulsive womanbeater, and nearly killing fellow popstar and Battleship star Rihanna (then his girlfriend)*.

Basically, I think its nice that Brown is reminded that he's a bit of a dick. Some of these made me lol too: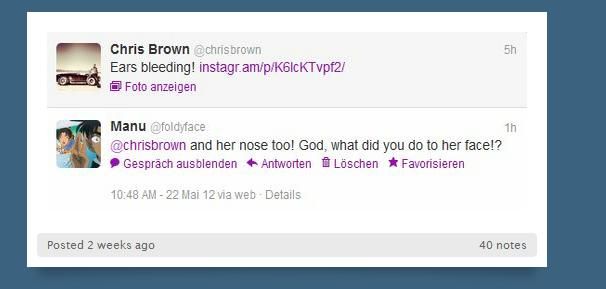 I kind of wanted to open this up to debate though basically, obviously internet trolling has been covered quite extensively by a deeply confused media lately as the worst of the worst. Meanwhile, there is of course the argument that people can change and get better (though Brown hasn't shown any remorse or anything) and Cheryl "Cheryl" Cole has called for us to give it a rest about the whole Brown/Ri thing as Rihanna herself appears to have forgiven him (she of course has her own reasons for saying this). Anyway what do you make of this?

*go ahead and google details, but its really grisly.



_____________________________

Team Ginge
WWLD?



quote:

ORIGINAL: FritzlFan

You organisational skills sicken me, Rhubarb.