Nexus Wookie

Posts: 2333
Joined: 24/9/2011
From: the Godcity

PROMETHEUS (2012) Dir: Ridley Scott

**SPOLIERS**

Ridley Scott's film is beautiful to behold, the dark, dusty barren wastelands of the alien world recall's science fiction stories and novels of old. Or even artists such as Jean Girard Moebius. The chambers inside the 'Pyrmaid' is teaming with foreboding and dread. It is these scenes which stay with you long after the credits have rolled.

We rarely get to see films of this undertaking by Hollywood any longer. Stories with such big idea's which Hollywood find unpalatable. And for this reason, Ridley Scott needs to be commended. This is science fiction film for grown ups, with big idea's, about the origin's of life. The meaning of faith, and what the consequences are if your whole belief system was turned upside down.

Ridley Scott is a master at creating worlds. From Alien, Blade Runner to Gladiator. No one has an eye for detail quite like him. And Prometheus is no exception. It is beautiful and awe-inspring at times. The design of the spaceship 'Prometheus' is spectacular in itself. A total contrast to the Nostromo (which was a mining vessel so makes sense for its appearance!). Shot's of it in space, or a solitary figure on the alien landscape had me salivating! The interior shots of the Pyrmaid and the Space Jockey's ship is beautiful to behold, thanks to Dariusz Wolski's excellent work. It is full of dread, and although lacking some input from Giger, still looks menacing (this is afterall a 'different' beast) as does the chamber containing the giant 'Easter Island' head. The model works are stunning and as for the CGI, I have been critical of Weta in the past, but I cannot find any fault in this movie. Their input is invaluable, and astonishing at times. I would go as far as saying it is better than Avatar!

The film is full of moments where you just have to sit back and watch in sheer wonderment at some of the beautiful scenery. The scene of the dust clouds chasing the vehicles back to the Prometheus, the opening scenes of lush imagery of mountains, lakes and waterfalls. Or the magnificent shots of the Prometheus approaching the rings of Calpamos - or what looks like it! It is a visually breath-taking film.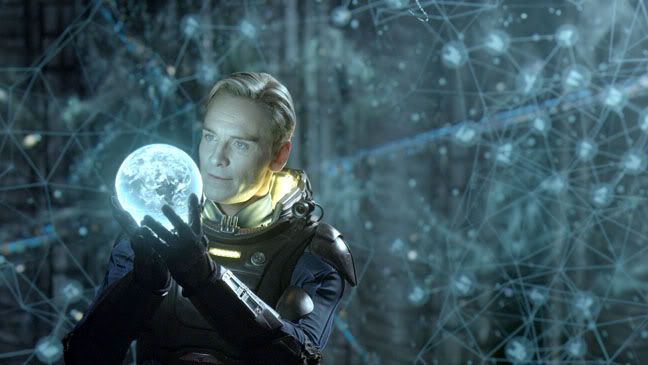 A World of wonder; David hold's the world in his fingertips

But aside from all the visual beauty on offer, what of the actors?

The star of the show without doubt is Michael Fassbender as the android David! He is at once childlike, with mannerism's sometimes mirroring that of C3-PO and that of Peter O'Toole, but there is a dark heart beating beneath his synthetic chest. Noomi Rapace is excellent as Shaw, as is Idris Elba as the ship's likeable captain. I thought Charlize Theron was also good as the icy Meredith Vickers.

Fifield (Sean Harris) and Milburn (Rafe Spall) were a very likeable duo, and I almost felt sad to see them meet their premature demise. I remember reading in EMPIRE, Spall seeing himself and Harris To Prometheus' answer to Yaphet Kotto and Harry Dean Stanton. And although they cannot compare to the pure joy, and the comedic value (and ultimately - tragedy) of both these great actors together, they still offer some comic relief even at some very tense moments. I did however, feel that Holloway's (Logan Marshall-Green) role was slightly underwritten, as well as that of Guy Pearce as the elderly Peter Weyland. He is a terrific actor, one of the best of his generation but he was miscast I feel for this role. But overall, the actors in this film were very good, especially the main trio of David, Shaw and Vickers.

Coming back to the film; one of my favourite scenes (out of many) is the opening. There is something very etheral and beautiful by the sight of a robed Engineer standing in the foreground near a waterfall, and the giant structure of what can be assumed is an Engineer 'mother ship'. Turning and facing skyward like a magnificent colossus, its shadow blotting the landscape. It is a brilliant, chilling scene and one which stays with you. (I must say that I love the look of the Engineer's. I felt they provided the right balance of otherworldliness, awe and terror).

Another of my favourite scenes is on the Prometheus, when we see David wondering around the ship alone, his crewmen still in stasis. It a a wonderful montage of scenes. We see David in his spare time walking around the ship with a basketball in tow, or studying David Lean's masterpiece Lawrence of Arabia with surgical precision. And modelling his look's on Peter O'Toole, as well as quoting lines from the film.

The film may not be as scary as Alien, or as action-packed as Aliens, but it is its own beast. There are lots on offer that viewers will find appealing. I did feel at time though that it felt a little rushed, so therefore I am hoping Ridley Scott releases a director cut which will hopefully expand upon the story and maybe clear a few things up. But after watching it my head was a swathe of question's and possibilties! And I love to a sequel realised where we can further immerse oursleves in this weird, dark, beautiful world that Ridley Scott has created!

Not a masterpiece by all means, but nonetheless, still a solid science-fiction film! And even its few failures towers over other directors successes like a giant colossus.

4/5







< Message edited by Nexus Wookie -- 14/6/2012 10:41:24 AM >

_____________________________

My blog: http://nexuswookie.wordpress.com/