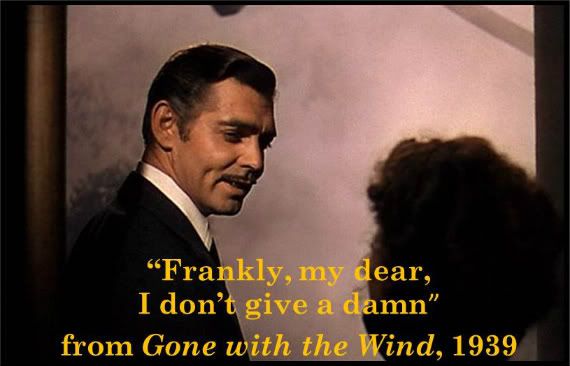 7. "Frankly my dear, I don't give a damn."
Gone With the Wind, 1939.

Despite its dubious stand on race (which is frankly uncomfortable in parts) and Scarlett's inexplicable love for Ashley (well, I suppose she wants the one she can't have, but Rhett (despite all his many faults) is a charmer), I enjoyed
Gone with the Wind
far more than I expected - the two leads are great and the technicolour is gorgeous.
If it ended on this line, it would be fantastic - what a ballsy ending that would have been. And I know this line has been chewed over by popular culture for seventy odd years, but damn, it's just perfect. Clark Gable's delivery is spot on - one of the best delivered lines in film.
Watch it here:
http://www.youtube.com/watch?v=i2RxWs60dRM