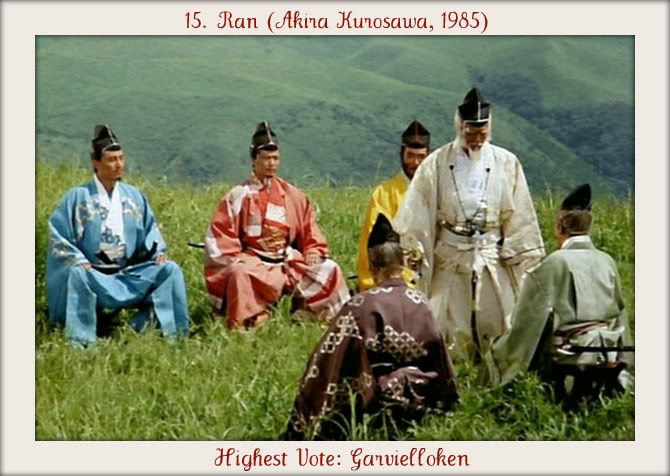 Seven Samurai, Kagemusha, Throne of Blood, Yojimbo and now Ran. With each film I wonder where Kurosawa's weaknesses as a director lay. As it is, his exquisite sensibilities are present and correct here in this adaptation of Shakespeare's finest play, King Lear. The tale of greed and obsession fits 16th century Japan as perfectly as it did the timeless age in which King Lear was set (it was not a contemporaneously set play). Transposing the three daughters for the more appropriate three sons not only gives a very different dynamic, but also sets up in Lady Kaede the finest female role since Throne of Blood's Lady Asaji Washizu. The tale is familiar: an elderly ruler divides his land between his three sons with the intention of travelling between them and living out his days in this way. Greed, megalomania, and self-centred ambition prevent this ideal from coming to pass, and events quickly descend into a world in which Lord Hidetora visibly turns to madness for consolation.
The music, like many aspects of this film, is for the large part pointedly subtle. It gently stresses a point, rather than cueing one's emotions clumsily. It is haunting and affecting, and becomes part of the film itself with the introduction of Tsurumaru, the blind, flute-playing brother of Sué. The mellifluous flute seems to drive right into Hidetora's skull, further sending him into the inevitable madness that will overcome him. Where the music's subtlety works wonders is where its sparseness allows the viewer (or rather, the listener) to hear every other sound more clearly. The sound of galloping hooves is a comforting sound for me for some reason - here it is used to great effect as dozens of horses tear past the camera between castles, or to join battle. Where neither music nor sound effect is utilised, we can more readily attend the dialogue itself. Which is a strange thing to say, considering we are reading the dialogue. Nevertheless, I need to hear it being said so as to ascertain inflection and emotion - frequently with foreign language pictures I recall hearing the words spoken in English, despite reading subtitles! The wonderful character of Kyoami - Shakespeare's ever-sharp fool, the one character allowed to speak the truth to the king - has some of the finest lines in the film (as his counterpart does in the play). "Man is born crying. When he has cried enough, he dies." Or, when Hidetora says, "I am lost." Kyoami replies, "Such is the human condition". Music, effect, and the spoken (and thus written) word mix to wonderful effect.
There doesn't necessarily need to be any overall beauty behind an image, but there needs to be something that is intentional about an image; a director must have specifically chosen that particular shot for a reason for it to make that added impact. Kurosawa's phenomenal sets are shown to admirable effect here, as the three Castles are filmed in great detail. The Japanese countryside is breathtaking too, truly showing how Hidetora could survey all he rules from the hill on which they are camped at the start of the film. With Japanese cinema I suspect there is much rooted in tradition that I do not fully understand. When I saw King Lear on stage it was in London with Sir Nigel Hawthorne in the titular role (a weak performance if I'm honest). What is interesting is that the production was a Japanese one, with a Japanese director. While there was much of significance in the performance, my notes that I made for my A level Theatre Studies have been lost. What I do recall is the importance stressed in the placing of the actors on stage (or, in this case, on screen). For instance, a character that walks down the centre of the stage is ascribed a greater importance than one to either side. While this may seem obvious, it is not always the case in Western productions, where important characters may linger in the wings. This importance may transfer to the screen as well, with every nuance or character placing within the mise en scene highly specific and symbolic. (I think that's the first time I've used the term 'mise en scene' in context since I dropped off my Film Studies course 8 years ago!)
This is the pleasure of Kurosawa. However much you take away from his films, I am discovering, the more it appears you have merely scratched the tip of the iceberg, to mix metaphors. That is the enjoyment of repeat viewings, of reading around the film. One can fully enjoy the film with no prior knowledge of the story or the film-maker's style. But one can enjoy it on multiple levels with that added knowledge. That, I think, is the mark of one of the finest film-makers.
- Homersimpson_esq
Ran depicts the fall from power of Hidetora Ichimonji (Nakadai), an aging warlord who decides to abdicate his throne and give the power to his three sons, Taro, Jiro and Saburo. Taro is given leadership of the clan while Jiro and Saburo are given other castles and told to support their brother, while Hidetora remains leader in name only. Saburo disagrees with his logic, thinking it is too easy for his sons to betray him, an act Hidetora mistakes for a threat, something that leads to Saburo's banishment. Once Hidetora abdicates, Taro's wife starts pushing for him to take complete control of the clan. When Hidetora kills one of Taro's guards after he threatens his fool, Taro demands that Hidetora renounce his title. He seeks refuge with Jiro, only to find he is only interested in using him as a pawn against Taro. Hidetora tries to travel to the Third Castle, vacant after Saburo's banishment, only to be attacked by his sons. Hidetora's bodyguards are massacred and Hidetora left to commit seppuku. He descends into insanity, left to wander in the wilderness. Hidetora discovers the few that remain loyal to him and they hide out in the ruins of a castle but he begins to hallucinate visions of the people he destroyed to gain power. When Saburo learns of his father's plight, he returns to aid him and go to war with his brothers.
Kurosawa's final epic was the most expensive film produced in Japan up until that point and it's one of the most astonishing visual spectacles in cinema. The magnificent battle sequences are quite possible the finest ever filmed. But unlike so much bad cinema where spectacle is mistaken for great film-making, Ran also tells a great and tragic story, filled with intelligent writing and sublime acting. The story takes its inspiration from legends of the warlord Mori Motonari. Monotari was famous for having three loyal sons, but Kurosawa tried to picture the results if the sons were disloyal. Kurosawa merged the story of Motonari with Shakespeare's King Lear in order to create one of cinema's great tragedies. Kurosawa had already proved himself capable of directing great Shakespearean adaptations and Ran is the pinnacle of not just his Shakespearean films, but also of his epic, period cinema.
Tatsuya Nakadai gives a remarkable, vanity-free performance as Hidetora. He is vain, arrogant and a ruthless warmonger who acquired his power through slaughter and treachery. We should despise him, and Nakadai refuses to play for audience sympathy. When Hidetora slips into insanity we begin to feel pity for him through the power of Nakadai's performance, a lesser actor may just have left the viewer with the feeling that Hidetora is getting exactly what he deserves. Nakadai shows us the warlord's regret and his sadness and creates a great sense of empathy with the character. He's ably supported by a strong cast, but the only performance that comes near to his level is Mieko Harada's astounding turn as the power-hungry and murderous Lady Kaede. This tale of ambition, pride, loyalty, betrayal and regret is one of cinema's true, undisputed classics, and while it's not quite the pinnacle of Kurosawa's career, it's a film that deserves a place in anyone's top 100.
- Rawlinson.
I don't know about others but I tend to find it harder to review films I've known and watched for years, particularly trying to explain why I agree the great ones are great.
Kurosawa initially took this idea from Japanese history. A lord with 3 good sons. But what, he wondered, if they hadn't been so dutiful? From there it was a fairly short step to Lear, and it is to Shakespeare that the greater debt is clearly owed (and not just to Lear – elements of Prospero and certainly Macbeth are clearly also at work. Here Kurosawa presents us with a play – not playing with theatrical conventions like Ichikawa's An Actor Revenge does, it is straighter than that, but still much more than simply putting stage settings before a camera in a powerful take of hubris, superbly told with some astonishing setpieces, particularly the initial silence through the battle at the 3rd castle as lives are lost and soldiers hurry hither and thither mixing and matching the red and yellow flags and then the burst of noise and brother turns on brother. Landscape is also a key part of the film, beginning on the lush hills on a hunt and ending up in a wasteland as Hidetora wanders to his death, but when Saburo returns it becomes verdant again and the greenery is used by his man to defeat Jiro.
On screen we see very contrasting acting styles – the 2 greatest performances are from Nakadai as the self-deposed great lord and Mieko Harada as the disturbed and vengeful Lady Kaede, both of whom have similar more formal acting styles (I'm told from Noh theatre), that makes them stand out in each scene and pointedly links the 2 characters (one wonders why he feels such remorse for killing Sue's family but not Kaede's e.g.). Most of the other performances are more naturalistic, but the 3rd great performance – from Peter – can be a halfway house, and he certainly has most of the best lines, making the most of them. This was really interesting for me as it was the first time I'd rewatched Ran since seeing Peter's debut for the first time (in Funeral Parade of Roses). As well as his frustration in trying to deal with a lord, whom he genuinely loves, gone mad, Peter is responsible for much of the humour in the film but I still think the funniest scene is as Kaede and Taro finally sit in silence in the main castle and she looks to her left and comments her mother killed herself there, looking at the spot as if the body still lies there – Taro's reaction is priceless.
I'd say there is a difference watching it on the big screen. According to the festival director and Optimum this is the current best available print, and it isn't perfect, but no matter. The big difference, I think, is the impact of Kurosawa's use of cloud's to separate and foreshadow events – the calm and stormy skies and, in one case as watch the transition to Hidetora's starving camp in the sun, the screen suddenly brightens and blinds you, shrinking your pupils as you look into the sun, and you just don't get that on the small screen.
- Elab49
It is fitting to have one loose Shakespeare adaptation followed by another, although it is safe to say that Ran pays a lot more attention to source material than The Lion King ever did. Lifting the plot of King Lear and placing it in feudal Japan, replacing conniving daughters with power-hungry sons, Akira Kurosawa takes one of Shakespeare's gloomiest works and injects it with all the spectacle, grandeur and emotion that the Bard could ask for. It's a mad, violent and glorious piece of cinema, chock full of iconic images and brilliantly drawn characters. Sure it's over the top, but then again it is Shakespeare.
When I first watched The Seven Samurai, I was impressed by the visuals and found myself dreaming of what Kurosawa could do with colour. This is still his only film of his I've seen not in black and white, but it is quite possibly the most perfect use of colours I have ever seen in a film. Because the three sons each have individual banners for their armies, the battle scenes are a blur of blues, yellows and reds, set off by the flickering light from flames, or surrounded by a panoply of green. Then other scenes are more sparse: Lady Kaede's beheading is shown only as a splatter of red against a white wall. This technique of off-screen violence is, I believe, popular in Japanese theatre and film, and here it has a violent impact that gorno films can only dream of. Somehow it just would not have worked as well in black and white.
In all of this colour, clothed in flowing white robes and sporting a haircut that would make Klaus Kinski jealous is the Lord Hidetora, spurned by two of his sons and having lost his third. He is the epitome of madness, driven there by grief and accompanied by a Fool. The fool acts as a Greek chorus, passing comment on the events of the film and sometimes pushing his luck with the honesty of his delivery. The two of them are surrounded by a huge cast of supporting players and extras, and whilst Tatsuya Nakadai is excellent in the lead role (and made my performances list) there is one performance which is a league above the rest.
Mieko Harada, as the villainous and scheming Lady Kaede, absolutely dominates the screen whenever she is on it. As the architect behind the downfall of Hidetora, she is a ball of fury both terrifying and compelling. She is one of the greatest cinematic villains, a terror beautiful to behold. Everything about her performance is worthy of note, even down to the way her lips curl with disdain whenever she smiles. That the rest of the cast do not fade into insignificance in the face of this stunning actress is an achievement in itself. That they all have a chance to excel shows how good a director Kurosawa is with actors, and how astounding Ran is.
And of course, because this is a film with battles in, I have to comment on them. I've been told by others that the battles in this are hugely influential on films that followed. I can see why. The breathtaking scope of the fighting, and the aforementioned use of colour make for melees which set the screen on fire with their violence and exhilaration. Yet at 2 ½ hours, Ran leaves time in between the fighting to mature its themes. As with all of Kurosawa's films, such is the way that he creates and explores his characters, and such is his way with a plot, that you rarely feel the length of this epic. Beautiful to look at, damned entertaining to watch and film making of the highest quality, were I to make a "best" films list as opposed to "favourites" it would also feature highly. It's a masterpiece.
Best: Kurosawa film; colour in film; beheading; Shakespeare adaptation; film that has a scene used as the opening to a computer game (10 points if you can name it).
- Swords