garvielloken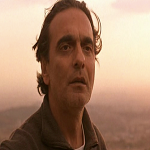 Posts: 879
Joined: 23/10/2011

quote:

ORIGINAL: Harry Tuttle



quote:

ORIGINAL: garvielloken

Watch Sherlock Jr first, it's amazing.




Indeed it is, I thoroughly enjoyed it. Some of the gags were totally outrageous (the riderless bike scene and the train and water tower bit) and some were just awe inspiring, even now. When he entered the cinema screen in daydream mode and had to deal with all the edits and cut aways, that was just fraking amazing.

I'll watch the General tonight.



Keaton broke his neck doing this and didn't even realise until a trip to the doctors years later. That's hardcore


< Message edited by garvielloken -- 13/12/2011 7:35:35 PM >

_____________________________

You expect me to pay to ride this filthy contraption? Have you the brain worms?!

Methinks that in looking at things spiritual, we are too much like oysters observing the sun through the water, and thinking that thick water the thinnest of air