Nexus Wookie

Posts: 2333
Joined: 24/9/2011
From: the Godcity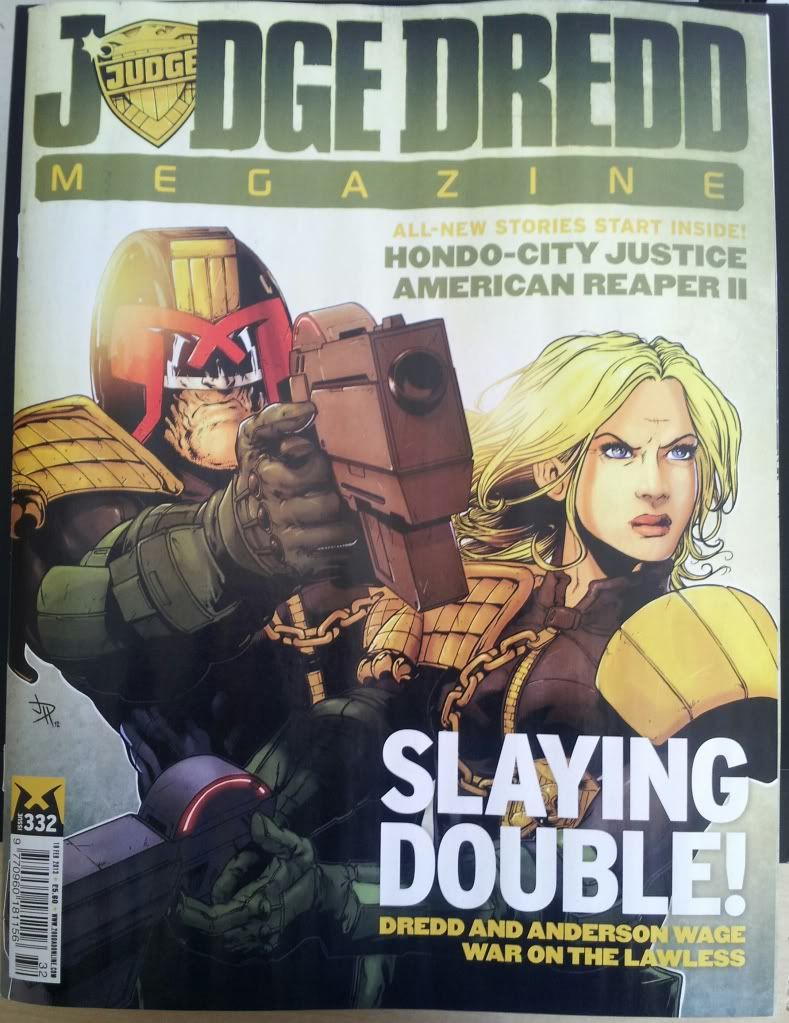 Wow!

I'm not exaggerating when i say that this months Megazine has been the best read since the Dredd Bumper Movie Special (#328). All the strips were rocking big time.

We started off with Judge Dredd: The Pits by Alan Grant and Jon Davis Hunt. It was a really great read involving Old Stoney Face and Judge Anderson, who go after a criminal ring that are stealing dead bodies from the Cursed Earth and selling it on the market as clothing/ fashion accessories! The artwork by Davis-Hunt was superb. The last panel in particular was great, showing poor old Cassandra at the end of her tethers...

Next up was Hondo City Justice: Revenge Of The 47 Ronin Part One; this was my first introduction to Hondo City and i have to say i really enjoyed it. The opening page was outstanding, giving us a glimpse into the history of the 47 ronin in feudal Japan. Robbie Morrison's writing coupled with Mike Collins magnificent artwork (and Cliff Robinson's superb inking) is a match made in Zarjaz heaven. The potrayal of the undead ronin in Hondo City 2135 AD was really cool, especially on page 6 with all their Sandman style speech bubbles and everything. Our protagonist, Judge Inspector Inaba has one hell of a case in her hands, especially where the undead ronin are concerned. Great opening, really looking forward to reading more of this strip.

American Reaper II Part One was up next. Written by Pat Mills and artwork by Cliff Langley and Fay Dalton - it was an absolute blast! I was apprehensive about the story because of the artwork - which is very photoreal, in fact it is possibly real, but my initial reservarions were totally blown away when i read the strip. The story is set in the future, New York 2062. Relating to identity theft wherin victims (mainly young) have their minds and personalities erased and their bodies stolen for rich, ageing/ dying donors. Special agents known as 'Reapers' are tasked with hunting down those that have illegally transplanted their identities, and take them down. It may sound quite far fetched (and believe me i couldn't help but grin when i read about people's consciousness or the 'soul' being transplanted from one person to another), but reading it was a surprise. You almost believed it could happen, and because of the style of the panels it almost felt like i was watching a live action film. Almost. The last couple of pages were really chilling, showing the ruthlessness of people driven by money, youth and long life. Pat Mills may not be firing on all cylinder's in the Prog right now, but here in the pages of the Megazine, he has firmly gotten the attention of this reader here. I cannot wait to read next months instalment.

Judge Dredd: Inversion was the last of the comic strips in this issue, and one i thoroughly enjoyed. But my enjoyment was more down to the outstanding artwork by David Roach. Rendered in black and white with grey tones and nice ink work.

As for the features Interrogation was a fascinating read, not least because Inversion's very own David Roach was under interrogation by Michael Molcher! It was nice finding out about Roach; his love of comics and his background. Such as collecting nearly 90% of British comics from well known ones to the obscure ones with his friend, and archiving them. Not to mention being an comic historian/ author aswell as artist on top of all that!




Some of the shots of his artwork were absolutely breath-taking to behold such as the one on the opening page (see above), which is for an upcoming Dredd tale entitled 'Witch's promise'. The level of detail in that panel is beautiful to behold. It was a great read. Normally i read all the Megazine extra's until last, but this time i read everything from start to finish, which made my reading of the last strip, Inversion - all the more enjoyable knowing that Roach was on artistic duties, and a story he mentions in his article too. That was really great.

Overall the Megazine was a really enjoyable read. In fact more enjoyable than this week's Programme if i'm honest and definitely the best since the Dredd Movie Special.

5/5






< Message edited by Nexus Wookie -- 27/1/2013 5:19:49 PM >

_____________________________

My blog: http://nexuswookie.wordpress.com/