Nexus Wookie

Posts: 2333
Joined: 24/9/2011
From: the Godcity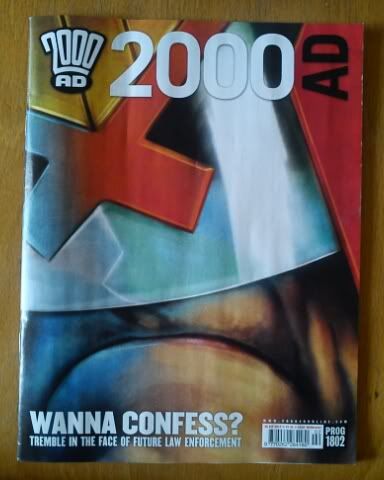 I read the recent programme last night and I have to say its been a brilliant read! Its a big improvement on the last programme (1801), and no printing cock-ups this time thankfully! So here's my thoughts on the stories:

JUDGE DREDD: PAYBACK (PART 2): This is the second part of the story which started in the last Prog. Basically the premise is as follows: ''with Judge' numbers severely depleted after the chaos riots, the chief Judge has ordered the Space Corp back to Mega-City One. But the marines are not settling in well - and General Gilmore and Judge Dredd are en route to a top-level meetinng with the chief Judge..'' I thought it was an okay story, not as enjoyable as previous stories. The artwork by P.J Holden was terrific though. To understand this story one needs to be a tad familiar with the Apocalypse War storyline. The Space Corp are pissed as hell and take their frustations out on Dolman. Dredd is more a spectator, and stays out of the action pretty much. Still, it was nice to see him admitting to having regrets about past actions.

TWISTED TALES BY BOB BYRNES: This is a weird one! The story is about some alien/duck hybrid thingy taking revenge on a human who splatters his/its family on purpose while driving. The artwork in black and white was great, even if the story was a little, erm, weird!


BRASS SUN (PART 3): Wow! Things are getting quite interesting in this story now! As I have stated before the artwork by I.N.J Culbard is really enjoyable, and I readily admit to being a fan (even if most of the characters noses look like Qui Gon Jinn!). I won't give too much away because seeing as its a mere few pages long, I could give spoil it for some! Suffice to say it ends on a huge cliff hanger and I cannot wait to read the next instalment!

ABC WARRIORS: RETURN TO EARTH: All I have to say about this week's story is WOW! The artwork by Clint Langley is bloody awesome! Theres a two page spread in the begining and I have to say my jaws just hit the floor when I saw it!




The story too is a massive improvement on the past programmes. For the first time I can honestly say what is going on! Brilliant.

GREY AREA (PART 3) The Same goes for this story too, i'm starting to understand the premise much clearly now and hence have enjoyed this Prog's story. We get to see who the 'alien ambassador' is, he's a cross between Spawn and a Alien (I mean Ridley Scott's Alien!). I have to say I loved the design. He may act like all kind, offering tea to our protagonists but you know deep down inside he's a sneaky bastard! The artwork (by Karl Richardson) has grown on me immensly. And I have to say that i'm really looking forward to next week's Programme!

So all in all a really strong Programme. I'm surprised by the fact that the stories which I found weak two programme's ago namely ABC Warriors and Grey Zone, are now begining to get very intrigueing and enjoyable to boot! So much so they've been the standout stories for me right now (along with Brass Sun of course).



< Message edited by Nexus Wookie -- 30/9/2012 4:35:51 PM >

_____________________________

My blog: http://nexuswookie.wordpress.com/