Nexus Wookie

Posts: 2333
Joined: 24/9/2011
From: the Godcity

I've finished reading the following;

THE KEEP; a brilliant graphic novel by F. Paul Wilson based on his acclaimed novel of the same name. This comic was written by him in response to the adaption of his novel The Keep, by Michael Mann, which he feel's was atrocious and nothing like his novel. The foreword in the comic by him is very honest, and he does not hide his disdain for the film, and the comic is his version of the 'film' so to speak.

I have to say that the thing which caught my attention first is the artwork by Matthew Smith (Hellboy, B.P.R.D). It is in black and white with red for blood. It is very striking, although it can be confusing at times. Sometimes it was hard to tell which character was which especially in regards to the Nazi officers. But it is still visually striking, and very original. Evocative of Mignola's work, although less detailed. But I liked it.

The story is about the Keep, which 'has stood empty in the Transylvanian Alps for 500 years. No one knew who built it, or why. But on the eve of WW II, German soldiers move in and awaken something - something hungry..'. It is a beautifully told story, full of gothic horror. I admit that before I read this comic, my understanding was that the monster inside the Keep was a Gollum - Jewish mystical monster's created from clay/earth. But the story's dark entity is something else entirely.....

I have to say I really enjoyed this comic. It might not be everyones cup of tea, but it is well worth a look. After this, i'm really looking forward to reading F. Paul Wilson's original novel on which this is based. Also just so I can compare it to the book - a look at Mann's film which if I remember correctly, got a favourable review from EMPIRE.

The Keep **** 4/5

RUNAWAYS VOLUME 2; is an excellent comic by Brian Vaughan! I really did not know what it was about, but nonetheless I really enjoyed it - much more that I thought I would. I didn't really fancy the artwork at first but it did grow on me. So much so that by the end I was quite a fan of it!

The story is about a bunch of teenage 'runaway's' who have fled their homes after discovering their parents are part of a sinister, murderous cult like organisation. The story is full of twists and turn's, and you genuinely start rooting for the runaway's. All the character's are individual's and have their own identity, with their own quirks. We even have a dinosaur along for the ride! I cannot wait to read volume 3 to discover the identity of the mole within their group!

I jumped head long into this series without even reading Volume 1 (thats what you get when you borrow from the library!), so I am hoping to get hold of the first volume, and take it from there. This is some really enjoyable stuff!

Runaways Volume 2: Teenage Wasteland ***** 5/5

THE OTHER SIDE; is a comic by Jason Aaron and Cameron Stewart. It is a harrowing tale about the horror's of Vietnam told from the viewpoint of two soldier's from both side of the war; one an American, the other a Vietnamese. It is an unflinching look into the horrors of war, and what it does to the psyche's of all those connected with it. Both protagonist's are led into a war which they believe is right, but slowly that myth is stripped apart.

The artwork by Cameron Stewart is excellent, conveying sometimes in images what these soldier's are feeling. The American soldier in particular suffer's from 'hallucination's' and dead people urging him to do thing's. There's a moment in the comic when I almost felt nauseous when the Viatnamese soldier and his comrades walk through a village where a whole scale genocide is taking place. The villager's (deemed traitor's) are made to dig their own grave before being herded in to the ground and shot. You can see the fear in the villager's faces. It is a scene which is hard to erase from the mind - this from a comic. The writer states in his foreword that the fact this is a comic does not lessen the impact or disrespect the very seriousness of war. And I agree - it is a medium much like film, and in fact sometimes more affecting than moving pictures. Because an image is more powerful and can convey a thousand thing's. The downside I felt, was both point's of views sometimes clashed and it got a bit confusing in some panels. But I think that could be remedied with a second read.

The Other Side **** 4/5

ORBITAL

Volume 1: Scars
Volume 2: Ruptures

This is a comic which was recommended to me by furrybastard, and I have to say i'm glad he did! It is a beautifully drawn science fiction comic by French/Belgian writer Sylvain Runberg and artist Serge Pelle. The art is very reminiscent of Moebius' work (as is the subject matter) also the artwork of Japanese comic book maestro Masamune Shirow (Appleseed, Ghost in the Shell).

The story is set in the 23rd century. The human's and the Sandjarr's (an alien race) are allowed to join an intergalactic multi-species organisation which was set up 8,000 years before. The human's are seen as an underdeveloped race by other member's of the organisation and had been kept out of all intergalactic affairs until now. Add to that the human and Sandjarr's past history of war, and dislike for one another. Caleb a human, and Mezoke, a Sandjarr, are paired together and trained as special agents. It's a historic alliance, and the whole races and world's are watching them.

In the first volume, they're both sent out to a planet called Senestam, as it is on the brink of war between the alien Javlod's and the human colony, who believe they have a right to be there and will not move from the planet.

This first volume is full of political and social intrigue. And I very much enjoyed getting to know and learn about this futuristic universe.

What I found fascinating was the detail which Pelle put in each panel. There is so much going on that you can spend a good few second's just glued to one panel.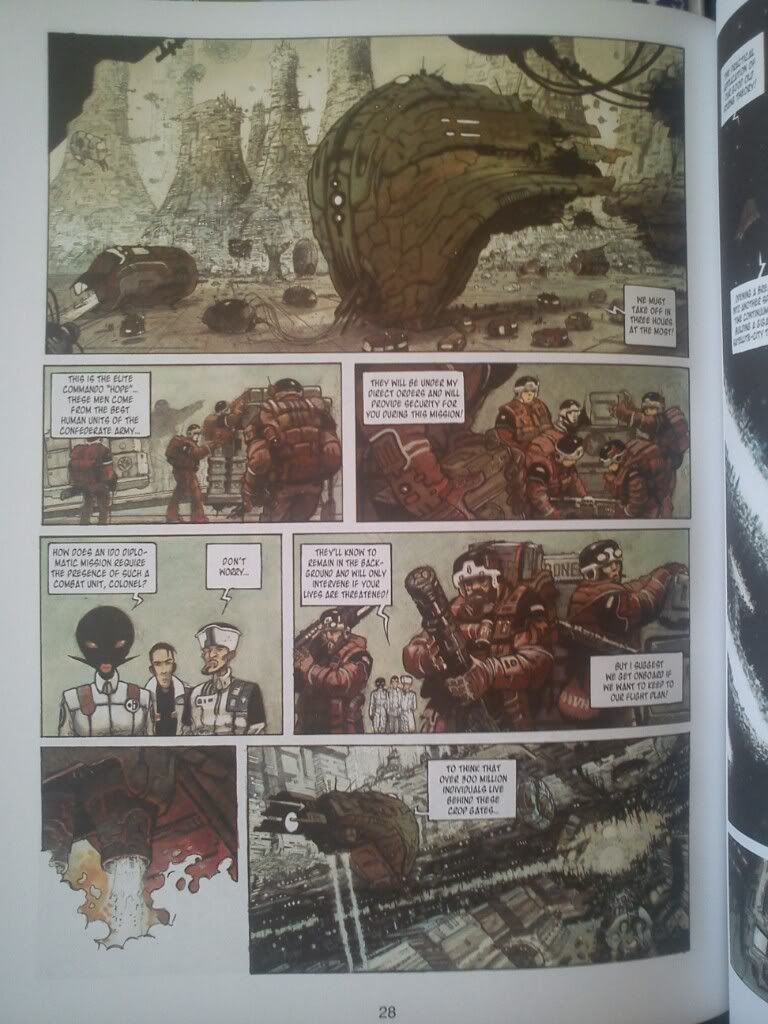 I think that's why it took me so long to finish reading it even though each volume is only around 48 pages long! It also show's the politic's of an intergalactic society with hundred's of different alien races having to get along with one another. And the hostility which some of the alien's have toward's the human's whom they see as a lesser race. Although for all their technological advancement, the alien's are still socially inferior to the human's.

The 2nd volume (Ruptures) is a continuation of the story from the 1st volume. There is an attack on the human colony by a destructive hive of insectoid's called Stilvulls. We also see Caleb slowly building a relationship with his partner Mezoke, who until then had not spoken to him (due to both their races past history). But slowly she/he starts to trust Caleb. I say she/he because although Mezoke seem's to be female, it is difficult to say what sex a Sandjarr is regardless their outward appearance! I'm sure that hopefully in the next volumes we may find out if Mezoke is (hopefully) female, otherwise my so called 'crush' on her would have been in vain!


This is a very enjoyable series. And Cinebook have again striked gold by publishing these beautiful comics. I very much look forward to reading the remaining two volumes sometime in the future.

Orbital Volume 1; Scars: ***** 5/5
Orbital Volume 2; Rupture: ***** 5/5


< Message edited by Nexus Wookie -- 19/6/2012 3:26:41 PM >

_____________________________

My blog: http://nexuswookie.wordpress.com/