TRM


Posts: 4796
Joined: 20/10/2006
From: Bristol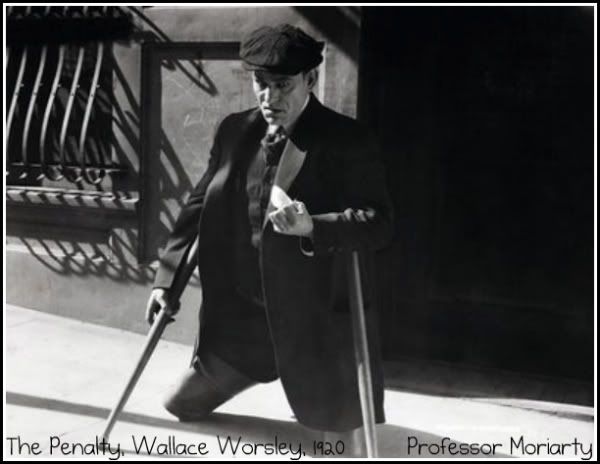 If I describe a Lon Chaney film as operatic, most people would jump to his later effort The Phantom of the Opera. But I've picked out the film that many would consider to be Chaney's first starring role as Blizzard in The Penalty.

Following a boyhood trauma that results in him losing both legs, Blizzard sets out to wreck his revenge on the city of San Francisco, where he sets up as a ruthless boss of the underworld. The film centers around two central plans Blizzard is hatching. The first is his plot worthy of any Bond villain to take over the city of San Francisco and bring it to its knees (pardon the slightly sadistic pun). The second circles around his admiration for a lady, a pair of legs and his personal revenge.

I truly believe that Chaney is one of the greatest actors of all time. Here he creates a ruthless villain, every scene played out in immense pain that Chaney subjected himself to, by painfully strapping both his legs up. But towering above that is a truly physical acrobatic performance, with both his body and his face. I hope you enjoy the film, forgive it the slightly silly ending within the overarching opera of the movie, and in particular admire Chaney's acting masterclass.

NB: I might have learnt most of my lip-reading from watching football on the TV, but does anyone else agree there's a scene where Dr Ferris tells Blizzard to "F*** off"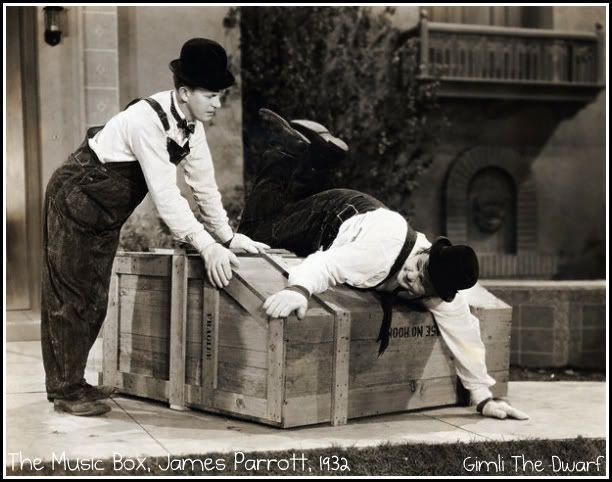 The 59th pairing for Laurel and Hardy is notable for two reasons. First it's one of their masterpieces. Second, it won the pair their only Oscar, the inaugural award for Live Action Short Film, a good decision by the Academy.

The concept is simplicity itself. Laurel and Hardy need to deliver a piano to a house that sits at the top of a massive flight of years, but the comedy mined from such a premise is plentiful and hilarious. A discussion here might well dull the effect, suffice to say that the film is a lesson in clever, subtle and funny slapstick. The film has some of the best remembered dialogue from the Laurel and Hardy filmography but the emphasis is on visual gags and it's incredibly difficult not to find humour in the various tragedies that befall the pair. As the piano continues to travel in the unintended direction, it's a joyous sight to behold, the piano itself also as important a character as the leads. Encounters with a nursemaid and a policeman only add to the tribulations of the day, and once the house is finally reached, a whole new world of disaster is opened.

It was Stan's own favourite film that the pair made, and general opinion these days is that it's one of the very, very best short films from the duo. For me, it's one of the funniest films ever made and would be an exceptional entry into Empire's Hall of Fame.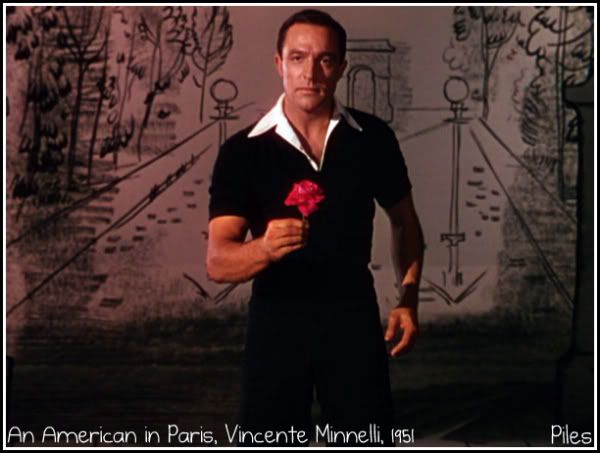 There's a moment in Lars von Trier's "Dancer in the Dark" where Selma, played by pocket-sized Icelandic popstar Bjork, says to another character, "You know when the camera goes really big and it comes up out of the roof, and you just know that it's gonna end? I hate that." Towards the end of "An American in Paris", as the music began to swell and the camera 'goes really big and it comes up to the roof', where I hated it. Not because of the conventions or the contrived nature of the shot, because this – the only musical I've ever seen to rival von Trier's bleak re-imagining of the genre – is a fantastic film, with so much beauty and class that it becomes one of the most absorbent and (pretentious buzz-word coming up) transcendent films I've seen this year. But, before we get ahead of ourselves, the plot. An American painter (Gene Kelly) is living in France with a pal from back home, an out of work concert pianist (Oscar Levant), and has recently got sponsorship from a rich and amorous lady named Milo (Nina Foch). Jerry falls in love with a young cashier named Lise Bouvier (Leslie Caron), who in turn is in a serious relationship with stage star Henri Baurel (Georges Guetary).

The first eighty or ninety minutes of "An American in Paris" are very good, if not as 'absorbent' or 'transcendent' or mind-blowing as I described in the first paragraphs. The musical numbers are charming and witty, particularly when the magnificent Gene Kelly is involved. He manages to include both charm and comedy in his routines, to go along with his obvious and self-evident talent. The people around him are just as talented, albeit in sometimes different areas. Oscar Levant is, obviously, a fantastic pianist, delivering his scenes with intensity at times and a soft, playfulness at others. Leslie Caron, who gets an 'introducing' credit in the opening titles, is brilliant in the ballet scenes and remains incredibly adorable, mostly due to her naivety, and a perfectly believable counterpart for Kelly's Jerry, who she also shares wonderful chemistry with. And then there's Guetary, who has one of the film's best early sequences, in his club on the stage, where he performs on his supposedly self-fashioned 'stairway to paradise', the individual steps lighting up as he meanders up them, girls hanging from the chandeliers around him. This dazzling sequence is both burlesque and baroque whilst at the same time remaining amazingly classy. These talents, though, are offset at times by the individual actors' flaws in other areas. Caron, for all her cuteness and fabulous ballet dancing, cannot really act for toffee, and Guetary isn't much better. Also, Oscar Levant struggles when he's required to move even a step away from his piano stool. It's only Kelly who impresses all round, with his singing, dancing, and all-round charisma making him the obvious star.

But all of these flaws (which are really minor anyway, especially when nobody apart from Kelly is really stretched) when we get to the final half an hour, which are quite possibly the greatest of any film I've seen, reminiscent of the Archers' epic "Red Shoes" ballet sequence (not the only reference to earlier films: Levant's dream sequence is a clear nod to Keaton's "The Play House"). Gene Kelly walks into one of his own drawings, which soon comes to life in a blaze of colour, with countless extras decked out in the finest fashion. These are some of the greatest sets I've ever seen, deliberately artificial, beautifully imagined, and fantastically brought to life in a whirl of dazzling colours. These, and the superb costumes, are only surpassed by the events on screen. Occurring silently and dazzlingly, this massive dance sequence is as beautiful as it is technically wonderful, with Kelly and Caron putting on an incredible show. It's also really quite subversive to think that, just before the film is supposed to end and the couple are supposed to be brought back together, Minnelli is willing to cut away and begin an abstract, thirty minute ballet sequence. And then there's the director himself, who really comes into his own on these scenes, his camera almost floating as it tracks and whirls amongst the actors, almost dancing with them. It's a beautiful sequence that elevates the entire film into one of the best I've seen this year.



From the very onset of Bonnie and Clyde, with the photos of the notorious bank robbing lovers as children, the viewer is greeted with an amount of awesomeness that can be contained only in film, the greatest form of art that human kind has concocted. I will say that this gem of a film is art, but that is not why it should be voted into this here Hall of Fame. The reasons for that go way beyond art. They might start with the dashing beauty of Faye Dunaway, or even Warren Beatty's perfect portrayal of the lovable and impotent little bastard, Clyde Barrow. Then they continue on to violence, and everybody loves violence. They don't stop there, they keep going to something we all love even more than violence: sex (Or at least attempted sex.) Those reasons all seem fine by me, but if I am honest, the real reason I want to see this film be the next entrant in this illustrious Hall of Fame (recognized the world over,) is when I was just a lad of 17 years I saw a film that changed me. My dad decided that his kids finally see the film that backed up his stories of a hometown robbery that Grandpa had witnessed. That film was Ocean's 11…Just kidding…that film was Bonnie and Clyde. After sitting there for an hour and 45 minutes, I realized something: films that were released before this weekend could actually be enjoyable. (This is a shitty blurb; I think I am supposed to talk about the movie, not my personal life.) That change made my life much more enjoyable, it lead directly to me seeing films that I otherwise would not have, and I am dearly grateful for that. That's why I would vote for this film if I were not me, but if I were you, because some guy you don't even know had an awesome experience with it and because of that he is on your forum telling you to vote for it. I should also mention there are a few moments in the film where I think I am going to get to see Faye Dunaway's boobs; these are very exciting moments for me every time I watch it.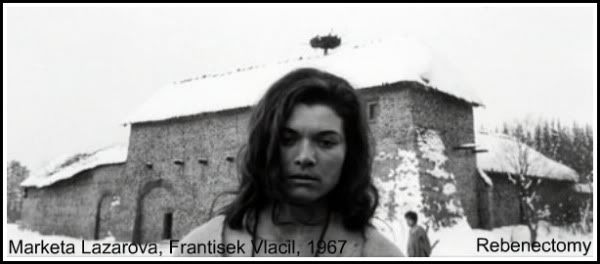 [align=LEFT]Focusing on a conflict between two 13thcentury clans, Marketa Lazarova is an atmospheric look at a society in transition, pitting the responsibilities of a new world order against the preservation of strong held traditions.

As a visual experience alone the film is something incredible to behold. Characterised by distinctive cinematography depicting a wild and robust Czech landscape, it is also notable for its distinctively un-sanitised finish; capturing both the look and feel of the period, whilst achieving a difficult balance between the beautiful and the beautifully grotesque.

Yet there is more to recommend it than just a bit of eye candy. With an intricate story built around the move from paganism to Christianity (coupled with a hauntingly affecting score), it explores human desires, emotions and fears on an almost fantastical level but maintains a healthy dose of grimy realism by contrasting the artistic imagery, folk law and superstition with some fairly loaded bouts of brutality. As a result Marketa is not always easy to follow and slips into dream like narrative in parts; and with layer after layer of symbolism, metaphor, feminist discourse, psychological exploration and comments on the human condition it is the very antithesis a freshman film student's wet dream. Don't let that put you off however; ultimately it's a superbly well-crafted piece of cinema, more than deserving of the latter day acclaim that it has started to experience in the past decade or so, and an experience that will stay with you long after the credits roll.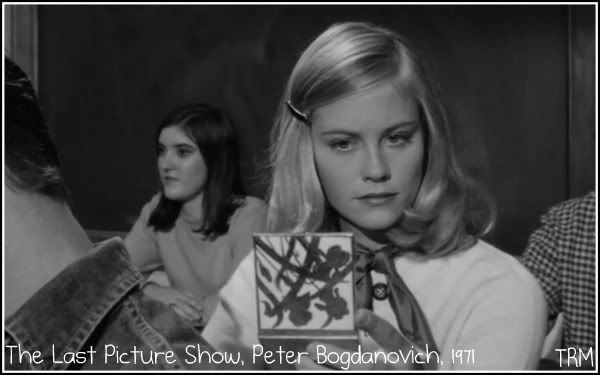 The period is 1950's America. Its a period where theatre houses would start to die out as the boom of the television started to hit, and the small towns would begin to have very little to keep their inhabitants. Anarene is just one of these towns. One of its locals is Sonny, is one of the high school seniors who now has to work out what to do with his life.

During the early 70's, a new breed of American filmmakers were starting to make great strides in Hollywood. Coppola was reinventing the gangster film, Spielberg redefining the rules of the blockbuster, Scorsese a series of raw films about outsiders in America, along with several others who were starting to make their mark. One of these other few which doesnt seem to get the credit he deserves is Peter Bogdanovich.

When The the last picture show came out, the films around it were pushing boundaries as far forward as they could, pushing the limits of the freedom studios could give and trying to get as far away from old hollywood and the studio system as possible. Bogdanovich was an exception. After his breakthrough , Targets, came The Last Picture Show. Here was a film which couldnt escape its connections to the golden age of hollywood. Filmed in black and white, following the every man, the realisation of lost dreams and a feel that is quintessentially old hollywood. Along with the style and the look, this all seems like a film which could have been made during that time, and yet, the startling thing is how fresh it all feels.

Bogdanovich may have restricted himself by aiming for a type of look and feel of a period long gone, but yet he doesnt obey their rules. The rules of where cameras are positioned, the pacing of the film, the types of music used, the nudity, these are all gone. With The Last Picture Show Bogdanovich has tried to create the film that old hollywood could have become.

Its a very unique vision, and a type of film that only Bogdanovich at the time seemed to worry about. Most of the directors would show their influences within small snippets of the films. Bogdanovich created a new great of the genre. Its something that not only did he do here, but would come back to try time and time again within his career.

Leaving this history aside though, The Last Picture Show is an exceptional film. Within Sonny, we have a boy most of us can relate to at some point or another. Here is a boy who cant help but love the place in which he has grown up, have feelings for the popular girl at school, want to keep his friends around him, is trapped by the well meaning intentions of his close friends, and desperate to find a purpose in life. The town around him is essentially dying. Sonny is a man who wants more, but knows that his chance of escape are non-existent.

Its this fact which makes The Last Picture Show so depressing. You can see Sonny wants to be able to be free, but there is always something holding him back. His choices never work out the way he intended, and he falling further and further away from his dreams all the time.

This fall is of course tragic, and one of the high points of 70's cinema. Its the fall of the American Dream, as we know Sonny's life is going to end up the same way as the picture house and the town, and there is nothing he can do to prevent it.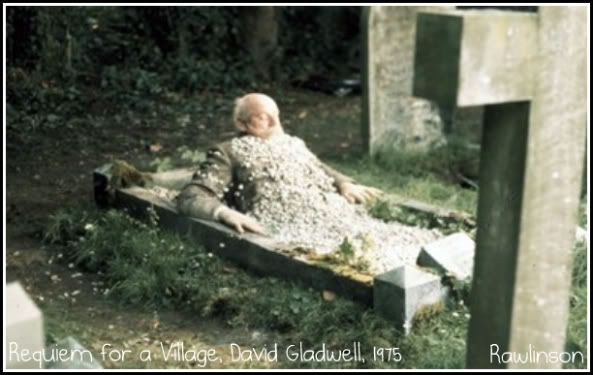 We open in the English suburbia of the 70s. An old man takes his bike out of his shed and rides out into the nearby country, modern life gives way to the pastoral as cars disappear to be replaced by shots of cows and chickens feeding, before we finally reach the village graveyard. The old man is the groundskeeper, and he's come to tend to the dead. Inside the church is a town meeting, shots of diggers tearing up the landscape is explained at the meeting, developers want to tear down the woods and the old village to build new estates. As the vicar talks of the generations that have lived and died in that little village, the groundskeeper begins to remember the lives of those buried in the cemetery. In one of the most memorable scenes in a film packed with surreal little moments, the dead begin to rise from their graves to lead us through earlier times in the village.

It's easy to read the film as tradition = good, progress = evil, but I think it's more complex than that. There are several scenes where time shifts and overlaps, where characters from different time periods almost intrude on each other. I think Gladwell was calling for us to remember that we are all linked, through the land and through our interactions with each other. It's true that machinery is seen as dangerous, but it's also seen as necessary for survival in earlier times. I think the fear of technology comes from the changes that were taking place on a large scale in rural areas during that time. Ways of life were changing and something was being lost, whether you think it was something good or bad.

The film is impossible to classify. It's a rural drama, an ode to memory, a documentary, a mood-piece. Some sections could easily be claimed to fall into the horror genre, and you can certainly see similar sensibilities to the kind of horror cinema that Britain was turning out in the period. A fascination with older customs that recalls The Wicker Man, Blood on Satan's Claw and Penda's Fen. It's not really horror though, the dead rising is simply a means of interacting with the past without simply using flashbacks, but it retains the same unsettling air as many of those films. The director had famously been the editor for both If.... and O Lucky Man, and he brings much of that surreal worldview to his own directorial work, using an amateur cast, very little dialogue and an astonishing choral score to create a film that succeeds through it's otherworldly atmosphere. All of this in a film that runs only slightly over an hour long. It's a film that deserves both recognition and your vote for the Hall of Fame.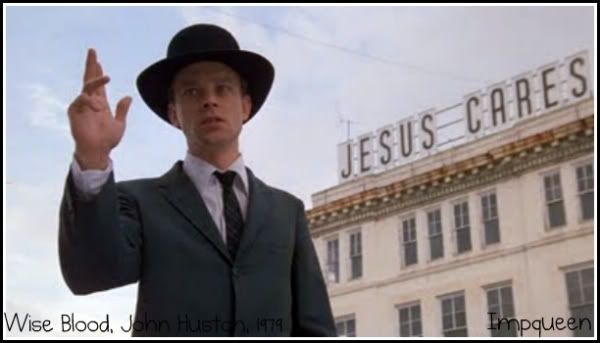 Young, Southern and ambitious veteran Hazel Motes (Brad Dourif) is determined to make something of himself in the world. Though he himself does not believe, having witnessed the frauds and neon lit Churches on the streets, he decides the best way to achieve his personal goal is to become a Preacher, he gets a new hat and so begins the Church Without Christ.

I am an enthusiastic advocate of Flannery O'Connor's beautiful, unique, surreal, harrowing and poetic Southern Gothic novel, Wise Blood. It is a book that is little on length but huge on character, ideas and eccentricities. The general consensus always appears to be that film adaptations are never as good as the source material, there are obviously exceptions. John Huston alone adapted and directed numerous films taken from outstanding novels and through his brilliance, diligence and fidelity to the source produced cinematic works that seemed to leap from the pages of their printed origins and wonderfully so, in the case of Wise Blood even the legendary director excelled.

Wise Blood is a savage portrait of religion and evangelicalism however the film (like the source) isn't as straightforward as it may first appear to be. Despite a focus on spirituality and in spite of casting an avid eye on outcasts, eccentrics, the abnormal, the abhorrent and grotesque (whilst never attempting to make excuses for them) it's a film that shows even these individuals have the same wants and needs as everyone else, they too desire love and to be recognised for who they are and what they have achieved, they too are human. The film is exceptionally amusing, it's not funny ha-ha and you can easily find yourself laughing/chuckling one moment and immediately ill at ease the next but it is still absurdly comical at times.

The film is littered with inspired performances from a small superior cast including Harry Dean Stanton, Huston himself (credited then and now as Jhon Huston) and Ned Beatty. However if the film's vision belongs to Huston and Flannery, Brad Dourif is it's heart and soul giving quite possibly not only his finest performance but one the most sincere and passionate lead performances put to screen. Motes is never a sympathetic character and much like Huston refraining from justifying his oddballs, Dourif does not give his character an accessible humanity that would have made him far more appealing, it's a bold and brilliant decision and as such Dourif displays the talent he has and always has had when given the opportunity. It's a powerful and extraordinary turn one that if it were given today would have all the shiny awards chucked at it.

I would recommend reading the book too being that it's a brilliant piece of writing but also it will give you an appreciation of how well John Huston and his cast did in bringing Flannery O'Connor's work to the screen.




You can watch Wolfgang Petersen's submarine masterpiece in a variety of different lengths - Director's Cut, TV miniseries version, a shorter still length - but in a way, it doesn't really matter. Any version you watch is a completely immersive (do you see what I did there?) and knuckle-whitening experience as good as any that Hollywood, or any other country, has come up with. A German war correspondent during WW2 is assigned a task of joining a U-Boat crew to capture their experiences at sea, primarily as a propaganda exercise. But what he sees, hears and experiences is far, far different from the glory of war. The crew are split between the new and idealistic and the old and embittered, who have been on one too many missions. It's an incredibly even-handed look at warfare, with the German soldiers not particularly lionised, nor criticise, by Petersen. They are what they are, a mixture of young and older men, all doing the job they're told to do even if they don't particularly believe in the cause they're doing it for anymore. It's also a film as terrifying as it is cynical - the submarine creaks and groans around them, the hull buckling under the immense pressure of the sea as they're forced deeper and deeper to avoid detection. If it doesn't matter *that* much which version you watch, what does matter is how you watch - on the biggest screen you have with the best possible sound system. You will be needing some fresh air and a good walk outside afterwards. Throw in one of the most amazing scenes you'll ever see in any war film - the attack on the British ship - and you have the single greatest submarine film ever, and one well worth a place in the Hall of Fame.




Kusturica's tragifarce about Yugoslavia and its decline is something rather special indeed. It's a symbolic, metaphorical, political, extremely sad and incredibly funny film that starts with the Nazi invasion on the Balkans and ends with the Yugoslav Wars as the country that was known as Yugoslavia heads towards self-annihilation and fragmentation. Without spoiling much, the first part deals with the invasion itself as two underground fighters fight off the Nazis, the second and longest part deals with an underground weapon making facility driven by lies and finally ends with the long period of tragedy known as the Balkan Wars. The movie features an element of magical realism as the rather fantastical plot intertwines with real political events that are occurring during the 30-40 years of Yugoslav history. In the middle of all this madness there are three friends as the films progresses, their friendship becomes exploitative, polluted by lies and ends with heartbreak. The film mostly flies through its three hour running time and massive scope; it's loud and noisy with Goran Bregovic's soundtrack bursting in the surrounding with a band chasing the leads in most of the shots. It's somewhat rowdy, absurdist and outrageous in its humour and every beautifully composed shot of it is full of vitally, be it whether it is full of life and joy and surrounded by death. A feature to commend about is how it mixes it's fiction with real life events, both on a technical level (the title cards presented in the manner of a silent film as one of the characters is on the same balcony with Tito) and on a more metaphorical one, as the fantastical and absurd events on the film mirror those of Yugoslavia. It also features one of the most haunting, spectacular endings of all time and believe me, this hyperbole is warranted. There are some doubts on the films' politics that can be dubious and it is not always consistent in tone, and there is the Cold War segment that might be a bit too strained, but there is so much quality here and such scope, these flaws can be forgiven.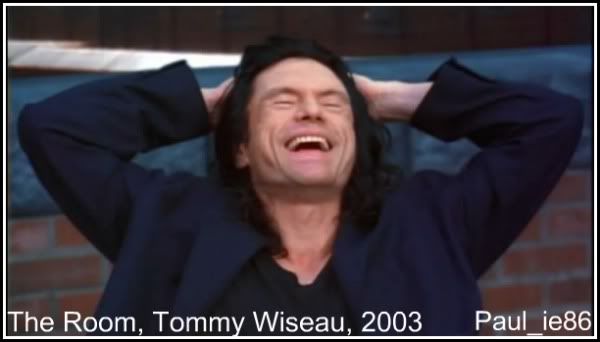 [align=LEFT]

"You're tearing me apart, Lisa!"



This San Fransisco set film has a sprawling storyline- reminiscent of Robert Altman and Paul Thomas Anderson- which deals with subjects as varied as breast cancer, drug dealing and the machinations of the banking sector. Owing a significant debt to the works of American realists such as Arthur Miller and August Wilson, it is a testament to Tommy Wiseau's incredible talent and keen sense of the drama in the everyday that it emerges as worthy a piece of art as any of the most canonical works in modern American theatre of film

The Room is obviously a labour of love for Tommy Wiseau. He wrote, directed, produced and starred in the film. He obviously wanted to impart an important message to us- women are evil and are not to be trusted. This is shown when Johnny's future wife Lisa not only seduces his best friend Mark (who of course is powerless against Lisa's feminine wiles) but also lies to people, telling them that Johnny physically abuses her. In my opinion, Lisa rivals Nokiro in Late Spring as one of the most realistic female characters in cinema.




I hope you find this worthy of a place in the Hall of Fame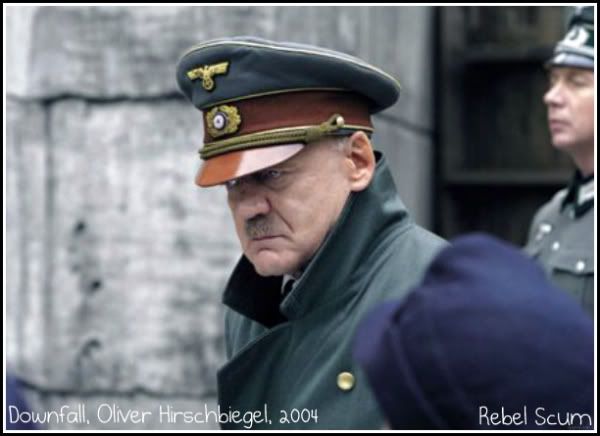 It's a brave film that would dare to tackle the fall of Hitler as objectively as possible. It's a suicidally brave one to attempt that and be German. And yet here is a film that tackles it without demonising Hitler, and is also one of the most thought-provoking films not just about Hitler, or World War 2, or even war, but of man's inhumanity to man. Part of this is due to the brilliant choice of making Downfall an ensemble piece, of which Hitler is just another character. For example, while his death is seen as a significant event, the film continues regardless, fully aware that the death of Hitler was not automatically the end of the war, and the confusion that ensues after Hitler's death is the most realistic portrayal of the period on film.

Part of the praise must go to Bruno Ganz's portrayal of Hitler. While the screen has seen many Hitlers, all of them have been played as one rung down from a cacking master-villain, a man who callously orders thousands to their death while stroking his pet dog. Ganz is the only screen Hitler to embody what the dictator was actually like at the end-beat down, but delusional and refusing to accept that the war may be lost. It's to Ganz's credit that his Hitler comes across as human, even to an audience bringing all their preconceptions of the man in with them. It's one of film's greatest performances, and the fact that Hitler still remains a character in the film's ensemble is credit to the other strong performances from all involved-there is not a dud in the mix, no performance that screams fake.



And indeed that's the best praise I can lavish on this film-even to me, a History student, this film feels real. It's a snapshot of a nation's darkest hour, a pitch-perfect portrayal of life in Nazi Germany that puts any other film tackling the subject to shame. This is a film where there are no heroes, only people going about their lives under the most strenuous of circumstances. A film, in short, which fully deserves the recognition of the Empire Hall of Fame.

[align=CENTER]




On September the 11th 2001, two passenger airplanes slammed into the World Trade Centre, killing everybody on board; within two hours, the towers collapsed. In Arlington, Virginia, a commercial airplane crashed into the Pentagon. Another passenger plane - -United Airlines Flight 93, which was meant to be slammed into the White House - - crashed in a field in Shanksville, Pennsylvania.



Paul Greengrass' film is an account of the passengers of Flight 93 brave but doomed attempt to wrestle control of the plane from the terrorists who have hijacked it.

In United 93, Greengrass utilises the same handheld camera work he employed in the last two Jason Bourne flicks and naturalistic lighting to achieve a documentary like aesthetic. To play the roles of the passengers Greengrass employed mostly unknown actors, and as the staff members of Air Control rooms, NORAD and the FAA, he cast the people who actually worked in those sectors during the events of 9/11.

These elements combine to make a film that is shocking, emotionally devastating and heartfelt.

United 93 is a tough, harrowing and draining film, but it's also an important and riveting one that depicts those terrible events with the intelligence and sensitivity it deserves, and with as much veracity as possible

Deadline 8th January 2012




< Message edited by TRM -- 3/11/2011 7:08:18 PM >

_____________________________

I'm going out to the states to redeem the social outcasts. My only real ambition is to cultivate Texas. I love Texas. You must watch "The last picture show". That film! It was my first real sexual relationship.