974.
Berlin Alexanderplatz
(1980; Rainer Werner Fassbinder)
Last Year's Position: (617)
The film is the story of Franz Biberkopf (Lamprecht). As the film opens he's just being released from a murder sentence, after killing his prostitute girlfriend when she left him for another man. On his release he proceeds to attempt to rape her sister before starting a romance with a barfly named Lina. During the relationship with Lina, he vows to become one of the few honest men in the corrupt Weimar Berlin. Franz tries not to be a criminal, but the economic conditions of the period make it impossible for him to survive. He tries everything from selling shoelaces to porn to Nazi newspapers. When Franz is betrayed by his friend Otto over a woman (a widow who Franz has sex with and Otto blackmails) Franz loses all faith in the world and goes on an epic drinking binge. While recovering from his debauchery, he meets Reinhold. An event that will have a catastrophic influence on Franz's life. They make a strange arrangement where Franz takes Reinhold's latest woman from him when he tires of her. This odd friendship comes to a head when Reinhold tricks Franz into going on a robbery with him. When he thinks they're being followed by the police, Reinhold throws Franz out of the moving car, leading to his arm being amputated. Franz no longer wants to be honest, realising there are no options for a one-armed man in Berlin. He becomes a master fence and meets a good woman, a prostitute named Mieze, but the evil Reinhold isn't out of his life, and more tragedy is set to follow.
A plot summary doesn't do justice to his remarkable work. This adaptation of one of the most highly respected pieces of German literature is Fassbinder's most complex directorial effort. It's a monumental achievement, one of the finest in the history of cinema or television, with an epic scope to rival that of The Wire. It's also an intensely personal film for Fassbinder, a longtime dream project that stretched back to when he read the novel as a teen and Fassbinder identified with the childlike hero, Biberkopf. Late in his life he realised that he had taken in the novel to such an extent that he claimed he had been making Dobin's work into his own life. He named the lead in Fox and His Friends (who he played himself) Franz Biberkopf, the name Franz recurred throughout his career and several of his films had their roots in the novel. At the film's heart is a three way love story between the vulnerable Franz, the predatory Reinhold and the naive Mieze. The film plays like a linked series of short but brutal stories, as Franz's attempts to be a decent man are constantly undermined by the society he lives in. It's a tawdry world, but Fassbinder finds something beautiful and glamorous there. The characters are whores, pimps and thieves, but there's a tenderness about them and there's a purity under the rough edges.
It's an incredible visual achievement, with the art direction and cinematography vividly recreating the Weimar era Berlin, and it's perfectly acted all down the line. But as good as the supporting performances are, Gunter Lamprecht gives one of the all-time great performances as Franz. Without a great performance to anchor it, Berlin Alexanderplatz could have slipped into unpleasant melodrama. Franz is a murderer and rapist, but Lamprecht finds the humanity in the character to make his attempts at redemption believable, honest and painful. This is a shattering, heart-breaking masterpiece and a film everyone should devote some time to.
- Rawlinson
974.
The Big Country
(1958; William Wyler)
Last Year's Position: (766)
Blurb coming soon
974.
Breakfast at Tiffany's
(1961; Blake Edwards)
Last Year's Position: (945)
Audrey Hepburn is splendid throughout this charming little romantic comedy that contains enough dark elements to contrast against the lighter moments. George Peppard is also excellent and the two stars have wonderful chemistry together. It's maybe dated a little now but this is the perfect example of rom-com done good.
- Beetlejuice
974.
Finding Neverland
(2004, Marc Forster)
Last Year's Position: (513)
Blurb coming soon
974.
5 Fingers
(1952; Joseph L. Mankiewicz)
Last Year's Position: (766)
Efficient filmmaking from Mankiewicz (and Brodine behind the camera brings a dark noirish look to nights out in Istanbul) but the real stars here are scriptwriter Wilson and Mason's beautifully supercilious lead, a spy who cares nothing for causes but just wants the money.
Based on a trueish story (although I'm not sure if Hansard will tell us if it was actually raised in Parliament!), books were published by the German inbetween man and later by the spy himself. Mason is valet to the British ambassador and offers to pass on secrets for cash, cash to fund a new life for him and his former employer, a self-serving bitch of a countess who not only steals from him but tries to get him killed as well (in the process actually helping to create sympathy for the spy). Mason's Diello doesn't particularly care about the German causes, he isn't even that interested in what he is photographing. As a poor Albanian who had to make himself a gentleman, what riles him is class. In one particularly venomous speech he refers to his betters expecting no less of him than to dally with chambermaids. The real story doesn't have the romantic subplot but an even more fascinating tale of the German's secretary also being a British spy but I guess that might have seemed more fantastic, and given too big a role to a co-star.
Apart from the reasoning, this is one of the best spy thrillers around. Mason outclasses everyone in sight in one of his best performances, inexplicably missing an Oscar nomination in a pretty poor year. Did they not like nominating 'bad guys'? The politics of neutral countries even allows him a free pop at Michael Rennie's pursuer.
In retrospect we know this to have been written by one of the screen's least known writers of famous films, another victim of blacklisting. Although Michael Wilson now has his credits for Kwai and Lawrence the most interesting is probably still one of the films that really slipped under the McCarthy radar under the guise of heroism - with fellow blacklistee Dalton Trumbo and fighter against censorship Ben Hecht he penned The Court Martial of Billy Mitchell. No doubt Preminger and Cooper, a star strongly opposed to the blackist, also signed up fully understanding the
political subtext of the film.
On a completely separate side-note - the chap playing von Papen is the absolute spit of him.
- Elab49.
974.
Hair
(1979, Milos Forman)
Last Year's Position: (766)
Blurb coming soon.
974.
In the Mouth of Madness
(1994; John Carpenter)
Last Year's Position: (-)
One lingering question hangs over this film like one great big black cloud, why the hell is it not available on region 2??? I really, honestly don't get it. My number two best horror of the nineties, and it has appeared on many horror lists as one of the best. This film was the reason i eventually got my dvd player chipped. Some dumb fuck somewhere has let this one sit on the shelf for 15 bloody years as a vhs only version in the UK. Come on distributors, sort it the fuck out!!!!
Rant over, now to the good stuff Oh my oh my, what a film we have here! Most definitely Carpenter's last classic, and easily his best since the Thing, in fact, it's probably his second best film, behind the Thing. In the Mouth of Madness is a real brain teaser. I remember my first viewing of this film, and going down the local straight after watching it. I sat there, in a corner, i didn't speak to anyone for some time, i just stared out into space, sipping my beer. My brain was a mess, my senses were all over the place, i couldn't concentrate, couldn't think straight. Am i living in reality here, or is this some bizarre incident from a story, am i a puppet, is nothing i do or say my own choices, is reality really what i think it is, or have i got it all wrong. Bloody hell, when a horror fucks up your poor little brain and turns you into a blundering, almost vegetable, hell it deserves recognition! I was a total mess down the pub, and it took me a few beers to get my head straight.
The film is lead by Sam Neill who plays an insurance guy by the name of John Trent, a realist, a guy who sees what's in front of him and doesn't believe in, shall we say, hocus pocus He has been hired by a publishing company to track down their most profitable writer, the mysterious Sutter Cane. Cane, apparently, out sell's Stephen King by the bucket load and his work is known to have an effect on the reader, basically turning them into a bit of a psychotic, basically, a bit like me down the pub that night Trent decides to delve into this horror writers work after being told of how is books effect people. A truly mesmerising scene see's Trent and his boss in a cafe talking about the case, whilst creeping up outside is a crazy looking man who looks like he should be homeless. He has a huge great axe, and uses it to smash through the cafe's windows in order to ask Trent "do you read Sutter Cane" in a strange, higher than expected voice. He could've just used the door, but it wouldn't have had the same effect! He is shot dead, and Trent is a little nervous, and after finding out the guy was actually Cane's agent, Trent starts to believe that maybe the books do have some sort of hold over its readers.
Trent reads, and nightmare visions become all too frequent. A brilliant scene, reminiscent of the classic dream sequence from An American Werewolf in London, sees Trent wake up from a nightmare, only to turn head on into another. Its these moments that show Carpenter's skill, and proof that he can make as many Ghosts of fuckin Mars as he wants, but he still has this film under his belt! Starting to go a little mad himself, Trent believes he has found a map to Hobb's End, the town mentioned in all Cane's books, and the place he expects to find him. He heads off, using his map and taking a female publisher, and has an almost childlike optimism that this whole thing is a set up, a way of getting him to help sell Cane's new book. The build up before this gradually gets more and more intense, as Trent's visions and mental state seem to be getting worse. And who better to play the part than the King of all things weird and crazy, Sam Neill. Anyone else, the film would not have been as good, it would still have been a classic, but Sam Neill's commanding central performance pushes its level of greatness just that little bit further.
As we head towards Hobbs End, Carpenter is clearly relishing in his inventiveness at really messing with our heads. We have Cane's agent who keeps making an appearance to Trent's dreams, saying "he see's you", and an odd looking Cane fan in a book shop also telling Trent "I see you". Everyone seems to be able to see him! So Carpenter brings us to Hobbs End in fantastic style. Trent, still full of excitement at this hoax, the woman sleeping, and we start to see a young lad on a bike ride past the car in the middle of nowhere, in the dead of night. Not once, but a few times. It's creepy to say the least. The woman takes over driving, and in a scene very much like the arrival of the Cenobites in Hellraiser, she drives through a dark tunnel with strange lights coming through the gaps. Bright light all of a sudden, Hobb's End, we have arrived. Fully expected to be the stuff of nightmares, it look like your average country town. Nothing strange or odd about it. What the hell was all this fuss about. They check into a hotel from one of Cane's novels, but hey, what that? The woman who apparently cut her husband into little pieces is nothing but a frail old bag who probably couldn't harm a fly! But there is something sinister going on, the paintings seem to be moving....
Trent still believes it all to be a hoax, and even after witnessing the towns folk attempting to Lynch Cane at his Demon church in order to get their kids back, Trent does not believe. Nobody pulls his strings, this is NOT reality!! Carpenter lets loose some great set pieces, like Cane's dogs coming out from the church, all in slow motion, and attacking the locals, the excellent use of paintings which are ever changing, the creepy old lady in the hotel, could she really murder her husband? The mood continues to darken and become more and more dreamlike. One of horrors truly great moments happens as Trent decides enough is enough and he tries to leave. After witnessing the woman he is with swallowing the car keys, and letting out a really heartfelt "Jesus!!!!", he drives off. That young lad who they kept seeing at the side of the road, is there again, this time he is old and they knock him off his bike. After riding off, Trent is dealt another horrific blow, his lady friend has turned herself upside down, in a brilliant special effects and perfect sound effects moment, and she appears from behind the car. You almost want to laugh, but it's just too damn unsettling to laugh at, you're horrified! And then Carpenters big moment comes, one of horrors true greats, Trent on his way out of town, suddenly drives back into town "a few bad judgements, a few wrong turns" says Trent Ok, let's try again, whoops, no, not gonna happen! He can't get out! Its genius, a brilliant brilliant moment!
Even after all this, all this pure horror brilliance, playing everything perfectly, doing everything you always hoped a horror would deliver, Carpenter still has even more great moments up his sleeve. In the Mouth of Madness is literally full of all those horror moments that you cannot help but love. Not horror cliché's, Carpenter is too full of ideas here for that, but horror moments, and some even nodding back to the 80's heyday. Another nod to Hellraiser is when Trent is literally chased out of Hobbs End after being told his fate by Cane, and a bunch of wonderful, non-CGI moments chase him. You only get glimpses of the beasts, but it's just enough, and they do look awesome. Cane himself is not quite how you expected him to be, he's devilish and creepy but has a charm to him, a feeling you would've got from Julian Sands as the Warlock. He's evil, but not made to look over the top evil. He doesn't need to hide behind horrific monstrous looks; he's more a confident evil bastard!
We finish off on a most excellent ending, full of more head fuck, jump out of your seat moments. We truly sympathise with Trent's mental state, and a sudden moments when everything inside his coach turns blue, you find yourself literally screaming along with him. I won't go into any detail about the end in case you haven't seen it, but it's a great twist, and very few horrors have pulled off a mind-trip quite like this. It's a truly wonderful finish to a perfectly polished film, and the final scene will either have you applauding at its greatness, laughing at its irony, and screaming your damn head off. Either way, In The Mouth of Madness is one of the last truly great horrors with more ideas than it could justifiably squeeze in to 95mins, more terror, more brute power than most other horrors put together. It is a one off, one that doesn't require a sequel, or a feckin remake, it just requires a damn fine special edition version on region 2!!!!
10/10
- dj vivace
In 1994, we saw two things. John Carpenter finally making another good film and at the same time seeing the end of his director legacy as since this rare beauty, the man that give us Halloween, The Fog and The Thing, as simply vanished into B movie horror.
The film that sits proudly at the number one was a huge flop! It was! If you want to ask me why? Then I can simply not answer that! Maybe it was ahead of its time, maybe the different and weird tone was too much for the audience of that year, who knows? But one thing I do know, that over the years the reputation of this film as increased and now its considered a lost film of Carpenter's, waiting to be discovered by his hordes of new fans.
In the Mouth Of Madness is heavily influenced by the works of H.P.Lovecraft, even the title is slightly borrowed from one of his plays "At the mountain of madness", and like his many tales, the nightmare on show here as to be seen to be believed.
We start off in the present and see the man of the story John Trent in a sort of mental breakdown in a padded cell. Black drawn crosses fill the surrounding walls as Trent begins to tell his story of how he got there. At first the plot seems basic if not borderline boring, as Trent is a Fraud investigator whose next case is discover why a famous Horror writer as disappeared! So far so simple and for the a while this film seems to be nothing special.
But then a change of tone and pace develops as Trent goes further into the disappearance of Sutter Cane, he slowly begins to lose his sanity and for the watching its a trip into a nightmare world of things all black.
Sam Neil is simply outstanding in the role. His straight laced to demented man is a portrayal that should have won more acclaim than it actually did. He plays it with such an energy and vibe that its hard not to feel sympathy for the man who is just trying to do his job. Jurgen Prochnow and even Charlton Heston are all great supports as the film moves into a strange world of horror.
Fans of Carpenter rejoice, all his signature moves are here from certain shots to his own created music. The truth is when big John is as good as this, no other horror director can touch him, its just a shame we do not see it any more.
In the Mouth is no question one of thee underrated horrors ever to be ignored. Its simply a wonderful horror and concluded Carpenters self confessed "Apocalypse Trilogy" following on from The Thing and Prince of Darkness.
Its not Carpenters best film but that's only because the films before it are in a different league to most horrors. It is though in my opinion 90's best horror and a film destined to be found by a new generation.
- HughesRoss
974.
Lolita
(1962; Stanley Kubrick)
Last Year's Position: (-)
Lolita is many things: Shocking on its release, surprisingly humorous, chillingly abrupt, and with a quaintness that appears at odds with the content. However, it is a film that explores the darker, less-written-about paths through the human psyche and presents them in an almost straightforward way that burrows into one's view of acceptability until one has to step back and think, she's fourteen. The shock is somewhat lessened by Sue Lyons actual age, as she clearly looks older than her character is supposed to be. Not acceptably older, granted, but older nonetheless. She is also viewed alongside the horrifically ordinary (or as Quilty might say, 'normal') Charlotte Haze, who begins to grate not only on Humbert (Mason) but on the viewer as well. We are supposed to find Lolita the more reasonable of the two. Just as Poirot or Miss Marple were given the illusion of exceptional powers of deduction when surrounded by idiots and fools, so Lolita is given the illusion of exception powers of seduction, when surrounded by the same. Indeed, the film is not an impartial account, but a view of the world through Humbert's eyes. So it is that "Lolita's Theme" as played over the intimate credits sequence is melodious, and aching, and beautiful, and everything that Humbert thinks he can have with this girl. It is specifically not atonal, nor tense, and does not give away the sickness within the film.
Despite the film being from Humbert's point of view, Sellers as Clare Quilty steals the film absolutely. Whether gleefully ignorant in the opening (and closing) scene (a nice self-referential Spartacus reference), or jittery impersonating a policeman, or assured as the Germanic doctor, or nervous as a pervert phone caller, he masters every scene he is in. The chameleon-like quality to his acting style foreshadows Kubrick's next film, Dr Strangelove, in his trio of parts. James Mason does a fine job as the lead, treading that line between sympathetic and alienating himself. In one significant scene we see him lying with Charlotte, by now his wife, kissing her neck and shoulders as he glances at the framed photo of Lolita on her bedside table. It is eerie and wrong, yet presented in a tender way. Kubrick does not resort to cheap tricks to pull our emotions this way or that, but allows us to make up our own minds. The fact that the marriage is a sham is never spoken but is clearly a front only to stay close to Lolita. Perhaps the accident is a little convenient, but it does allow us to see what Humbert is emotionally capable of doing which is a chilling prelude to the opening, and closing scene of the film.
Lolita is not an easy film to watch, but it is surprisingly easy-going. The film is rife with humour – both subtle and obvious (the cot-bed farce is great) – and that humour is then used even more effectively as it is undercut by the themes within the film. Certainly this is not one of Kubrick's greatest, but as a character study, especially given the era in which it was made, it is superb.
- homersimpson_esq
As with a good majority of Stanley Kubrick's films,
Lolita
was greeted with a huge amount of controversy on its initial release. Adapted from Vladmir Nabokov's already hugely controversial novel, just why Kubrick decided to attempt an adaptation isn't exactly clear. Of course, his presence alone would suggest that
Lolita
(the film) would become a masterpiece of visionary cinema, but it was clearly destined for box-office failure (apart from the visits of rowdy students and the baggy-coat paedophile parade) and moral indignation (Cary Grant actually turned down the role that James Mason plays because of the latter). The plot sees two middle-aged men (James Mason and Peter Sellers) become infatuated with a 14-year-old girl (Sue Lyon). In fact, Professor Humbert Humbert (Mason) falls so desperately in love that he marries Lolita's mother (Shelley Winters) to get closer to her.

Lolita
's
primary strength is its wonderful cast. Peter Sellers is the star despite the fact that he only really has a supporting role. He reels off a fine range of impersonations and dialects, each one of them as hilarious as the last. It wouldn't be an understatement to say that this is no doubt a pre-cursor to his signature role(s) in
Dr Strangelove or...
and that he was probably cast as the president, the scientist and the RAF officer because of the versatility that he so wonderfully shows here. James Mason is equally well versed as the introvert Professor Humbert, exuded smarm whilst still suggesting enough charm to show why the titular Lolita fell for him in the first place. If there's one problem with the casting (notice I didn't say the acting, but the casting), it's that of Sue Lyon as the pre-pubescent Lolita. Although she put in a perfectly fine performance, she was sixteen and looked it. It's perfectly understandable, though, that the studio would want a slightly older actress to play the fourteen year old, if only to make an already inappropriate subject a little less alienating.
What
Lolita
is, is a black comedy. You would be forgiven for thinking that it's a drama, but it's not. There are plenty of top-notch jokes, including a drunk James Mason learning to 'dance', and the whole performance is played out with a tongue-in-cheek quality that makes the film supersede the fact that its source material is overly risqué. The best segments, though, are those that see Sellers involved, particularly the opening segment in which he is oblivious to the fact that Mason's Humbert is about to kill him. In fact, he plays ping-pong with him, the paddle in one hand and a pistol in the other. It's the hypocrisy of
Lolita
that makes the whole thing so funny. For instance, Humbert points out the paedophilic nature of Sellers' Clare Quilty, when he himself is only berating him so he can get nearer to the pre-pubescent prize. In fact, you could argue that
Lolita
is an attack on the hypocrisy of the viewer, as if we too are appalled by the sordid acts of our performers, yet we can't bear to look away.
Verdict
Although not quite on the level of Kubrick's better creations,
Lolita
is a darkly comic, important, deep, and highly controversial film that still deserves its reputation as a bonafide classic.
- Piles
974.
The Prodigal Son
(1981; Sammo Hung)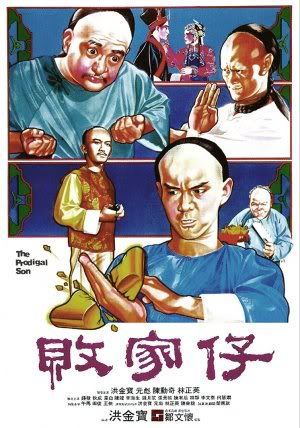 Last Year's Position: (-)
Wing Chun is a close combat martial arts style, a form of Chinese boxing inspired by snake and crane movements and featuring the "sticking hands" technique. Legend says the fighting style was taught to Yim Wing-Chun (and named after her) in the early 1700s by a Shaolin nun, in order to help Yim defeat a warlord who was trying to force her into marriage. The character of Yim Wing-Chun can be seen played by Michelle Yeoh in the 1984 film
Wing Chun
. The lineage of the style can allegedly be traced from the nun who taught Yim, Ng Mui (one of the Five Elders of Kung Fu) down to Ip Man and Bruce Lee in the 1950s and early 60s.
The Prodigal Son
, one of the great kung fu films of the early 80s, centres on some of the earliest known (i.e. non-folkloric) proponents of Wing Chun, grand sifu Wong Wah-Bo, his compatriot, student (of Wing Chun) and teacher (of pole fighting) Leung Yee-tai, and their student (of both styles), Leung Jan.
Leung Jan (Yuen Biao) is a boorish young man, under the false impression that he is a highly skilled kung fu practitioner, though in fact his wealthy father has been paying his opponents to lose. Upon attending a Chinese Opera performance with friends, Leung Jan tries to get it on with the lead actress. Unfortunately for him, the lead turns out to be a man, and worse, he's Wing Chun expert Lee Yee-tai (Lam Ching-ying). Unlike Leung's previous opponents, Lee refuses to bribed and swiftly puts the youth on his arse. Learning the truth, Leung resolves to follow Lee hoping to convince him to teach him some real martial arts.
An attack on the opera troupe forces Lee and Leung to flee, and whilst they sojourn with Lee's peer, Wong Wah-Bo (Sammo Hung), Leung finally receives the training he so desperately desires, before being forced to put his new skills into practice.
The films features astounding wall-to-wall kung fu fights and training sequences from 3 of the greatest martial arts exponents at their physical peak. There's some typically HK silly humour, which may seem out of place and detract from the story for some viewers, and perhaps there's a little too much of Lam Ching Ying speaking in falsetto. Quite a lot of the film is devoted to that old kung fu film standard of the young novice desperately trying to get the skilled master to be his sifu (see also
The Victim
and
Warriors Two
amongst other), when it could have been getting on with more important business. Nevertheless, it's a hugely entertaining kung fu showcase.
- Gram123