King of Kafiristan




Posts: 1003
Joined: 14/1/2012
From: The States

Empire Online, I would like to bring now to you my epic recasting of Rudyard Kipling's THE MAN WHO WOULD BE KING for the year 2012: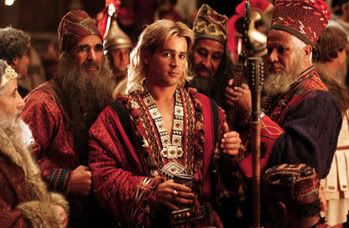 quote:


In any place where they fight, a man who knows how to drill men can always be a King. We shall go to those parts and say to any King we find - "D'you want to vanquish your foes?' and we will show him how to drill men; for that we know better than anything else. Then we will subvert that King and seize his Throne and establish a Dynasty.



Danny: COLIN FARRELL

Peachy: CHRISTIAN BALE

Kipling: MICHAEL FASSBENDER

Billy Fish: ASHRAF BARHOM

Roxanne: ROSARIO DAWSON

DIRECTOR: NEIL MARSHAL

Obviously this would be an incredible team, and the only one I can imagine that would do justice to the original roles. I think Farrell and Bale would have that Connery - Caine charisma and chemistry. Last but not least, the synergy in casting with Oliver Stone's ALEXANDER would be too delicious for words: IMHO it perfectly suits the characters, and would just be amazing in general

Bale has that 'stiff upper lip' attitude that Caine brought to so many roles, but can subvert it with cheekiness and charm. Look at certain scenes in his various films for proof*

Farrell is Irish, Connery was Scottish. Farrell can be remarkably funny and charismatic in the right role, and..... he'd be playing the 'son' of Alexander III of Macedon. He'd have to sell the idea that's he's getting power crazy as people worship him as a living god. I wonder what hat I could have drawn that one out of? It's not like he has any experience in that kind of role previously....


And lastly... I've long held that Bale and Farrell would have fantastic screen chemistry. I can easily see them looking like they've been friends all their lives. IMHO Bale and Farrell are the Pacino and DeNiro of the Aughts, because even though they are so perfectly suited to working with each other, they've only appeared in one film together (NEW WORLD) and comically they shared no screen time in it

* I know that's vague but just trust me

< Message edited by King of Kafiristan -- 31/3/2012 4:19:25 PM >