rawlinson




Posts: 45002
Joined: 13/6/2008
From: Timbuktu. Chinese or Fictional.

12.
Anger Magick Cycle
(1947 - 1980; Kenneth Anger)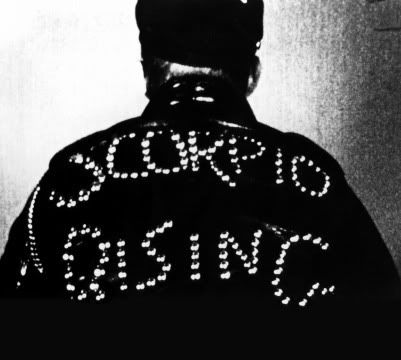 Cast: Kenneth Anger, Yvonne Marquis, Bruce Byron, Marianne Faithfull
Country: USA

Spoilers ahead

Possibly the most accessible work produced by any of the American underground film-makers, Anger's films celebrate anarchy, sexuality, masochism, music and jaw-dropping visuals. I should probably say that these films won't be for everyone. Some will dismiss them with the dread word 'pretentious', others will be put off by the extreme sexuality and mysticism. The Magick in the title is a reference to Anger's idol, legendary Satanist Aleister Crowley. Crowley's influence, along with Anger's other obsessions like Cocteau, old Hollywood and homosexuality runs through these short films. These films aren't a series of sequels, but the thematic connections are so strong that I class them as one entry.

Fireworks

Anger himself stars here as a lonely, masochistic boy. Inspired by a dream about zoot suit riots, where soldiers attacked Spanish youths, Anger shows the kind of honesty and surrealism that we can expect from all his films. Shot in his parent's house, Anger plays a young man who goes on a late night stroll and propositions a sailor, in response he receives a beating, then the sailor's friends arrive. Anger here focuses on what it meant to be different in the 1940s. It's an explosive film, pre-dating even Genet's Un Chant D'amour. The experimental nature of the film owes much to early Bunuel and Cocteau. It's stark and brutal, but at the same time he lets gay sensuality flow through the film. Even this early on in his career Anger was already using homoerotic iconography take centre stage in his films, something he would continue to do throughout his career.

Eaux d'artifice

A female dwarf walks through a water garden full of statues and cascading fountains, and that's about it. It's probably Anger's least typical film. But here Anger focuses on the elements, light playing off water and stone until the woman becomes one with the environment. It works best as a poem on film, and it's probably Anger's most gentle work.

Puce Moment

Puce Moment acts as a homage to the 1920s Hollywood that Anger grew up a part of. Hollywood Babylon made it clear he viewed it as a slightly tawdry place. But here it seems magical. The star is a rack of gowns worn by silent stars all being sorted through by the lead actress before settling on one to wear. It may sound dull, but if you're looking for narrative, what are you doing watching Anger?

Rabbits' Moon

Rabbit's Moon is a little fairytale. Pierrot pines for the moon, so Harlequin uses a magic lantern to attract the glow of the moon and present a figure of Columbine to ensnare him. This beautiful little film uses mimes as actors. It's artificial but extraordinary looking, an obvious influence on Maddin, and it owes a huge debt to Cocteau. Apart from the doo-wop soundtrack that is.

Inauguration of the Pleasure Dome

Pleasure Dome was inspired by a Halloween party thrown by Anger where people turned up in mythological costumes. Anger recreated this on film by gathering fellow Bohemians and dressing them in elaborate costumes, each representing someone from Greek or Egyptian mythology, or just the magick of Crowley. A difficult film unless you're well versed in mythology and early cinema, the film revels in psychedelia and the occult. It's a stunning experience.

Scorpio Rising

Anger's most notorious film, and his attempt to capture the death wish in American culture on film. I wouldn't recommend every film in this series to people, I love them all, but I realise how divisive they can be, but Scorpio Rising needs to be seen by absolutely everyone. The film mixes Anger's twin interests of sex and magic. Scorpio Rising is almost documentary like to begin with. It follows a gang of bikers, as they work on their bikes before dressing in leather for a gay orgy, the desecration of a church altar and a fatal bike race. Scorpio Rising actually deals identity, it gives us a blur of images - Dean, Brando, skulls, swastikas, it plays with the power of these images and how they are used to identify a lifestyle. Scorpio Rising is a visionary film, it's legendary rock 'n' roll soundtrack led to the widespread practise of using popular music to completely soundtrack a film, something soon followed by the likes of Scorsese. You need to see this film if only to appreciate how influential it is. Hate it if you want, just don't overlook it.

Kustom Kar Kommandoes

A guy working on his car lovingly caresses it in this exploration of the erotic charge between men and cars. Not much more to it than that. It could probably be regarded as throwaway if it wasn't so oddly spellbinding.

Invocation Of My Demon Brother

The most blatant depiction of Crowleyan magical rituals to date. It was also Anger's most abstract and demonic film to this point. A series of shots of Satanic rituals, Hells Angels and The Rolling Stones lead up to a union that brings about the birth of a God of light. Jagger himself composed the soundtrack to this jarring little film, the images collide off each other instead of blending together, leaving the viewer unsettled and disorientated.

Lucifer Rising

Lucifer Rising is a brother film to Invocation. Anger mixes experimental and traditional cinema techniques to create this eerie and compelling little film.If rumours are to be believed then this is the second version of the film. The first one being lost when it was buried in the desert by Bobby Beausoleil (Yes, that one) The film is set in ancient Egypt and once again uses actors dressed as mythological figures take part in strange ritualistic ceremonies, this time in order to bring about the rise of a demon lover. This hypnotic film is Anger's most elaborate film and possibly ties with Scorpio Rising as his most notorious.

What all of these films have in common is that they are non-narrative mood pieces. They bear the influence of early Hollywood as much as experimental cinema, and you can sense the love/hate relationship that Anger had with the life he was raised as part of. They're shocking, disturbing, but playful and oddly beautiful. Anger was an esoteric filmmaker, using film to explore his own sexuality, religion, his views on the relationship between man and machine and his interest in the occult. Whatever your take on the films themselves, and if we're being honest, unless you have some sympathy for underground cinema you're probably going to hate them, Anger was a unique and incredibly personal director whose work is worthy of recognition alongside the more accepted greats.