rawlinson




Posts: 45002
Joined: 13/6/2008
From: Timbuktu. Chinese or Fictional.

10.
Amer
(2009; Hélène Cattet, Bruno Forzani)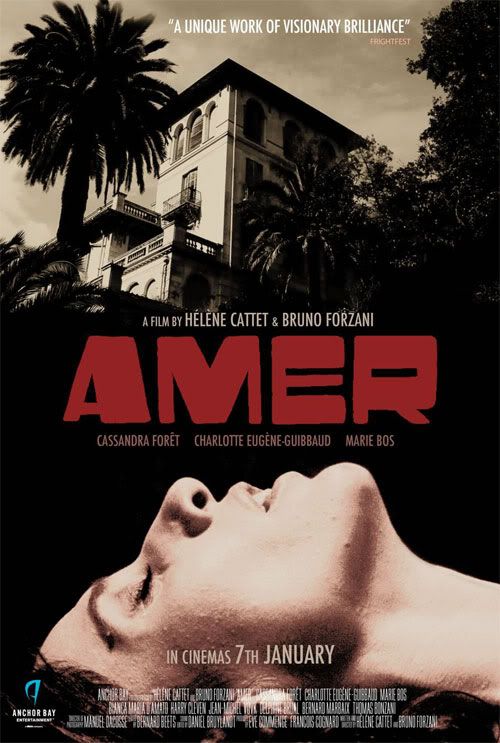 Cast: Cassandra Forêt, Charlotte Eugène Guibeaud, Marie Bos, Bianca Maria D'Amato, Delphine Brual
Country: Belgium/France

Spoilers ahead

Amer is one of the most genuinely surprising films I've seen in quite some time. I'd heard some rave reviews comparing it to the best of the 70s gialli, but I was expecting a Tarantino-esque homage rather than the brilliant piece of head-fuckery that is Amer. It may be a homage to Italian horror, but it's no cheap-knock-off. It's one of the most baffling, tactile and visually rich films I've ever had the pleasure of seeing.

The film focuses on three episodes in the life of Ana, taking her from childhood to adulthood, and focusing on events centred around her family's large coastal mansion. In the first segment, Ana (Cassandra Forêt) is a young girl, curious about the world and living with harsh but emotionally absent parents. Also in the house is Graziella (Delphine Brual), an unsettling creation and the audience is never sure if she's grandmother, nanny, servant or demonic force, and the dead body of Ana's grandfather. Ana finds her way into the room that holds her grandfather's corpse. After exploring the room, she finds her grandfather is holding a pocket watch in his hands and she decides to take it, only to find herself under attack from the strange, black clad Graziella. She runs and seeks help from her parents, only to discover them having sex. The sex scene is shot through a haze of colours, and we get the feeling that this link between sex and terror is one that will come back to haunt Ana. As Graziella continues to pursue Ana, we feel Ana's terror through the sensational sound and visual design, before this intriguing short comes to its mind-bending conclusion.

In the second segment, Ana (Charlotte Eugène Guibeaud) is older, a teenager now, and we join her walking along a road with her mother, on a trip to the shops near the mansion. All the men in town only have eyes for Ana, from passing motorists to shopkeepers to the young boy who tries to rub against her in a store. Ana will later run into a motorbike gang and flaunt her sexuality in front of them, awakening her mother's anger and jealousy. The tension here is completely sexual, and the possible consequences of Ana's sexuality. With every man in town lusting after her, how long will it be until one, or a group, turns violent? It's an incredibly sensual piece, sun-drenched, with the camera obsessed with capturing the droplets of sweat on Ana's body, or her hair as it strays across her face. The stylistic shift from the first segment to this one may be jarring to some, but it's a perfect contrast to the first story and a perfect way of showing Ana's emerging sexuality.

In the final story, Ana (Marie Bos) is now an adult, taking a charged taxi journey back to her childhood home. Ana is still getting male attention, but this time, one of them has a razor. The third story is the most typically giallo and the one that displays the influences of the genre most vividly. The film is undoubtedly indebted to giallo, especially the theme of placing a beautiful woman in danger, with the savagery of the attacks at odds with the beauty of the visuals, but those expecting another Deep Red or Blood and Black Lace will inevitably be disappointed. It's the visual style and the underlying emotions that Amer pays homage to rather than the narratives themselves. The equation between sex and death in the film is obvious, Ana's curiosity as a child is punished, she finds herself pursued by a deathly figure and traumatised by her parents lovemaking, her sexual awakening in the first chapter is then turned into a display of her sexual power in the second chapter - she makes every man want her, and the sole woman in her life becomes violent. Finally, comes punishment for that display of power.

Many will take against Amer. There's no real plot or narrative, no attempt at character depth or development, almost no dialogue. Although with all that said, it's very easy to see the film as a Repulsion-esque attempt to show the psychological destruction of a woman, and I think this is most evident in the third segment where we're never sure what is real and what is fantasy. What is certain is that Amer is a masterpiece of editing, of sound, of cinematography and art direction. It's an incredible sensory experience, it's one of the most sensual films I've ever seen and you have to give yourself over to the seductiveness of the film, even in its most transgressive moments, in order to really appreciate it.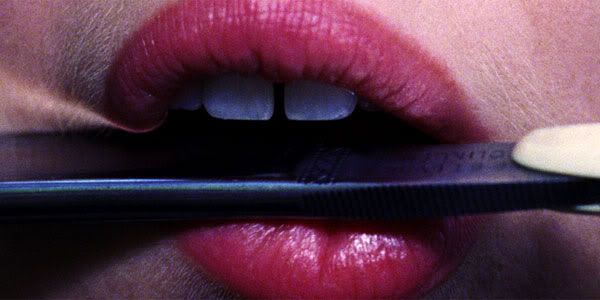 < Message edited by rawlinson -- 17/7/2011 4:12:39 PM >