Rebel scum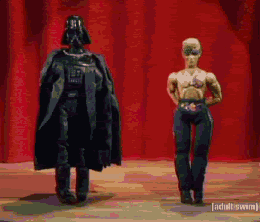 Posts: 3483
Joined: 2/1/2006

74-The Nightmare Before Christmas


I hate musicals. Hate hate hate hate hate them. There are a few exceptions (Sweeney Todd, Singiní in the Rain, another one coming up later), but by and large I canít stand any film where musical numbers turn up every five minutes to advance the plot, and this does extent to animated films, although Disney gets a pass because itís Disney. The reason Iím bringing this up is because Nightmare Before Christmas is a film I have no right to enjoying as much as I did, it being a film where musical numbers turn up etc., not to mention a film that every wannabe goth has on their bag. And yet, every song in this film is a show-stopper, a wonderfully written explosion of creativity that is complimented by some of the best stop-motion seen on film. From the opening This Is Halloween, that introduces the premise, world and characters in three minutes, to the giddy joy of Whatís This, to the delightfully gruesome Kidnap The Sandy Claws, the songs rattle along at a wonderful rate, with nary a dud in the mix.

Even excepting the songs (Which really do make the film) the rest of the film is still of a high quality. The visuals are fun and creative, it being made before Tim Burton started ripping himself off, and the characters are drawn just well enough that you wind up caring about what happens to them. Thereís even a great script around the musical sequences, with plenty of witty lines (ďIím only an elected official, I canít make decisions by myself!Ē) While it is arguable that the non-song bits of the film are designed to ferry us to the next musical number, it at least doesnít feel like it.

BEST SCENE: Any of the musical sequences could qualify, but Iím going to tie it between This Is Halloween and Whatís This?, being the most entertaining, catchy musical numbers in the film, with some of the filmís best visuals complimenting them.




_____________________________

"We are not safe! A dark menace rises to the east! Duckies go quack! Cows go moo! I want ice cream. Verily, will you two hobbits join my quest?"