cobrakai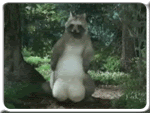 Posts: 74
Joined: 8/6/2007

Christopher Walken still has a watch lodged up his anus after his method acting approach to Pulp Fiction went horribly wrong. His attempts to explain said blockage at a New York hospital inspired the 'toy car up rectum' portion of 'Jackass The Movie'.

If you sit through the credits of Commando right to the end, there's a much missed final scene where you can hear the guy dropped off the cliff by Arnold saying "I'm not dead, I'm just really badly injured". Will Ferrell recreated this scene in his turn as Mustafa in Austin Powers, but only about six people worldwide got the joke.

Matt Damon winning the sexiest man alive award is one of those elaborate George Clooney pranks we keep hearing about.

Due to the ongoing writers strikes in America, a major Hollywood studio has decided to test the theory that a if you lock enough primates in a room with typewriters they'll knock out a decent script eventually. The resulting script, a 200 page excrement smeared mess, has already been purchased by Tom Cruise, who boldly predicts he will once again rule the 2009 boxoffice with the resulting film 'jjjjjjjjjjjjjjjjjjjjjjjjjjjjjjjjjjjjjjjjjjjjjooooo%%'.

Sylvester Stallone, buoyed by the comeback success of Rocky and positive buzz for Rambo IV, will return to our screens in 'Over The Top 2'.

And, according to my media studies lecturer at uni in the late 90's, 'Independence Day' was actually a complex allegory about the American fear of China's predicted status as a world superpower and Alien is all about the male fear of the vagina. Unfortunately, he was right on both scores rather than simply reading far too much into every movie ever made in an attempt to justify the very idea of his module on that course. The ruling Communist government in China have already ensured their world power status can't be toppled by putting a firewall into place, and Earth is doomed as the warrior Z'tong race towards it from their planet at the edges of our galaxy, and they just so happen to look like a woman's privates. Their plans for Earth's invasion were set in motion thousands of years ago, when they buried their ultimate weapon, a 70 million tonne thermo nuclear weapon they call 'The Clit WMD' deep under Earth's crust. They can't believe that we never found it.


< Message edited by cobrakai -- 1/12/2007 1:07:18 AM >

_____________________________

I ain't got time to bleed....