elab49

Posts: 54399
Joined: 1/10/2005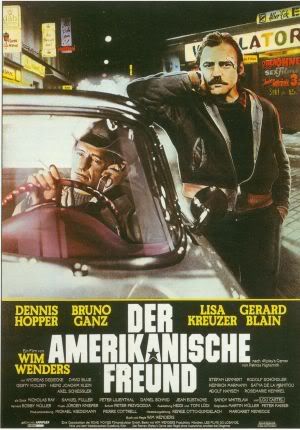 The American Friend (Wenders, 1977)

There's always been some Wenders I really like and some that I wasn't so sure of/keen on. After rewatching Kings of the Road for the Hall of Fame and actually quite liking it (unnecessary public pooping aside), and combined with a sub-course I needed to do on German cinema (ugh – Fassbinder), I've revisited a lot of his films over the last couple of years including this one. And it's quite soared in my opinion.

I think Ripley is a difficult character to get right. Renι Clement's Plein Soleil is possibly the most successful attempt (although this now challenges that in terms of best film). Patricia Highsmith's Tom Ripley is like a less cannibalistic version of Hannibal Lector at times – amoral, a con artist, lover of beautiful things (often directly described as epicurian). He kills when he needs to, sometimes quite casually, and feels nothing when doing so. All of this I think makes his relationship with Jonathan Trevanny (here Zimmerman, played by Bruno Ganz), quite fascinating. Slighted by Zimmerman Ripley passes on his name to an acquaintance looking for a hit man and then manipulates his fears about his health to push him towards committing the deed as a form of punishment. But getting close to the man also sparks something of a relationship – gifts are exchanged and apologies made and when Minot tries to push Jonathan further Ripley becomes involved directly.

Highsmith reportedly initially disliked Hopper/Wender's take, more on Ripley than the novel they were adapting, Ripley's Game. I think she had some problems coming to grips with her suave psychopath swanning round in boilersuits and cowboy hats. But she, again reportedly!, changed her mind acknowledging that the spirit of the character was there, even if he didn't look the way she thought he should. I agree with her reversal – there is something very withdrawn about Hopper's Ripley, an observer in the world who seems to enjoy the game-playing and manipulating but is genuinely impressed with Zimmerman's craftmanship as a picture framer. And unlike in the later adaptation, Ripley's Game, here you actually believe in the change in the relationship between the two leads – it's subtle and seductive and when Hopper springs out of nowhere at a key moment, entirely credible. It helps that it's almost Ganz who is the lead here – Wenders spends a lot of time on his family relationships, his fears over his illness and some brilliant disorientating work during the first hit. When Zimmerman turns and grasps slightly hysterically at what he thinks is his short time remaining, it is quite beautifully done.

Wender's conjures up an edgy, slightly paranoid atmosphere combining long visual takes (moving round the high walled slightly shabby streets of Hamburg) and a slightly sinister soundtrack, with the main theme some kind of odd combination of guitar and, I think, harp, or the even more telling silence (including scaring the crap out of you after Ganz arrives home to a seemingly deserted house). Wenders uses long wordless sequences to build up tension with brilliant set-pieces on a nightmarish labyrinthine metro and on the train, Ganz amazing in both.

Trivia – the film includes cameos from directors Nicolas Ray and Samuel Fuller . Rarer for the former but Fuller seemed to do a few cameos for fans – at least one other for Wenders in Hammett, and for Kaurismaki in La Vie de Boheme.

< Message edited by elab49 -- 27/4/2011 7:21:48 PM >

_____________________________

Lips Together and Blow - blogtasticness and Glasgow Film Festival GFF13!


quote:

ORIGINAL: Deviation] LIKE AMERICA'S SWEETHEARTS TOO. IT MADE ME LAUGH A LOT AND THOUGHT IT WAS WITTY. ALSO I FEEL SLOWLY DYING INSIDE. I KEEP AGREEING WITH ELAB.
Annual Poll 2013 - All Lists Welcome