rawlinson




Posts: 44500
Joined: 13/6/2008
From: Timbuktu. Chinese or Fictional.

16.
Death Bed: The Bed That Eats
(George Barry)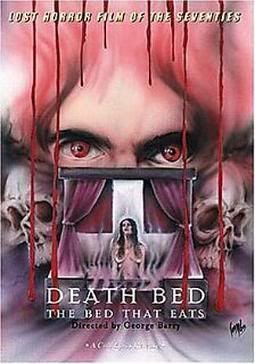 Death Bed is officially one of the weirdest films of the decade. Scratch that, it's one of the weirdest films in existence. It was based on a dream had by the director and it shows through in pretty much every scene. The film is narrated by the spirit of an artist who died 60 years ago. His soul has since been trapped in the walls of a mansion, behind a painting of a four-poster bed. In the same room of the mansion is the bed from the painting. The bed is alive, a by-product of the love of a demon for a mortal woman. She died on the bed during sex, and the demon wept tears of blood into the bed, giving it life and a hunger for flesh, before he run and hid in a tree.

The film is split into three courses, breakfast, lunch and dinner. In breakfast, a young couple break into the mansion. They bring with them a picnic of apples, wine and chicken. The food wakes the bed, arousing its hunger. It steals the picnic and digests it in a bizarre kind of stomach acid. Then it eats the couple. After the first meal, we're treated to a montage of spinning newspaper headlines, detailing the bed's atrocities down the years. We also find out that the artist was one of the bed's many victims, the bed trapped its soul behind the painting for company. Then lunch arrives, three young women exploring the mansion. One decides to take a nap, so of course the bed has a little snack, but not before demonstrating its telepathic abilities by giving her nightmares about eating bugs. But it's more reluctant to eat one of the remaining girls, Sharon, because she reminds it of its mother. Also heading to the mansion is Sharon's brother, someone who may provide the bed with its dinner.

The film is very obviously tongue-in-cheek, when the bed sleeps it actually snores, its stomach acid strips away the flesh from a man's hand and he's left with skeletal fingers for the rest of the film. It's also the kind of film that most people aren't going to be able to tune into. In a few decades time I think it'll be held in the same high regard as other slightly clumsy low-budget horrors, like Carnival of Souls, Death Bed just hasn't really had the time for a critical reappraisal as yet. It was as good as lost for a couple of decades and its only a pirated release that actually got it into the public consciousness. It's still an obscure and underseen film, one that deserves a chance and an open-minded audience.