elab49

Posts: 54399
Joined: 1/10/2005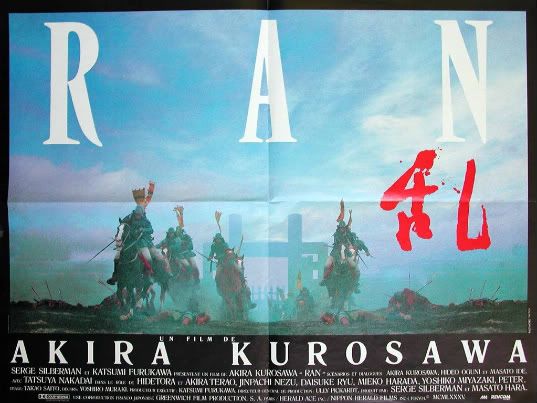 Ran (Kurosawa, 1985)

Ran depicts the fall from power of Hidetora Ichimonji (Nakadai), an aging warlord who decides to abdicate his throne and give the power to his three sons, Taro, Jiro and Saburo. Taro is given leadership of the clan while Jiro and Saburo are given other castles and told to support their brother, while Hidetora remains leader in name only. Saburo disagrees with his logic, thinking it is too easy for his sons to betray him, an act Hidetora mistakes for a threat, something that leads to Saburo's banishment. Once Hidetora abdicates, Taro's wife starts pushing for him to take complete control of the clan. When Hidetora kills one of Taro's guards after he threatens his fool, Taro demands that Hidetora renounce his title. He seeks refuge with Jiro, only to find he is only interested in using him as a pawn against Taro. Hidetora tries to travel to the Third Castle, vacant after Saburo's banishment, only to be attacked by his sons. Hidetora's bodyguards are massacred and Hidetora left to commit seppuku. He descends into insanity, left to wander in the wilderness. Hidetora discovers the few that remain loyal to him and they hide out in the ruins of a castle but he begins to hallucinate visions of the people he destroyed to gain power. When Saburo learns of his father's plight, he returns to aid him and go to war with his brothers.

Kurosawa's final epic was the most expensive film produced in Japan up until that point and it's one of the most astonishing visual spectacles in cinema. The magnificent battle sequences are quite possible the finest ever filmed. But unlike so much bad cinema where spectacle is mistaken for great film-making, Ran also tells a great and tragic story, filled with intelligent writing and sublime acting. The story takes its inspiration from legends of the warlord Mori Motonari. Monotari was famous for having three loyal sons, but Kurosawa tried to picture the results if the sons were disloyal. Kurosawa merged the story of Motonari with Shakespeare's King Lear in order to create one of cinema's great tragedies. Kurosawa had already proved himself capable of directing great Shakespearean adaptations and Ran is the pinnacle of not just his Shakespearean films, but also of his epic, period cinema.

Tatsuya Nakadai gives a remarkable, vanity-free performance as Hidetora. He is vain, arrogant and a ruthless warmonger who acquired his power through slaughter and treachery. We should despise him, and Nakadai refuses to play for audience sympathy. When Hidetora slips into insanity we begin to feel pity for him through the power of Nakadai's performance, a lesser actor may just have left the viewer with the feeling that Hidetora is getting exactly what he deserves. Nakadai shows us the warlord's regret and his sadness and creates a great sense of empathy with the character. He's ably supported by a strong cast, but the only performance that comes near to his level is Mieko Harada's astounding turn as the power-hungry and murderous Lady Kaede. This tale of ambition, pride, loyalty, betrayal and regret is one of cinema's true, undisputed classics, and while it's not quite the pinnacle of Kurosawa's career, it's a film that deserves a place in anyone's top 100.
Rawlinson.

I don't know about others but I tend to find it harder to review films I've known and watched for years, particularly trying to explain why I agree the great ones are great.

Kurosawa initially took this idea from Japanese history. A lord with 3 good sons. But what, he wondered, if they hadn't been so dutiful? From there it was a fairly short step to Lear, and it is to Shakespeare that the greater debt is clearly owed (and not just to Lear – elements of Prospero and certainly Macbeth are clearly also at work. Here Kurosawa presents us with a play – not playing with theatrical conventions like Ichikawa's An Actor Revenge does, it is straighter than that, but still much more than simply putting stage settings before a camera in a powerful take of hubris, superbly told with some astonishing setpieces, particularly the initial silence through the battle at the 3rd castle as lives are lost and soldiers hurry hither and thither mixing and matching the red and yellow flags and then the burst of noise and brother turns on brother. Landscape is also a key part of the film, beginning on the lush hills on a hunt and ending up in a wasteland as Hidetora wanders to his death, but when Saburo returns it becomes verdant again and the greenery is used by his man to defeat Jiro.

On screen we see very contrasting acting styles – the 2 greatest performances are from Nakadai as the self-deposed great lord and Mieko Harada as the disturbed and vengeful Lady Kaede, both of whom have similar more formal acting styles (I'm told from Noh theatre), that makes them stand out in each scene and pointedly links the 2 characters (one wonders why he feels such remorse for killing Sue's family but not Kaede's e.g.). Most of the other performances are more naturalistic, but the 3rd great performance – from Peter – can be a halfway house, and he certainly has most of the best lines, making the most of them. This was really interesting for me as it was the first time I'd rewatched Ran since seeing Peter's debut for the first time (in Funeral Parade of Roses). As well as his frustration in trying to deal with a lord, whom he genuinely loves, gone mad, Peter is responsible for much of the humour in the film but I still think the funniest scene is as Kaede and Taro finally sit in silence in the main castle and she looks to her left and comments her mother killed herself there, looking at the spot as if the body still lies there – Taro's reaction is priceless.

I'd say there is a difference watching it on the big screen. According to the festival director and Optimum this is the current best available print, and it isn't perfect, but no matter. The big difference, I think, is the impact of Kurosawa's use of cloud's to separate and foreshadow events – the calm and stormy skies and, in one case as watch the transition to Hidetora's starving camp in the sun, the screen suddenly brightens and blinds you, shrinking your pupils as you look into the sun, and you just don't get that on the small screen.
Elab49

As a massive fan of King Lear, I approached Ran with a certain degree of trepidation, trepidation I initially thought would be justified when I saw how Kurosawa was approaching his substitute for Cordelia in this adaptation displaced to feudal Japan, making Cordelia/Saburo brusque and disrespectful. However, I needn't have worried, as while Ran does away with some of my favourite parts of Lear - the Gloucester subplot, in particular, is cut up and doled out like it was pie a dinner party hosted by a Roman general - it is ultimately just as thrilling and tragic a drama as the play it derives inspiration from. Over two-and-a-half hours, Kurosawa takes Shakespeare's text and fleshes it out, expounding on the motives of everyone from Hidetora/Lear to the Fool to even made-for-the-film minor character Prince Tsurumaru. It's grand in scale and yet a work that thrives on humanity and the dissipation thereof, as we're riveted to the screen watching people stab each other in the back and the goodness of the world slowly dissolve. However, Kurosawa understands exactly what makes Lear tragic, and it's here in spades - Hidetora's infallible pride, the machinations of vengeance-seeking Lady Kaede (assumedly the film's Edmund), the loyalty-to-a-fault of characters like the Fool, Tango and Kurogane, the last-minute tragedies, etc. etc. It's a depressing work despite its riveting nature, and Kurosawa manages all this while putting together some spectacular visuals (the siege on the third castle), crafting some brilliant action sequences (again, that siege) and soliciting some outstanding performances, not in the least Tatsuya Nakadai as Hidetora and Peter as Hidetora's loyal, sardonic jester. Ran is an epic film that puts a surprisingly excellent spin on Shakespeare's Lear, and while it may not improve on the source material, it's certainly not inferior to that masterpiece.
Pigeon Army




_____________________________

Lips Together and Blow - blogtasticness and Glasgow Film Festival GFF13!


quote:

ORIGINAL: Deviation] LIKE AMERICA'S SWEETHEARTS TOO. IT MADE ME LAUGH A LOT AND THOUGHT IT WAS WITTY. ALSO I FEEL SLOWLY DYING INSIDE. I KEEP AGREEING WITH ELAB.
Annual Poll 2013 - All Lists Welcome