elab49

Posts: 54399
Joined: 1/10/2005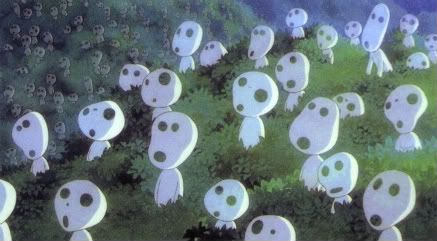 Princess Mononoke (Miyazaki, 1997)

Some films battle for your love, and find their way to your heart through persistence and cunning (at least one of the remaining films fits this bill), some have always been there (Back To The Future), and some just jump right in and give your heart a good throttle. Princess Mononoke is one of the latter types of film. A film I watched for the first time last year, I was blown away, moved, amazed, entertained, enthralled, thrilled... I could go on. I have never been so affected by an animation and it showed me more than any other film (and I include the Pixar films in this) that animation is a viable, acceptable film style on a par with live action. When you can feel so much, be so affected, by watching something that has only been drawn, you have to question how seriously you take the form. I see animation equally to live action in its ability to move and amaze me, and much of that is down to this film's impact on me.

Studio Ghibli is, to a degree, a Marmite studio - you love them or you hate them. For me, the inventiveness on display in films like this, and Spirited Away are astonishing, and while there may be socio-historic references that I may be ignorant to, there is more than enough to fulfil a rich tapestry of audio-visual experiences. We meet Ashitaka who is wounded by a rampaging demon and reluctantly banished from his village lest he curse them all. He undergoes a solitary picaresque journey where he comes upon an already-raging war that is environmentalism made manifest. I am a pacifist, but I'm also in favour of maintaining the environment, so a war over such was an interesting dichotomy for me.

Mononoke herself is a fascinating, mysterious character. Her clear love of life is tempered by her anger at the destruction of the forest, as represented by the Forest Spirit, an elk-like creature that transforms by night, and whose head the Iron Town warmongerers require to win the war. It's a wonderfully visual film, but whose score is exceptional. There is a depth of concepts, of cultural history, of myth and legend, that fill out underneath the surface story and create a layered, filmic experience that is quite unlike much else I've seen. People argue over which Ghibli film is the best, and I freely admit there are so many I have still to enjoy, but for now this is undeniably my favourite of Miyazaki's oeuvre, and by default my favourite animation film ever.
Homersimpson_esq.




Thirst (Park, 2009)

"Thirst" tells the story of a good natured priest, played by Kang-ho Song, who cherishes life, and agrees to be part of a medical experiment to give something back. A series of very unfortunate events see the man of faith rapidly descend into a vampire, and the introduction of an old school friend's wife, Tae Ju (Ok-bin Kim), sends him on the path towards carnal sin and blood lust. As only my second Chan-Wook Park film after the obvious, "Thirst" was a very engaging, interesting, thoughtful take on a very old story. It takes an overly populated subgenre and, with the help of an exquisite score, some lovely visuals, and some good ideas, turns into something fresh, new, and exciting. It's a film that defies expectations, taking everything that we think will happen and throwing it firmly out of the window. It's almost the anti-Twilight; unforgiving in its momentum, sharp dark wit, and heart-breaking plot developments, building a believable but volatile romance between its two leads. The two performances at its heart are nothing short of perfect. Kang-ho Song is brooding and contorted internally, unwilling to throw his old beliefs away but equally unwilling to suppress the incredibly strong desires within him. And here is where the main idea within "Thirst" lies. It's a dismantling and de-construction of pleasure, sin, and compulsion. It's a delicate handling of religious themes, the repression that comes with faith, the self-importance of those who live by the good book, and the guilt enforced upon those who buck it. It's probably not an anti-religion film, but rather one that condemns those who blindly follow the teachings of it for egotistical, self-indulgent reasons. Going back to the performances, Ok-bin Kim is equal to Song's every move as the slightly more volatile and much more indulgent Tae Ju, who contrasts the man of faith's reluctant beliefs wonderfully. It's these finely formed performances that a believable romantic involvement builds itself upon, and, just when we think the two are finally in the same mindset, some wonderfully devised sequence of events throws a spanner in the works once more. It's like Bunuel's "That Obscure Object of Desire". Just with vampires.
Piles

This has been somewhat of a labour of love for Park, as it's been hovering about on his 'to-do' list for years. And it's a stunner.

Not going to mention the story at any length as it's one of those films that's best watched unspoiled given the sheer amount of stuff that's going on, except to maybe mention that it's sort of like the Catholic version of Spring, Summer, Autumn, Winter... and Spring. And with Catholicism being fairly central to the film, it should be no huge surprise that Sin and Guilt are at the centre of everything.
All Park's mainstays are here - lots and lots and lots of very subtle and very black humour, lots of red herrings and blind alleys, a fair smattering of very well-imagined and realised CG, and a couple of definite "whoa!" moments just to make sure you're keeping up. And of course, some oddly-accented foreign extras who to be fair are quite good here, although when compared to the pipe-smoking Swiss/Swedish (it's hard to tell) blokey in JSA, the only way is up.

One surprise here is the use of sound throughout the film, using exaggerated noises in very ambiguous ways (the sounds for feeding and kissing for example are almost identical) which works tremendously well. And of course at the top of it all is Korea's most famous Greg Dulli lookey-likey Song Kang-ho putting in another top-notch performance (although in full bandage mode he reminded me of Vic & Bob's Living Carpets), ably matched by an incredibly - especially by Korean standards - raunchy turn from his opposite star Kim Ok-bin.

The only vague gripe about Thirst is that by the time the end rolls by, it's difficult to really feel sorry for anyone which sort of leaves the whole affair a bit flat. However, such is the way that the film is put together (no scene is irrelevant) that you'll be sitting there questioning bits and thinking about others and realising just how well-crafted the characters actually are and what actually happened etc etc in the same manner that people were discussing Kim Ji-woon's A Tale of Two Sisters for over a year after it was first shown.

Park has yet to make a duff film, so it's difficult for me to put any of his work in order, or indeed where this would fit. Suffice to say, his high standard of shocking, funny, original and ultimately human (both in terms of warmth and coldness) film-making is well maintained here, and will certainly appeal to his fans.
Foz





_____________________________

Lips Together and Blow - blogtasticness and Glasgow Film Festival GFF13!


quote:

ORIGINAL: Deviation] LIKE AMERICA'S SWEETHEARTS TOO. IT MADE ME LAUGH A LOT AND THOUGHT IT WAS WITTY. ALSO I FEEL SLOWLY DYING INSIDE. I KEEP AGREEING WITH ELAB.
Annual Poll 2013 - All Lists Welcome